What Is PhotoWorks?
PhotoWorks is powerful and easy-to-use image editing software for Windows. It supports all common image formats, including 450+ RAW formats. With its help, you will be able to turn any mediocre picture into a professional-looking shot in no time.
Try Auto Enhancement and Smart Color Correction
Use the Auto Correction feature to fix the lighting and restore natural colors in your photos. Just one click - and the smart engine inside the software will discover the problems and make all the fixes. Prefer to tweak everything by yourself? Use sliders to bring back lost detail or adjust a certain color.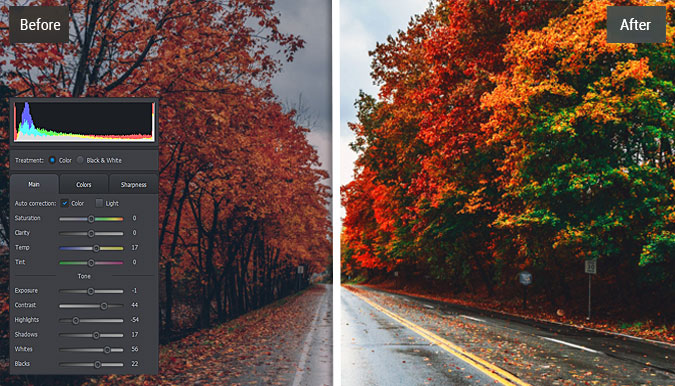 Make Your Portraits Perfect
Not happy with your portraits? PhotoWorks has a built-in AI that analyses every pixel to hide imperfections and add a glam finish to your photo. Get rid of blemishes, smooth out skin, remove glare, add depth for a magnetic look. Experiment with your looks: change the eye color or tone your hair!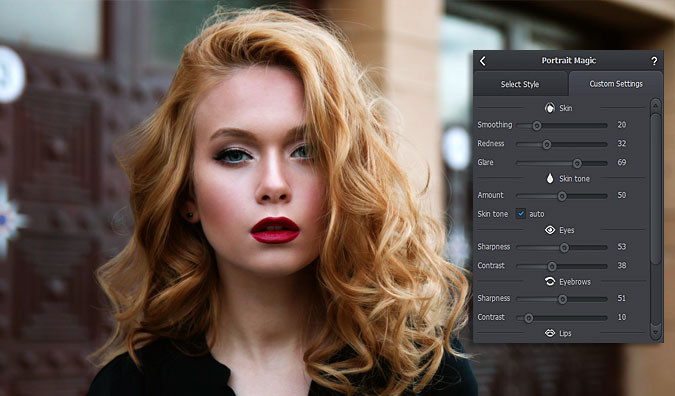 Improve Composition and Fix Distortions
Your shots suffer from various distortions like barrel or pincushion? Get rid of them just by moving a slider! Something is still off? Improve the composition and highlight the best in your pictures with a set of cropping grids. Use Rule of Thirds or Golden Ratio to align key photo elements at the lines intersection or go with the Triangle grid to create a dynamic composition.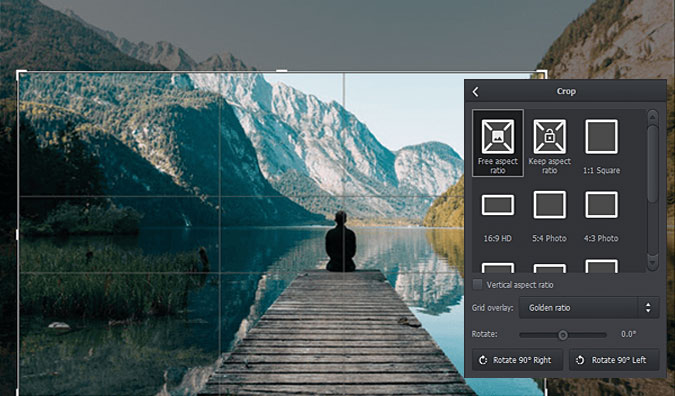 Change Background in a Few Strokes
Say goodbye to cumbersome selections! Make a few strokes to mark the object and PhotoWorks will separate it from the surroundings automatically. Choose a new background from the built-in collection or add your own to create a perfect composition. Need to leave it transparent? No problem: save the result as a PNG file in a click.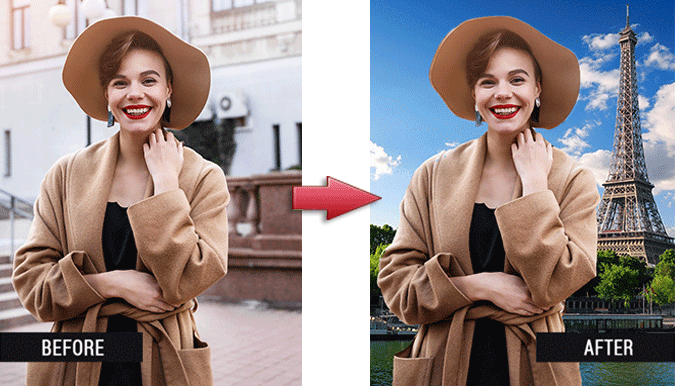 Experiment with One-Click Effects
Stylize your pictures with artistic photo filters: B&W, color splash, HDR, sepia, vignette and dozens of other popular effects. In the effects browser, you'll find a selection of lighting, color, nature, and vintage effects. Just one click, and an ordinary picture turns into a masterpiece!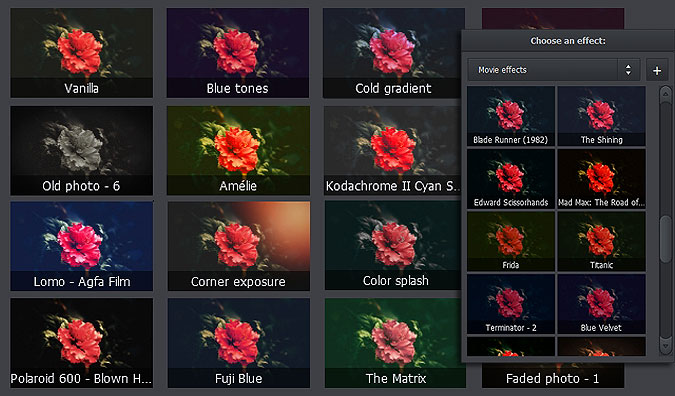 What Our Customers Say:
Mark Fisher
New York, USA

5.0
This program is extremely useful. It's a great alternative to many famous but overrated photo editors. I usually use it to do a quick retouch for my portraits, very easy with different presets from Portrait Magic. I also prefer using PhotoWorks for removing backgrounds, it's much easier here than to work with selections in other software.

Nancy Adcox
Perth, Great Britain

5.0
I often shoot on locations. Sometimes it is difficult to get a good angle so these shots have composition issues or get a barrel distortion because of my camera. I spent a lot of time trying to fix that before I discovered PhotoWorks. Now I just move a slider to get rid of that distortion. I also like the choice of cropping grids for improving the composition.

Ann Brighton
Kamloops, Canada

5.0
Love the software. Easy to use for a newbie like me. I enjoy playing with effects especially Retro and Movie. I tried PhotoWorks for editing photos from our last trip and they turned out perfect! My friends liked the pics and even thought they were edited by a skilled photographer, so I'll definitely stick to this program.