How to Add Background to a Picture: The Easy Way
How often could you call your photo perfect if it was not for the background? For example, there are plenty of distracting details on it. Or it's just plain boring and needs some drama. Or you have found an image online for your photo presentation but its background does not suit you and you want to change it. People or objects look awesome but the background totally ruins the shot. Bet you have deleted tons of such pictures. Good news! Now it's become possible to cut out a bad background and add a cool one. Fast - literally in a minute. Easily - you don't need to have any technical skills at all.
All you need is PhotoWorks - a powerful but absolutely easy to use photo editor! With it, you will be able to add a new background without complicated professional tools for photo editing. Download the program, install it on your computer and keep on reading - you'll learn how to put the new background on your images step by step.
Step 1. Choose the 'Change Background' Tool
Start PhotoWorks, import the photo for adding a background and switch to the Tools tab. From the software toolkit, pick Change Background.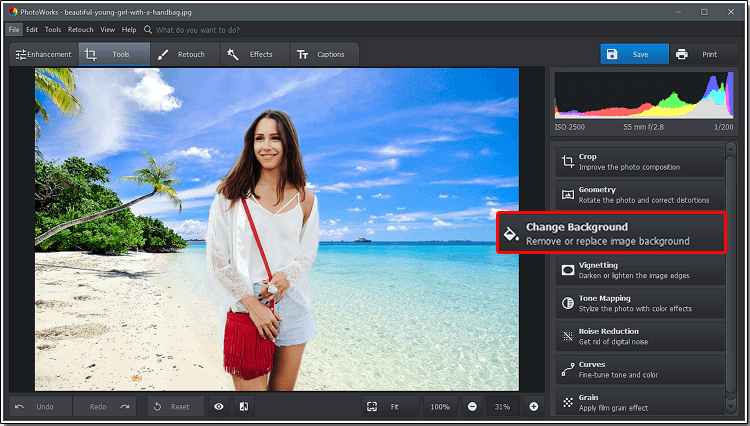 Change the photo background with PhotoWorks software
Step 2. Paint Over the Object to Keep on Photo
The program will offer you to mark the object on the foreground with the green brush. Adjust the brush size and mark the object or a person. You don't have to carefully paint everything over. Make just a few strokes and PhotoWorks will determine the edges automatically.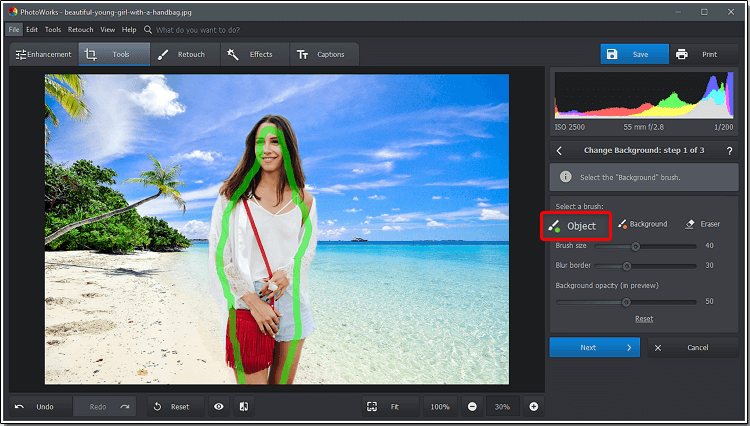 Paint over the object with the green brush
Step 3. Mark the Photo Background to Change
Now, pick the red brush, set its size and outline the background. It will be the area to erase or replace. Once you're done with drawing, the software will remove the background. Click Next to move to further editing.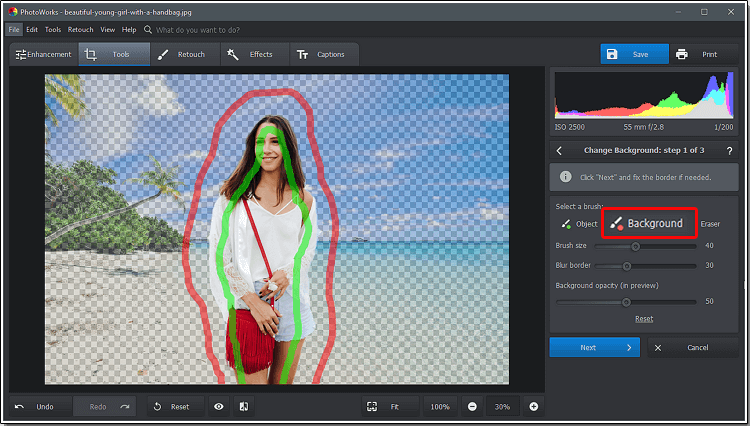 Mark the background to remove with the red brush
Step 4. Correct the Object's Edges
Zoom in the image to see any imperfections that are left. Use the object and background brushes to fix the blemishes. You can restore some details deleted by mistake or erase the remaining area of the background. Adjust the brush softness for the edges to look smoother. Now, decrease the background opacity to make it completely transparent and preview the result.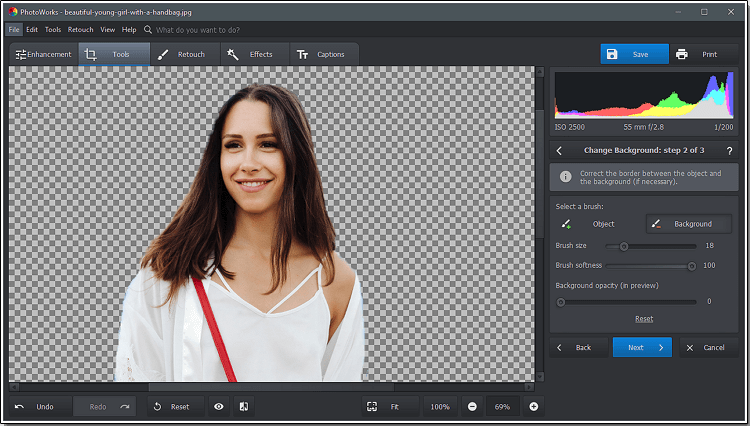 Use a correction brush to fix the flaws
Step 5. Add A Background to the Photo
The software will add a white background to the photo by default. You can save it with a transparent background as PNG or replace the background by a new one. With just a mouse click, you can change its color to black, grey or any other color from the standard palette. Or replace it by an image. There is a large collection of ready-to-use backgrounds in PhotoWorks - you will find it under the Select Background Image button. Check it out - you might find a suitable one. Alternatively, upload your own picture to use it as the new background.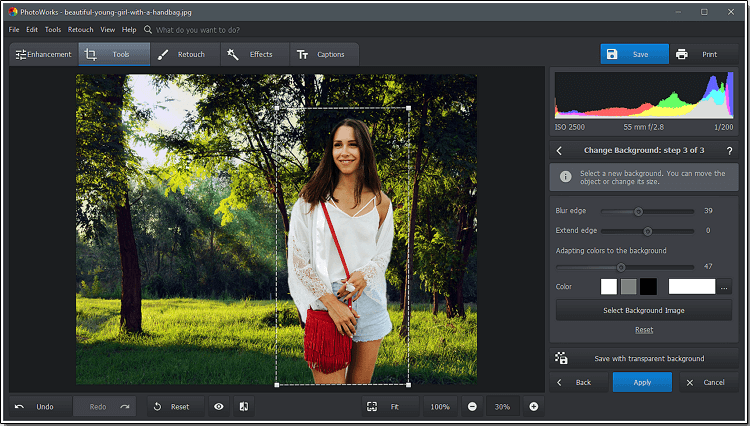 Choose a plain color, a built-in image or your own picture as a new background
Prefer to take photos with your mobile phone? Try Change Background Of Photos - with this app, you can edit your pics on the go, without transferring them to your PC.
If you want to try some other background, take a step back by clicking Undo or hit Reset and cancel all the changes. When you have finished, apply the changes and save the edited pic with a different background.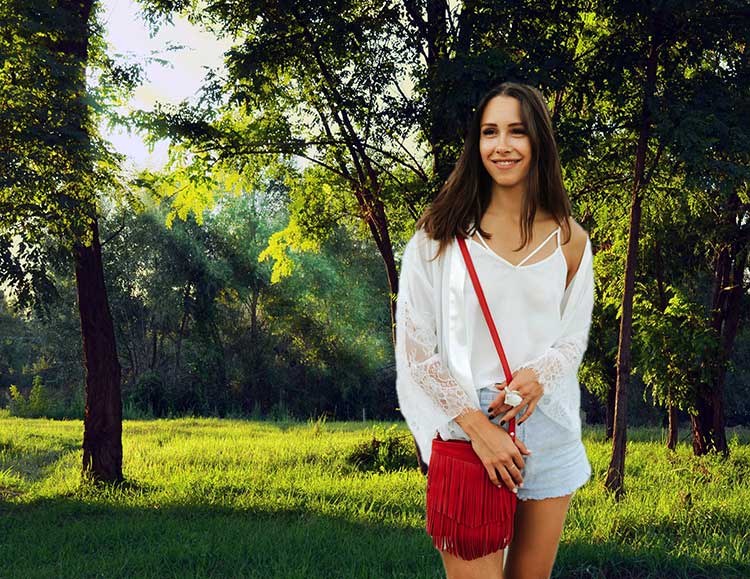 Save the image with a new background
Prefer following a visual guide step by step? Then watch this video. It shows how you can quickly insert a background in your picture with PhotoWorks: a few brush strokes and your image has a completely new atmosphere! This way, you can also create stunning photo montages using different images.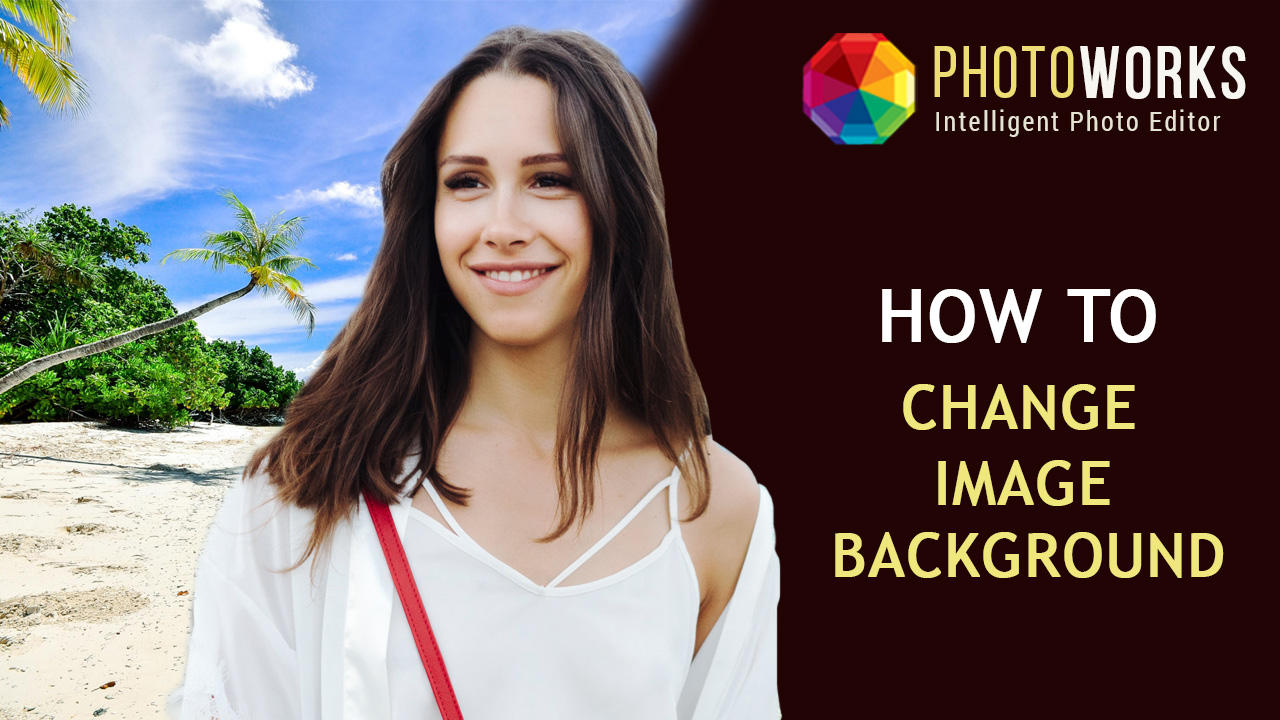 Studied the steps? It's high time to work with your images. Download PhotoWorks for free and give your photos a totally new look!
Now that you have learnt how to add a background to your images, keep improving your photos. In PhotoWorks software you'll find a whole lot of powerful editing tools:
Portrait Magic for auto photo retouching
Graduated Filter for fixing too light or too dark landscapes
Crop for composition improvement
Red Eye Removal for eliminating the devil's eyes effect
Clone Stamp for removing unwanted people and objects
Vignetting for making photos look old
Instant photo filters for stylizing your images.
While other image editors, like a web-based LunaPic, give you a limited toolkit or an overcomplicated workflow, PhotoWorks grants you a perfect combination between ease of use and vast editing possibilities. You can do almost everything: from simple color correction to deep portrait retouch. So download PhotoWorks and make your photos look stunning!