How to remove people from photos without Photoshop
Are you familiar with the case when a stranger runs through your photo? Someone just walks into the scene as you click your camera shutter - it's a common problem in the crowded tourist areas. Since you are looking for a solution, you don't think your shots are completely spoiled. And right you are! With a powerful photo editor, you will remove tourists and other unwanted visitors from your images in a flawless way. Take a deep breath - by the powerful editor, we don't mean Photoshop. Eager to find out how to do it without using complicated software? Keep on reading and you'll discover how to remove people from photographs with PhotoWorks.
Method 1: Crop a Photo to Get Rid of Strangers
If unwanted people have dropped in close to the photo edges or one of its corners, just cut them out by cropping the image. You can get a nice bonus - the cropping tool will help you improve the global composition of the picture.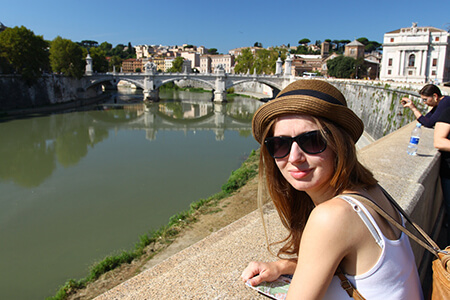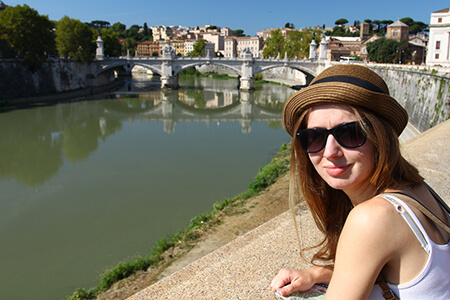 Now, let's see how to crop someone out of a picture with PhotoWorks step-by-step:
Step 1. Start PhotoWorks
Run the program and load your photograph for removing people. Choose the most convenient way: click the Open Photo button or drag and drop the image file from your Windows pictures folder.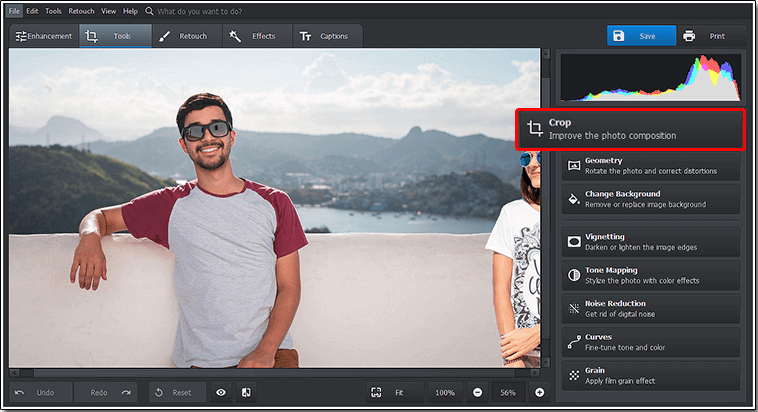 To begin with, start PhotoWorks and add the photo to improve
Step 2. Use the Crop Tool to Get Rid of Unwanted People
Move to the Tools tab and select the Crop tool. You will find a choice of cropping grids. Want to center the main person? Pick the Rule of Thirds type. Need to leave some space on one side yet attract the viewers' eyes to the main object? The Golden ratio grid will suit you. Adjust the chosen grid overlay: set its aspect ratio and the rotation angle. To crop a stranger out, resize the grid by moving control handles. Using this option, you can take someone out of a photo as well as improve its overall composition.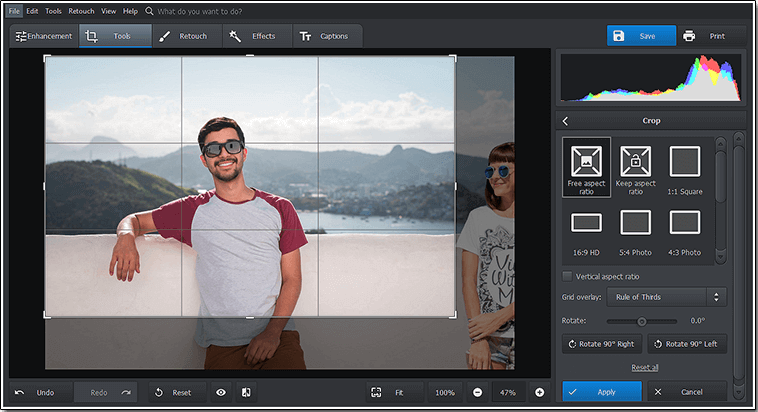 Pick the Crop tool to cut unwanted people out of your pic
Step 3. Save the Image
After cutting all the unwanted people out, you can compare the edited photo with the original. Save the adjustments by clicking the Apply button. Next, hit Save to save the image to your computer or alternatively, print it right away.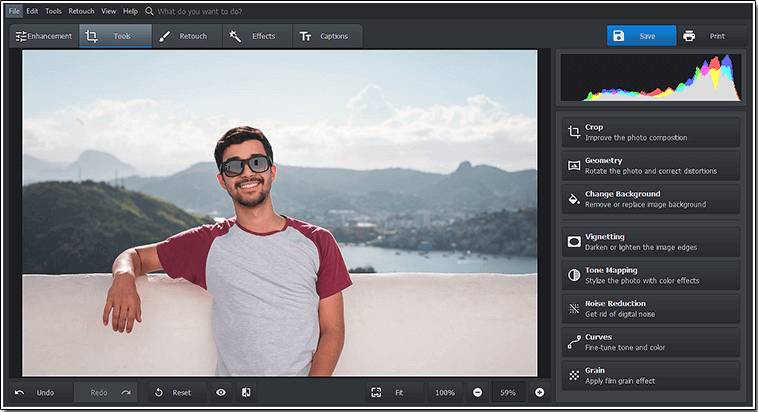 Like the result? Save the edited image
However, cropping someone out of your picture is not a very flexible way. For instance, if a stranger is standing right behind your back, you will need a more powerful eraser. The Healing Brush will help you sort out this issue. Note that it's a perfect tool to delete objects from simple backgrounds.
Looking for a way to remove a person from a photo on your iPhone? Check out these top 4 iPhone apps.
Method 2: Use Healing Brush to Remove a Person from a Photo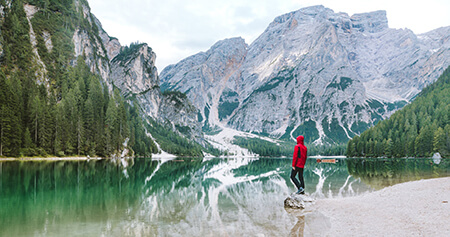 Let's learn how to edit someone out of a photo using the Healing Brush. Here are the steps to follow:
Step 1. Launch PhotoWorks
Start the program and add the photo with unwanted people to work on.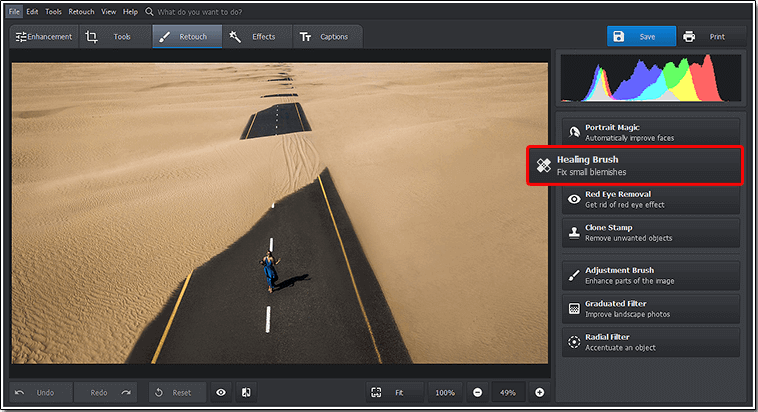 To try another method of deleting people, add your photo again
Step 2. Use Healing Brush to Remove People from Photos
Open the Retouch tab and pick the Healing Brush option on the right-hand panel. To remove the objects from your photo, you'll need to carefully paint them over altogether with their shadows and reflections. Before you start, adjust the size of your brush, its feather and opacity by moving the same-name sliders. To make the brush bigger and more transparent with softer borders, drag the sliders to the right.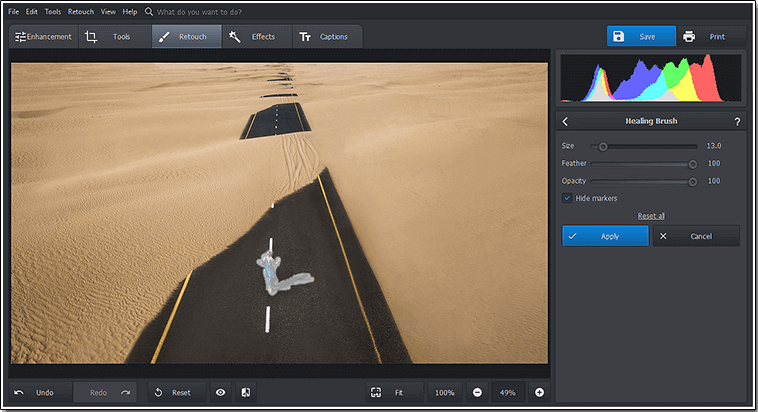 Erase unwanted people from your photo with the Healing Brush
Step 3. Save the Picture to Your PC
When you're done with editing, view the result by comparing 2 photos - the source and the edited one. To do that, click Show original at the bottom of the program. Now, you can save the retouched image to your computer.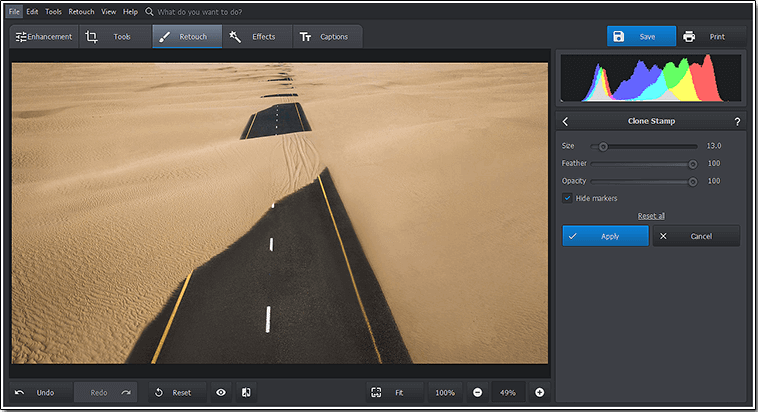 Compare the result with the original - the person has vanished!
Although the Healing Brush lets you get a decent result, it's not a one-size-fits-all instrument. If the background of your image with strangers is complicated, you might need a professional-level editing tool. We suggest that you try the Clone Stamp. With it, you can erase someone from a photo without photoshopping.
Method 3: Use the Clone Stamp for Removing People
To learn how to master the Clone Stamp in PhotoWorks, follow the 3 steps listed below:
Step 1. Run PhotoWorks
Launch the program and import the picture you want to edit.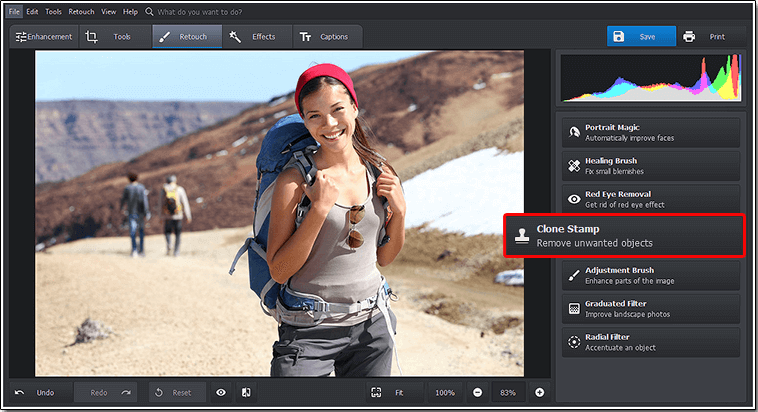 Let's try one more method of deleting people
Step 2. Edit People Out of the Image With Clone Stamp
In the Retouch tab, click the Clone Stamp button. With this feature, you can easily make people disappear from your photos. Adjust the settings of the stamp - set how big, soft and transparent it will be. Then mark the spot you want to erase, clone the such-like area and replace the selection with it.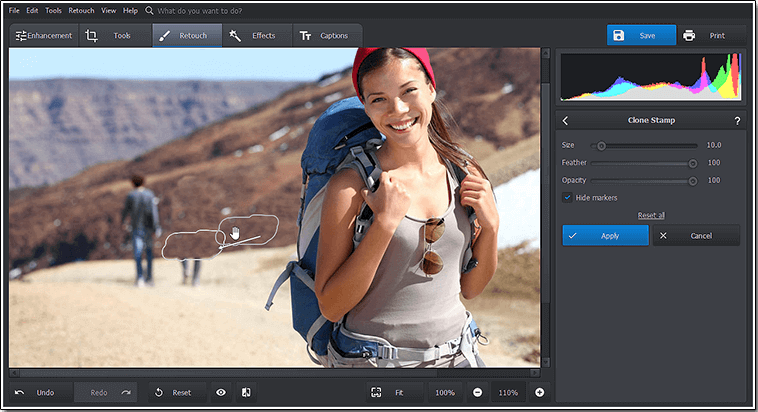 Removing unwanted people from pictures with the Clone Stamp is easy
Step 3. Save the Result
Compare the original and the edited images. As you see, there is a major difference between them now - 2 guys have gone as if they've never been on the photograph. Now, apply the changes and save the picture to your PC.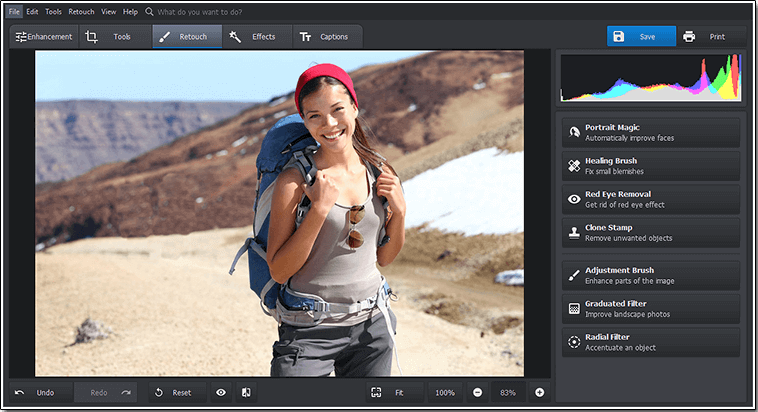 All the unwanted people have gone, you can save your improved photo
Prefer visual guides over texts? Then watch this video showing a quick way of removing people from images in PhotoWorks: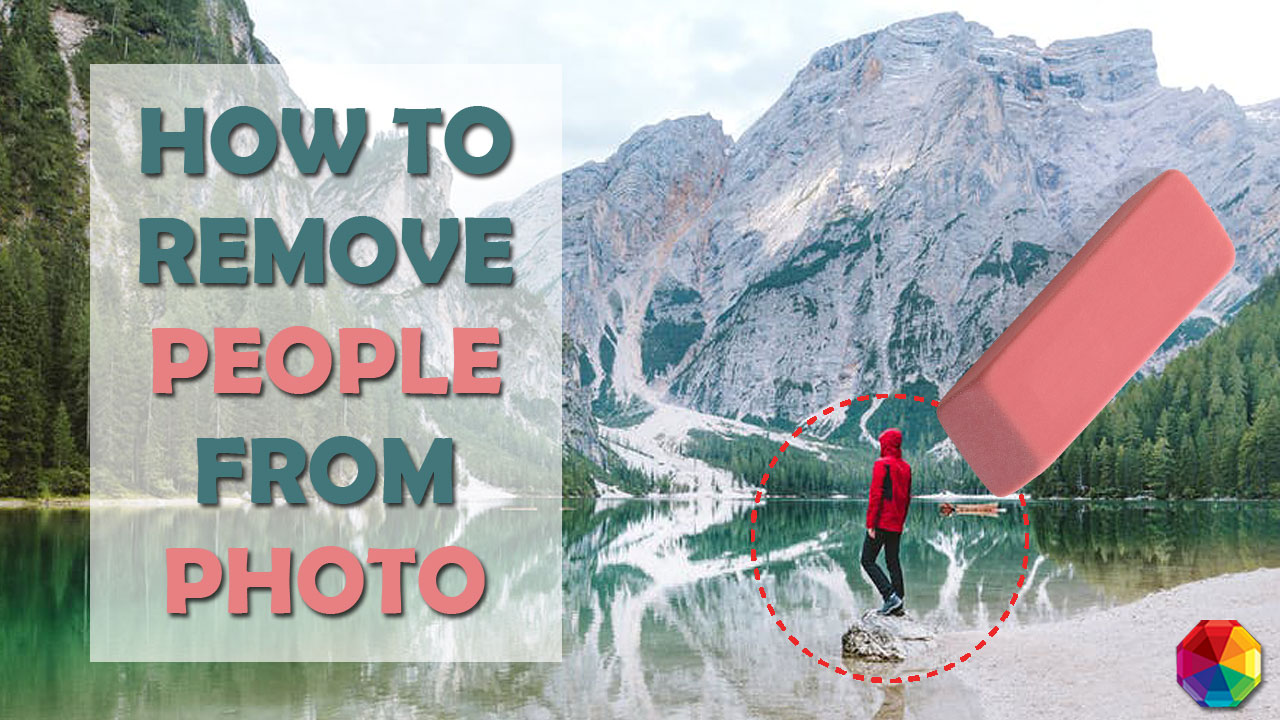 As you see, it takes just a minute or less to edit someone out of a picture with PhotoWorks. Want to see how it copes with your pictures? Download the free trial version below:
Now, you have learnt how to get rid of undesired people with PhotoWorks and save your best shots. Want to improve them further? For example, fix the exposure issues, remove watermarks from pictures, adjust the color and white balance within the scene, remove sun glare from photo or give a glamorous look to your portrait? For topnotch pictures, check out these pro-level tips:
Make Your Portraits Magazine-Like
Need to accentuate your lips and eyes in order to attract the viewers' eyes to them? Want to enhance the portrait? You don't need complicated brushes and masks anymore. Try a smart face photo editor - now you can remove blemishes from photos and improve your portrait shots with just a couple of mouse clicks! Choose a ready-made preset from the built-in library or retouch your photos manually.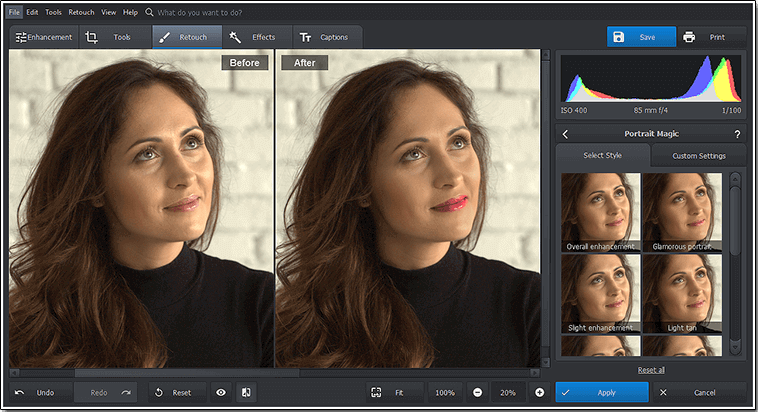 Make Your Landscapes Outstanding
Failed to catch the Golden Hour to take pictures and your amazing landscape photos look over- or underexposed? Graduated Filter will help you solve exposure issues! Adjust certain areas by making them brighter or less saturated, lighter or darker. Set the color balance and manage the light on your photos like a pro with a user-friendly image editor.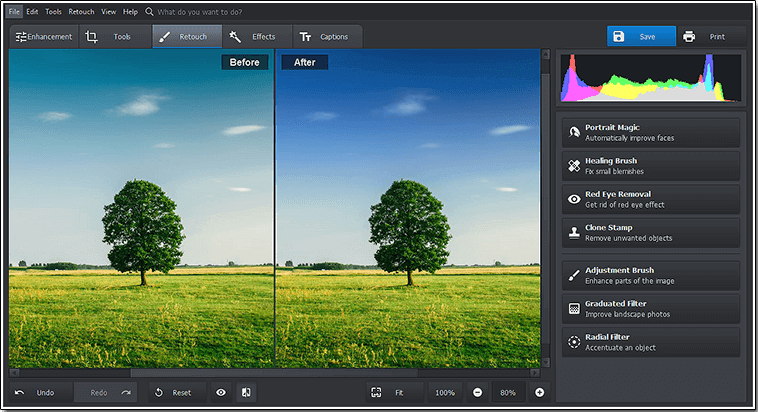 Add Captions to Your Photos
Looking for fresh ideas on how to personalize your pictures? Add text captions to them! You can turn your photographs into unique postcards, posters or greeting cards. Besides, it's a tried-and-true way to get the viewers' attention and tell them the story. Adding captions in PhotoWorks is easy and pleasant - you'll surely love a variety of text styles and customizing possibilities.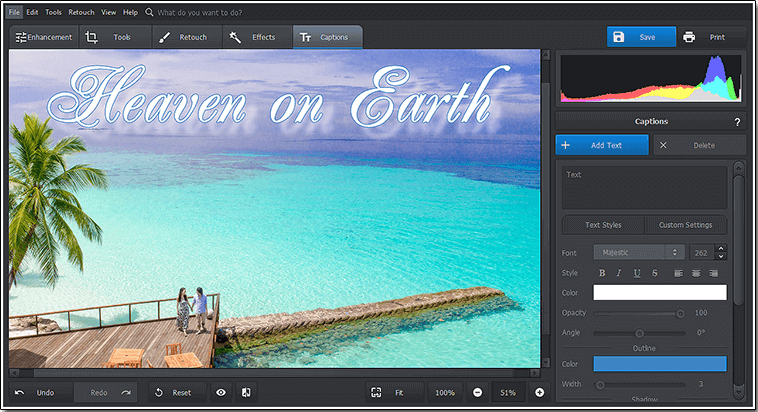 Need to remove a person from a few photos and don't want to install additional software to your PC? Then check out PicMonkey - a web-based photo editing service.
Frequently Asked Questions
Is it possible to remove a stranger from your photograph?



There are several ways to do that, depending on your skill. The best way is to use the Healing Brush.

Сan you remove tourists from travel photos?



Sure, however, that's not easy. Travel photos have lots of little details, so you need a precise tool with a manual control in order to carefully remove a person.

Conceal an unwanted object in a few clicks

How do you remove a background person in a photo?



Sometimes, when the person ruined your photo composition completely, the best decision is to simply add the new photo background.

Read a quick guide on how to add a background

Can you remove a person from a photo without Photoshop?



Yes, you can. There are lots of easy-to-use image editors that allow you to remove unwanted objects from your photos. Use the link below to get one right now:
PhotoWorks is created to make the process of photo editing easy and efficient at the same time. You won't need complicated software anymore. Download PhotoWorks right now and edit your images like a professional without Photoshop!