How to Get Rid of a White Background on an Image with Ease
Need a go-to white background remover to insert a portrait into another picture or to create a logo for your brand? No worries - you can do it even with zero experience in photo editing! In this post, you'll find a step-by-step guide on removing the background in the beginner-friendly PhotoWorks, a strong contender against major giants of the industry that guarantees you top-notch results in almost no time. PhotoWorks lets you easily edit the background, enhance the picture quality, overlay photos, and even retouch a portrait in a couple of clicks. In other words, there's a dizzying array of AI tools to make your images stand out.
But we know how important it is to compare several options to choose the right photo editor. This is why we are going to show you how to remove the white background from an image using a couple of alternative programs - read the article till the end to find more background replacement tools: computer photo editors, online services, and even mobile apps for iOS and Android. So let's dive in and finally discover how to erase the white background with ease.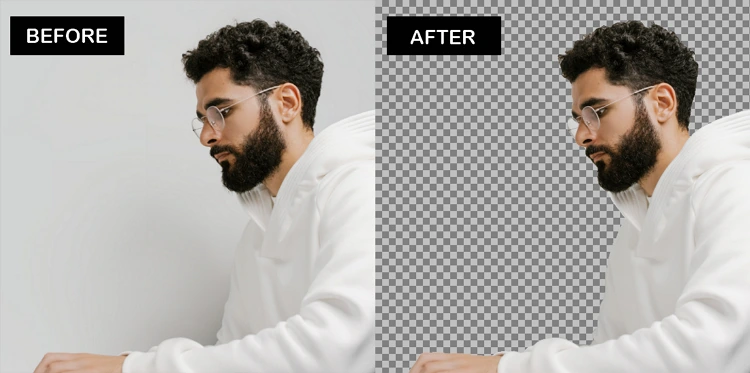 A few clicks and the white background turns transparent
How to Remove the White Background from a Picture in 2 Strokes
Here's a four-step tutorial that will help you effortlessly get rid of a white background using an AI-driven tool - with it, you don't need to spend hours trying to accurately select around the unwanted area. So why don't we find out how to use it?
Step 1. Install PhotoWorks on Your PC or Mac
For starters, hit the green button below to download the white background remover on your computer. Then open the installation file to launch the program - now you're ready to get down to work.
Step 2. Add a Photo for Background Removal
To import a picture from your hard drive, click Open Photo and select a file from a folder. Alternatively, you can drag and drop an image or select a photo in the File menu.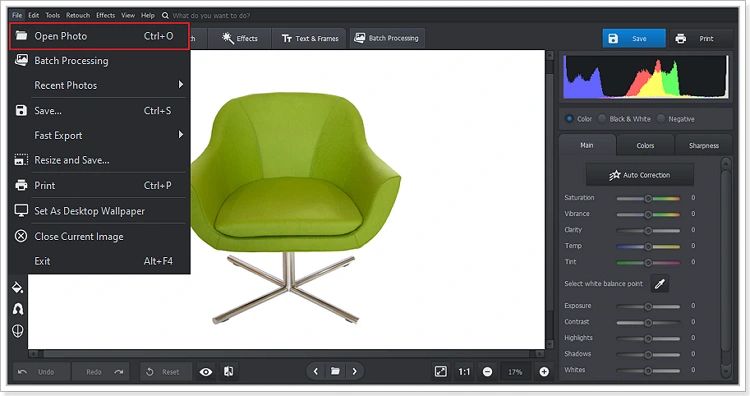 Upload your image to separate the object from the background
Step 3. Remove the White Background
Now open the Tools tab and click on Change Background. There you'll see a panel with an Object Brush, Background Brush and Eraser that can be easily adjusted - move the sliders to change the tool's size and the amount of blur border. Pick the brushes and paint over the object and the background area. Once it's done, click Next and fix any missteps.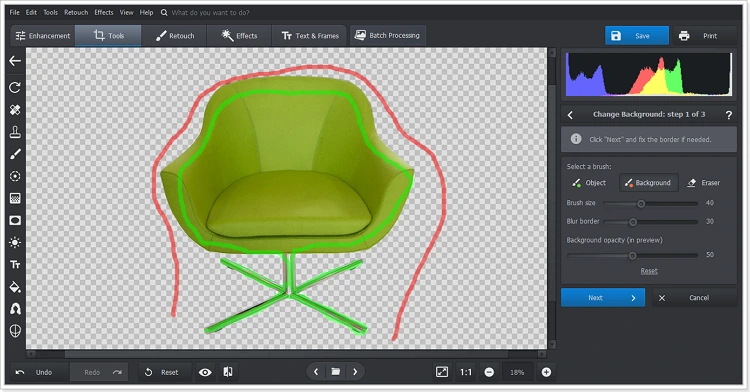 Get rid of the white background
Step 4. Export the Edited Picture
Is the white background gone? Then click Next to adjust the Blur edge and the Extend edge. You can export the image as a PNG file - just hit the button below the panel to save the edited picture with a transparent background.
By the way, PhotoWorks also allows you to add a new background to a photo, e.g., color the background with one of the suggested options. You can also insert one of the ready-to-use background images from the program's collection or upload your own picture. All done? Then click Apply and press the Save button to export the new photo.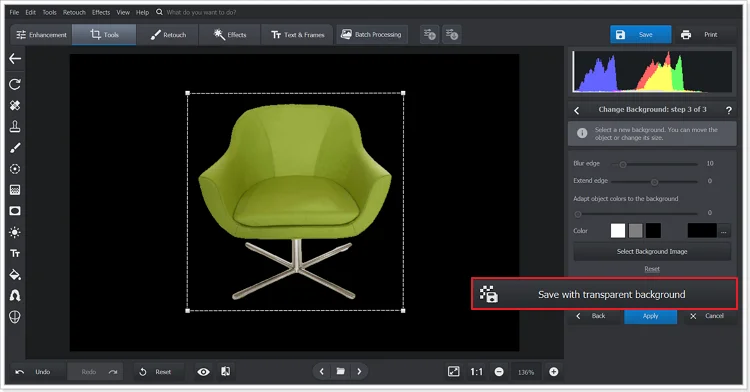 Save the current changes
The background vanished without a trace? Then let's try some other handy features of the program - they are as hassle-free as removing a white background from an image.
What Else You Can Do with PhotoWorks:
Erase watermarks
Whiten the model's teeth
Delete skin blemishes
Other Ways to Take a White Background Out of a Picture
Is your hard drive storage full? Don't start panicking and deleting important files from your computer - just try online tools such as Adobe Express. Simply upload a file and wait till the program removes the white background from your picture. This photo editor doesn't require any installation but you'll have to sign in to download the image. If you need more tools, then Canva might be a suitable program for you. This Internet service is popular among professional and amateur graphic designers and photographers - it allows you to create new art and fix images in the built-in photo editor. Both of the online programs are available for free, but you might need their premium versions for certain features such as resizing in Canva, or a bigger storage in Adobe Express.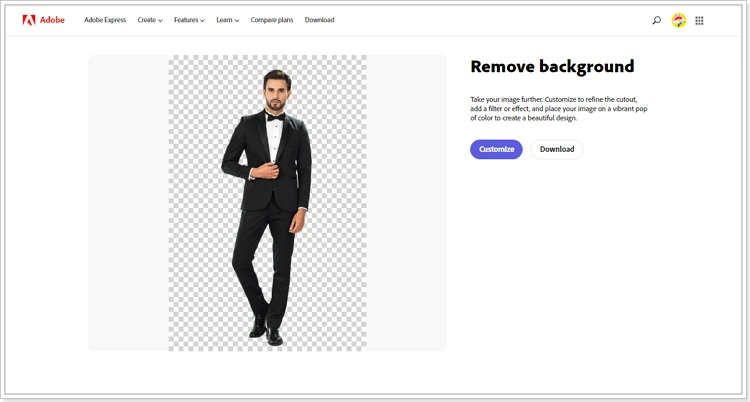 Use Adobe Express to delete the white background online
Wondering how to get rid of the white background on a picture without risking your privacy online? There are a few trustworthy software, e.g., MS Word - it's already installed on most computers, so why not use it to make the white background transparent? You can add your image, edit it and save as a separate picture, but unfortunately you won't find many tools to make other adjustments so the output might look rather unnatural. Besides, MS Word has a rather costly subscription.
To edit your pictures for free, make use of GIMP, a Photoshop-like computer program compatible with Linux, Mac, and Windows. There are several simple and a couple of more tedious ways to make the background transparent in GIMP. Watch the video tutorial on white background removal and try the described methods yourself.
Want to edit your pictures on the go? Then download a mobile application on your device. For example, here's an Android app where you can delete the white background either automatically or by using an adjustable cursor. But there is also an automatic iOS app for Apple users. Even though you can't remove the unwanted section manually, the program allows you to smoothen the edges once you erase the white background so the picture will look natural after all.
Now you know how to take the white background out of a picture with any kind of gadget you have at hand. It's up to you whether you're going to use a computer-based program, mobile application, or online photo editor to remove the white background from your photo. But we're sure you won't regret it if you begin with the PhotoWorks' nifty tools - any of your art ideas can become a reality with this software. Either way, it's time to make the white background disappear, so read through the article one more time and pick the photo editing program that will meet all your needs.