How to Add Captions to Pictures: 6 Methods You'll Love
Want to turn your vacation photos into postcards, make a personalized ecard with pictures or create a funny motifake? Adding captions to photos is a perfect solution in this case. Besides, the text written on your images will surely catch the viewers' attention thus prevent them from just scrolling the gallery by and throwing a cursory glance at every picture. Feeling interested? Want to give it a try? Then discover 6 easy ways to caption your photos from this guide and pick the most suitable one:
Now, let's take a closer look at each method to explore how to add captions to pictures.
Method 1: Caption a Picture With an Image Editor
Do you want to caption your photos easily, quickly and in the most efficient way? Then download PhotoWorks. This photo editor is compatible with Windows 7, 8, 10, 11 and Mac. Some image editing programs require Internet connection to work. PhotoWorks works flawlessly no matter if you have Internet access or not - use it anytime you need.
So, how to caption a photo in PhotoWorks? It just could not be easier! Here are 4 simple steps for you to follow:
Step 1. Run PhotoWorks
Start the photo editor and open the image you want to caption: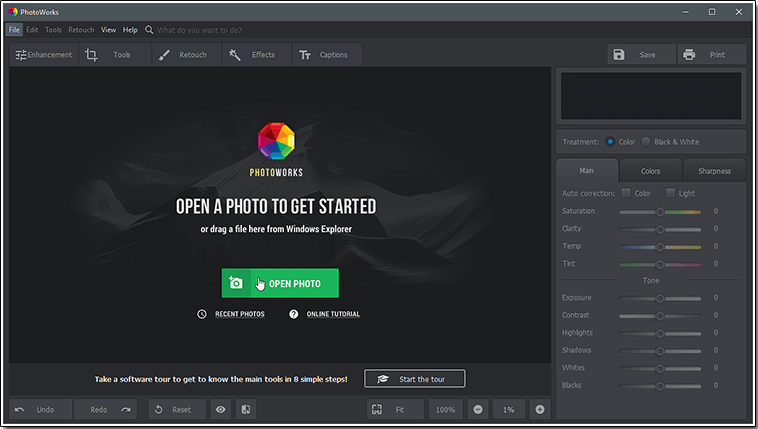 Import your photo
Step 2. Add a Caption to Your Image
Open the Captions tab, click the Add Text button and type your text caption in the field on the right.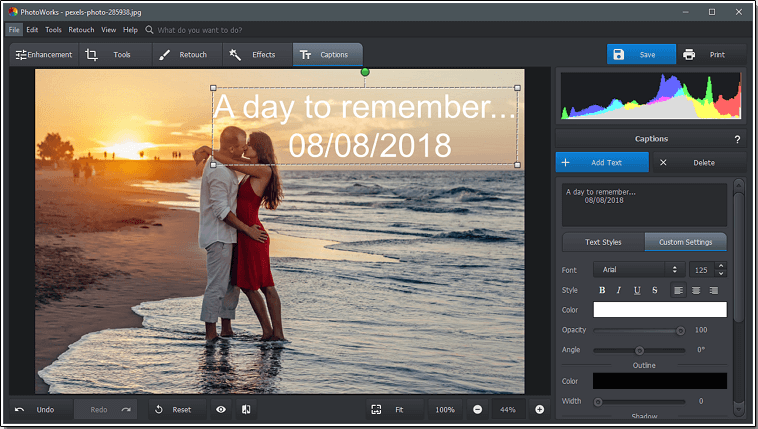 Write your text
Step 3. Stylize Your Text
Choose the text style from an extensive collection of designer presets. If needed, customize it to your fancy: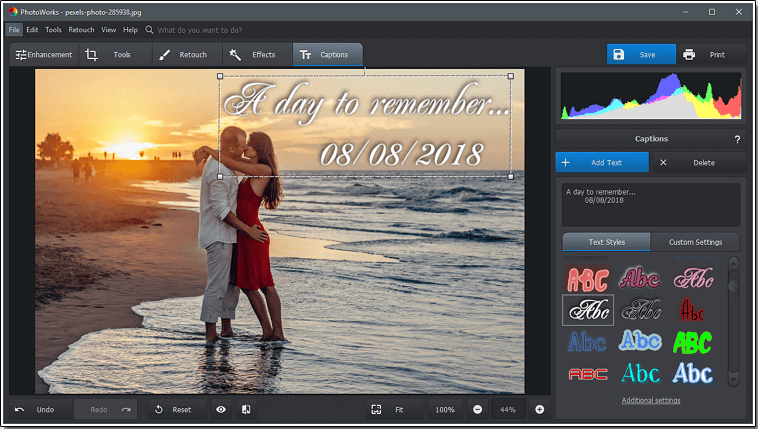 Select the text style
Step 4. Save the Changes
Apply the changes and save the edited photo with your text caption on it: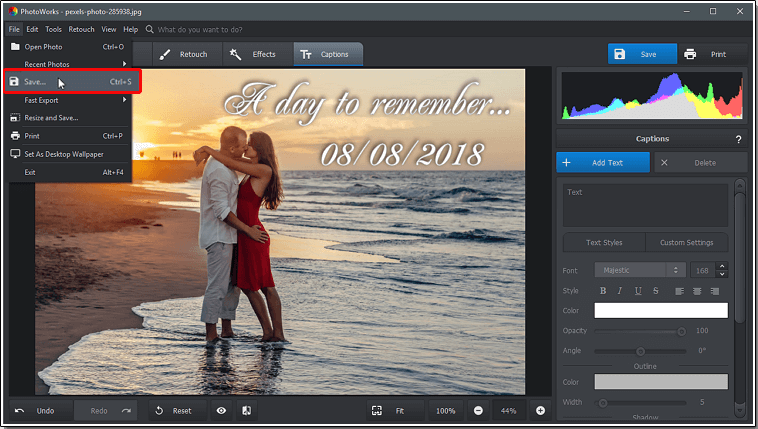 Apply the changes and save your photo
You don't have to be a tech-savvy to manage this photo editing app for PC and Mac thanks to its intuitive interface - even newbies can put captions on photos easily! Want to see it for yourself? Watch the short video tutorial below: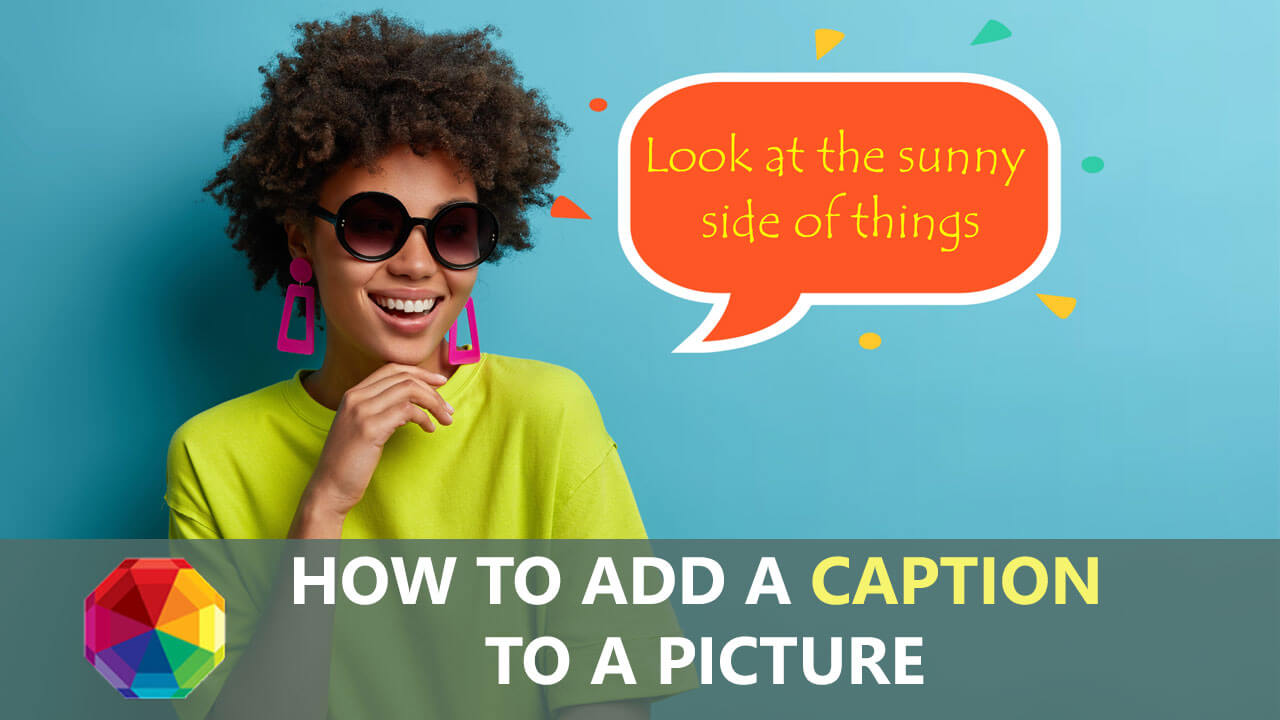 As you could see, it's possible to add a tremendous variety of text captions to your images with the help of PhotoWorks in less than a minute. The photo caption maker offers you a large collection of text styles. If you want to make your captions truly unique, customize the style - play with the font and its size, try different colors from a wide palette, move the text around the picture and rotate it as you like. Also, you can add an outline or shadow to make the caption more stylish.
Ready to try adding captions to your photos on Mac or Windows? Then download PhotoWorks right now and give it a go!
However, you are free to go beyond PhotoWorks and try other captioning software, there is quite an amount of them offered to users today. For example, go for CaptionIt! or Free Caption Maker. This way, you will be able to compare various interface types and editing possibilities of different programs and choose the best one for you.
Method 2: How to Add Captions to Google Photos
Another way to add text captions directly to your photographs is to use Google Photos. It's a cloud storage tied to your Google account, where you can upload, organize and keep images.
Sign in to your existing Google account.
Upload a photo for editing to Google Photos.
Click on the photograph and select the i option in the upper menu.
In the Information panel that shows up, type your caption in the description field.
Close the panel and you will see your text caption at the bottom left.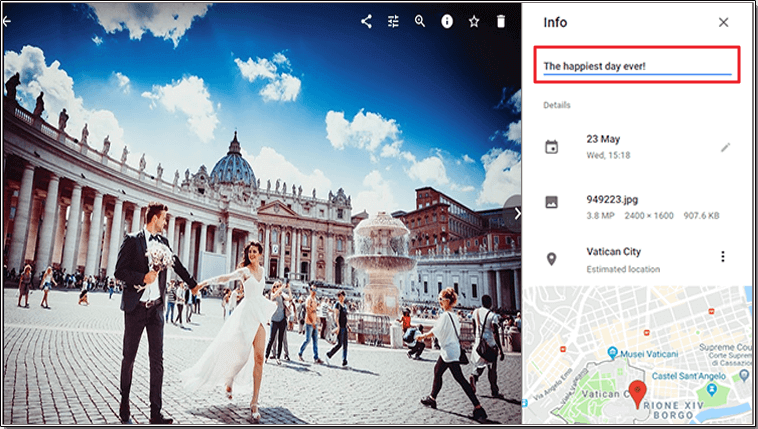 Add a caption to Google Photos
Writing captions in your smartphone takes just all the same steps. To use Google Photos, download them from the Play Market for Android or App Store for IOS. Open the photo that you want to caption and tap it to expand. At the screen bottom, tap the i button and add a description to the field. Now, tap the Back button. In general, this method is suitable only for those who have stable Internet connection. If you want to add captions offline, look for a different way.
Method 3: How to Add Permanent Captions in a JPEG file
There is one more way to add caption information to images. Most people save and share their photographs in the JPEG format. It comes with a built-in caption option as a part of metadata. It is a descriptive block that contains the date when a picture was taken, its resolution, and the camera model information. Having added a text caption in a JPEG file, you can view and change it in metadata.
Right-click your JPEG image.
Pick Properties from the drop-down list.
Open the Details tab.
Fill out the Title field and apply the changes.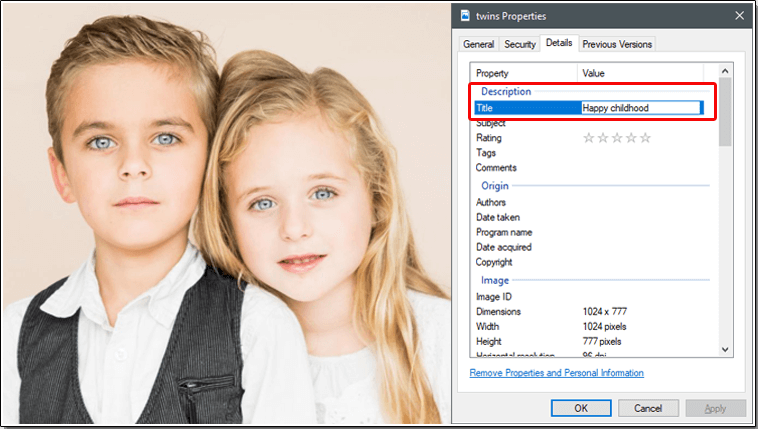 Caption your image in a JPEG file
Method 4: Caption Your Images Using Online Picture Caption Makers
You might find it convenient and fast to add text captions to your images online. Indeed, if your Internet connection is stable, you don't need to install software to your personal computer. Let's see how the thing works and take the AddText service for an example.
Open the AddText website and upload your photo.
Select the Add Text option.
Write your captions. Choose the text style and adjust its size.
When you are done with editing, save your photo or share it online.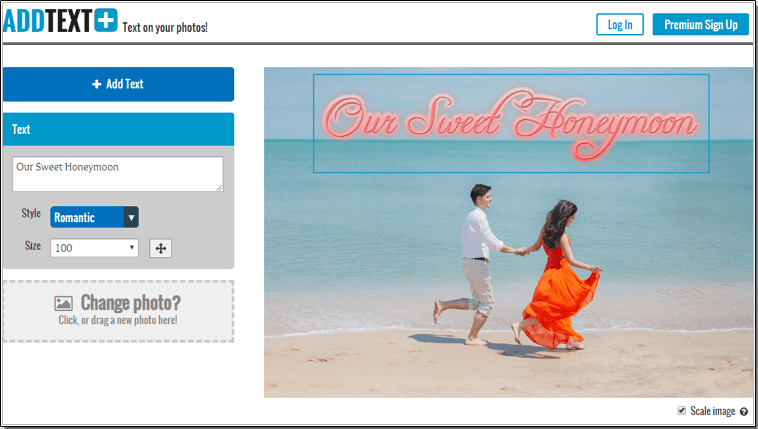 Add text caption to your photos online
There are plenty of similar services offered online these days, you can try them one after another and find the one that suits you the most. But note that once you have uploaded your personal photos on the World Wide Web, there is no privacy about them left.
Method 5: Use Mobile Apps for Captioning Your Photos
People all over the world take an uncountable amount of photos with their smartphone cameras daily. No wonder! Your cell is always on hand, cameras of modern mobile phones are significantly good, and you can instantly share your shots with your friends through social media. Besides, various mobile apps offer you lots of photo editing options. With them, you can apply artistic filters and effects to your pics, decorate them with creative stickers and add captions to photos.
As mentioned before, you can choose from a wide variety of apps to work with them on your iPhone or Android. They can be both free or paid. Among the most popular there are Typic, Over and PicLab. They are rather easy to use, come with a large collection of font styles, allow you to resize and rotate your texts with just little effort. Free versions of those apps contain ads and it can be annoying at times. To get rid of them, you'll have to make in-apps purchases.
From the variety of apps, we picked Phonto. Here are the steps for adding captions with this app:
Start Phonto and open your image.
Hold your finger on the screen and tap the Add Text bubble when it appears.
Select the text style and font. Then type in your caption.
Click Done. Now position your text on the image and save the result.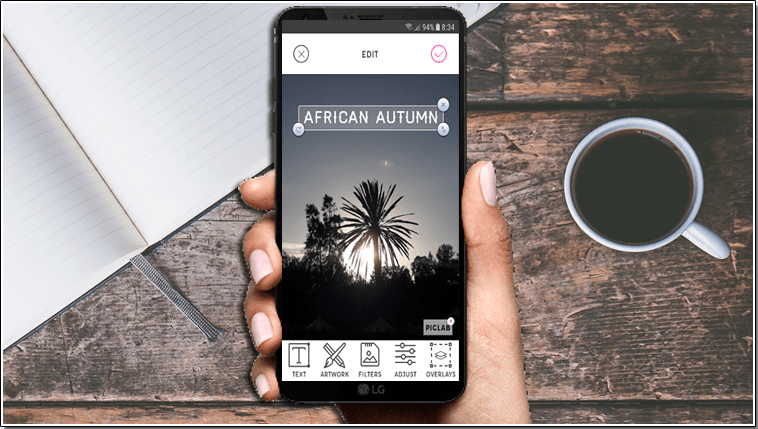 Use your smartphone to caption your pictures
Want to add text as a watermark and prevent other users from stealing your pictures? Secure your photo completely - add a logo to a picture along with simple captions.
Method 6: Add Captions to Pictures in MS Word
Don't want to download any additional image editors or use online services for the sake of privacy? Then take a look at the old buddy, Microsoft Office. Using one of its parts, MS Word, you can quickly add captions to your photos on Windows 10.
So, want to add text to you pics in a Word document? Here are the steps:
Select the picture.
Go to References and click Insert Caption.
Pick the default Label (Figure) and type in your text into the Caption field.
When you're done, click OK.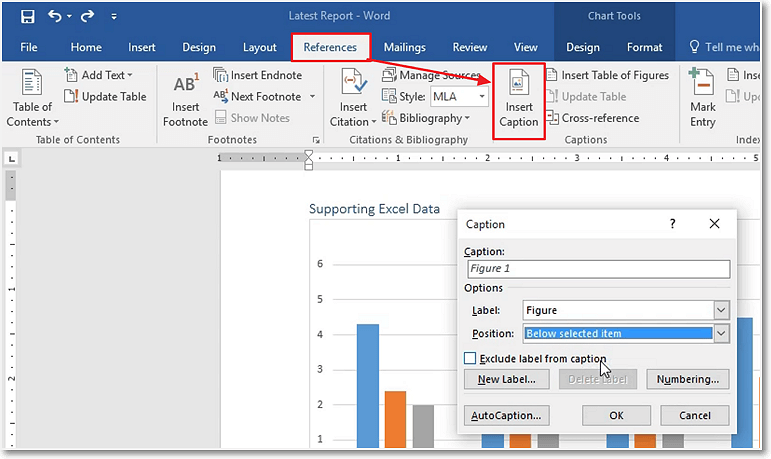 Insert captions directly in the Microsoft Word document
Now that you have learnt those 6 different ways to add captions to your photos, it's up to you to select the one that's most convenient and efficient for you. Dressing up your pictures with text captions will make them stand out. And it can surely become real fun as long as you have a user-friendly and powerful captioner like PhotoWorks. It can also become your ultimate portrait photo editor that will remove any skin blemishes from faces in your pictures, edit out distracting elements in the background and apply stunning effects in a single click. There's even a face swapper that lets you have fun with your friends' pictures by swapping faces with a few simple brush strokes.