How to Make Black and White Photo with One Color Accent Without Photoshop
You must have seen such images - a stunning black and white photo with one color element. A yellow cab against a muted cityside. A turquoise water of the lake amidst a colorless mountain range and so on. Chic and sophisticated, such pictures draw attention and make you want to study them for hours. Such editing technique is called Color Splash and you can master it, too.
No, you won't need to fiddle with Photoshop to create something as stunning as a Color Splash image. In this article, we will show you how to make everything black and white except for one color in 4 different ways: on your PC, Mac, cell phone, and online. So take your favourite picture and turn it into something just as pretty.

Color Splash technique in action
Have tons of ideas for your own Color Splash images? Then here are the ways you can realize them:
Way 1. Add a Color Accent to a Black and White Photo with a Filter
Remember we told you that you won't need Photoshop? That's right, there is absolutely no reason to turn to this insanely complicated software when you have another program that is also very feature-rich but at the same time requires little time to master. We are talking about PhotoWorks, a smart photo editor. Let's see how you can make a black and white photo with a color accent in this software.
Open your image with PhotoWorks. Run the software and open your full color picture in it.
Find the Color Splash filter. Switch to the Effects tab. Browse through the Popular effects till you find Color Splash. You won't miss it - it has a killer preview.
Apply the effect. Just click once, and the software will render your pic B&W but leave out one color element.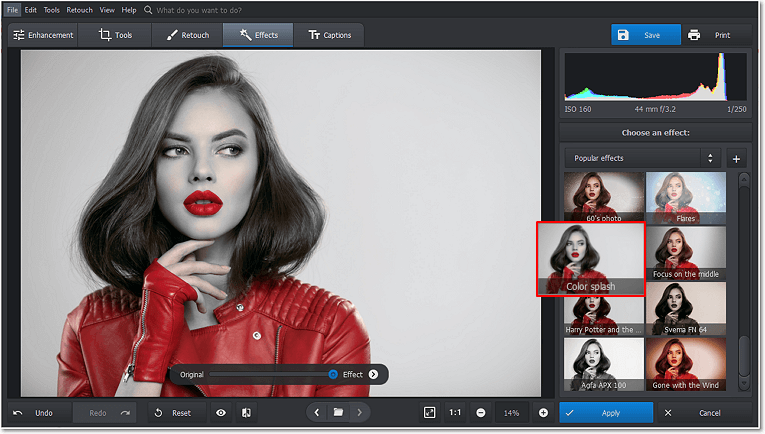 Such image can be a great accessory to a beauty parlor interior
Way 2. Desaturate All the Colors Except One with a Smart Brush
If you want to have more artistic control over the color pop effect, then PhotoWorks has another tool for you. It's called the Adjustment Brush. With it, you can modify any part of your image without affecting the rest. Let's see how you can use it to remove all colors except one in your shot.
Pick the Adjustment Brush. Once you have your image open in PhotoWorks, switch to the Retouch tab and select the Adjustment Brush tool.
Choose the area to render B&W. Brush over those area of your picture you want to make black and white.
Desaturate the colors. Once your selection is complete, drag the saturation slider all the way to the left. There you go - you have a black and white background with a colored object.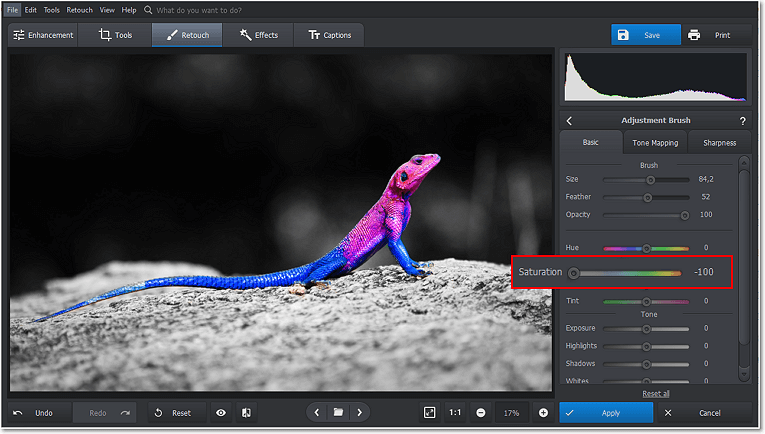 Let's focus on this little fella and mute out the rest
The adjustment brush is a nifty tool capable of completely transforming or enhancing any parts of the picture you choose. Want to know what else it can be used for? Then watch this video to see this handy instrument in action: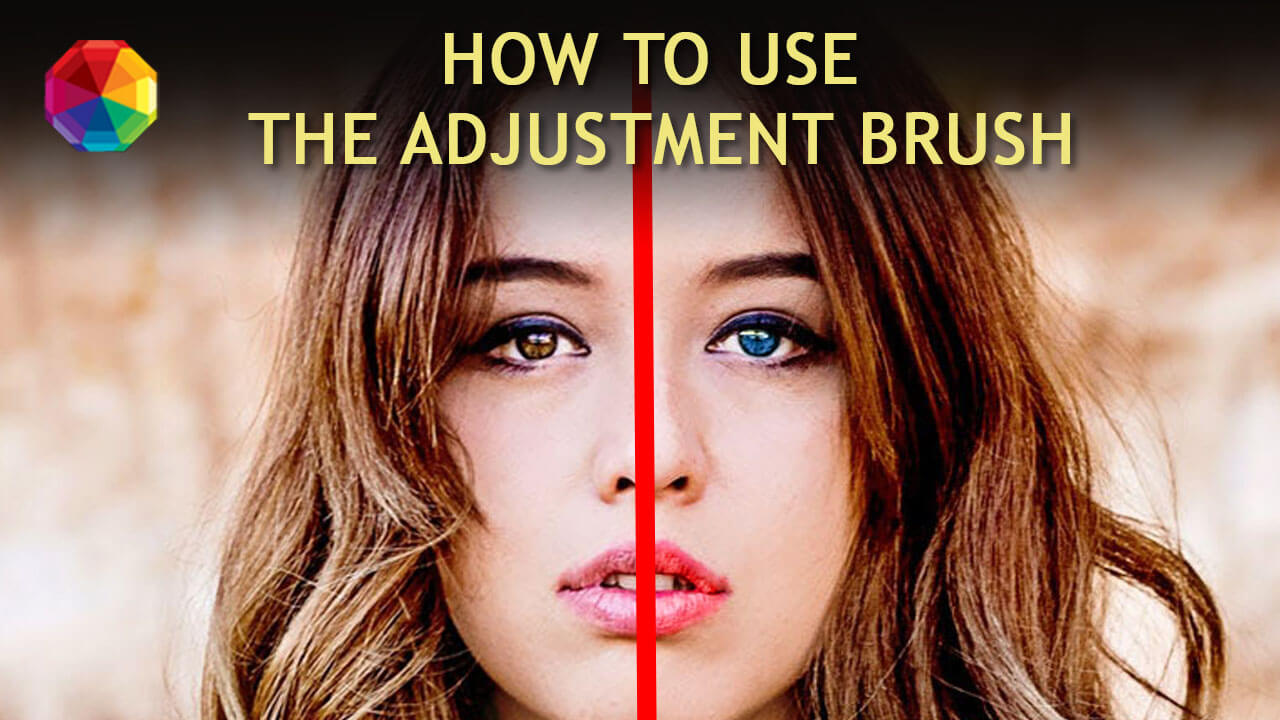 Just imagine what you can do with a tool like that! Wish to try the Adjustment Brush and the rest of PhotoWorks' arsenal right now? Then download the software for free to get started!
And speaking of the arsenal - the aforementioned Adjustment Brush is not the only smart feature that PhotoWorks boasts. With this multifunctional photo editor, you can easily retouch your portraits, fade the edges of a photo, remove unwanted objects from images, edit shadows out of pictures and even overlay photos. So if you want to improve your less-than-perfect shot and waste no time doing it - then PhotoWorks is just the thing for you.
Way 3. Create a Black and White Photo with Color Accent on a Mobile
What do you usually do on your cell phone? Scroll through social media feeds or watch TikTok videos? Well, you can also create something beautiful like a Color Splash picture. There are tons of applications to do that, but we'll focus on just one - Color Pop Effects Photo Editor. Let's use it to make color pop in your black and white photo.
Open your photo within the app. Once you do it, the application with automatically render your picture grayscale.
Bring back the color of a certain object. Now set the brush size and just paint over whatever part of the photo you want to restore bright colors to. That's it - you have an artistically isolated color.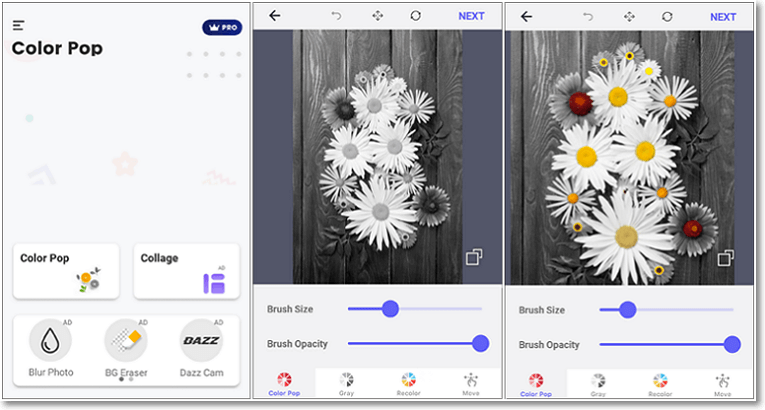 Just think of the Color Pop pictures you can post on your Instagram page
You might be wondering - how does the most renowned and popular photo editing software manage the Color Splash task? Have some time to spare? Then have a look at how to make pictures black and white with one color accent in Photoshop.
Way 4. Make One Color Stand Out in a Black and White Photo Online
Nowadays we shop online, quarrel online, even date online. So why not make art online as well? Once again, there are myriads of online services that allow you to transform your picture using the Color pop technique, but we'll be looking at one of the most popular. Let's see how we can create a B&W photo with a pinch of color in Fotor.
Open your image in Fotor. Follow the link above, then upload your photo to the editor either from your hard drive, your Dropbox, or your Facebook page.
Choose the grayscale style. Switch to the Effects tab and find Color Splash. Fotor offers you several B&W filters that give very different vibes to your photo: sepia, slightly dim shades, blueish tints, etc. Apply the one you like.
Make one color element stand out. Now simply brush over the object you want to be in color. Change the brush size and intensity for a smoother edit.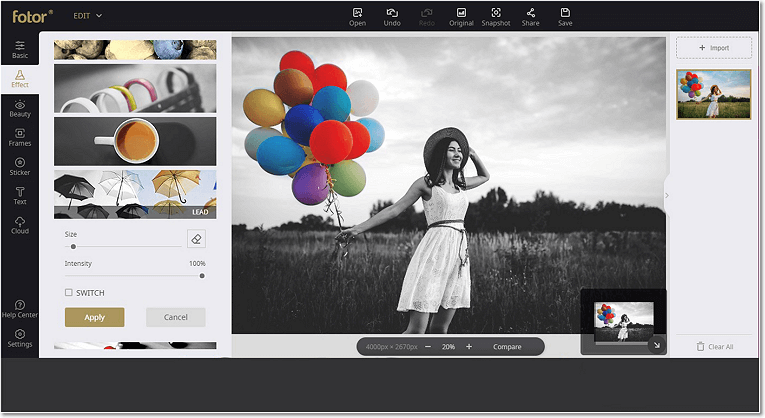 There is something entchanting and eerie about Color Splash images
And there you have it - this is how you can make black and white pictures with color in 4 simple ways. So whether you want to create an artwork to boast on Instagram or you wish to make an eye-catching decor for your living room, there is a Color Pop method just for you.