How to Add a Logo to a Picture In a Minute?
Imagine you put lots of effort into getting a perfect shot, but a few days later you notice it here and there on the Internet, without any credit given to you. Sad situation, huh? It harms not only your own ego, but your brand and fame. What's the best way to prevent other users from stealing your work?
Add a logo to your photo. It's a simple yet effective measure. What's more, it doesn't have to be super expensive or time-consuming, since you can stick a logo without Photoshop. With an easy-to-use photo editor, you can perform that action in no time, saving your money and nerves. We suggest taking a look at PhotoWorks. This editor combines ease of use with powerful tools that let you not just retouch a photo but also add a logo to your image in a very simple way.
Here is an example where we added a logo with PhotoWorks:
Before
After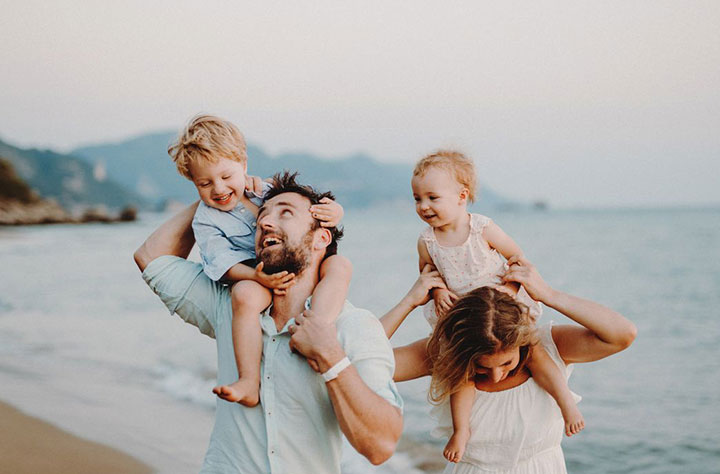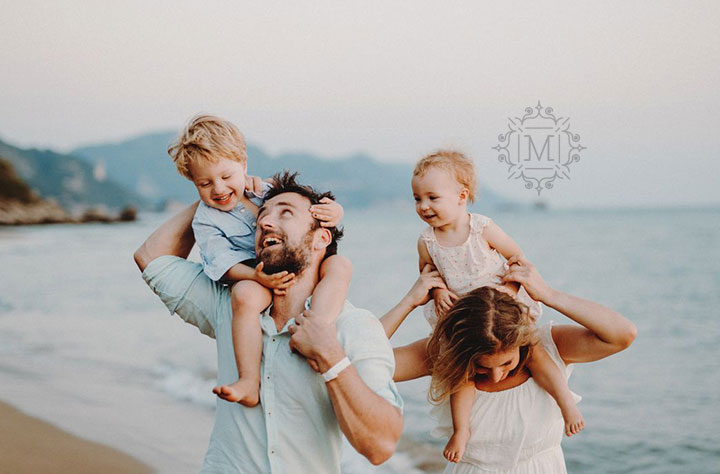 So, how to add a logo to a picture with PhotoWorks? Here are the steps to follow:
Step 1. Download PhotoWorks
Let's get started. Use the green button below to download the free trial of PhotoWorks and install the program. Just follow the steps provided by the wizard. Once the program is installed, you are ready to personalize your work.
Don't want to download and install software on your PC? You can also use web services, for example, LogoLicious app for mobile or PicMonkey for PC.
Step 2. Find or Create Your Logo
Next, you need to choose an appropriate logo. Simple lines and an interesting concept is key: they will draw attention to your logo and make it easy to remember. Order a logo from a designer, draw it yourself or pick a ready-made one from a stock - the choice depends on your taste and budget.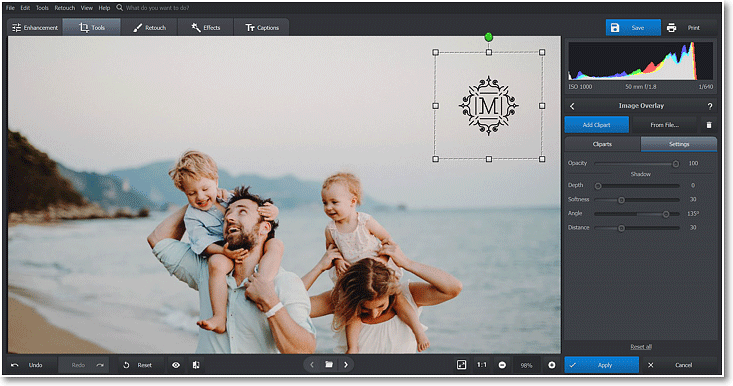 Our colleague, a travel photographer, will apply his logo to a photo
Regardless of the choice you make, remember to save your logo with a transparent background in the PNG format. This is the standard for all logos.
Don't have much time to search for free logos on the Web? PhotoWorks offers a large collection of royalty-free clipart. Pick the one that suits your needs and use it as a logo.
Step 3. Add the Logo and Customize It
Open your photo in PhotoWorks. Click on the Tools tab and select Image Overlay. Choose Add Image from File and select the logo from the folder on your PC.
You can also add captions to pictures to promote your name and increase brand awareness. And 70+ text styles available in PhotoWorks will help you make the logo unique and easily recognizable.
Choose the best place for the image: you can put it into a corner, so it won't overlap the photo itself. Afraid that people can crop the logo out? Then lower the logo opacity and place it closer to the center.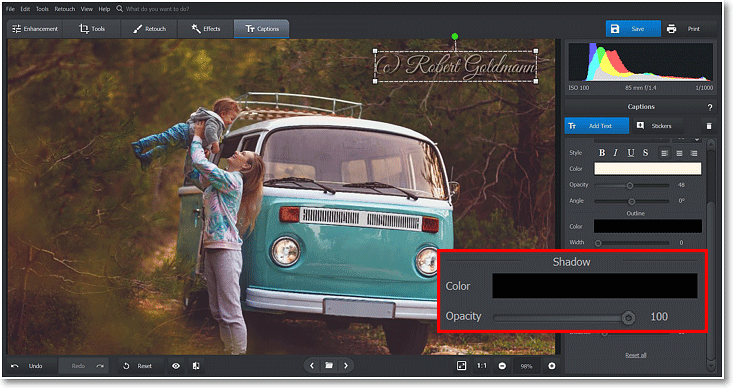 Decided to add a text logo? Give it a shadow to make the caption readable
Experiment with different positions and settings until your logo looks professional and doesn't distract the viewer from the photo itself.
Step 4. Get Your Hands on Finished Logo
Satisfied with the result? Click Apply. Now hit the Save button in the top right corner, name your image and it's done!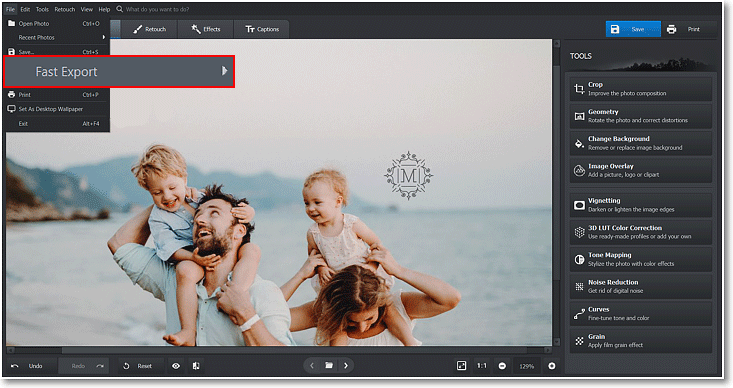 You can also use Fast Export to quickly save your image
By the way, PhotoWorks offers non-destructive editing, which keeps the original images safe while you're adding logos to your photos. So you can be sure you will always have the original image without any changes.
If you run an Internet shop and create pictures of your goods with the company's logo, then this PhotoWorks feature will be extremely useful to you. By the way, you can not only place a logo, but make a photo background transparent in just a few strokes as well.
Now you know how to put a logo on a picture without Photoshop. Apart from sticking logos, you can do tons of other things with PhotoWorks: from simple color balance adjustments to deep portrait retouch. Apply automatic correction, fix perspective, remove unwanted objects, get rid of shadows in pictures and much more.