Prettify Your Portraits with a Magic Touch
See annoying defects in your favorite photos? The easy yet powerful PhotoWorks lets you step into the shoes of a professional retoucher, even if you're a complete newbie to image editing. This software uses automatic algorithms for retouching photos in a single click and offers hands-on editing tools to tweak your images exactly the way you want. Pimples, blemishes, wrinkles, scars or any other skin imperfections aren't a problem anymore. Light tan and digital make-up can appear on your photo face as if by magic. Experimenting with eye and hair colors on photos has never been easier!
Remove Blemishes
Smooth Skin
Apply Make-Up
Warm Colors
View original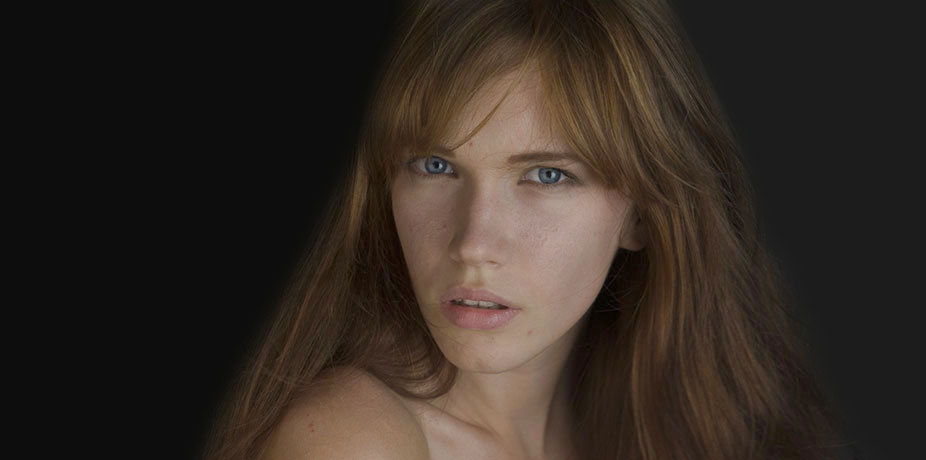 Try a Different Look on Yourself
Need to do more creative photo retouching to your portrait shots? The face sculpting feature gives you more control over your digital appearance. Customize the face to your own liking - place a real smile on your tight-lipped mouth, widen the eyes for a younger and more attractive look, decrease the size of your nose, introduce more symmetry to the face or make other adjustments. The program uses neural networks for transformations and creates a new augmented reality where you can look whatever you want!
Before
After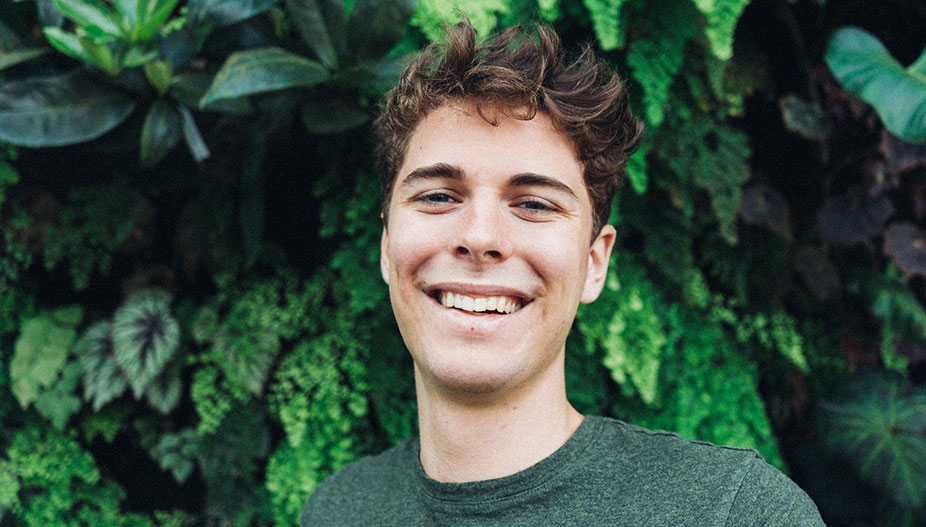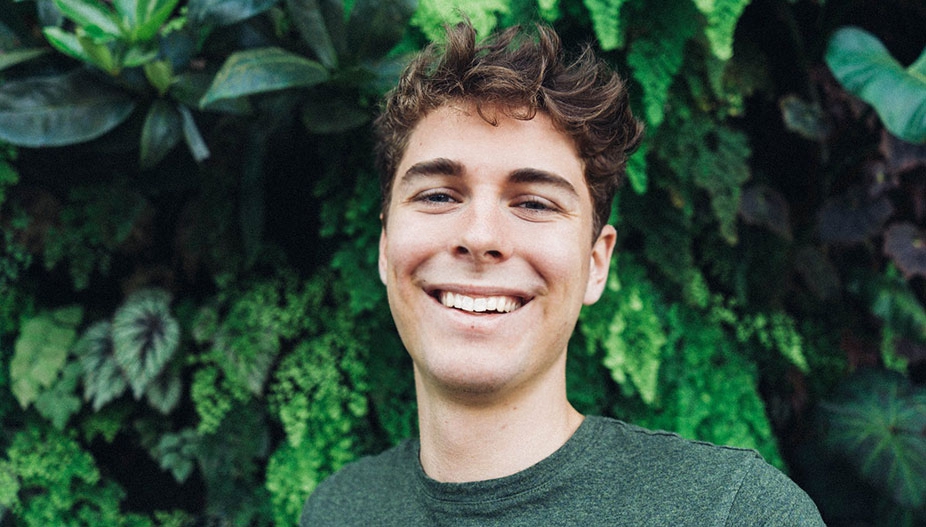 Follow Professional Tips on Portrait Retouching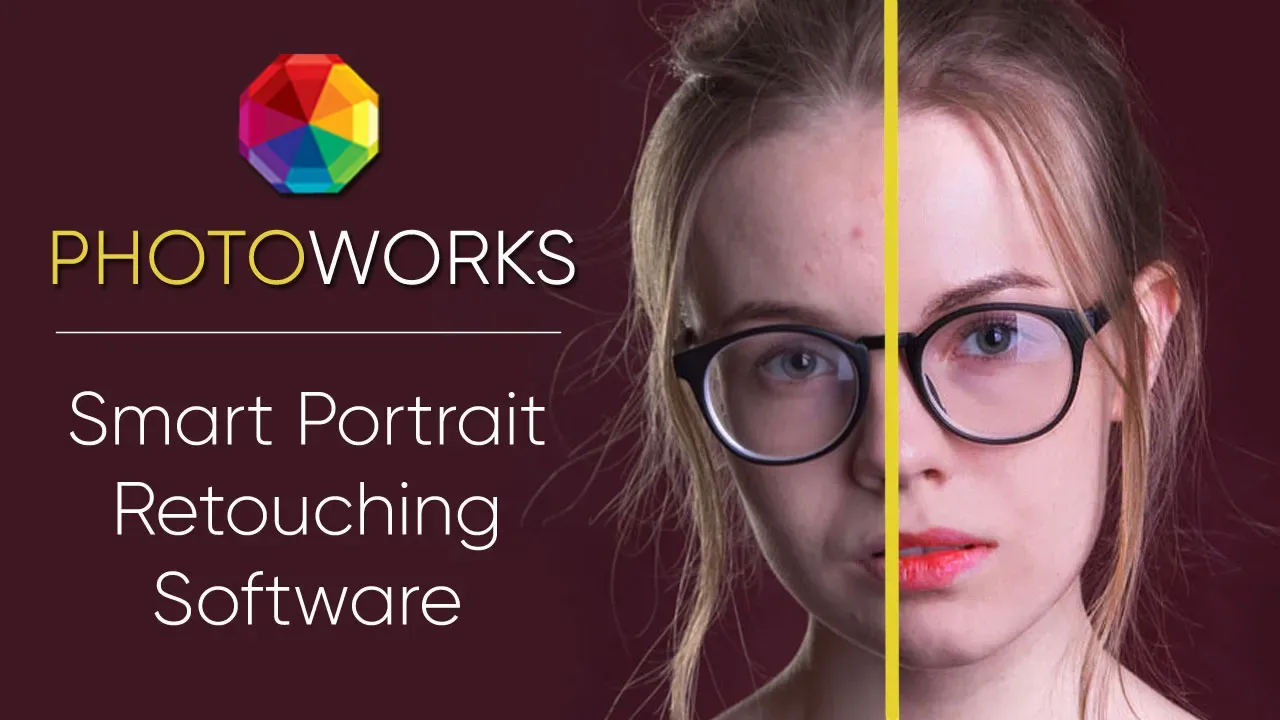 With PhotoWorks, HQ image editing is an easy nut to crack. To achieve natural-looking results, do photo color correction and conceal small skin defects. The smart face enhancement technology will do the rest of touching up for you!
How to Retouch Photos Like a Pro in PhotoWorks
You've got the shots, you've got the tools, but don't know where to start? Now we're going to show you a few simple yet professional techniques to get you nailing ultra-fast picture retouching with fantastic results. Let's dive in.
1. Improve Color Balance and Lighting
In most cases, the key to retouching a seemingly ruined photo is to adjust the lighting settings. While on the Enhancement tab of PhotoWorks, make the overall tone less purplish. For that, drag the Temperature slider to the right. Next, add more light to the scene by adjusting the Exposure and Contrast settings.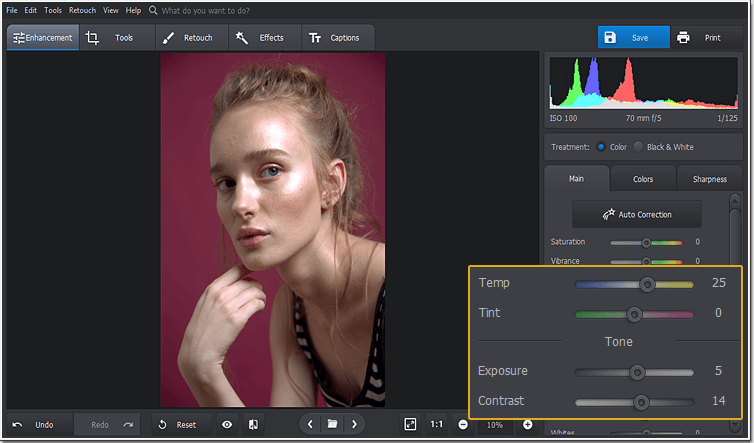 Bring more light to the photo and make its tone more natural
2. Apply Pre-Designed Styles in Portrait Magic
Move to the Retouch tab and click Portrait Magic. This smart photo touch up technology can distinguish face imperfections and retouch them automatically. Simply pick one of the ready-made presets and apply it to your photo. In this case, we need to smoothen skin and remove glare at once, so it's better to use the Glamorous portrait style.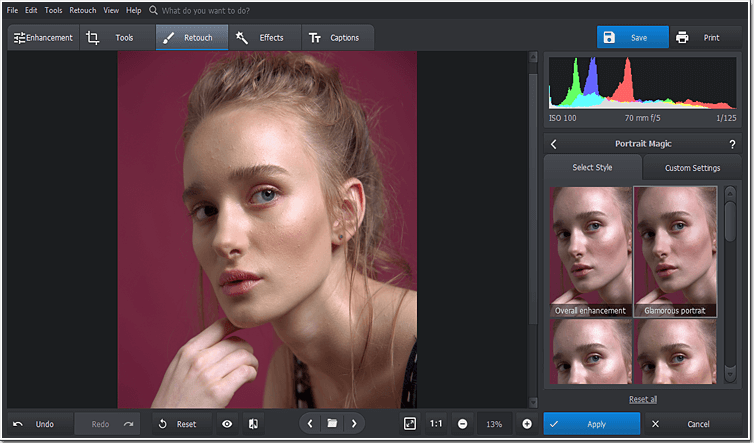 Thanks to the trained AI technology, you'll achieve instant enhancement
3. Explore the Manual Mode of Portrait Magic
However great predesigned styles can be, they will never replace manual retouching. Click Custom settings to further improve certain aspects of the photo. Drag the Glare slider to the right to remove the last traces of face shine. Choose a preferred skin tone and adjust its amount to make the girl's face less yellowish. If needed, accentuate the eyes and lips with the help of the photo editor.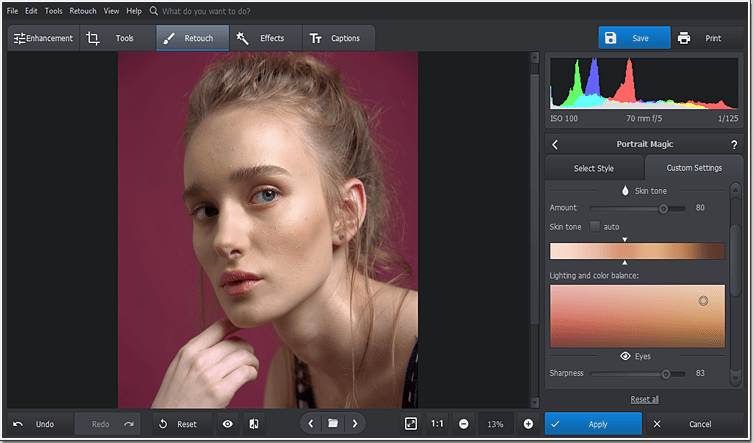 Customize the chosen preset to achieve a pro-level photography effect
4. Remove Skin Imperfections Without a Trace
How to retouch photographs that still suffer from small imperfections? Do minor adjustments with the Healing Brush and these blemishes will go away forever! Set a proper brush size to remove only a certain pimple without affecting the nearby area. For a better result, adjust the Feather and Opacity settings to soften the transition between the retouched selection and the original image and lay more subtle brush strokes.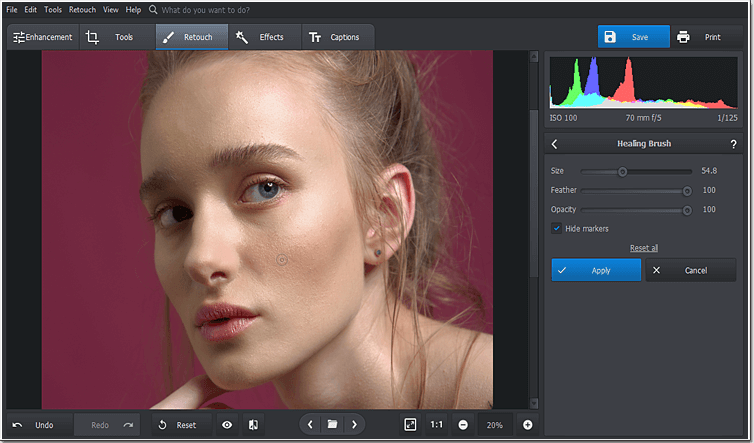 Apply careful brush strokes to conceal pimples and blemishes
Brilliant result in a few clicks, don't you think so? If you want not only to enhance your portrait shots but also experiment with their look on different levels, pick another eye color that you don't have in real life, change hair color in photo, add a stylish text caption or easily replace the existing background with a more pleasing one. Use a one-click teeth whitening editor to get a Hollywood-like smile, play with 150+ stunning filters and add funny stikers to your photos.