7 Simple Ways to Improve Picture Quality
Have a large collection of photos that need some improving? Cannot use a favorite image as an avatar because it is too dim or blurred? Now you do not have to possess professional skills to effectively edit your pictures and restore their quality. Get started with PhotoWorks software and see for yourself that adjusting the color scheme or applying stylish effects is easier than you thought. Read this tutorial till the end and you will learn how to enhance a photo and discover lots of secret techniques.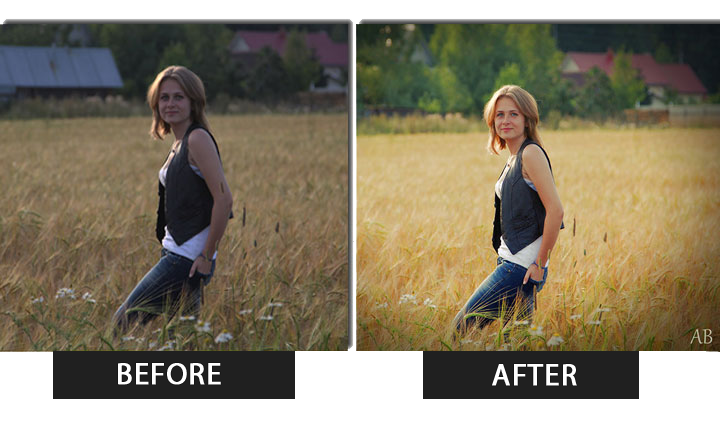 Enhancing the picture quality: before-after
Like the edited picture more than its lifeless original? Then let's fix your photos as well. To get going, download PhotoWorks, then use our photo editing guide to turn your regular images into masterpieces.
Way 1. Correct the Exposure Level
One of the biggest problems every photographer faces is poor lighting that ruins the tone and conceals important details. To make a low quality picture high quality, you'll need to correct its exposure for a start.
Use auto enhancement. Auto enhance photos with light and color correction. Thanks to smart image editing algorithms, PhotoWorks detects individual lighting issues of each picture and fixes only them without ruining the parts that don't need any retouching.
Adjust exposure for better quality. If needed, move the Exposure slider to the right to make the image lighter or to the left to darken it.
Modify the chosen photo areas. You can also lighten or darken particular areas using Highlights and Shadows. Drag the Shadows and Blacks sliders to -40 and -21, respectively.
Take care of white balance. The white balance of the photo is also affected by bad lighting. Let's put the Temperature slider to 44 and the tones will become much warmer.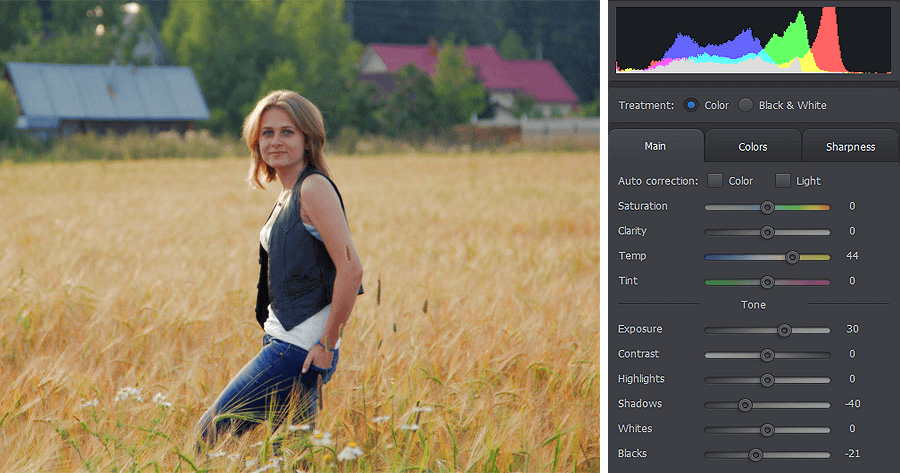 Adjusting the exposure of the photo
Looking for a way to enhance and bring back to life the photos from your family archive? Don't know how to restore the old pictures? With PhotoWorks, you can not only enhance your recent images, but fix the old precious photos as well.
Way 2. Adjust the Color Balance
Color correction is just one step of entire photo editing process but it can make all the difference. Take an average shot and make it really pop with the right colors. Here we have decided to make the roof in the background dimmer and less distracting.
Correct the overall tone.Switch to the Colors tab. Here, you can control the hue (actual colors), saturation (the amount of grey in a color) and luminance (the ratio of white and black) of your photo.
Work with separate objects. Change the hue of certain objects. Click Saturation and move the Magentas slider to -100 so the roof becomes less prominent.
Play with Tone Mapping. Adjust the color balance and shed more light on the photo with Tone Mapping. Pick a suitable color tinge and set the Overlay blend mode for the best effect.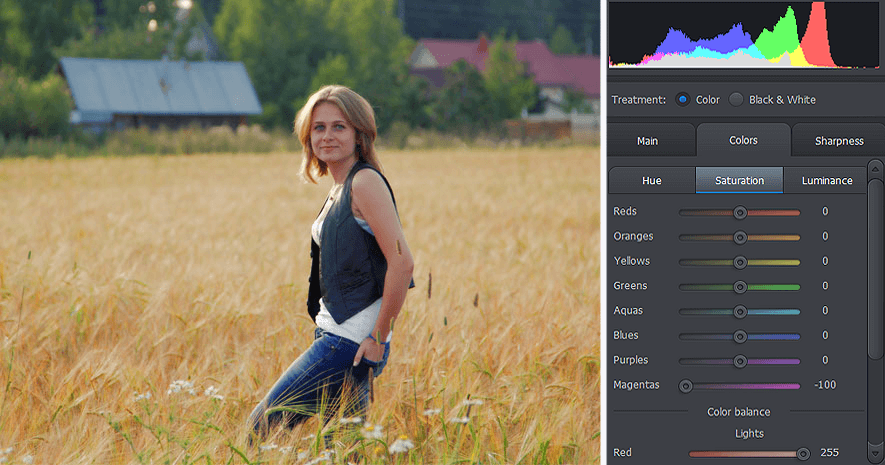 Play with the color balance and change the atmosphere of your photo
Way 3. Increase Sharpness
If your photo looks too blurred and obscure, these imperfections seriously affect its quality. The easiest way is to sharpen the blurry photo so all the small elements will be better seen.
Zoom in to see changes. For a start, let's zoom in the photo we are working with to control all the changes.
Start enhancing the picture. Next, switch to the Sharpness tab and set the Amount slider at 95.
Make the photo look natural. If needed, play with the Radius and Threshold settings to make the effect more natural.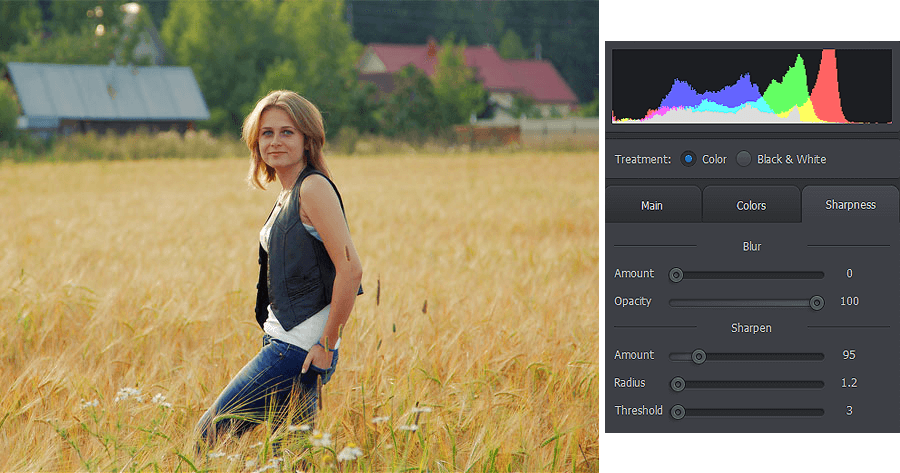 Increase the sharpness settings to highlight small details
Way 4. Crop the Photo
How to make a great portrait photo out of an unimpressive shot? The secret is to improve its composition. If you could not create a perfect scene while shooting, you can still make pictures look better through cropping.
Try enhancing images with cropping. Click Tools in the upper toolbar of the program window and choose the Crop tool.
Pick a suitable aspect ratio. The program will offer seven aspect ratios to choose from, like free, fixed, 1:1 square, 16:9 HD, 3:2 iPhone, etc.
Set a preferred grid overlay. With the right grid overlay you won't cut any vital parts of your image. In this case we chose the Rule of Thirds and placed the woman in the photo at the intersection of the lines to create a better composition.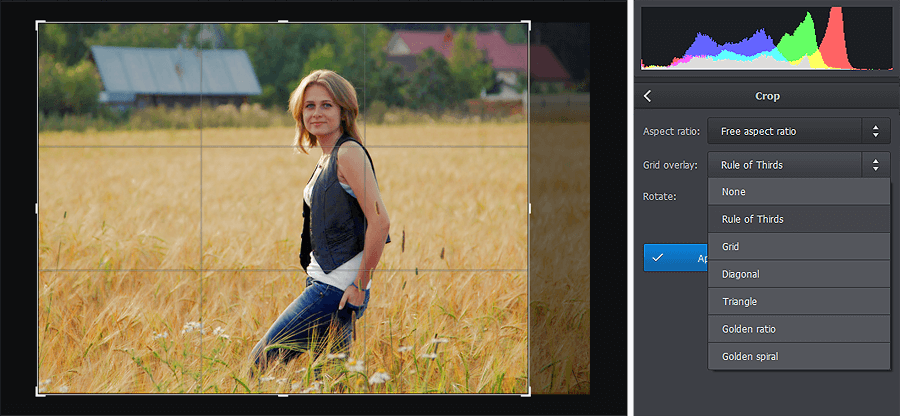 Put the best parts into focus with the Crop tool
While working with the Crop tool, be careful not to make your bad quality photo even worse. Each time you cut away some area of your picture you reduce its resolution. What's more, if you crop a small image and then try enlarging the edited part, you will end up with a heavily pixelated photo.
Way 5. Apply the Vignette Effect
Artistic effects and masks can also help you improve image quality and give it a stylish look. Here, we'll highlight the person in the center of the portrait photo by applying a vignette effect. Rounded darkening or lightening will help to guide the viewer's attention to the woman in the photo.
Improve picture quality with effects. Move to the Tools tab and click Vignetting.
Control the vignette amount. In order to darken the image edges, let's set the Amount slider at -70.
Manage the vignette size & form. The Roundness and Feather settings will help you control the form of the vignette and soften or harden its edges.
Applying the Vignette effect for a more stylish look
By the way, once you ehnance your picture, you might want to think about having it printed. Or instead you might consider posting it on your social media page. Whichever you choose, you'll need to change the photo's resolution. Learn how to enhance your photo resolution-wise with Photoshop.
Way 6. Retouch Your Image
Most pictures capture ordinary people, not movie stars, and real people can have glare on their faces, wrinkles around eyes, and skin blemishes. If you look closer at the woman in the picture, you will see the skin is baggy below her eyes. These 'defects' are almost impossible to conceal while shooting, but they can be erased in post-production.
Pick the Adjustment Brush tool. Switch to the Retouch tab and use the Adjustment Brush to digitally conceal the eye bags.
Conceal imperfections on the photo. View the photo at 200% scale and set the size of the Adjustment Brush at 3 to fix only the area below the woman's eyes.
Smoothen the edited area. Now drag the Exposure slider to 5 to lighten the shadows under the eyes, and apply the result to save the changes.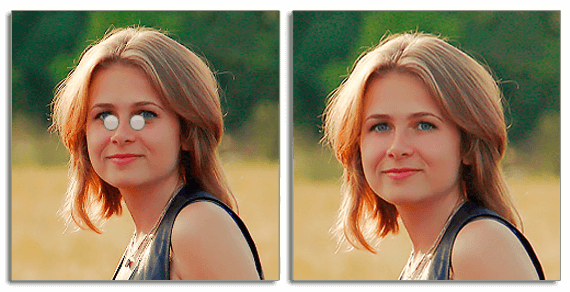 Way 7. Remove Unwanted Objects
One more way to fix image quality is to remove unwanted object from photo. It can be a sudden passer-by, a garbage can, or small details you'd rather not show. Here, for example, the grass blade in the foreground is quite distracting.
Choose the Clone Stamp. While in the program, move to the Tools tab and click on the Clone Stamp.
Change the brush size. Make the brush a little bit bigger than the grass blade and move the tool along the undesired element.
Borrow pixels from other area. Copy and paste the pixels from the chosen area to the affected one. The chosen area will be automatically replaced with the skin color.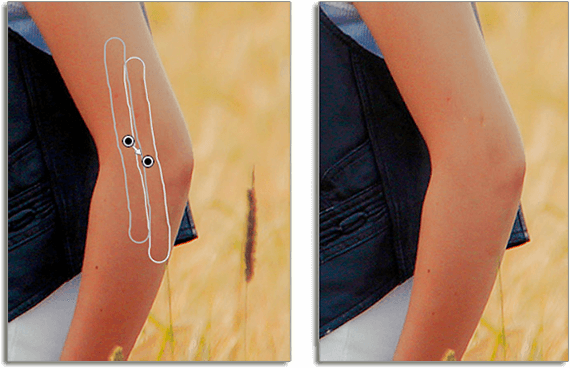 … Jazz Up Your Improved Photos with Text Captions!
It is common for photographers to sign their works and you can easily do the same! Move to the Captions tab and click Add Text. Type in your name and position it in the image. There is a vast collection of ready-made text styles to choose from, including gothic, funny, calligraphic and graffiti. In Additional settings you can also pick the font you like. Here we have chosen Gabriola to put a caption on a photo since its letters look quite stylish and are big enough to see in the image corner.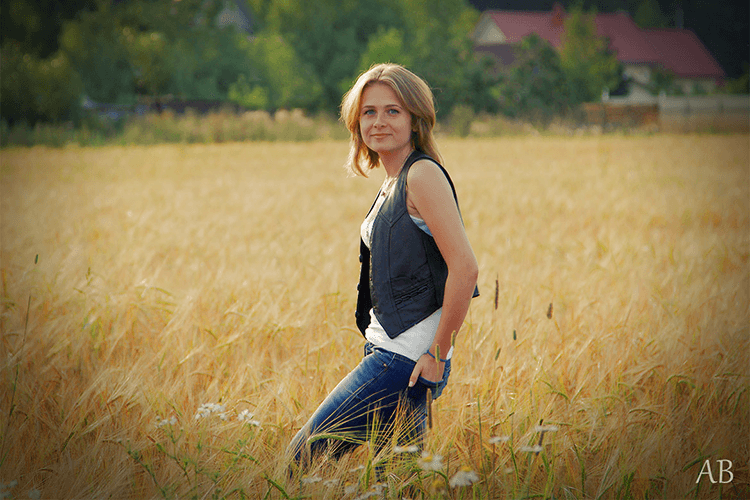 Add a personal signature to mark your photo work
Still asking yourself how to enhance your pictures? Watch this video and you'll discover three simple tricks of photo improvement.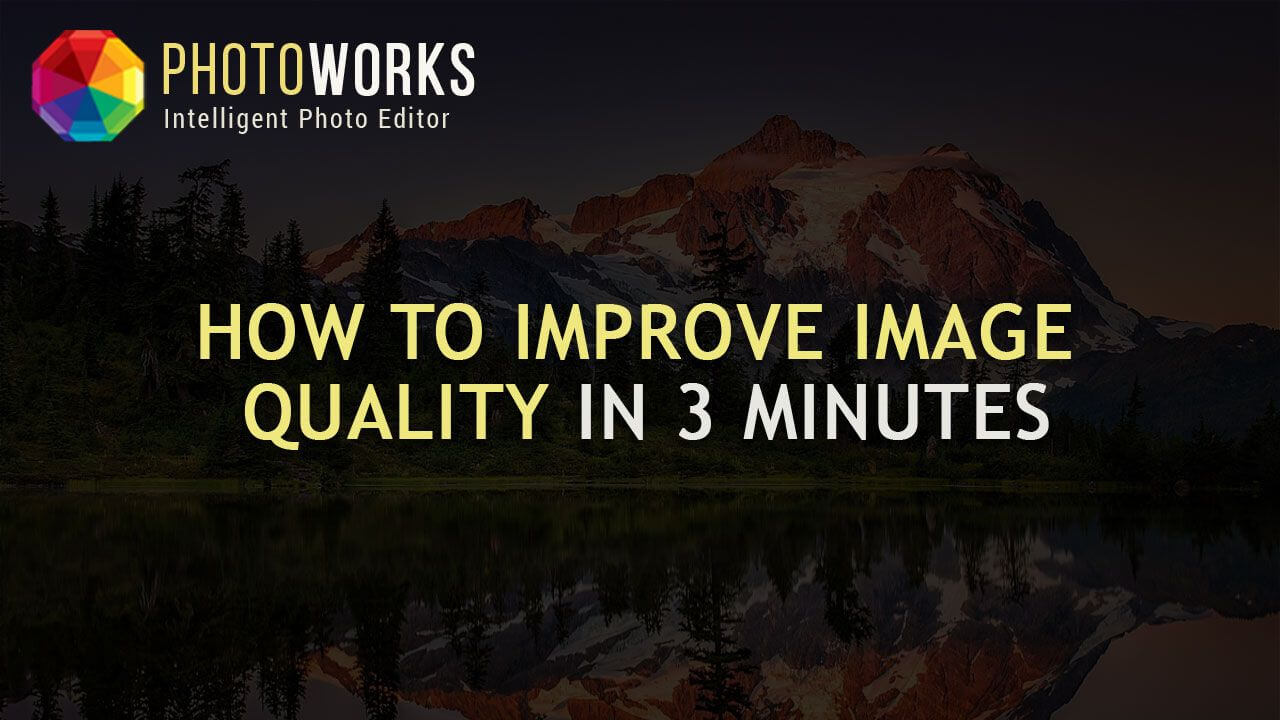 How to Enhance Image Quality Online?
As you can see, PhotoWorks is capable of powerful and creative improvement that cannot be achieved with automatic image enhancers. Step-by-step editing will let you fix all the imperfections and accentuate better parts of your photo. After applying stylish effects and adding captivating text captions you'll surely feel like a pro and get a magazine-like picture. Even if you're looking for old photo restoration software to enhance your old pictures, PhotoWorks will still be a top choice. It's jam-packed with convenient brushes and smart tools.
However, imagine a situation when you need to improve a picture for your social page but don't have time to master some software or even don't have a computer to install it on. That's when online photo editors will come to rescue! Here, we've made a list of online image enhancers you may want to try.
Let's Enhance
FotoJet
Improve Photo
BeFunky
PicMonkey
With the help of such photo editors, you'll be able to boost colors and fix lighting issues, improve the overall composition, get rid of odd objects and conceal skin blemishes, add stylish frames and graphics, apply artistic effects, and sign your creative work with text captions.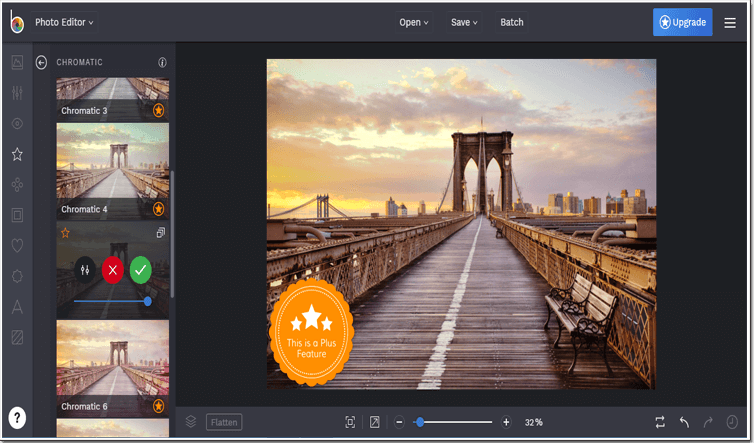 Edit or stylize your photos with BeFunky online
Don't want to fiddle with desktop or web-based softwares? Then enhance your pictures right on your mobile phone using an app! We suggest Remini - a quick and easy-to-use photo editing application.
Our advice is, though, not to throw yourself at everything that is online and supposedly free. It may seem extremely easy to add your photo to some online service and improve it in one click, but there are some pitfalls. Some of these web-based photo editors offer limited functions or charge you with a fee once you want to save your edited image. The worst thing, if you lose your Internet connection in the process, all the changes will be undone - what a waste of your time!
Today there are so many photo editing programs and services in the market that every photo lover will surely find the best option for their skills and pocket. You won't be short of professional-level software for photo enhancement, intuitive image editors suitable for novice photographers, or online services where you can do everything in one click. With such a variety of options, you may still like automatic image editor for its user-friendly interface and powerful editing tools that don't require long hours to master.