How to Change Hair Color on a Picture without Photoshop
Like to experiment with your looks? Then discover how to change hair color in a picture! This way, you'll see how your dream hair looks in reality and find out if it suits you well. What comes to your mind when you think of a hairstyle changer? We bet it's Photoshop. Trust us, even if you knew how to change hair color in Photoshop, you'd consider this way too complicated. The fact is, to retouch your images professionally, you don't have to have major technical knowledge and photo editing skills. In this guide, we'll show 2023's best ways to virtually change the color of your luscious locks with ease. We'll be using PhotoWorks, a smart photo editor, a web-based service, courtesy of hair dyes manufacturers, and an easy-to-use mobile application. Let's get rolling!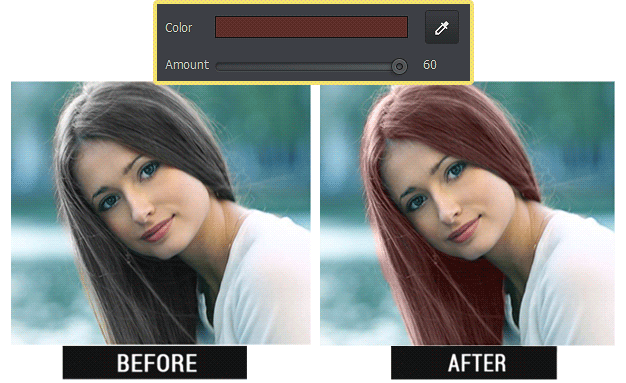 Changing hair color on a picture: Before-After
Way 1. Test Hair Color on Photo with PhotoWorks
Lost all hope to find image editing software that would be easy and feature-rich at the same time? Meet PhotoWorks, a smart photo editor. It is packed with tools and instruments, but still manages to be user-friendly and intuitive. Let's have a look how you can alter your hair color with this software.
For a start, download and install this hair photo editor on your computer. Next, follow 3 simple steps described below and you'll learn how to digitally color hair: go blonde or brunette in just a couple of minutes!
Step 1. Select a Suitable Photo
For a striking result of hair color changing, you'll need a proper photo - not every image will fit. To change hair color on a photo effectively, pick a portrait that meets the following requirements:
hair is well visible and doesn't cover the face
no filters or hair toning applied
no shadows or glares on hair.
Take a glance at the examples below and you'll see what kinds of photos are unsuitable for this kind of editing. Having chosen one of suchlike pictures, you will most probably get an unnatural or unaesthetic effect.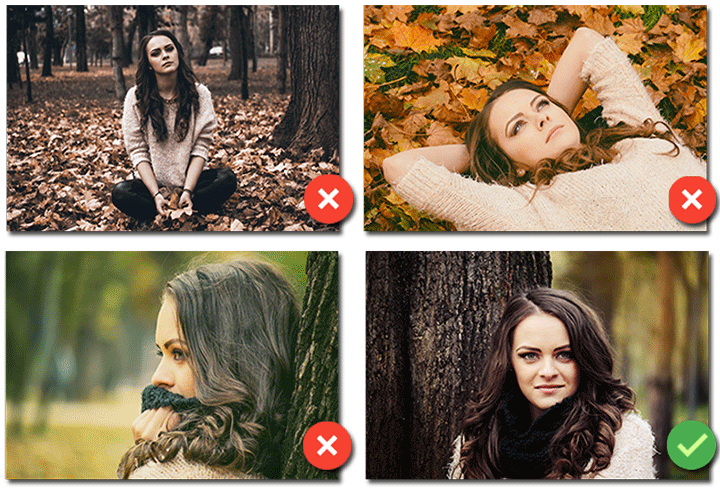 Pick a proper photo to change hair color for a realistic result
Now that we've selected a suitable photo for enhancing, let's recolor the hair on it.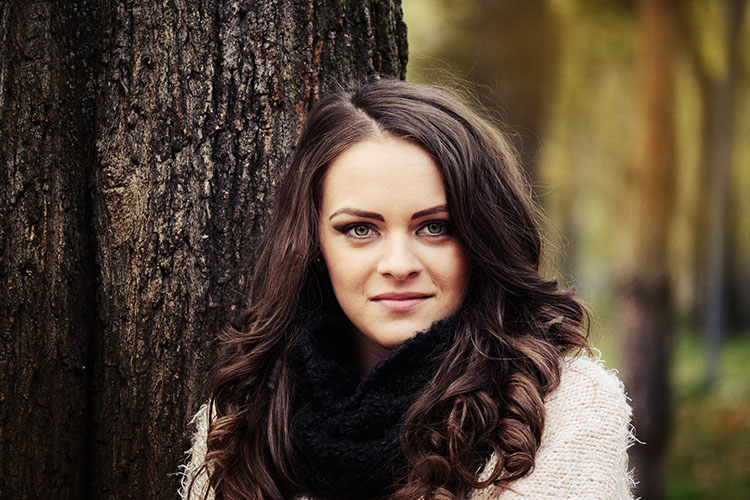 Step 2. Try Different Hair Colors on Your Picture
Launch PhotoWorks and add the photo for digital hair coloring. In the Retouch tab, there's an extensive editing toolkit to work on portrait pictures. To change hair color, select the Adjustment Brush tool. Adjust the brush size, feather and opacity settings: choose how big, soft and clear it will be. With the brush, start painting over the hair to create a special mask layer.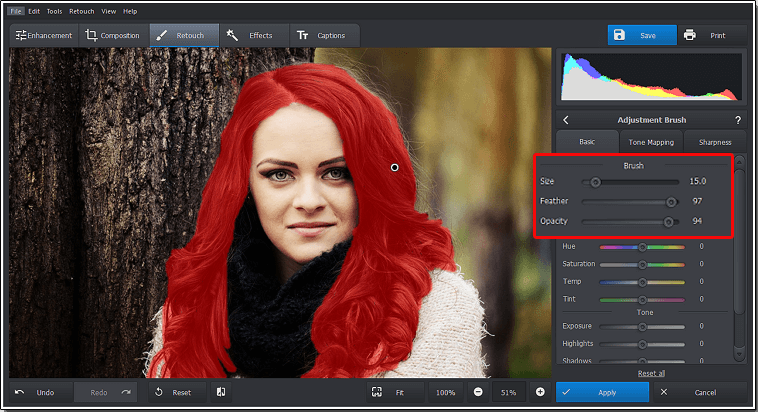 Thoroughly paint over the hair with the Adjustment Brush
After that, open the Tone Mapping tab. Click the Color settings and on the palette shown pick the hue you want to apply. Make the hair darker or lighter or even test hair colors like green or blue.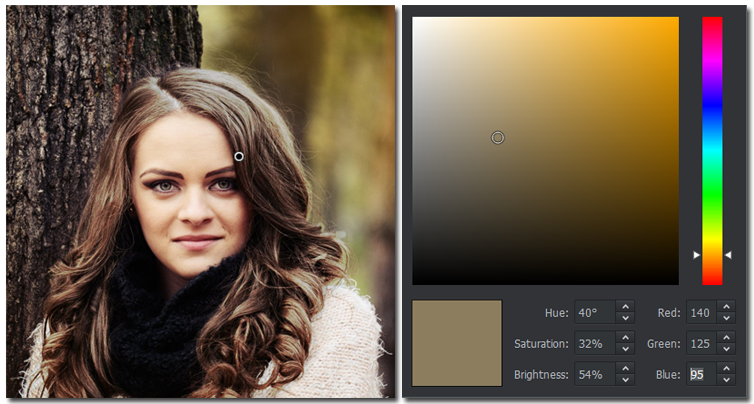 The built-in palette offers you a wide range of colors - pick a natural or an unusual one
To boost the effect, move the Amount slider to the right.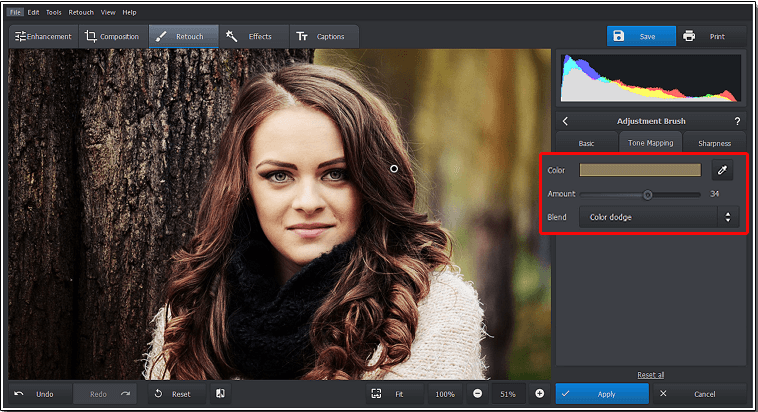 Increase or decrease the effect amount to find the best color
The way 2 layers mix with each other is important. For a realistic, cute and attractive look of the hair, opt for Color Dodge. However, there are no strict rules on what blending mode to choose, so feel free to experiment and see what you look like with a different hair color without the need to put on a wig. By the way, trying beard colors for your boyfriend is possible in PhotoWorks as well.
Become a Raven-Haired in a Flash
Want to go from blonde to brunette? It's worth testing the new hair color on a picture first. To darken the hair, pick a black color and blend it in the Soft light mode.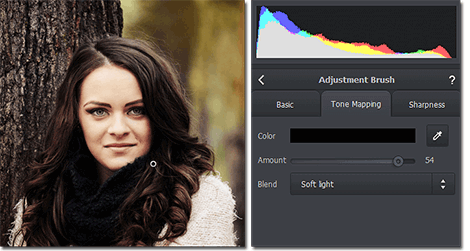 Like to Be Original? Choose Violet!
Your photo won't stay unnoticed if you turn brown hair to magenta - choose a violet hue on the color palette and mix 2 layers in the Screen blend mode.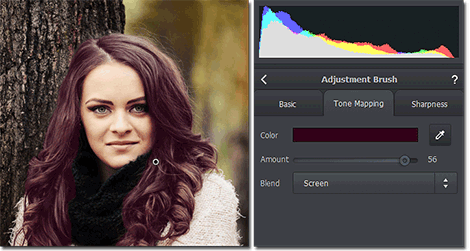 Add Some Delicacy to Your Hair
Hazel-colored hair looks amazing and suits almost any face type. To achieve it, select a white color or a beige shade on the palette. Then, blend it with the source in the Overlay mode.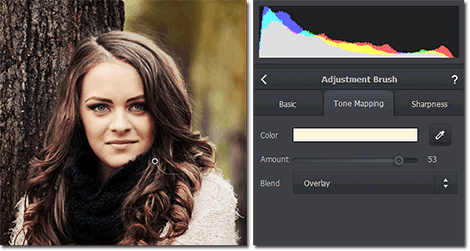 Want to Stand Out? Go Bright!
Change your hair dye on a photo to burgundy - bright hair vibes will look striking yet natural if you blend using Color Dodge.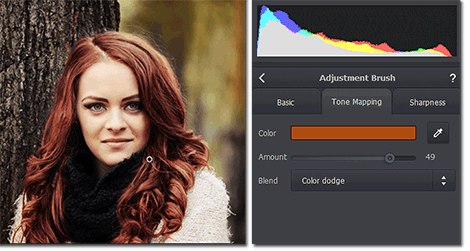 Want to see this virtual wig simulator in action? Click the Play button and watch the comprehensive video tutorial below: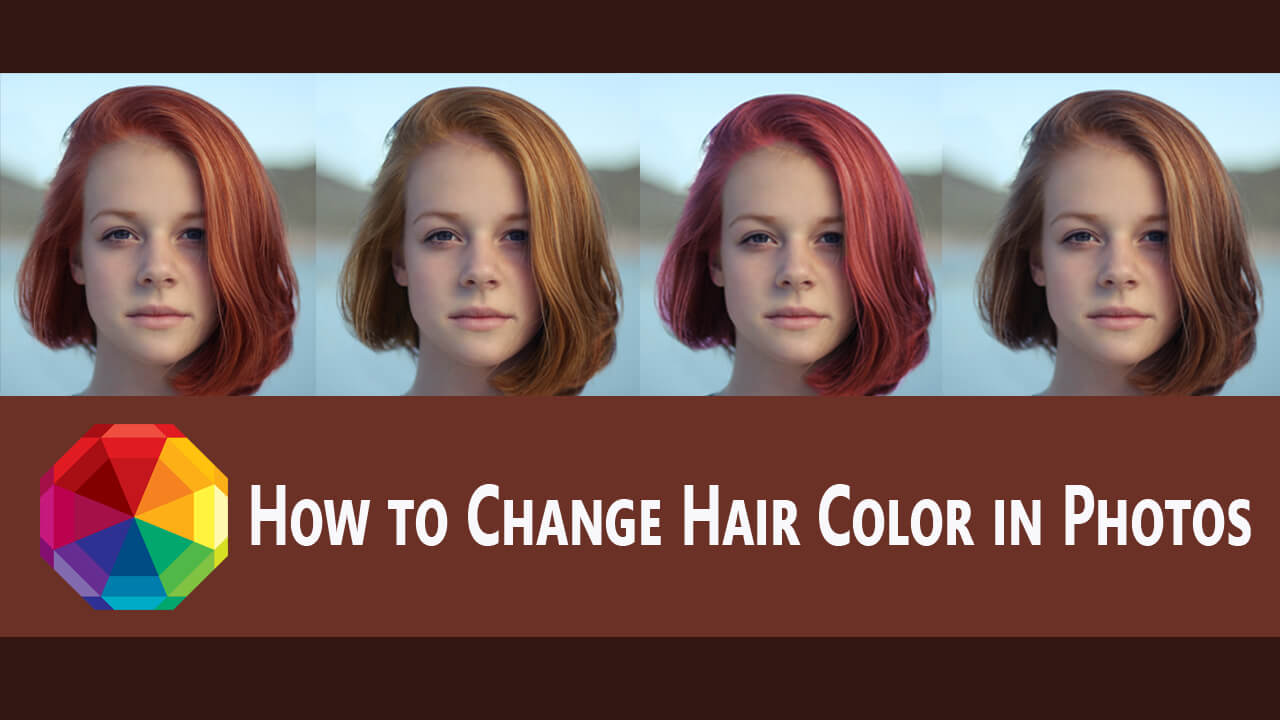 Step 3. Save the Result or Further Improve Your Shot
Now, save your newly edited portrait to either show it to your stylist or to your friends. Want to add a bit of artistic flair to your shot just for the sake of it? Then move to the Effects tab and hit Photo Effects. There you'll find a vast library of ready-made instant filters for your images: lighting, toning, vintage effects and quick enhancements. You can try them all - to preview the effect, just click on it, the program will apply it to your photo automatically. The 'Focus on the middle' effect turns this pic to a cover photo, doesn't it?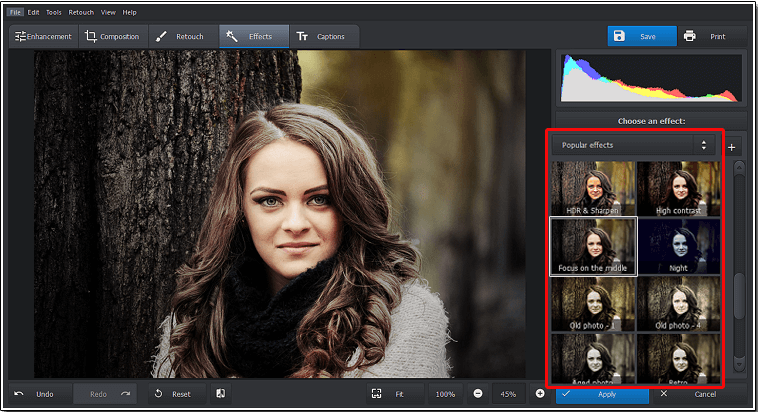 One-click effects will boost your image quality - try and see for yourself
And another thing: PhotoWorks is not just a photo editor that can change a hair color. With this app, you can make your portraits look highly professional. Download the software and you'll be able to crop your portraits for an amazing scene composition, to erase all kinds of blemishes for smooth healthy skin, remove glare from pictures so your skin won't look oily, to stylize your photos with color effects for a unique look or add tone mapping textures to make them vintage.
Feel the itch to try PhotoWorks' powerful tools immediately? Then download the program to start your free trial!
This easy hair color photo editor works well even on low-specs computers. So don't worry about your RAM power or your lack of photo editing skills - with PhotoWorks, you'll turn every picture into an eye candy!
Way 2. Edit Hair Color with an Online Service
It is actually a great idea to try on a new hair color virtually beforehand to avoid the biggest beauty fail of your life. But once you settle on a shade you like, you might be posed with a question - But how do I find this very dye? Well, good news! Some of the most prominent hair dye manufacturers now have a very convenient way to help you - their online services. You can both try on a new hair shade and see what line and color it is. The only downside to this method is that you cannot save your picture afterwards. Nonetheless, here are the services you might want to try:
Let's see how to use one of these services to change the way you look.
Visit the website. We'll go with Matrix, since arguably they have one of the most extensive color palettes.
Upload your picture. Note that the service has troubles processing bigger files, so go with a medium-sized pic.
Pick the new color. Play with different shades until you find the one that suits you. Just in case, write down the name of the shade.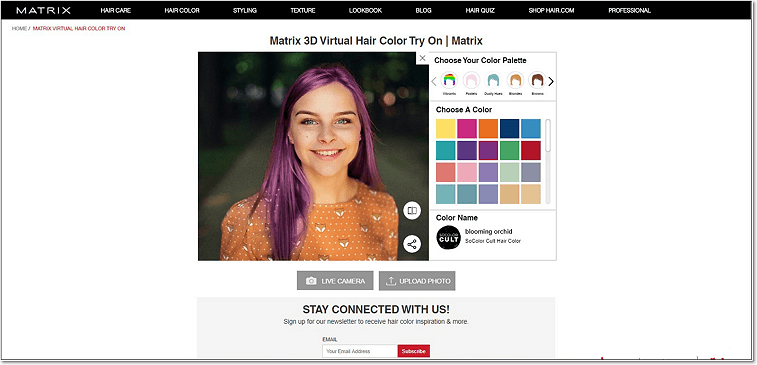 Why not try something radical but eerily beautiful?
Way 3. Change Hair Color with a Mobile App
Well, all those photo editors and online services are no doubt convenient, but what if you don't want to use any desktop software, but prefer to do everything on your phone? No worries, there are tons of mobile apps aimed at changing your looks in pictures. With them, you can alter your hair and even eye color right on the go! However, don't expect a flawless result, since the edits tend to look a bit clumsy.
Let's try a little application aptly called Change Hair And Eye Color to see how you can change the hair color on your phone.
Run the application. But beware - it is full of ads, like any other freemium app.
Open your photo. You can either use your gallery or take a selfie.
Choose the new color. Pick a new shade right from the palette or use the color picker.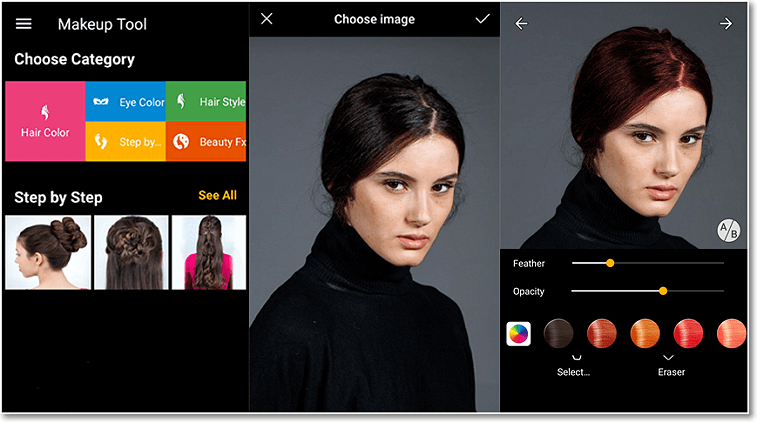 Although convenient, this method is far from being the best in terms of smoothness
And there you go - now you know the hottest new ways you can change your hair color in pictures. And note one little thing - none of them involved the notoriously difficult Photoshop. So if you are looking for a way to try on a new look, go with any of the methods we've described, but pay closer attention to PhotoWorks, since this smart photo editor will help you achieve the most realistic and smoothest effect in the easiest of ways!