Best Portrait Editing Software for Newbies
Taking lots of selfies and posing in front of the camera, you cannot but dream of an image editor specifically tooled for working with portraits. This kind of software should know the ins and outs of human faces and provide solutions on how to prettify them in the most perfect manner. With such a powerful tool by your side, it will be no problem to bring out the best in your headshots and come a step closer to professional portrait photography. PhotoWorks is one of these tools that can make faces in your pictures ideal using innovative technologies. Keep on reading to learn more about photo-saving features of this program.
What problems can portrait editing software fix?
The wrong lighting that kills the mood of your photo;
Poor quality, for example, low sharpness or dull colors;
Too small subject positioned at a considerate distance;
Unwanted elements that steal the viewer's attention;
Lame shooting angles that lack creativity.
Sounds all too familiar? Before tossing your shot aside as an unsavable one, give PhotoWorks a chance to do its magic on your ruined picture! Download free trial and easily fix any of your portrait imperfections!
Get Started with Auto Enhancement
Bad lighting is one of the most common mistakes made by beginner photographers. Luckily, too dark or overly bright headshots can still be saved in post-production. The portrait photo editor is equipped with an auto enhancement module that can fix exposure errors. The histogram on the sidebar will show you how this editing affected the chosen photo - if the data got fairly distributed across the chart, the lighting of your picture is good. If you want to have full control over all the changes, improve the lighting in your portraits manually. Adjust the Exposure, Highlights and Shadows settings one-by-one and check out the result.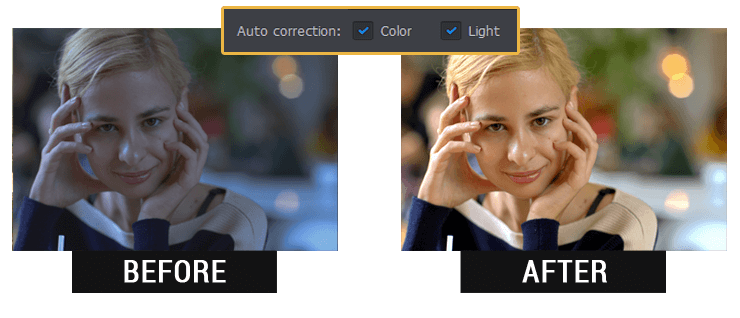 Instantly Improve Your Shots with Portrait Magic
Even working with pro-level image editors like Lightroom or Photoshop you cannot retouch your portrait pictures in one click. Portrait Magic is a game-changing function of PhotoWorks that recognizes faces and offers a wide range of touch-up tools to make your shots truly radiant. This smart face retouching module lets you apply ready-made styles to your imperfect photo for a quick enhancement. If needed, you can change the skin tone or remove glare with your own hands and choose what face to edit on a group portrait. That way you'll be able to treat each face in your photo on an individual basis depending on their imperfections.
Before
After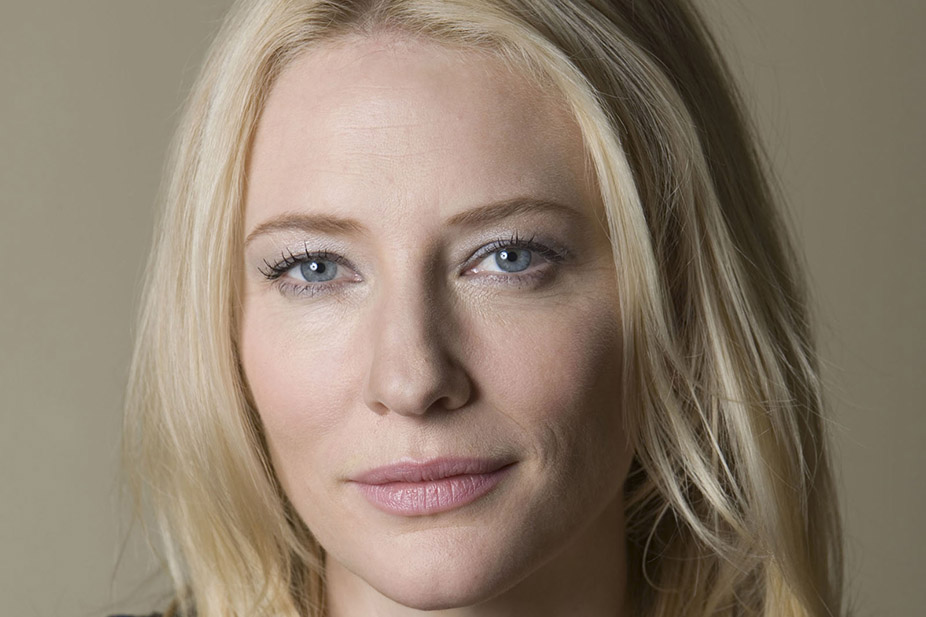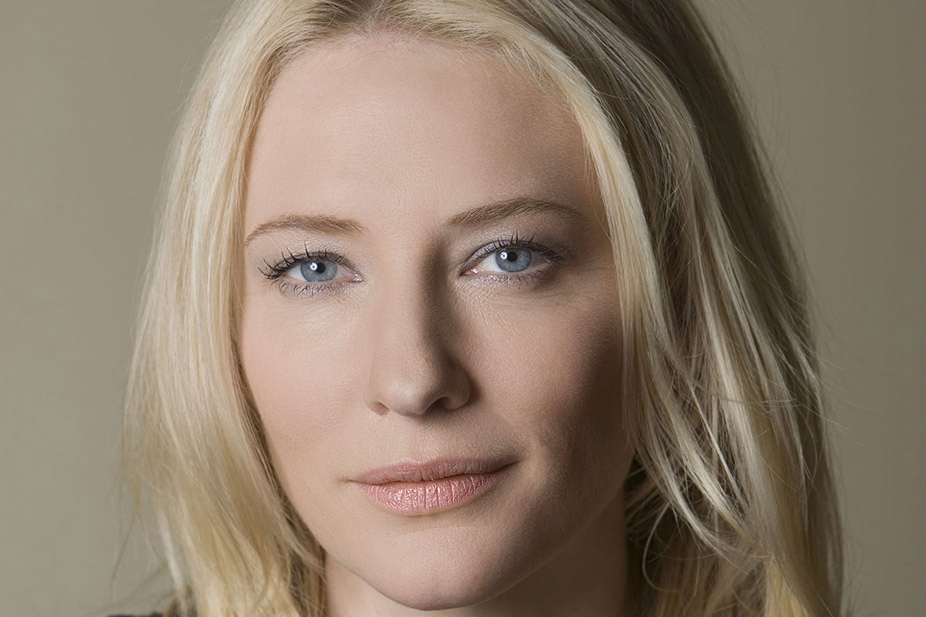 Adjust Sharpness or Add Creative Blur
Perhaps you've chosen the wrong lens, held a camera incorrectly or simply put too much trust in image stabilization, and your photo came unfocused. Don't worry, you can still adjust its sharpness in a couple of clicks. The Amount setting controls the intensity of your adjustment. The Radius setting will help you make the objects' edges neat and clear. The Threshold degree prevents taking out small imperfections alongside major details.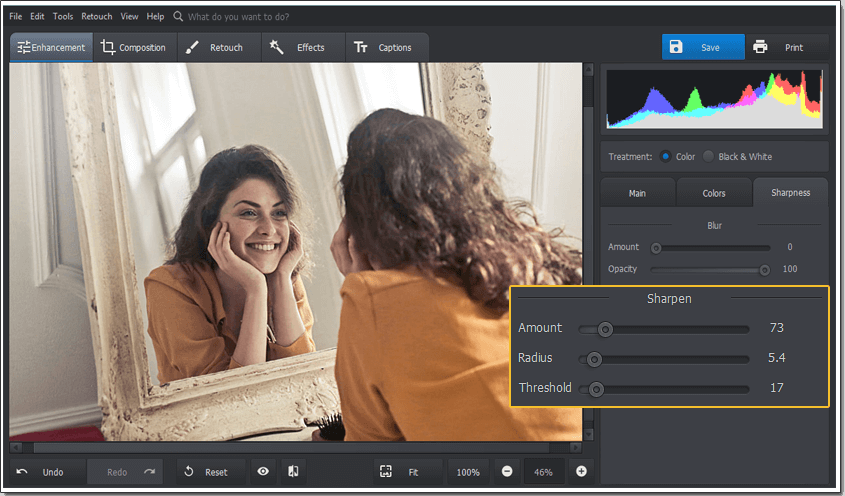 Adjust the Sharpness settings to restore the focus and clarity of your photo
Think that a blurry photo is always a failure? Try using the Blur tool for creative purposes - draw the viewer's attention to the main subject or create a dynamic background. The Radial Filter is a perfect choice for blurring only one part of your image. Outline the human figure in your photo and apply the Blur effect outside the chosen area. Changing the Amount setting, you can create a busy background or make it completely smudged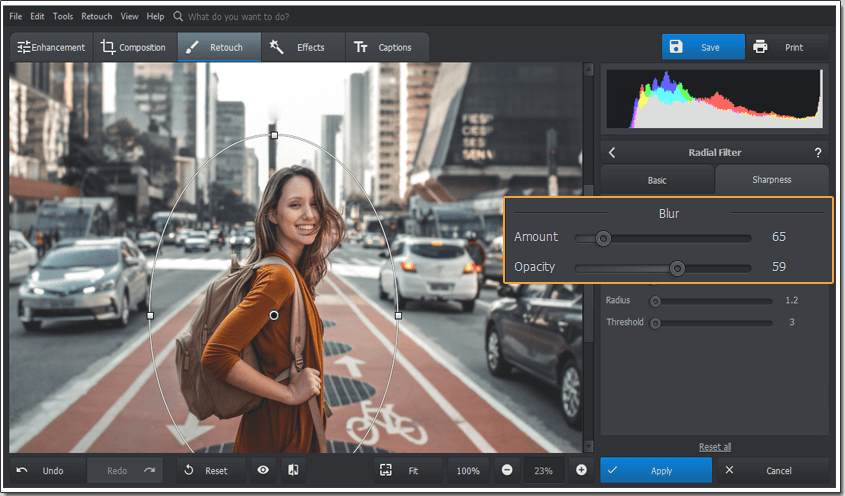 Creative blur works best on urban portrait photos
Make Subtle Editing with Tone Curve
Your headshots look too bleak or unnatural due to the dominance of one color? Launch the portrait enhancer and adjust Tone Curve like a pro! Moving the diagonal lines in the graph, you can increase the overall contrast or achieve a more complex effect - for example, replace warm tones in your photo with cold ones. In this case, you should work with each color channel at once to highlight the main hues or accentuate secondary tinges. The Tone Curve tool is a perfect choice for split toning when you want to work with one particular color.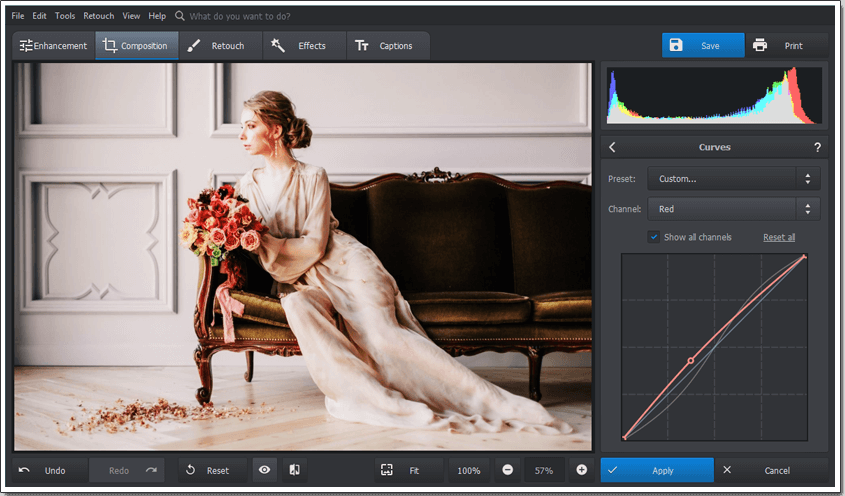 Highlight the desired colors using Tone Curve
Crop for a Better Portrait Composition
Take a look at the portrait shot you've taken. Does it leave a lasting impression? Are the viewer's eyes instantly drawn to the main subject? If there's something wrong with the global composition of your photo, try using the Crop tool. Choose a suitable grid overlay - the Golden Ratio, the Golden Spiral, the Rule of Thirds etc. - to add a sense of depth, better guide the viewer's attention, or cut away unnecessary details. Don't forget to adjust the aspect ratio for the device you're going to use to showcase your portrait shot - 16:9 TV set, 4:3 iPad or Facebook cover.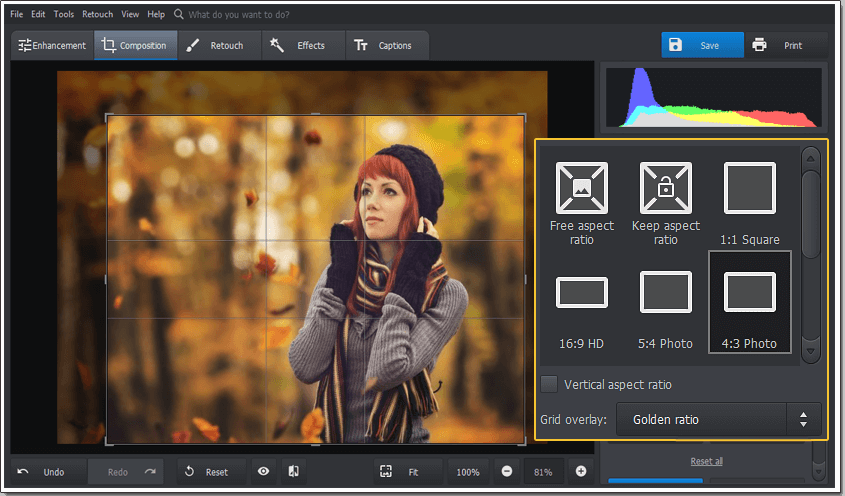 Cut away unnecessary elements for a more balanced composition
Conceal Imperfections with Smart Brushes
Even if you've taken all the possible precautions and built a perfect composition for your photography session, you still can be photobombed by a sudden passer-by or a car driving nearby. Remove annoying people in the background or odd objects getting in the way with the Clone Stamp tool. Copy and paste the pixels from the chosen area to the affected one. Then paint over the object you want to remove. That way you can conceal strangers in the background, wires, flares, and other annoying elements.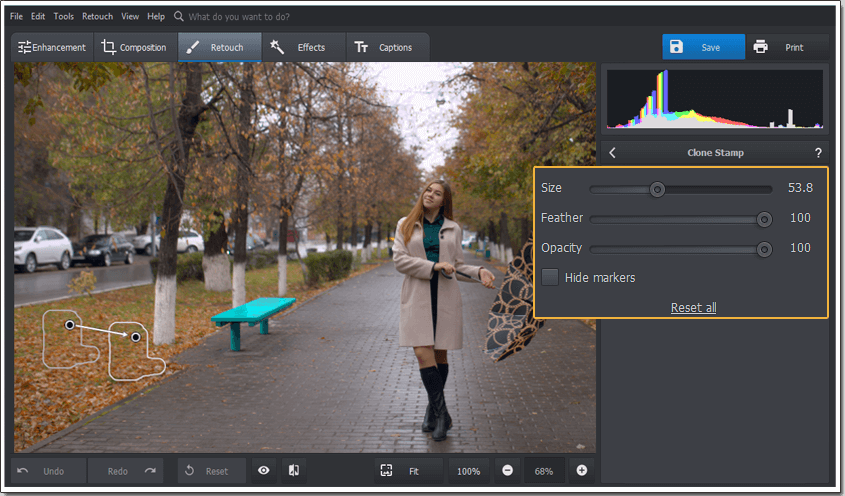 Get rid of unpleasant objects that ruin your portrait shot
Using the portrait retouching software, mask skin imperfections like dimples, freckles, bags under eyes or wrinkles. For example, the Red Eye Removal will come in handy if you need to erase a spooky glare caused by a camera flash placed too close to the subject's face. Place the brush over the red pupil and the program will automatically restore its natural color.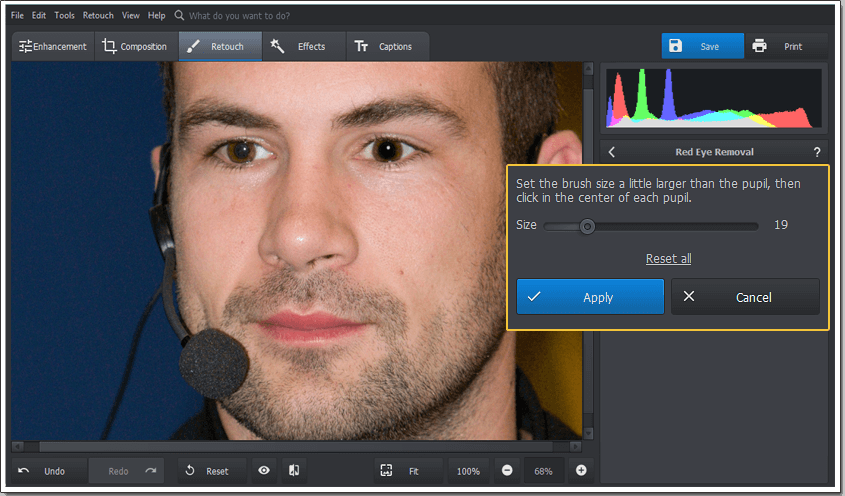 Restore the natural color of eyes in your photos
What Else to Do with Your Portrait Photos?
Change Colors with a Single Click
Don't like the clothes you're wearing in your photo? No problem, magically change its hue by playing with the color settings. Be it a fancy dress or a simple jacket, the program will automatically detect the source color of your garments and replace it with another one. Just drag one of the sliders on the Colors sidebar to the right or to the left, and red will turn yellow or blue will become violet.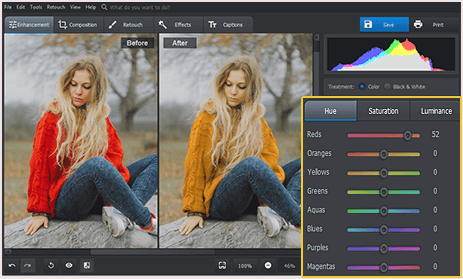 Apply Digital Make-Up
The face editing software will be your personal make-up artist. No need to prettify yourself before a photo session when the Adjustment Brush is fully capable of making your face shine with beauty in post-production. Take spontaneous and unplanned pictures without worrying about your final look! In the program, you'll be able to add glossy lipstick, try different hair dyes and even whiten your teeth - what else would you need for a magazine-like portrait?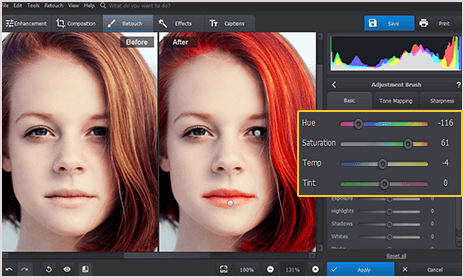 Play with Artistic Filters
How to stylize your portrait pictures? Play with different photo filters available in the program! There's a wide selection of Vintage, Toning, Lighting and Movie effects, as well Quick enhancements and Photography films. The portrait shot you took can travel back in time with vintage and retro effects, get a more stylish look with different lighting or imitate the atmosphere of some popular movie.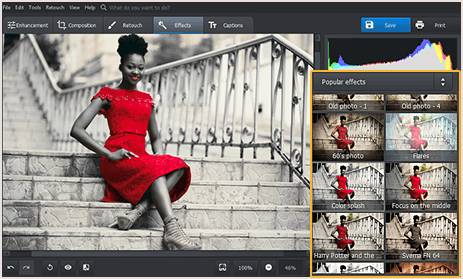 PhotoWorks guarantees you the best image editing experience since this software offers a powerful toolkit but is extremely easy to use. Even if you're a newbie in the world of portrait photography, you'll be able to salvage your ruined shots and achieve a flawless result in a couple of clicks!