How to Fix Overexposed Photos - a Complete Guide
Took an awesome shot only to discover that it's taken in too much light? Don't delete it just yet - there is a way to fix it! In this article, you'll discover several tricks to make things right. But first, we're going to talk about the roots of the problem and show examples of wrong and correct exposure adjustments.
You'll find out how to fix overexposed photos using professional Windows and Mac computer programs as well as mobile applications for iOS or Android smartphones. We'll also show you a web-based service for editing photos online in case you want to get by without any app. Don't miss the opportunity to learn how to edit overexposed photos in the easiest ways possible - read the guide till the very end.

Fixing overexposure is a piece of cake
Understanding the Problem of Overexposure: Meet the Histogram
It's real hard to get the lighting right at times, especially when taking photos outside in sunny weather. A camera (or photographer's) mistake will result in excessive brightness and lost detail. The tiny LCD screen on the camera back may not give you any hint of the problem, and you will often face it only when you're back home and open your pictures on the computer. A decent photo editor will have a histogram - this helpful tool will show you whether your image exposure needs fixing.

Histogram in a photo editor
So what does this rainbow-like graph tell us? The horizontal axis of the histogram shows the tonal range of the photo, with dark tones on the left, midtones in the middle and light tones on the right. If you notice that most of the pixels in your histogram are piled up towards its right edge, and there's an obvious gap on the left, this likely means that your picture is overexposed. Even for a naturally light photo taken on a snowy day, there have to be some dark tones that make up the snow texture. If there are none at all, you'll see that gap towards the left edge which signals overexposure.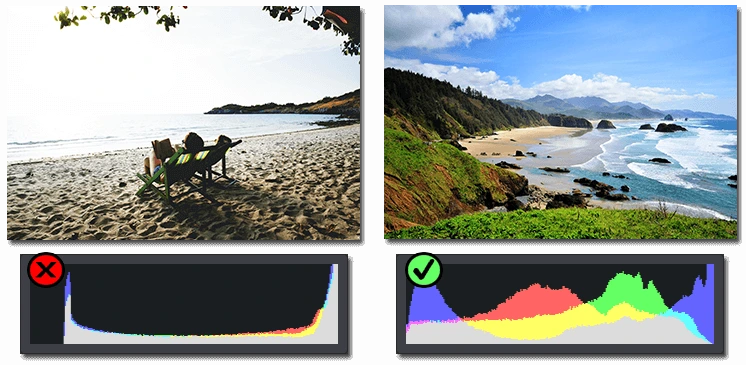 Wrong vs. correct photo exposure
Now it's time to get down to practice and finally fix your pictures. For starters, we'll show you how to fix a picture that is too bright using PhotoWorks, a beginner-friendly photo editor for Windows and Mac. The software offers both AI-powered and manual tools for creating professional-looking artworks - adjust the exposure, resize your image, remove the background, add a blur effect, apply filters, and more. We'll guide you through exposure adjustment in PhotoWorks first. Then we'll introduce alternative ways to edit overexposed images. This guide is devoted to correcting just one photo, but you can also learn how to edit multiple pictures at once - so useful when you're pressed for time. So let's begin.
How to Fix an Overexposed Photo Step by Step
Here are a few tricks that will allow you to easily fix bright light in photos with PhotoWorks. Get yourself a free trial and install the program on your computer. It's lightweight software, so the downloading process won't take long.
Once PhotoWorks is installed, you can launch the program and move on to editing your photographs.
1. Try Auto Lighting Correction
Upload the photo you'd like to edit - hit Open Photo and select a file from your folder.
In the Main tab on the right, you'll find the Auto Correction option. Click it.
With a bit of luck, the automatic picture editor will cope with the task by itself. Its image enhancement engine will discover most of the standard issues and adjust the tonal range accordingly.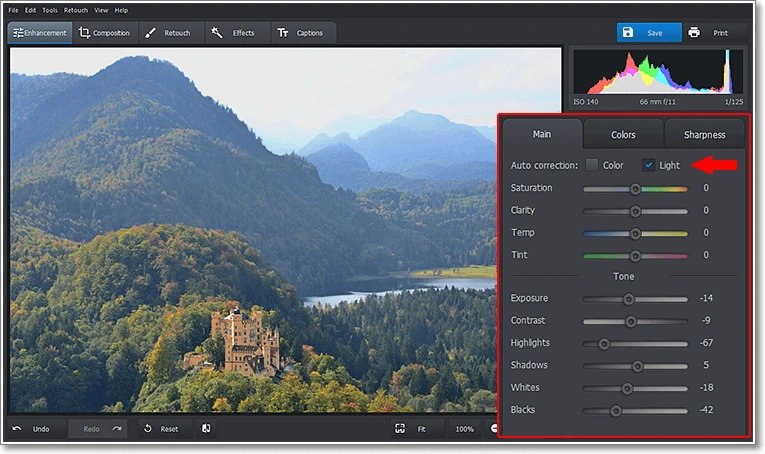 Save your washed-out photo using auto correction
But you certainly know that photography is all about your own vision, and you probably want to set your own accents here and there. This is why automatic correction may not completely satisfy you. If this is the case, let's move on.
2. Adjust Overall Exposure
In the right hand panel, find the Tone section – this is where all the vital lighting controls are located.
Drag the Exposure slider to the left until the photo looks good to you. As you drag, you'll notice the histogram creep to the left.
Dragging the same slider to the right will ligthen the image – it's good to know that in case you need to make a dark picture brighter.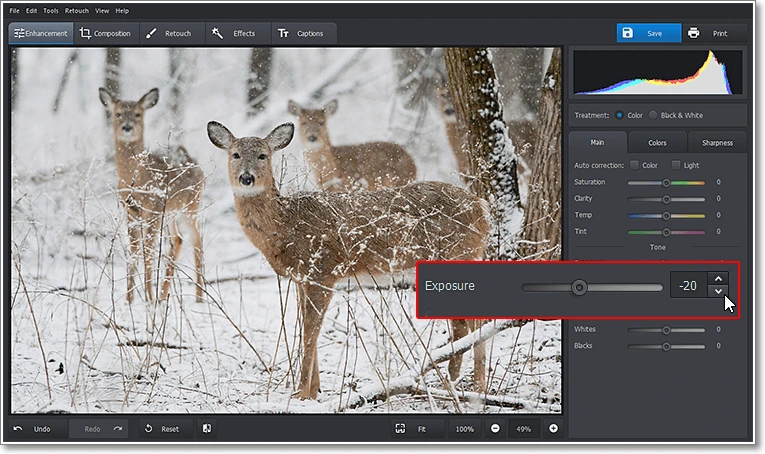 Fix lighting issues manually by adjusting the exposure
You should be extremely careful with the Exposure setting since the changes are applied to each and every pixel in the photo. As you lower the overall exposure, the darker areas are affected too, getting even darker, which may be undesirable for you.
3. Tweak Whites and Highlights
Now let's learn how to edit overexposed photos in a smarter way. The Whites and the Highlights sliders allow you to work with bright areas only, without touching the dark ones. Take a look at the example below.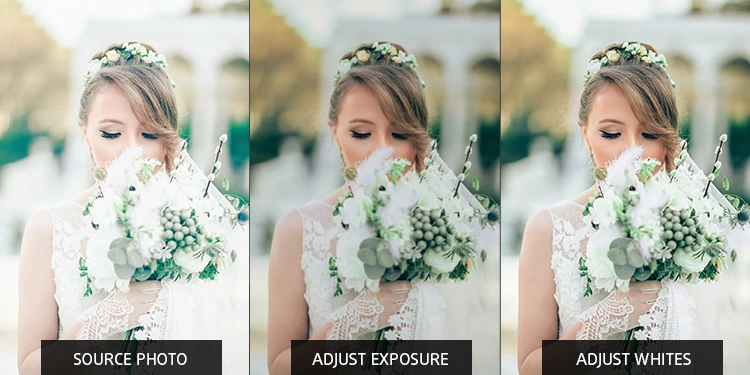 First, drag the Exposure to the left. This will reduce excessive brightness, but might make the photo somewhat gloomy.
To make the bride's photo light and airy, you need to adjust the Whites setting by dragging the correspondent slider to the left. This will help you get rid of the extreme whites without affecting the natural tone of the entire image.
The Highlights setting is even more delicate than Whites – it lets you work with a wider range of light pixels. Let's see how to recover the lost detail on the image below.

First, lower the Whites to fix overexposure. As you can see, the photo still seemed a bit too bright.
Now, tweak the Highlights to bring back detail and add depth to the girl's face.
When playing with the settings in the Tone section, you'll naturally find Shadows and Blacks helpful as well – use them to boost the darker parts of the shot in order to add contrast and depth.
4. Fix Sky Exposure in Landscape Shots
A most common problem with landscape photos is the washed out sky. It's hard to avoid even for experienced photographers, just because the camera sensors have difficulty capturing the entire range of tones that a human eye can see. If the bottom part of your landscape is just perfect but the sky is too bright, PhotoWorks lets you save the sky with the Graduated Filter.
Switch to the Retouch tab and pick the Graduated Filter.
To apply the filter, hold the left mouse button down and drag the filter over the area you need to work with – in our case, from the top edge down covering the sky.
Now tweak the Tone settings just as we did it for the entire image, as well as the Temperature setting to improve the white balance. This time, the changes are applied to the selected region only, without affecting the land.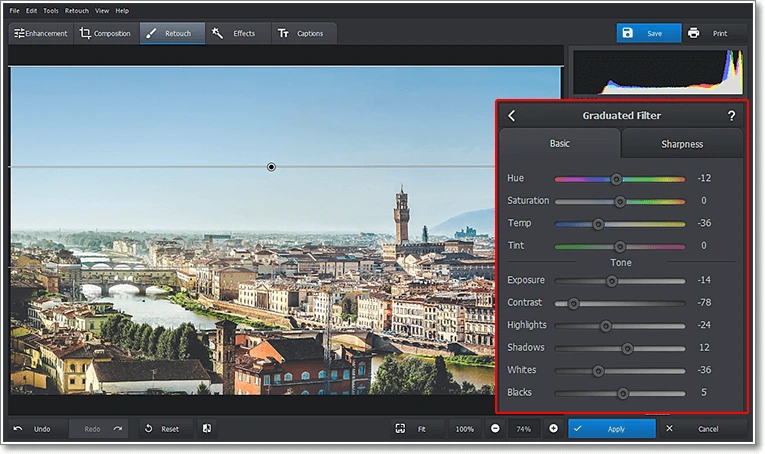 Correct overexposed sky with the Graduated Filter
Prefer watching video tutorials to reading guidelines? No problem - here's a video lesson on how to fix a photo that is too bright.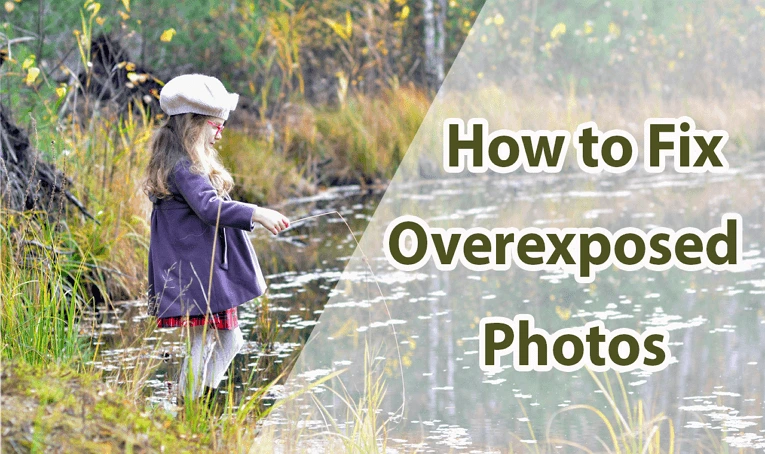 Ready to fix overexposed photos that you thought were beyond repair? Don't hesitate and download PhotoWorks for free!
This software runs smoothly on all Windows versions (Windows 11, 10, 8, 7) as well as macOS 12 and later.
Try More Photo Enhancement Techniques
As you see, PhotoWorks provides you with a handful of tools to fix an overexposed photo - and this is only a small part of what it has to offer. Here are some more features you'll love:
How to Fix Too Bright Photos - Other Ways
As we said before, there are lots of alternative ways for other devices to consider - and here they're coming. In case you want to try alternative PC or Mac programs, check out Lightroom. This software is well-known among seasoned photographers and provides a range of pro-level tools. To fix photos that are too bright, start the program, add your file, and switch to the sliders on the right panel - lower Exposure, Highlights, and Whites. Have Adobe Photoshop installed on your computer? You can use Lightroom's big brother, too. The Multiply blend mode is what you're going to set. First, you'll have to add a Levels Adjustment layer to your image and pick the Multiply mode. Now change the Opacity if needed and save the file.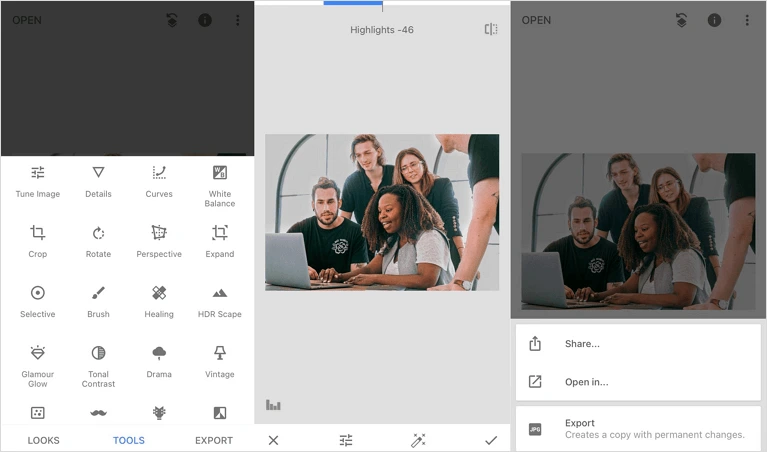 Quickly edit a washed-out photo with Snapseed
Want to know how to fix bright light in photos on the go without installing any complicated computer programs? Check out Snapseed, a free mobile photo editor compatible with iPhone and Android. Just download the app, choose an overexposed photo from your gallery, and go to Selective. Now you can put dots in the areas you want to make darker, and adjust Brightness by swiping left. Alternatively, you can open Tune Image and edit the whole picture. All done? Tap Export and either save it on your device or share the edited photo via social media.
There's one more way to avoid downloading any photo editors - learn how to fix washed out photos online. All you have to do is open the website, upload your file, and select the Exposure rate with a slider. There's no preview feature, so you'll need to hit Execute and wait till it processes your picture. If you're satisfied with the result, save it as JPG, PNG, or WebP. However, Mac users don't even need to open a browser to edit extremely overexposed photos. Go to the Camera Roll and open a photo. Then choose Edit, pick Exposure, and drag the slider to the left. You can also adjust Highlights and Brilliance if you want. Once it's ready, click Done to save the changes.
Best Ways to Save Overexposed Photos: Summary
Now you know how to edit overexposed photos through multiple avenues - computer programs, mobile and online photo editors. All the introduced tools will help you fix your pictures with no hassle. But if you want to avoid a long learning curve, and you're not ready to invest much money in photo editing, then PhotoWorks might be the right option for you. Either way, it's time to see what the programs are like - go ahead and edit your pictures right now!