I Spy with My Larger Eye
Try another effect of the Face Sculpt feature - change the size of your eyes. You feel that your eyes are too small or too big in your picture - just change them by dragging a slider right or left. Enabled the flash and have red eyes on the photo? Don't want to look like a vampire? Then get rid of that nasty color in a click. No editing expertise needed - only a red-eye remover.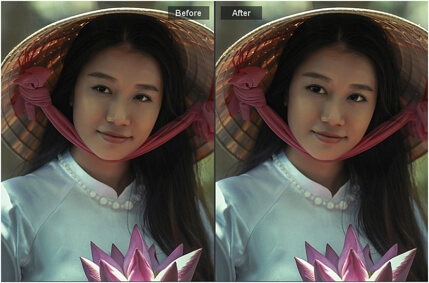 Browse Through Brows Possibilities
Your eyebrows can be just as expressive as your eyes, and sometimes even more. Play with Face Sculpt to see how you can change them. Try changing the height, the curve of your eyebrows - whatever goes with your new slimmer face - and don't worry about wrinkles! Get them through a skinny filter or go with the latest trend - make your eyebrows wide and natural as possible. The eyebrows aren't called the hanger of the face for nothing!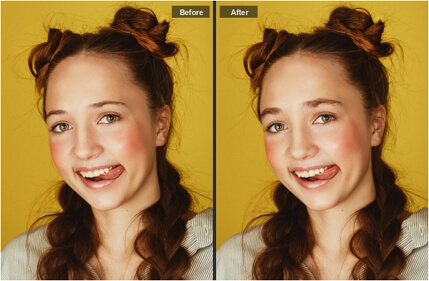 Who's Pretty and Nose It?
Are we genuinely satisfied with our noses? Don't we wish that the tip could be sharper or the bridge narrower? Plastic surgery is not a remedy for everyone. But PhotoWorks' new feature might as well be. Stop dreaming and give yourself a digital nose job! Change the width and the height of your nose by dragging two sliders. Try on a comical fat snoot or an elegant razor-thin sniffer now - whatever suits your needs.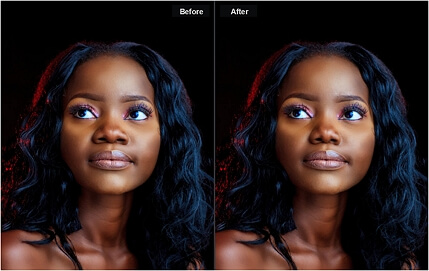 Unseal Your New Lovely Lips
Plump lips are a sign of good health, and a smile is a sign of good nature. Your pictures lack either or both? Fix this with another effect of the Face Sculpt feature. You were gloomy when someone took your picture? Add a slight smile! You want to try on a new mouth without any injections or makeup tricks? Play with the size of your lips, try thinning or plumping them by just dragging a few sliders!