Editing Faces 101: Your Route to a Perfect Pic
A Flawless Selfie Recipe
Unhappy with the way your skin looks in your pictures? PhotoWorks is here to help. This face editor for Mac and Windows comes with a set of tools aimed at erasing any blemishes that plague your picture. Use the Healing Brush to get rid of smaller pimples or freckles, and opt for the Clone Stamp if you want to cover a scar, a mole, or a face tattoo. Both of these tools are easy to master, so a perfect portrait is only a few clicks away!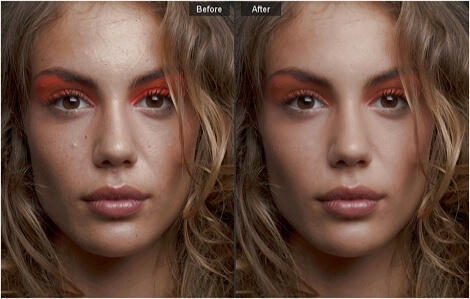 Let Your Smile Shine Bright
Self-conscious about your smile so you'd rather not show it in your pics? Let PhotoWorks handle that! Use this face photo editor to restore whiteness to your teeth. No manual selection needed - all you have to do is to choose the Whiten Teeth preset from PhotoWorks' beautifying module Portrait Magic. Want your teeth to look even whiter? Then hit the Custom Settings, find the Teeth section, and drag the whiteness slider all the way to the right. Voila!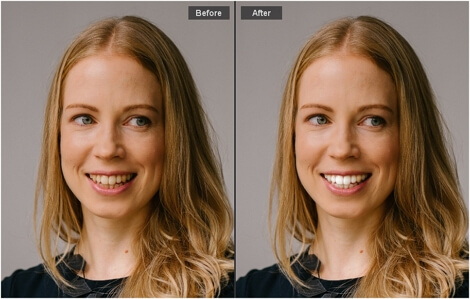 When Red Is Not Your Color
We don't know why we sometimes end up with glowing red eyes in your photos. But we do know a way to get rid of this pesky red-eye effect. Use PhotoWorks! This face editing software comes with a nifty tool that erases any glow in your eyes and restores their natural color. And speaking of. Ever considered changing your eye color, at least in your pictures? It's easy with PhotoWorks - only a few strokes of the Adjustment Brush tool, and here's a new you!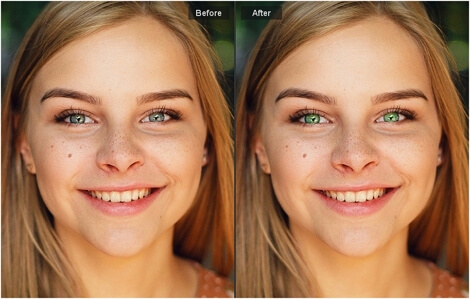 Bring Out Your Beauty with Makeup
Look dull and lifeless in your shot? Then bring some color to your face with PhotoWorks. Use this makeup photo editor to apply natural looking digital makeup to your pictures. Put on some dramatic eyeshadows, dewy lipstick, or elegant blusher to turn a bleak portrait into a beauty shot. Just a few clicks and brush strokes and - boom! - you have yourself a glamorous portrait.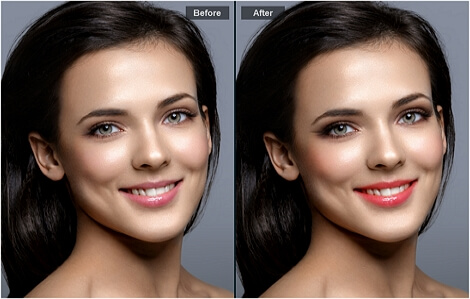 Restore the Natural Look of Your Face
Oftentimes our facial features get cruelly warped by bad lighting, odd angles, and other circumstances you cannot control. But fear not, PhotoWorks has a top-notch tool to cure it. Meet the Face Sculpt, a feature that allows you to slightly tweak your or your model's facial features. Change the shape and the size of the nose, eyes, mouth, and chin, slim the face by just dragging a slider.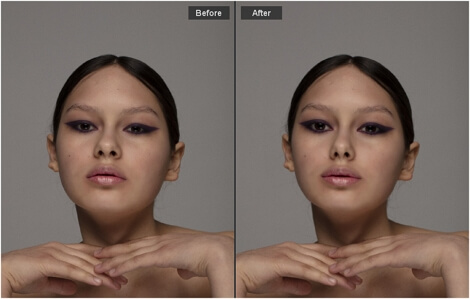 Make Your Skin Perfect
There are many reasons that wrinkles might manifest themselves in your pictures - age, diet, sleepless nights, you name it. But there is one great solution - PhotoWorks. Use this wrinkle remover to de-age your shots. So say goodbye to worry lines on your forehead or crow feet around your eyes - get rid of them with an automatic preset from the Portrait Magic module or erase them manually with easy-to-use retouch tools.