How to Add a Border to a Picture - Top 5 Ways in 2023
Want to make a trendy Polaroid-like photograph or a cute framed pic but have no clue how? Then you are in the right place. We are familiar with how challenging it might be to find the perfect program to use, especially for a newbie. So we will not only teach you how to add a border to a photo but will also help you choose the most suitable tool for you personally.
In this guide, you'll learn the 5 best ways to decorate your picture with a frame that will be useful in 2023! Take a glance:
Way 1: Add a Border to a Photo in PhotoWorks
Searching for Windows or Mac software packed with features but also easy enough for a non-professional to use? Then PhotoWorks is exactly what you are looking for. This automatic photo editing software has a clear minimalistic interface and is equipped with both basic and advanced photo editing tools. Its smart AI makes PhotoWorks super convenient and effective.
Have a look at the step-by-step tutorial on how to add a frame to your picture.
Step 1. Upload Your Photo
Begin with choosing the photo you want to decorate. Upload it to the first window of the program. Have multiple photos to add a border to? No problem! Click the folder button and you will see all your photos and be able to switch between them.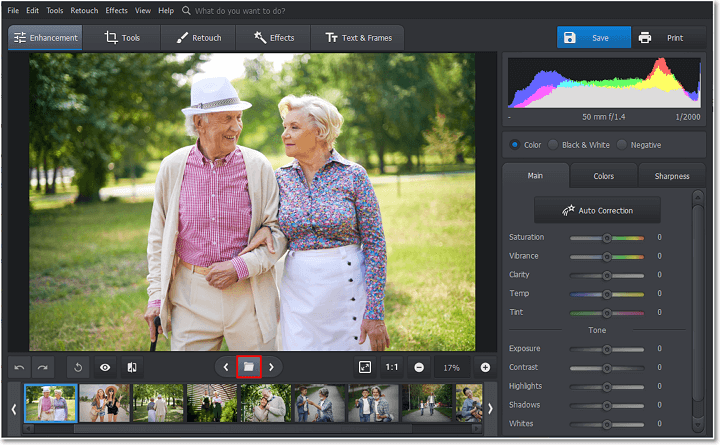 Choose one pic or switch between several ones
Step 2. Set a Border Around the Image
Switch to the Text & Frames tab and click Frames. Run through the set of premade borders of different styles to find the one that speaks to you the most. Then click it to try it on your picture. Change its color to the one you like. Use the top slider to adjust the size of the frame.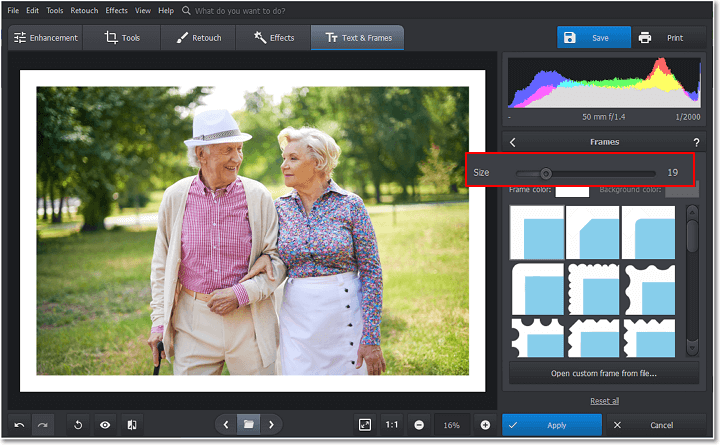 Choose from a collection of beautiful frames
Step 3. Save Your Picture
As the final step, apply all the changes. If there is nothing else you want to change in your pic, click the Save or Print button in the top toolbar. Now, your photograph is ready for posting on socials or mailing to a friend.
Save your picture to post it online or print it right away
If you are a visual learner, here is a short video tutorial about how to add a border to a photo on Mac and Windows to help you digest the new information: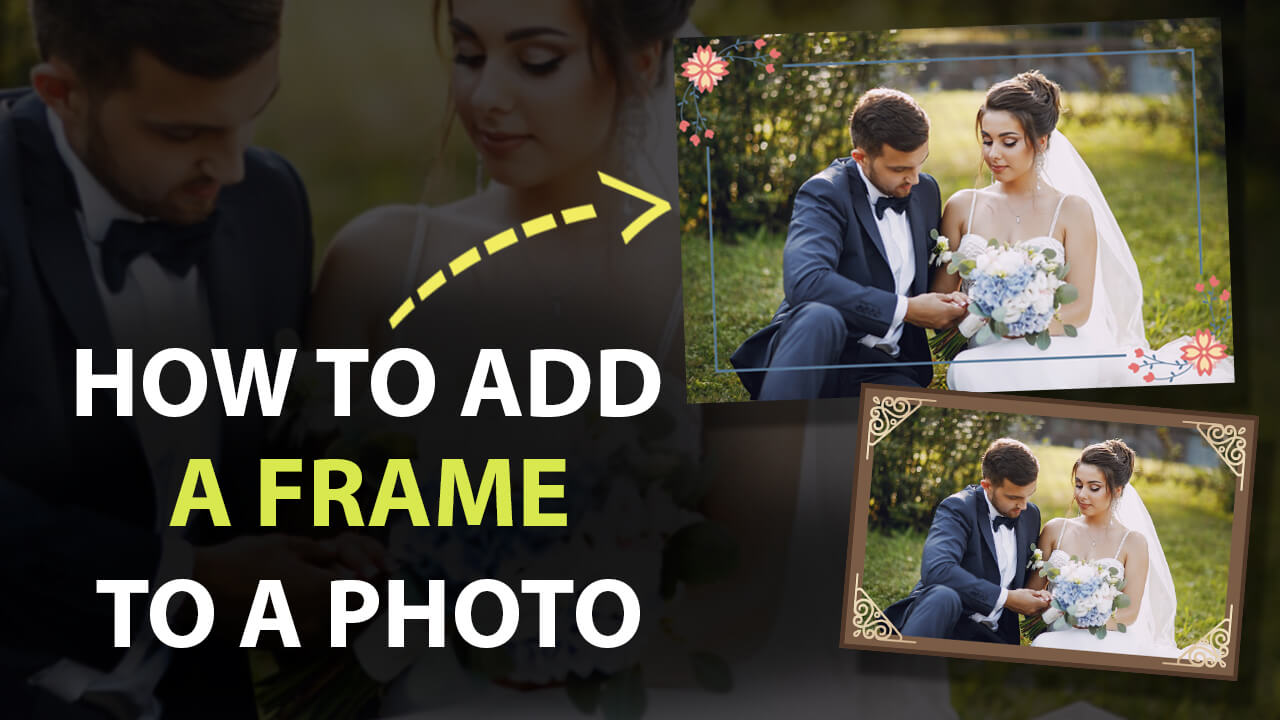 Smooth and sound, isn't it? Want to embellish your pics just as easily? Download PhotoWorks for free right now.
There are many things you can do with PhotoWorks, yet they do not require much effort. In a click of a mouse, you can retouch the model's portrait, blur the background of a picture, and remove unnecessary objects or people. Besides, you have an option to add captions to your images or place watermarks, so that no one can use your masterpieces without your permission.
Way 2: Use Photoshop to Put a Border Around Your Image
Already have a lot of experience in photo editing? Then Photoshop, the powerful all-in-one tool, is the program to use. With its help, you will have the artistic freedom to create your own frames limited only by your imagination. However, if you have never used Photoshop before, it will take time and effort for you to get used to its advanced features.
Either way, let's find out how to add a border to a picture on Mac and Windows, using this program, shall we?
Step 1. Import Your Picture & Add a Layer
Open your photo in Photoshop: File > Open. Then, create another layer for your border by going to the Layers tab > New > Layer from Background. Then click OK in the emerging dialog box. Once you have the needed layer, you can set the size of the frame.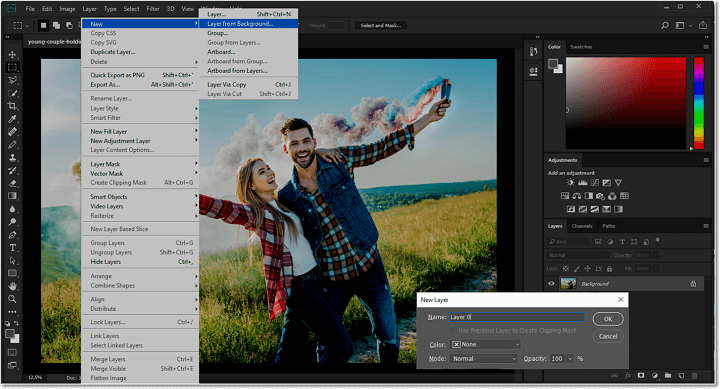 Create a new layer for your border
Step 2. Add a Border to Your Photo
Switch to the Image tab > Canvas Size. Type in the frame size in pixels. Make sure the Relative box is checked. Each number is split between edges. So if you enter 300 pixels in each field, you will have a border of 150 pixels wide. Set the Anchor to the center and click OK to apply the changes.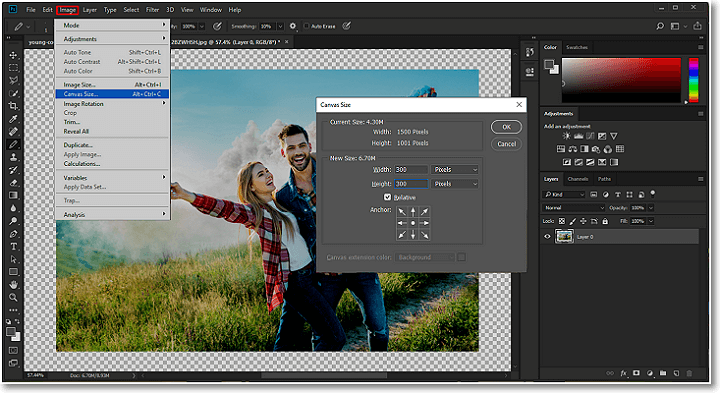 Set the size of your border layer
Step 3. Fill in the Border
Click the Create a New Fill or Adjustment Layer button at the bottom of the Layers panel. Go to Solid Color and set a white border, black border, or of whichever you like more. Drag the new layer to the bottom of the Layers panel.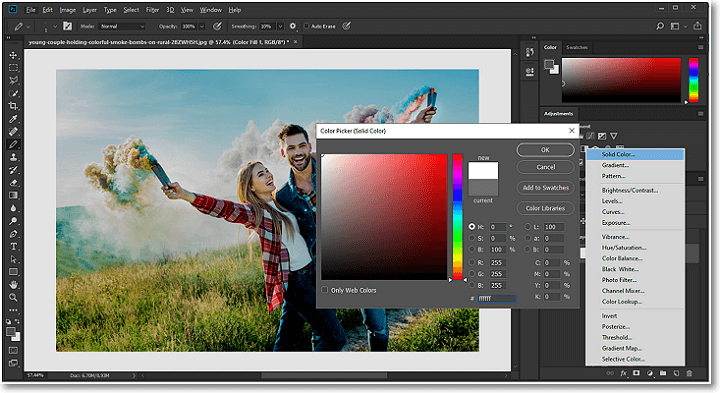 Make a minimalistic white frame
Step 4. Save Your Image
Once you finish editing your pic, go to the File tab and click Save As. Choose the format that you want your picture to be saved in. We recommend PNG for better quality.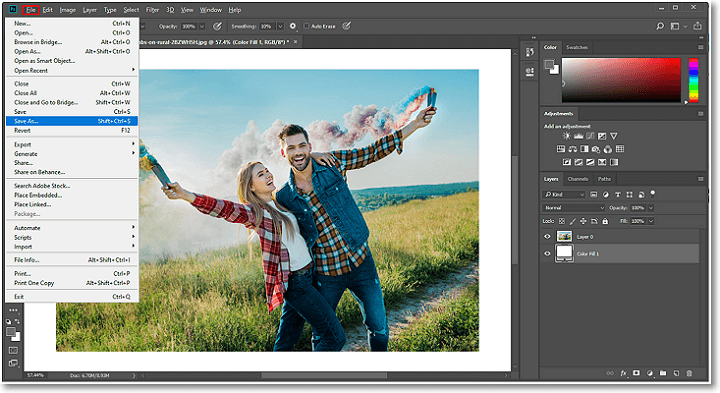 Save your framed picture as PNG
If you have further questions regarding this way of adding a frame to an image, visit the official Adobe Photoshop website.
As you can see, adding a border to a photograph in Photoshop is pretty complicated and requires many manipulations. Thus, we would advise inexperienced photo enthusiasts to avoid this battle and go with a more intuitive tool. But for you, photoshopping geniuses out there, there is no better solution than this one. However, mind that Photoshop requires a monthly subscription.
Way 3: Add a Border to a Picture with Microsoft Word
The biggest advantage of Microsoft Word is that the majority of Windows users have it on their PCs, so there is no need to clog up memory by installing additional programs. But bear in mind that this software is rather limited in its functionality when it comes to working with pictures because that is not its essential purpose. So the collection of frames is obviously not too diverse. However, if your aspirations are not too big, Microsoft Word might be just fine for the task.
Step 1. Upload Your Photo
Go to the Insert tab and click the Picture icon. Then choose the picture you want to upload into the Word document. Or instead, copy and paste the photo.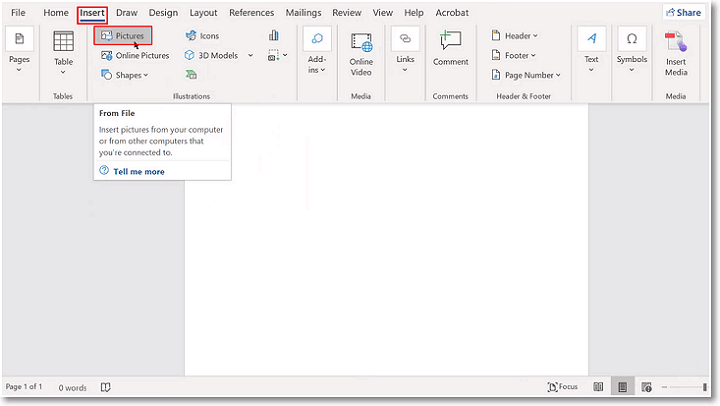 Insert your pic into the document
Step 2. Customize the Picture
Once you have uploaded the image and properly resized it, go to the Picture Format tab and choose a frame from the dropdown menu in the top left. A quicker way is right-clicking the picture and going to Styles. You can also create your own frame and select its color on the Picture Format tab if you go to the Picture Border color palette. At the bottom of the palette, in the Weight list, choose the border width, or go to the Dashes list to make a dotted-line style border.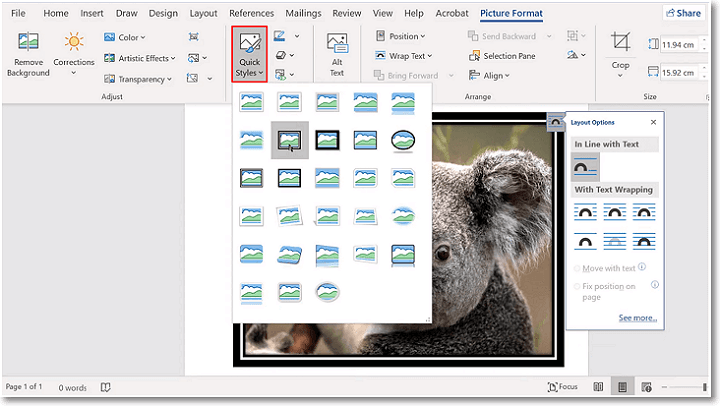 Select a premade frame or create your own
Step 3. Save Your Framed Image
Go to File > Save As or Print instead, and there you go. You can cut out your framed picture from the printed document or convert the saved one to PDF or JPEG to crop it.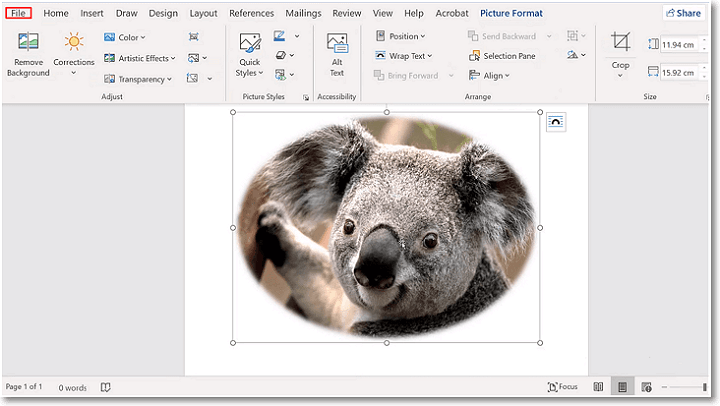 Save your picture and prepare it for posting
Now you know how to add a border to a photo in the new versions of Microsoft Word. For more detail or a step-by-step guide in older versions, visit the official Microsoft tutorial.
Adding a border to an image in Microsoft Word is as easy as ABC. But after saving or printing the pic, there is still a set of additional things left for you to do before you get the final result: cutting, cropping, converting, etc. So to some, this way of adding a frame to a photo might seem a bit time-consuming.
Are you thinking about what else you can do to make your pics look cool? Add stickers to your photos! PhotoWorks offers you plenty of sticker labels to choose from. You can also customize them by adding some creative text or a quote.
Way 4: Put a Border Around a Picture Online
Don't like offline photo editing programs or don't have enough memory to download them? No problem - use an online frame editor called Fotor. This tool has an easy-to-navigate interface and offers frames for all tastes. So with Fotor, you will always be able to create a perfect design in a couple of minutes with no previous experience. But in case you have a poor Internet connection at home, it is not a worthy purchase. The long loading will take away a lot of extra time.
If your Internet connection is strong enough, here's an easy tutorial on how to decorate your photo with a frame in Fotor.
Step 1. Import Your Photo
Once you open the tool, it will greet you with a handy introduction to its functions. Fotor is pretty intuitive, so there is no need for you to read the whole intro. Just skip it, click Import, and open the photo you want to edit.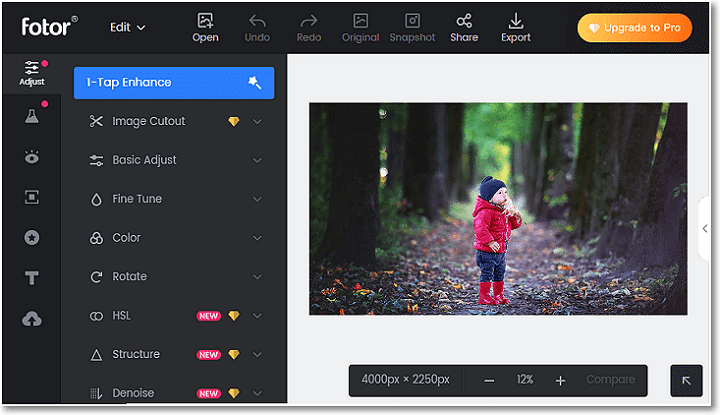 Choose a photo and upload it into the window
Step 2. Add a Border to Your Picture
Go to the Frames tab on the left sidebar and choose from the different categories of frames, from cute and funky to themed and stylish. You also have an option to add a shadow of any color instead of the frame.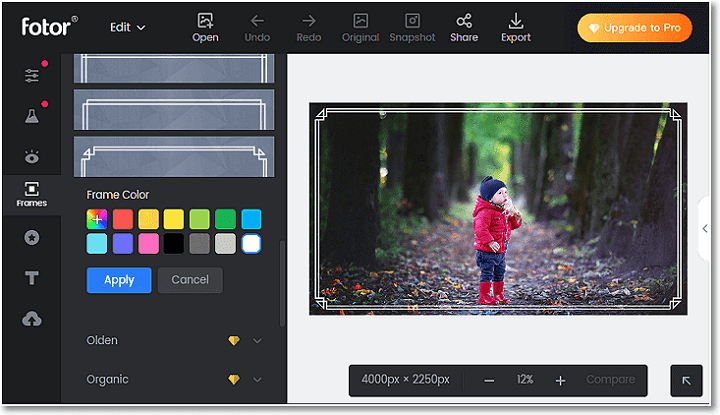 Use the coolest frame you can find
Step 3. Save the Picture to Your PC
Once you are through with editing, click Export in the top bar. The program will offer you to save the image as JPEG or PNG. Choose whichever is best for you.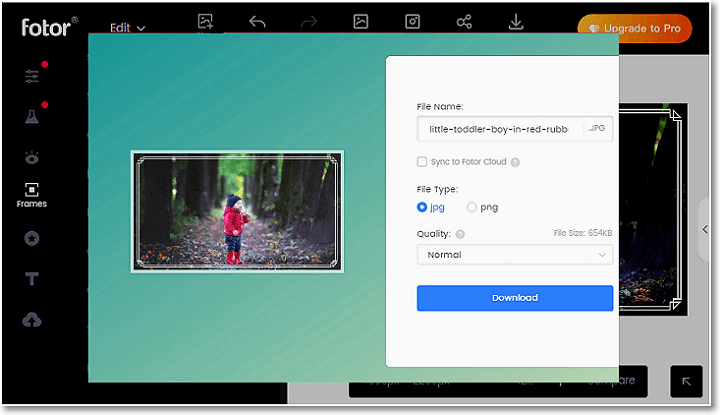 Download the work of art you have put together
If your choice fell on Fotor, access the tool via the official website.
Fotor is an excellent tool for online editing. However, the biggest concern that you might have about it is that there is no way to work with it unless you create an account and log in. Additionally, the collection of frames in the free version is limited. And if you want the full version, you have to buy a monthly subscription.
Not so happy about the background of your original image? No worries, you can fix that! Add a different background to your photo with PhotoWorks. You can either choose a background from the collection within the program or use a photo from your camera roll or from the web.
Way 5: Use Microsoft Paint to Add a Border to an Image
If online tools are not your thing and you prefer something less fancy but not as primitive as Microsoft Word, go with the classic Microsoft Paint. The program is easy even for children and will allow you to add a colorful frame to any photo super quickly. Besides, if you have a Windows computer or laptop, you have this picture editor built in. However, if you are a Mac user, you will have to find an alternative.
For the Windows squad out there, here are the steps you have to follow to add a border to your picture in Paint.
Step 1. Upload Your Picture
Click File on the top left bar > Open, and choose a picture. Zoom in or out with the help of the slider in the bottom right toolbar.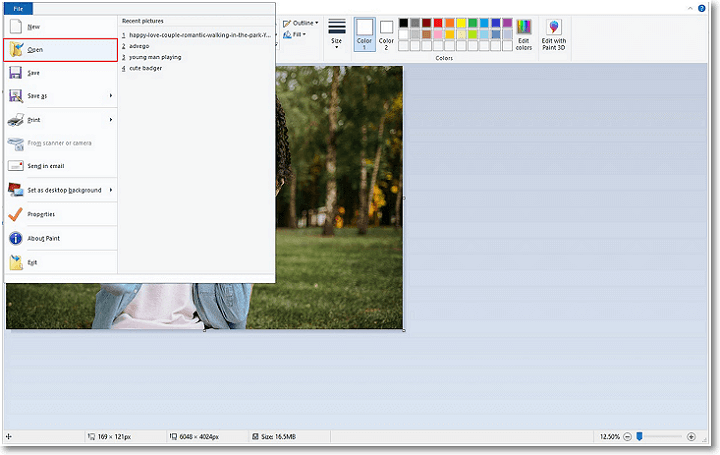 Use the zoom slider for easier editing
Step 2. Add Your Frame
Find the Shapes menu in the top toolbar and click the rectangular shape. Then, adapt its size and wrap it around your picture. If you want to change the texture of the frame, go to the Outline dropdown menu. Choose the color in the color palette or in the color picker. Change the thickness of the borderline in the Size dropdown. Make a beautiful frame by combining multiple figures.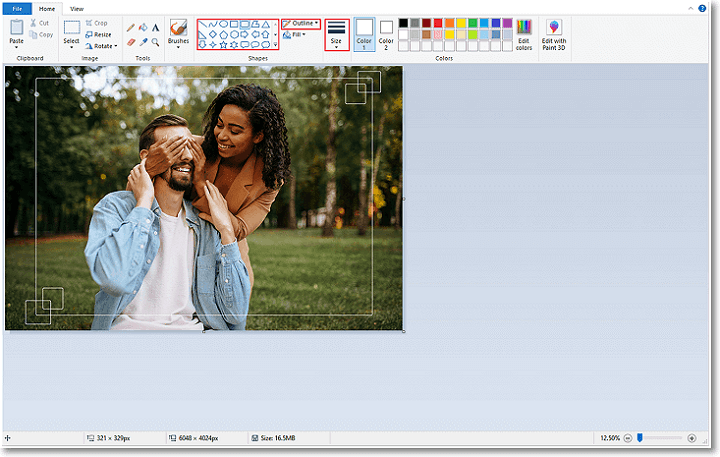 Use multiple shapes to draw your frame
Step 3. Save Your Work
Once you are fully satisfied with the frame you have created, go to File menu > Save As, and choose the format you want your framed picture to be saved in.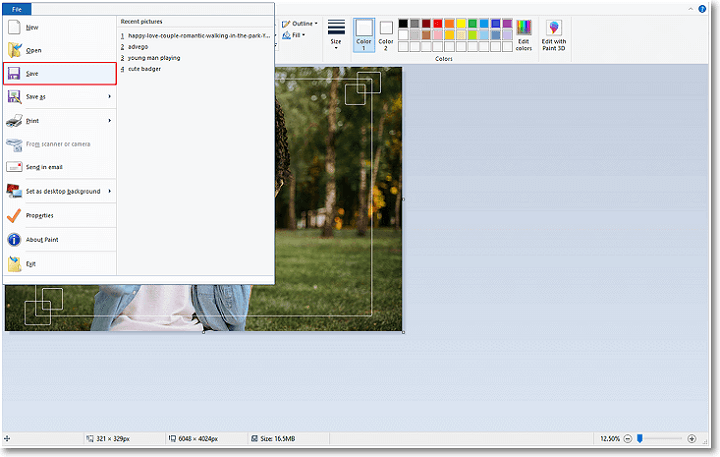 Save your minimalistic design
Microsoft Paint is a program that feels familiar to most people, and that is why it is so easy and comfortable to work with. Unfortunately, Microsoft Paint is unavailable for Macintosh users. Besides, no matter how easy Paint is, its capabilities are pretty modest in comparison to modern editing programs. However, if you are going for a minimalistic watercolor frame, Paint is just right for that.
Conclusion
By now, we have gone over 5 different ways of how to put a border around a picture. Among them, you are sure to find the right one regardless of your skill level. Don't have a Windows PC or Mac? Online tools for setting borders on pics are always at hand. Are you a pro in image editing? Make a fantastic frame in Photoshop. A newbie? Go with easy Microsoft tools. And people of diverse skill levels and experiences will enjoy PhotoWorks, the multifunctional software. The program is equipped with professional tools that are super easy to use. And even amateur works made with PhotoWorks can compete with professional creations.
PhotoWorks
Add a border to a photo with PhotoWorks!
Give your image a final touch with a stylish frame.
TOP