How to Add Stickers to Photos - a Simple Guide
Sometimes even a perfect picture lacks something - you just know it. If you are looking for a way to polish your photo, look no further than PhotoWorks. Add stickers - funny, lovely, cute - to your photos using the software's lively feature. Spice up your pictures with captions written on banners, plaques, or clouds. Learn how to put stickers on pictures in just four simple steps.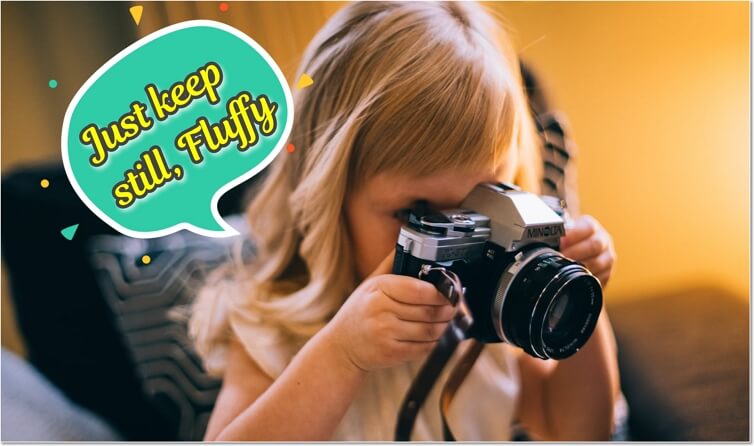 Step 1. Download and Run PhotoWorks
Download PhotoWorks - an efficient photo editor with stickers - from our website. Follow the installation instructions. Launch the software and open the picture that calls for some improvement.
Step 2. Put a Sticker on Your Photo
Move to the Captions tab, then switch to Stickers. Browse through the styles to find the sticker that will go with your picture - a dialogue cloud, a heart, or an arrow. Apply it with a single mouse click.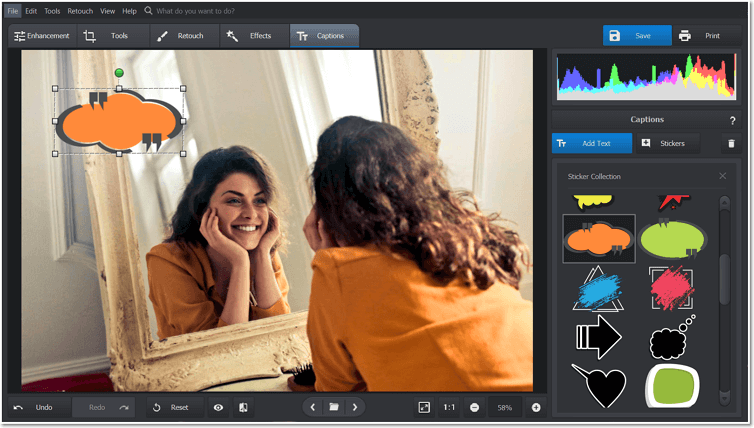 Choose a sticker from the library and apply it
Step 3. Make the Sticker Talk
Move the sticker around the picture to find a perfect spot, resize, and rotate it if you like. Then add and edit a caption to make it alive. Let your picture say what's on its mind!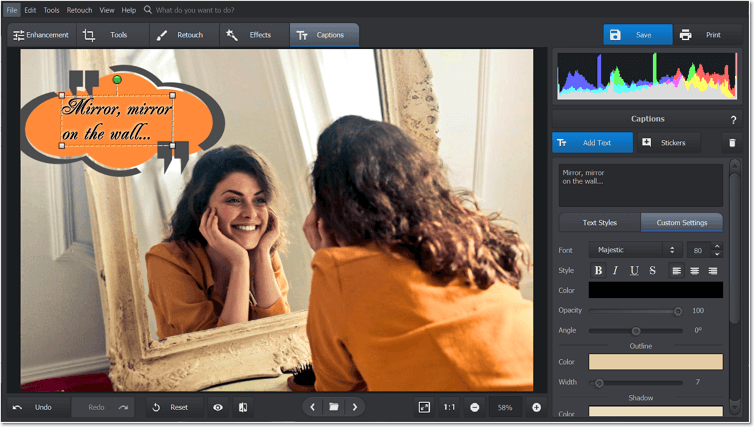 Adjust the sticker and add a caption
Want to make the picture even funnier? Make a cool-looking face swap!
Step 4. Save Your Cool Creation
Save your picture in a number of formats, be it for a social media post, printing, etc. Pick the size and the resolution of your pic, or add some sharpness to it.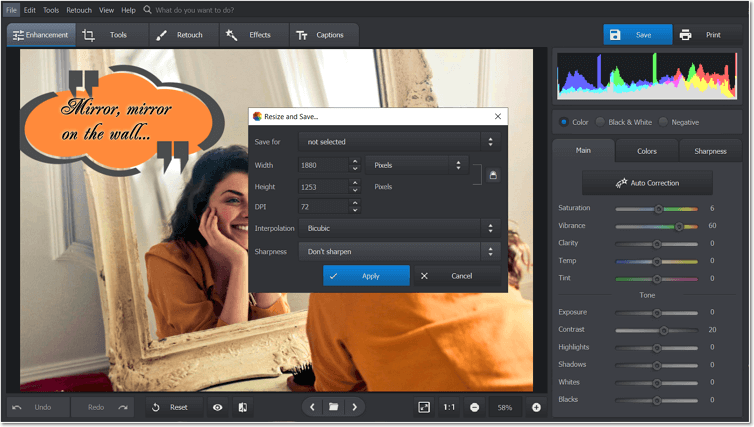 Save your picture in a suitable format
Do you have an iPhone or an iPad? If you do, check out how you can spice up your pictures using your Apple products. Learn how you can add stickers to photos on iPhone or iPad. Unleash your inner comic strip artist!
Well, who knew that the result of adding stickers to photos could be so funny? But this feature is just the tip of an impressively effective photo editing iceberg. PhotoWorks is equipped with a variety of easy and powerful tools that will take your pictures to a new artistic level. Curious? Let's have a look at some of them.
Cut and Sew Together
Ever wondered how to make a photo montage? Want to create a single stunning picture from an array of mediocre ones? Then become a visual tailor with PhotoWorks. Cut, overlay, rearrange, and stitch pictures together to create an extraordinary image. Here is a picture of you hanging from a cliff! And here is a shot of you shaking hands with Elvis! Try your hand at photo montage to express your visionary style and cause some artistic mischief.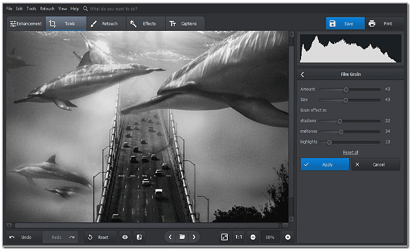 Deflaw Your Pictures
Forgot to deactivate the date stamp option on your camera and ended up with irritating figures in some of your best shots? It's happened to all of us at some point. No need to crop your pictures or strain your eyes trying to paint the figures over. PhotoWorks has a simple solution. Just remember those four words - Healing Brush and Clone Stamp. Remove date stamps from a photo with these easy-to-use-tools.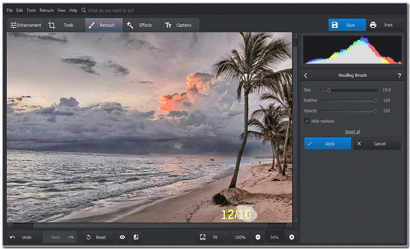 Defy Limits of Perception
Want to know how photo artists achieve a dreamlike effect in their pictures? It's not that difficult. Blurring - a regretfully underrated feature - is the key. Use it to add depth to your pictures or achieve a surreal effect. With PhotoWorks you can blur a picture to hide unwanted elements or highlight the subject of the shot. Try creating art out of ordinary! Need to achieve a completely different effect and get rid of the extra blur? Discover how to unblur a picture with ease.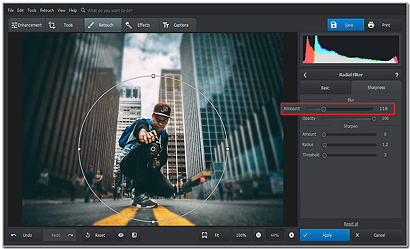 Download PhotoWorks and try this powerful picture editor with stickers to any taste! Use those stickers to let your pictures "speak" their mind. Ginger up your photos with cute banners, add a pinch of humor with hilarious one-liners on dialogue clouds, or decorate a holiday card with a heartfelt caption on a plaque. Stickers are no longer an eyesore, but a cool trend in photo editing.