How to Make a Poster from a Photo from Scratch
Originally, a poster is a large printed image with captivating text that is hung in a public place with the purpose of spreading the message it illustrates widely. The main thing in a poster is its design, which should be as concise and eye-catching as possible. Nowadays, posters are most commonly used in advertising and interior decoration.
Want to know how to make a poster from a picture to promote your business or make your home cozy, but don't know how? Then you've come to the right place. We'll show you how to create posters on your computer. For this purpose, we'll be using a simple and convenient photo editor, named PhotoWorks. The program has all the necessary editing tools that are easy to use, even for a newbie.
So, we'll give you a step-by-step guide on creating posters using PhotoWorks. We'll also offer you 5 alternative ways to turn photos into posters on Windows, Mac, Linux and online.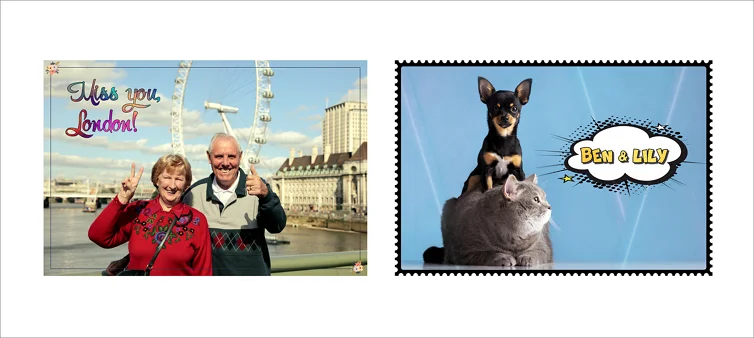 Create beautiful posters of any complexity with PhotoWorks
How to Turn a Picture into a Poster Step by Step
We'll start by demonstrating how simple and quick it is to use PhotoWorks for turning a regular photo into a poster. To be precise, we'll focus on enhancing the picture, adding text, stickers, and a frame to it, as well as applying filters. As a result, you can create a unique piece of home décor or a useful tool for business promotion by following the instructions shown below.

Making a poster from a photo: before and after
Step 1. Install PhotoWorks on Your PC or Mac
First, download the photo editor to your computer. Following the installation wizard's instructions, launch the software as soon as it has finished downloading. Import your photo into the editor once you reach the startup screen.
Step 2. Enhance the Image
Would you like to make your photo for the poster more vivid and vibrant? The Auto Correction tool can help you with that. Find the Enhancement tab at the top left of the screen and select Auto Correction. This tool will adjust the image exposure, vibrance, color saturation, and its clarity, making the picture much more attractive. If your image needs more improvement, then take a look at our tutorial on how to enhance a photo.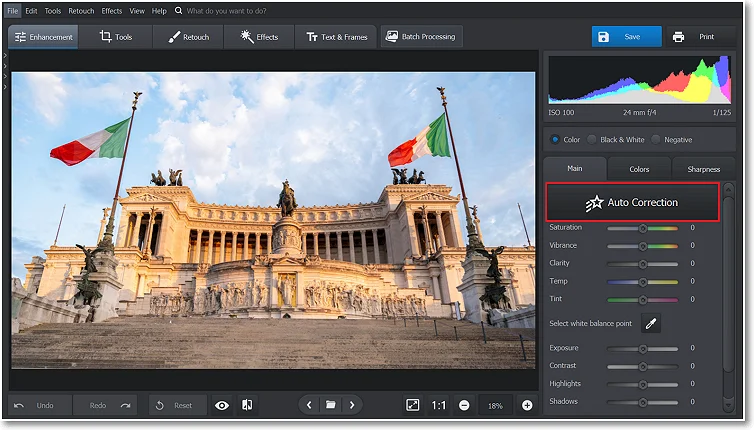 Enhance the picture quality and adjust the exposure
Step 3. Add Captions and Stickers
It's hard to imagine a poster without a catchy caption. Move to the Text & Frames tab and type your text. Choose your caption style from tons of design presets. You can also decorate your poster using the Stickers tool in the same tab. Put a sticker on your picture from the built-in collection simply by clicking on the most appealing one. You can resize, rotate, and move the sticker around the image to find the ideal spot.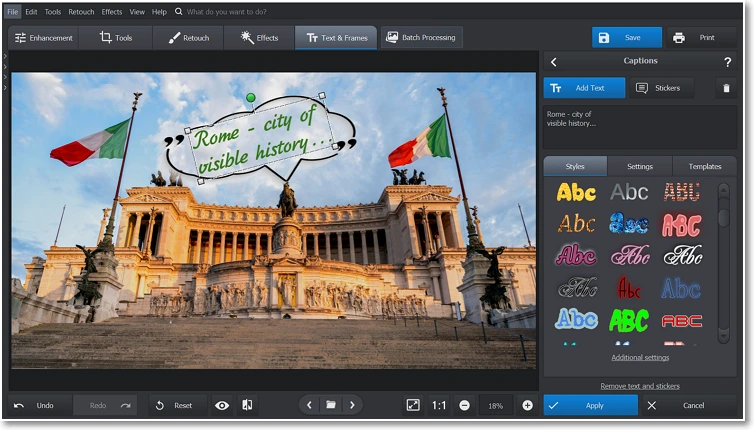 Apply a sticker from the library and add a caption
Step 4. Pick a Frame
Turn a photo into a poster by adding a border so the poster will look more stylish and complete. To put a frame around the picture, go to the Text & Frames tab again and choose Frames. Explore the collection of preset borders in various styles to discover the one that you like the most. Then click on it to see how it looks on your image. Change the color and adjust the size of the frame to the one you want to use.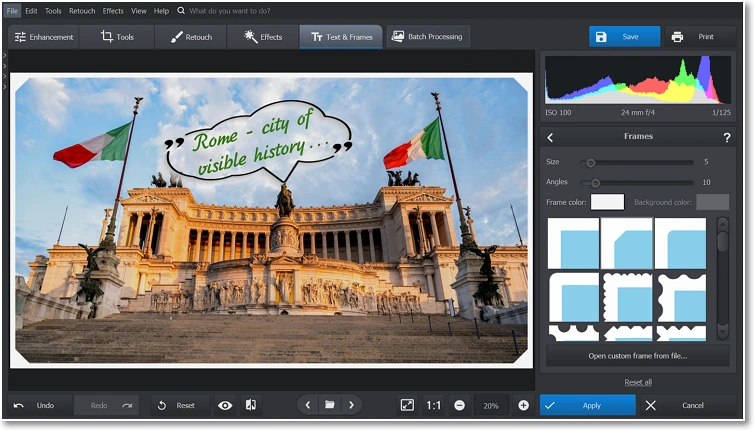 Choose a beautiful frame from the collection
Step 5. Customize with Filters
Set the right mood for your poster by adding filters to your photo. Switch to the Effects tab and look through the built-in collection of filters. If you want to make a vintage-style poster from your picture, try the "Old Photo" or "Retro" filters. Choose the "Thick Fog" or "Last Breath" filters to add some mystery. Explore over 140 different effects to find the one that is right for you.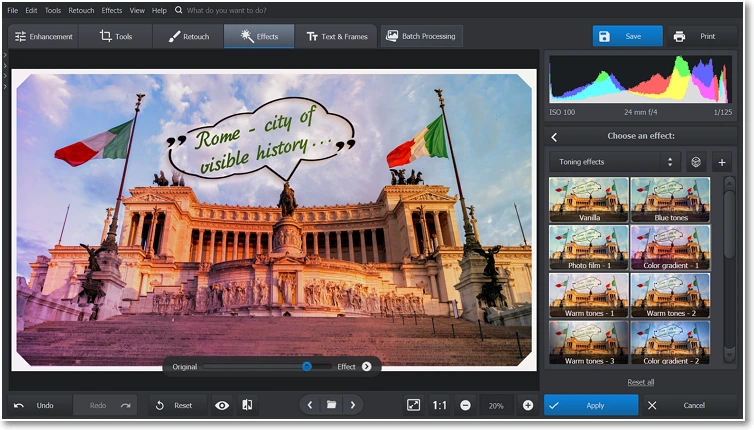 Explore a stunning selection of filters that let you easily convert your image to a poster
Step 6. Save Your Poster
When you are done making a poster from a picture, select your preferable export format and save your file by clicking the blue button in the top right part of the screen. The poster is now ready to be printed.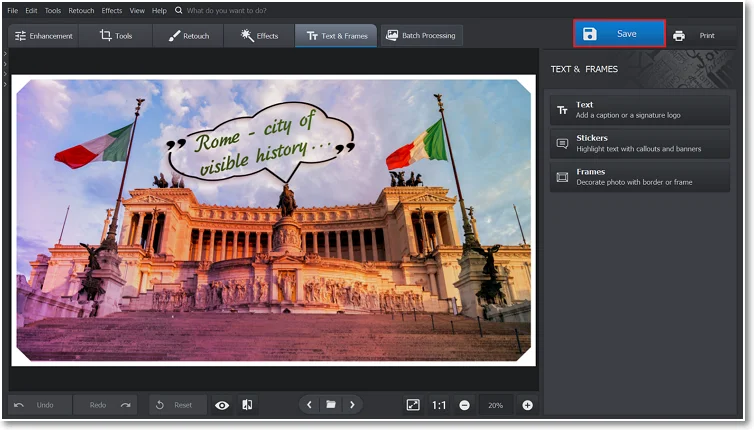 Download the poster you've just made
Want to learn more useful editing techniques for creating cool posters? Watch the video below and see PhotoWorks in action.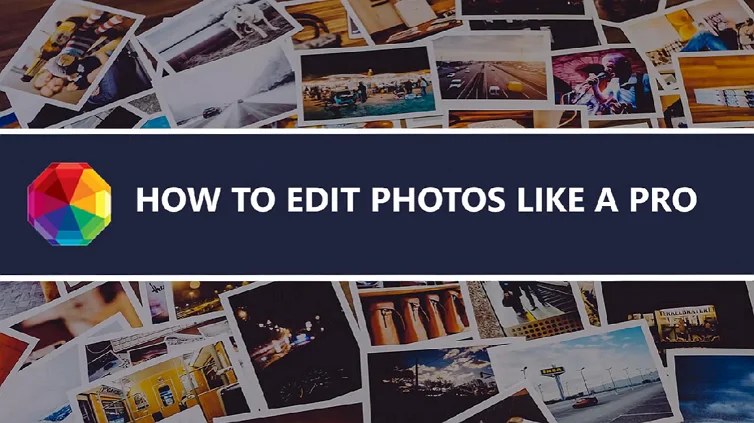 As you can see, PhotoWorks looks simple yet effective! If you like the variety of editing features and their simplicity of use, then try it for yourself and make all your photos look amazing.
Alternative Ways of Making Posters out of Pictures
Are you a Mac or Linux user, or do you simply not want to install a new program on your computer? Check out these 5 alternative editors for making a picture into a poster.
The first one is Adobe Photoshop, a professional photo editor valued by photographers and other creative professionals for its efficiency and limitless capabilities. With this software, you can convert your picture into a truly blockbuster poster. However, all of the editing is manual and it is too pricey for infrequent use.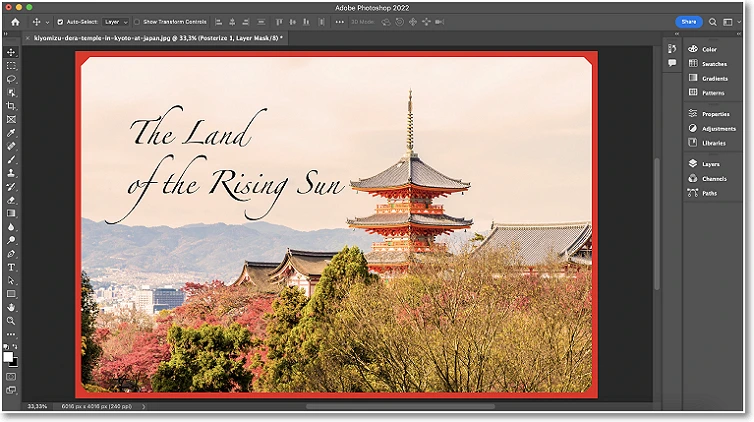 The appearance of Photoshop's working space.
GIMP, a free pic editing program, is another option to make a poster from a photo. The editor is compatible with all operating systems. But if you prefer not to download a new program on your PC, the following three alternatives are available to you. A custom Collage creator, a poster maker named CanvasDiscount, and an online photo center of Walmart corporation allow you to create posters from photos right on their websites. Simply upload an image to the website, make minor adjustments, pick a size of your future poster, and place your order to receive your printed poster in a matter of days.
Final Piece of Advice on Creating Posters from Photos
It doesn't matter what your skill level is or what device you use because you now have 6 options available from which you can choose how to make a poster from a picture. In case you're a Windows or Mac user and new to editing, we highly recommend taking a look at PhotoWorks. This easy-to-use professional tool offers a free trial that will give you a good insight into its possibilities. Either way, we wish you the best of luck with your creativity!
PhotoWorks
WANT TO MAKE A POSTER FROM A PICTURE?
Use PhotoWorks to Design a Cool One!
TOP