How to Put a Filter on a Picture in a Fast and Easy Way
Your photographs look not as superb as you expected, but there's no time to edit them? Photography filters might help you, and there's nothing wrong about applying one. With a filter, your photos will stand out and look even more stunning.
In this article you'll learn how to add filters to photos using PhotoWorks. This is an easy-to-use photo editor for Windows and Mac with AI technology and versatile features including both basic and more sophisticated tools. We'll show the process of applying a filter step-by-step in order to make everything clear to you. Unlike other photo editors, PhotoWorks offers a built-in collection of filters of different kinds, which means you don't have to download or purchase them from another resource. What's more, you can stylize multiple images at once thanks to the batch processing feature PhotoWorks has.
Make sure to read the article till the end to figure out alternative ways to put a filter on your picture. They range from professional desktop programs to user-friendly mobile applications. Find your dream photo editor and improve your art in a few clicks!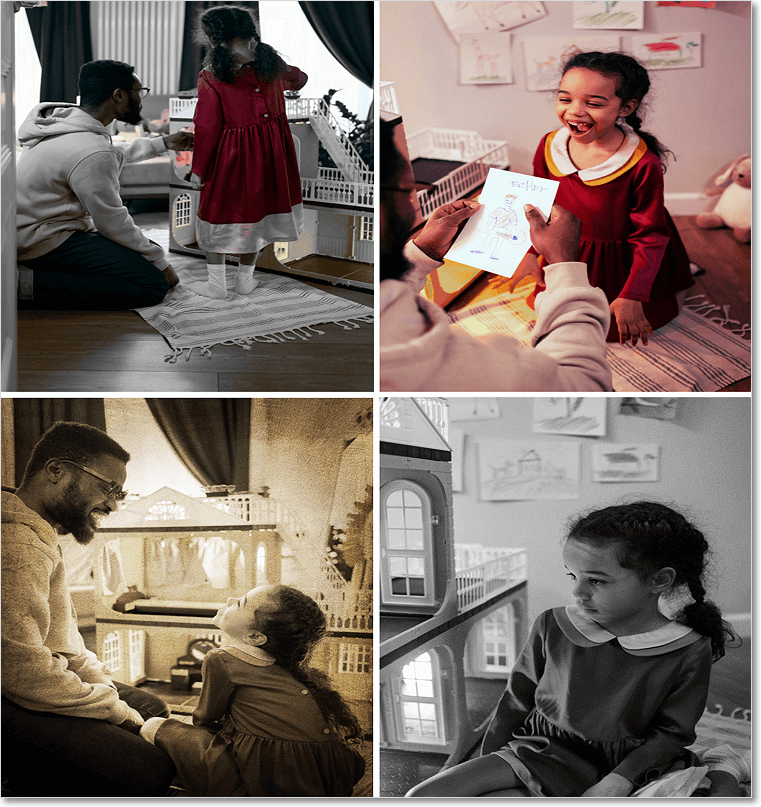 This is how you can stylize your photographs
How to Add Filters to Photos Step by Step
Now we're going to show you how to instantly apply a filter on several images with PhotoWorks. Trust us, it is not a big deal! You can do it with no problem.
Step 1. Download PhotoWorks
To begin with, you need to download this photo editor with filters. Then open the file, install PhotoWorks on your computer and start your free trial.
Step 2. Import Your Photos
To add pictures, hit Batch Processing - you can find this tab above. In this mode you can import all necessary files at once.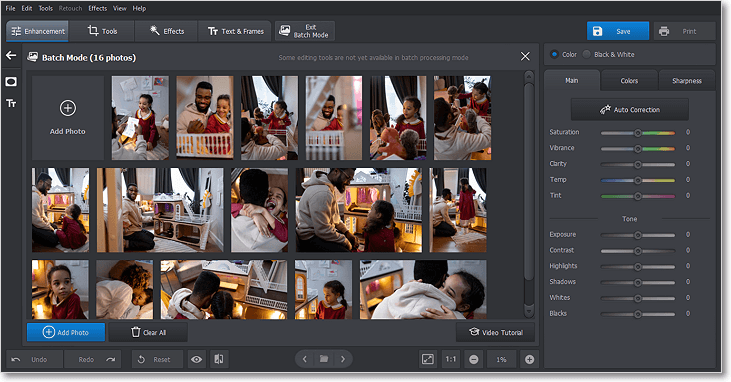 Easily drag and drop your files to alter the images
Step 3. Add a Filter to Your Images
To apply a filter, just switch to the Effects tab. Pick the Photo Effects tool to select a desired filter. Look through filter groups to find the one suiting your photo best, e.g. Photographic films, Vintage effects, and even Movie effects where you might find your favorite movie. Once you've picked a filter, click Apply.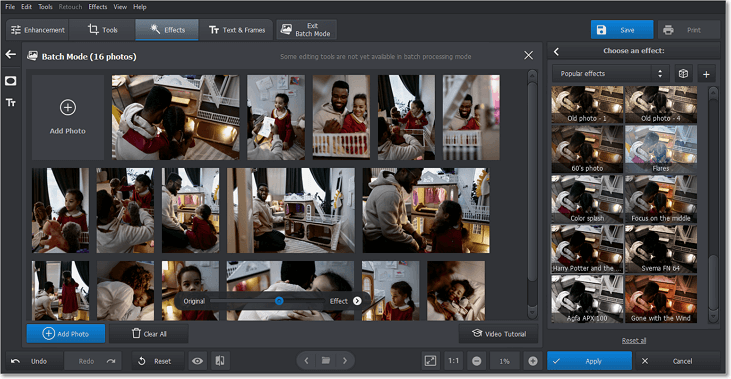 Check out an impressive collection of filters
Step 4. Save Your Stylized Pictures
Finally, when you've played enough with filter sliders to intensify the effect as you like, click the blue button to select a format and save the files.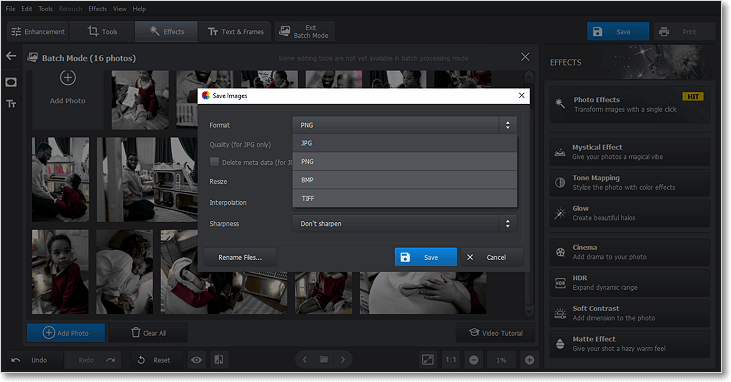 All done? Time to share your edited photographs!
With PhotoWorks, not only can you apply professional filters for photos to all your images at once, but you can also add a caption or a stylized watermark, adjust contrast, brightness, saturation and much more in all the images in one click.
Watch the video below to find out how to edit photographs in the Batch Processing mode.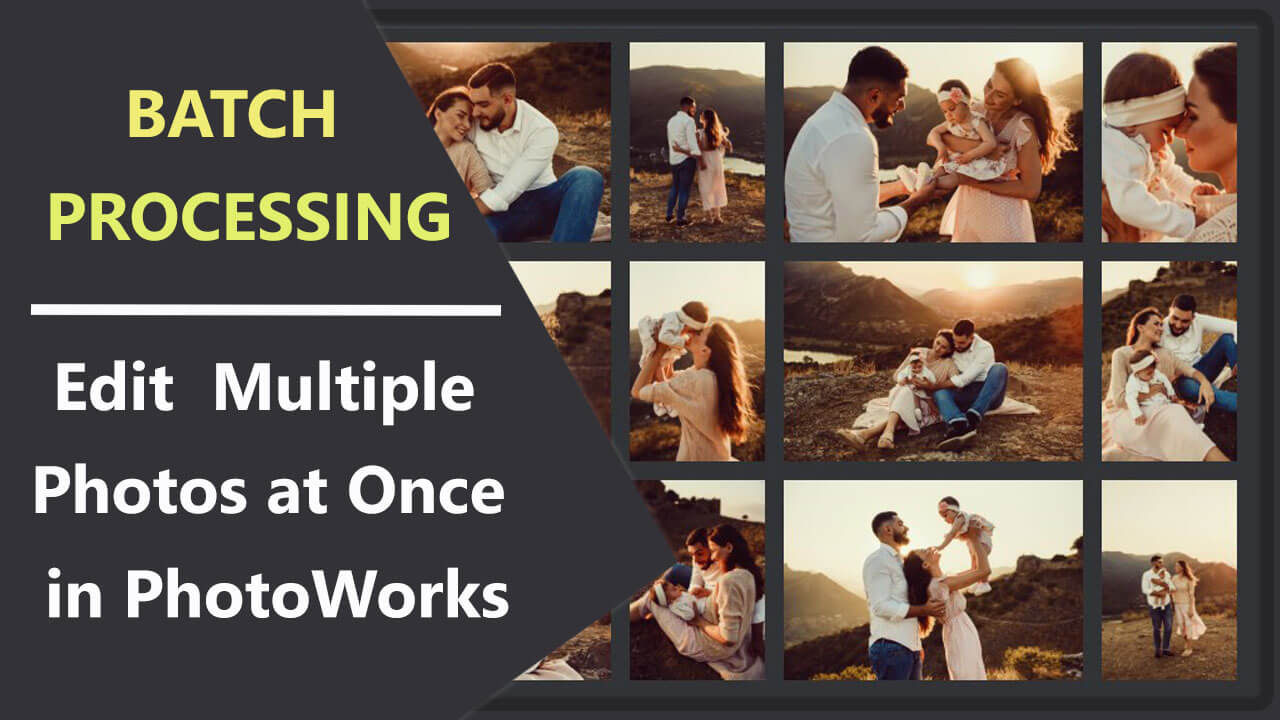 As simple as that! Go and try it yourself. In case you don't want to watch tutorials, but something is still unclear, don't hesitate to learn how to edit multiple photos at once.
What Else You Can Do with PhotoWorks:
Alternative Ways to Put Filters on Photos
Want to try other options along with PhotoWorks? No problem! Let's get down to work and figure out what tools suit you best.
First off, we'll talk about mobile applications with cool filters for photos. For example, BeautyPlus offers over 200 themed filters and is perfect for editing a selfie or a portrait. The filter editor for images is available in both App Store and Google Play. Another great option is Snapseed, which is a professional and user-friendly photo editor by Google. In this app, you can use such filters as Retro, Vintage, Drama, Grunge, and so on.
However, there's no need to download a photo editor with filters in case you have Instagram or Snapchat apps installed on your mobile phone. Take a picture and instantly add a photo filter, or edit one from your camera roll. It seems social networks are not just time killers after all.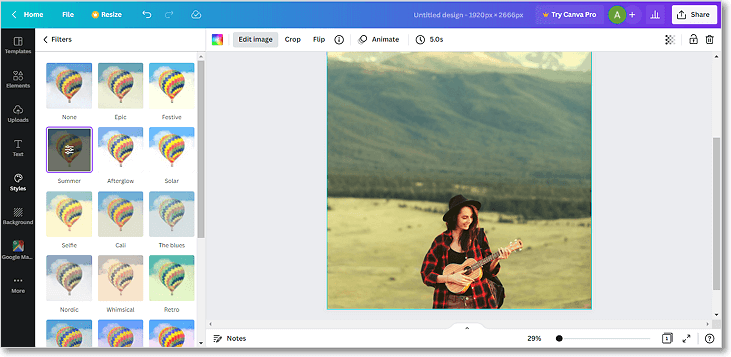 Add a filter right in your web browser
And here's the juicy part - an online service called Canva. It's a well-known online platform for designing various visual content such as posters, cards, presentations, etc. with numerous templates and, of course, filters to choose from. Don't hesitate to try this tool for free.
Yet, the listed options are not going to satisfy your needs if you're eager to try something more advanced. Believe it or not, but professional designers and photographers also apply filters to pictures every now and then and even create their own. For that purpose, they normally use Adobe Photoshop.
Use Photo Editing Filters to Save Your Time
Now you know a bunch of ways to quickly improve your images. First, we've explained in detail how to add a filter to a picture on Mac and Windows using PhotoWorks. Then we introduced alternative tools, ranging from simple mobile apps to professional editors packed with picture filters. It's time for you - a filter guru - to put your knowledge into practice. Go ahead and turn your photo into a masterpiece!
PhotoWorks
Want to add a filter to your photo?
Try PhotoWorks and take your images to a whole new level!
TOP