How to Remove Logo Background in a Flash
Have you come across a situation where you had to place your logo on a presentation, but it appeared with a white background? Or perhaps you are now working on the design of your business cards or social media account and need a logo with a transparent backdrop? Whatever the case, we will show you how to remove the background from logos with little effort.
You won't even need to have professional editing skills for this task since we will use PhotoWorks. It's a smart photo editor designed to make the photo editing process comfortable for users with any skill level. This software has user-friendly tools and features for thorough photo post-production. The same applies when you have to remove the white background of your logo. That won't be a challenge at all!
In this guide, we will show you the process of removing your logo's background with PhotoWorks step-by-step. You'll also explore how to separate your logo from its white background on your Mac, Windows, and online using other editors. Let's get started!

Give your logo a transparent background and make it look uniform
How to Remove the Background from a Logo Step by Step
If you're looking for an easy and fast way to make the white background of your logo transparent on a Windows or Mac PC, PhotoWorks is the right editor for you. The program will minimize your work and remove the background automatically. Check out the guide below to learn how to operate the software step by step. After you do so, you'll be able to take your logo out of any background and use it in your projects shortly.
Step 1. Download and Run PhotoWorks on your PC or Mac
Click the green button below to download the installation file of this logo background remover. Then unpack it on your computer, launch the program, and start its free trial.
Step 2. Open the Picture with Your Logo
To begin editing, open your logo by clicking the Open Photo button or drag and drop your image into the startup screen. Then go to the Tools tab and pick the Change Background tool to proceed to the next step.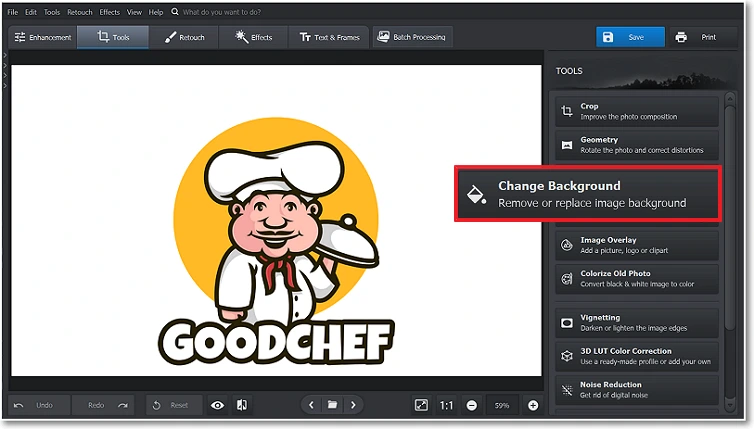 Pick the Change Background tool from the toolkit
Step 3. Remove the White Background From Your Logo
Pick the Object brush, adjust its size for convenience, and mark the object you want to keep. Select the Background brush and mark the backdrop you need to remove. Then set Background Opacity to 0 to preview the result. You don't need to mark every tiny detail of your logo. Just make a few simple strokes, and the software will automatically define the edges. Either way, you can fix any missteps of your selection with the Eraser or with the same brushes in the following stage of editing after you hit Next.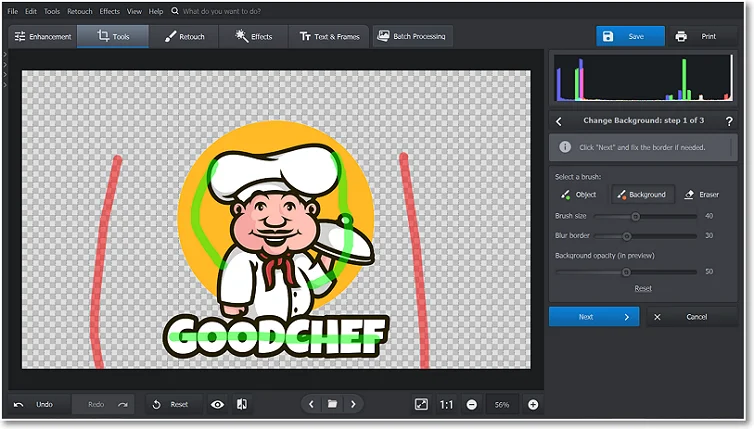 Leave a few strokes over your logo to separate it from the background
Step 4. Save Your Logo with the Transparent Background
Once the background is gone, click the Save with Transparent Background button. This way you'll export your logo as a PNG file.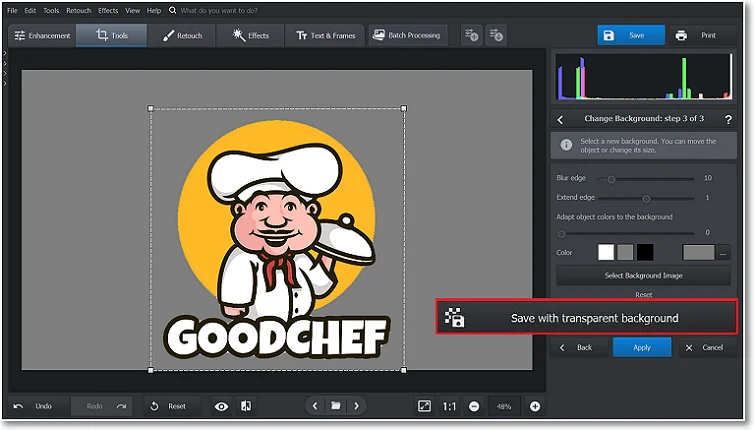 Save the logo as a PNG to use it in your projects
Simple as that! Just a couple of clicks, and your logo is ready. No need to trace every detail manually or switch from tool to tool to achieve transparency. Now that you know how to take the background out of a logo with little effort, follow the steps above with your own logo to make its background transparent.
What Else You Can Do with PhotoWorks:
Remove unwanted objects
Apply various effects and filters
Fix a grainy photo in a click
Retouch portraits with presets
Edit a RAW photo with ease
Replace the sky in your photo
Digitally sculpt face and body
How to Remove the White Background from a Logo: 4 More Ways
Not sure if PhotoWorks is right for you? We have a few alternative ways worthy of your attention. If you have a Windows or Mac computer, give a thought to Photoshop. It's a professional editing software packed with sophisticated features for photography, typography, and design. This editor has a special automatic tool to take the background out of a logo. Learn more about this method in the step-by-step Photoshop tutorial. However, you should be aware that the abundance of options and menus might make the workflow in the program slightly confusing for you. Besides, this editor comes with a pricey monthly subscription. So unless photo post-production is part of your daily routine, we recommend going with an easier solution.
If a complex interface isn't too big of a problem for you yet you want to save money, consider the free GIMP. It provides all the tools for high-quality image enhancement, looks pretty similar to Photoshop, and requires no subscription. If you're interested in this program, check out the detailed GIMP guide on how to make the logo background transparent. However, you might face some difficulties with erasing the backdrop of your logo if it has over 2 colors.
Don't want to download extra software on your PC? Remove the background online with the help of Fotor! This logo background remover will automatically detect your logo and take its background off in a second. All you need to do is upload your file. The editor works on any device with a stable Internet connection. However, you might face some difficulties in the process if your logo contains text - the editor might accidentally extract it with the background. Still, there are ways to work around this issue. So give it a shot if you don't mind allowing this online editor access to your files.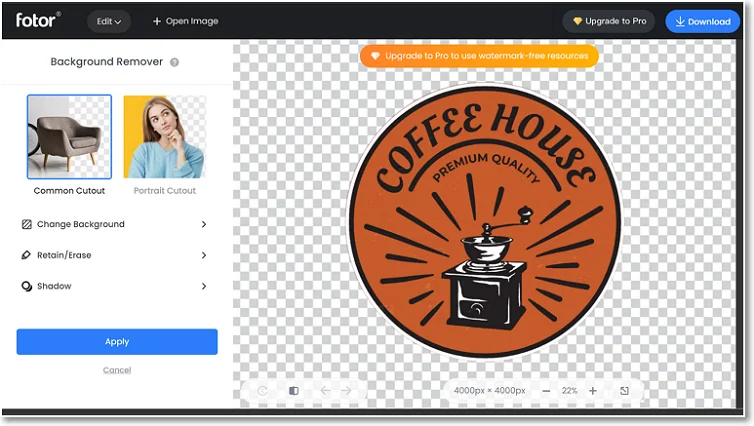 Take the background off the logo in a blink of an eye with Fotor
Would prefer to use an editor you are familiar with? Go with the good old PowerPoint. This program is included in the Microsoft Windows pre-installed package, so you probably have come across it before. You'd be surprised, but you can actually use this program to complete the task! Learn how to take the white background off your logo using this software in the easy-to-follow PowerPoint tutorial. However, this way works only for backgrounds with a solid color and doesn't provide you with special tools to correct any missteps.
And that's it! Now you know how to remove the white background from your logo with the help of 5 different editors and do it on any device. Choose the software that suits you best according to your needs and start editing today. We hope this article was helpful for you and wish you luck in post-processing your photos!
PhotoWorks
Want to remove the background from your logo?
Do it in a powerful yet easy editing software today
TOP