How to Edit RAW Photos for Maximum Effect
What images do professional photographers prefer to work with? Most of them choose RAW files. The reason is obvious - you can purely enjoy the process of shooting not being bothered with camera settings. Later, you can make your own choices concerning white balance, color gradation, clarity and sharpness of your shots while processing them in some raw photo editing software. I know what program just came to your mind, but I'm going to surprise you - you can edit RAW images like a real pro without Photoshop! Read on to discover how to draw the best out of your pictures with PhotoWorks.
Unlike JPEG files, RAW images look dull and bleak. Start editing them and you'll notice a colossal difference. The photo example below demonstrates it very well - the same settings have been adjusted in the JPEG and RAW images.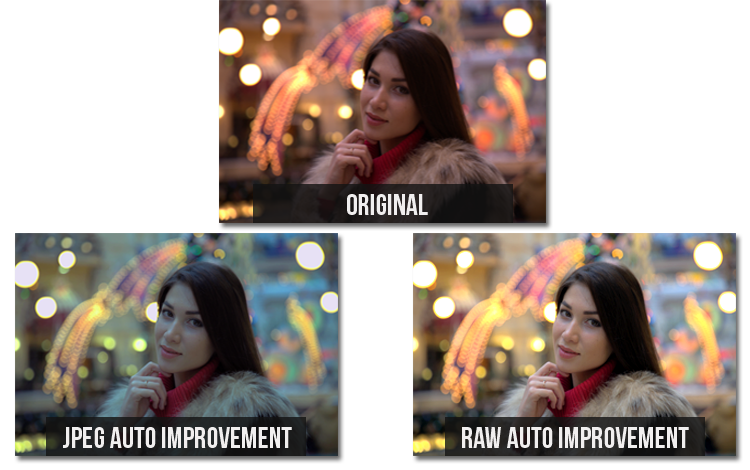 Reasons to Shoot and Edit RAW Files
Before diving into the details of RAW processing, let's find out why it's well worth shooting RAW. It's the best way to get the highest image quality possible. The main reasons to edit RAW images are listed below:
1. You Can Show More Details
RAW files are big because the image sensor captures all the information about the scene without changing the way it looks. RAW images won't save any space on your memory card but that major amount of data will give you a lot more flexibility in photo manipulation later. It will help you bring out important details and improve the quality of the original shots.
2. You Can Fix Colors & White Balance
Working with RAW files, you'll have as much color information as possible, it will be recorded in each and every pixel. Let's compare the JPEG and RAW images at the right from the color perspective. The JPEG certainly looks good. At the same time everyone will call the RAW photo excellent because of the color gradation in it. To perfect the color balance of the shot, use a convenient photo editor.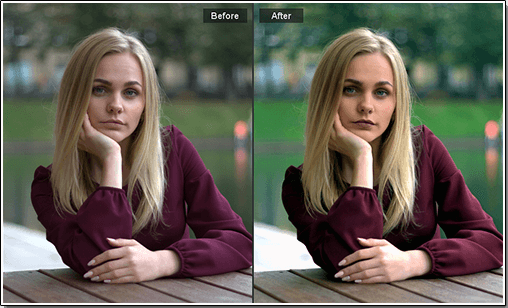 3. You Can Manage the Exposure
Thanks to the wide dynamic range, modern cameras are able to handle the details of highlights and shadows in one shot. It helps to avoid too much noise and prevent blowing out highlights. By adjusting the exposure level in post-processing, you'll make the scene clearer and emphasize the natural texture of the objects. You can get marvelous pictures this way, especially working on landscapes and architectural views!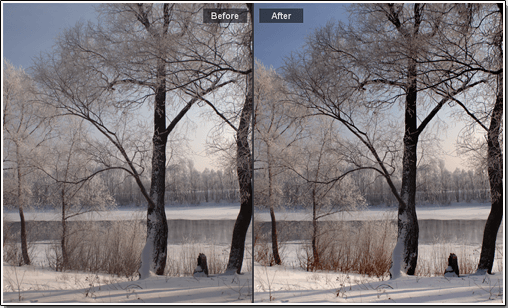 You just can't do without RAW when taking photos during the night. Never shot in the dark before? Then learn some cool night photography techniques and give it a try!
What RAW Photo Editor to Choose?
There is no single extension type for RAW files, every digital camera developer uses their own name suffixes: .CR2 and .CRW for Canon, .NEF and .NRW for Nikon, .SRW for Samsung, .ARW and .CRF for Sony, etc. So, what program will open most RAW files? You know that Photoshop or Lightroom will do but those two have several serious disadvantages - they are complicated, they require plenty of your hard drive space, and they are expensive.
PhotoWorks is a better choice. To make sure that this program is easy to use yet very powerful, download the image editing software and try it for free. The result of editing will amaze you! Now, let's see how to edit images from your camera in PhotoWorks.
How to Edit RAW Photos: 2 Easy Ways
Luckily, PhotoWorks does not require any plugin to work on your RAW files. Besides, it matters little what camera you use, as this software supports over 450 formats. Let's have a look at how PhotoWorks can help you bring out the best in your shots.
Way 1. Quick Auto Improvement
To get started, launch the program and open the RAW image to work on. In the window that shows up, there is a set of special profiles to enhance different types of photographs with a single mouse click. Select and apply a suitable one. Let's pick a portrait profile for this photo example.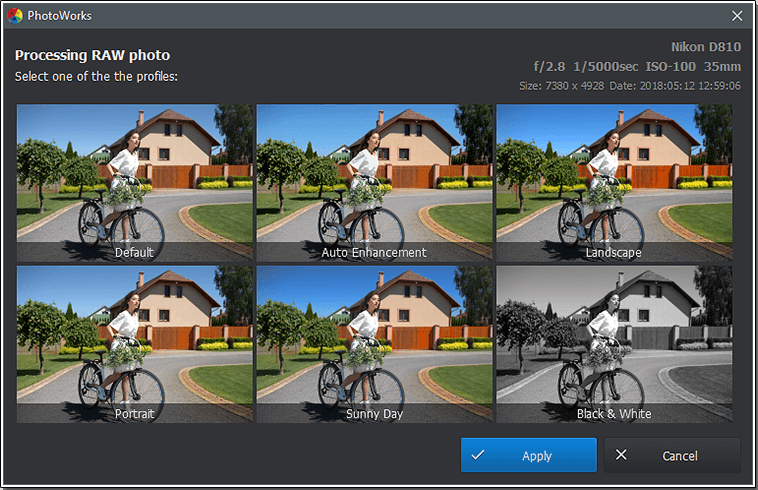 PhotoWorks offers you a set of special profiles to improve different types of photos
When you have applied the settings, you'll automatically move to the Enhancement tab that offers you to continue editing. Here you can adjust the color balance, tone and sharpness of the picture. If you don't have enough time to play with the adjustments, try Auto correction of color and light for a better result.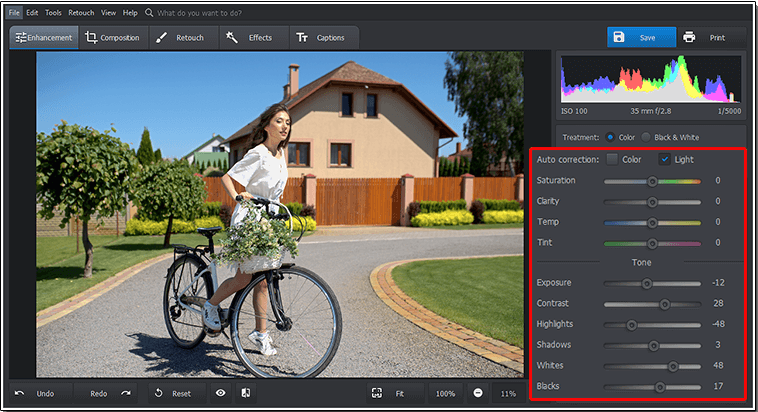 Adjust the color & light settings with a mouse click
Another way of quick and effective editing is to apply photo filters to your images. Open the Effects tab and select from the large collection of different photo effects offered to you.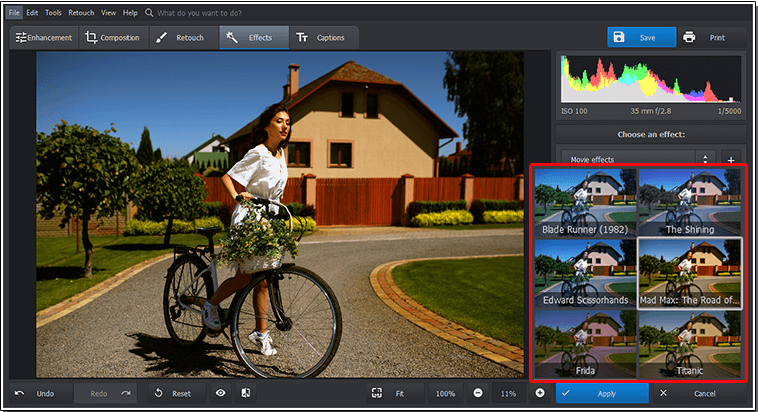 Apply an instant photo filter to enhance your picture
Did you like this no-nonsense approach you can use to process RAW photos? Then download this software for free and try it yourself.
Now let's move on to another, slightly more complicated way of working with your RAW files that however might prove to be even more beneficial for your shots.
Way 2. Detailed Manual Editing of Raw Images
Auto correction works fine when it comes to RAW photos with minor problems, but if you have an average quality shot and want to make it a real masterwork, you'll need to place some efforts. So, it's time to see how to edit RAW files in PhotoWorks manually. The photo below needs some major improvements, let's work on it together.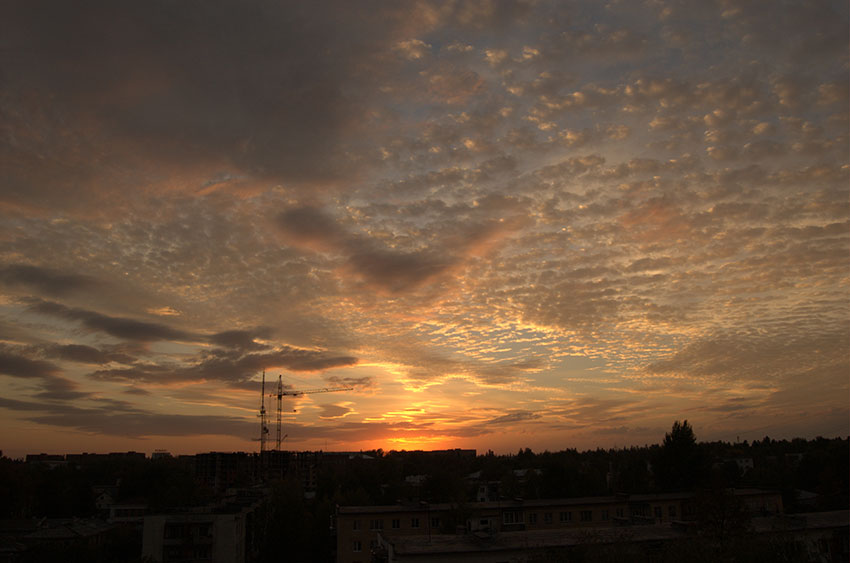 This is our RAW image before processing
Step 1. Adjust the Tone and Color Settings
The software allows you to adjust the tone of the photo. Decrease Highlights by moving the slider in. Bring the details out by increasing the Shadows level. To do that, drag the Clarity and Saturation sliders to the right. Increase the Blacks degree a little. Also, you can correct color balance and sharpness of the image to your taste. You've made the scene brighter, crisper and warmer.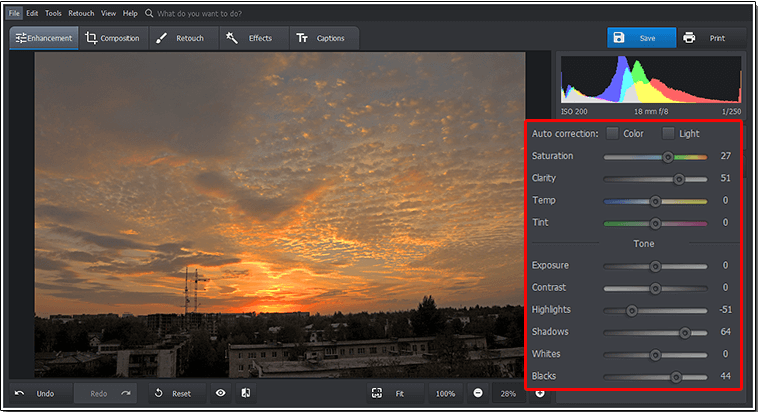 Set the tone and color of your photo
Step 2. Improve the Composition
With PhotoWorks, it's become really easy to fix compositional issues in your shots. For instance, the Geometry option will help you fix skewed photo and correct geometrical distortions. To find the necessary tools, open the Composition tab. This time, the Cropping tool is needed - let's improve the global composition of the photo and get rid of undesired elements.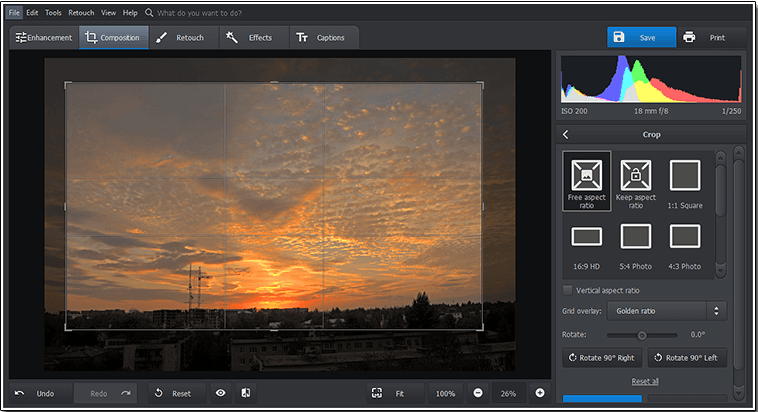 Crop the image to improve its composition
Step 3. Retouch the Photos With a Mouse Click
Using the toolkit under the Retouch tab, you will edit and enhance your RAW images like a real pro. To improve your portraits, choose the Red Eye Removal, the Healing Brush or the Portrait Magic option. Accentuate any object you want with the help of the Radial Filter. Let's use the Graduated Filter tool to make this landscape outstanding - decrease the Saturation, Shadows and Whites levels, and increase the Contrast degree to see how amazingly deep this picture can become.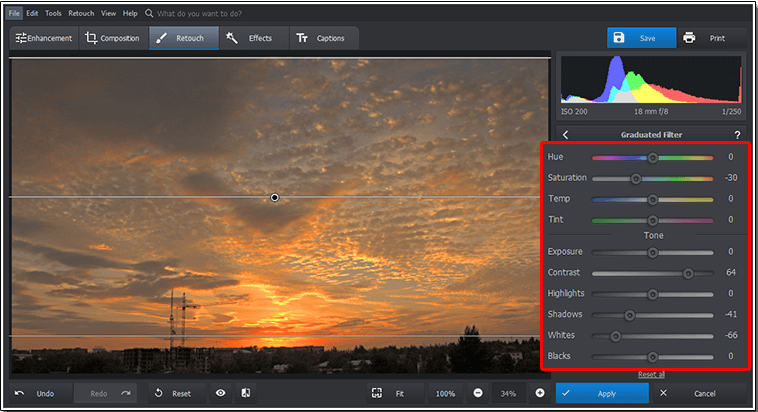 Use a complete editing toolkit to make your photos amazing
If you are more of a visual learner, have a look at this video guide on how to edit RAW images on Mac or Windows in PhotoWorks. This tutorial is just under four minutes.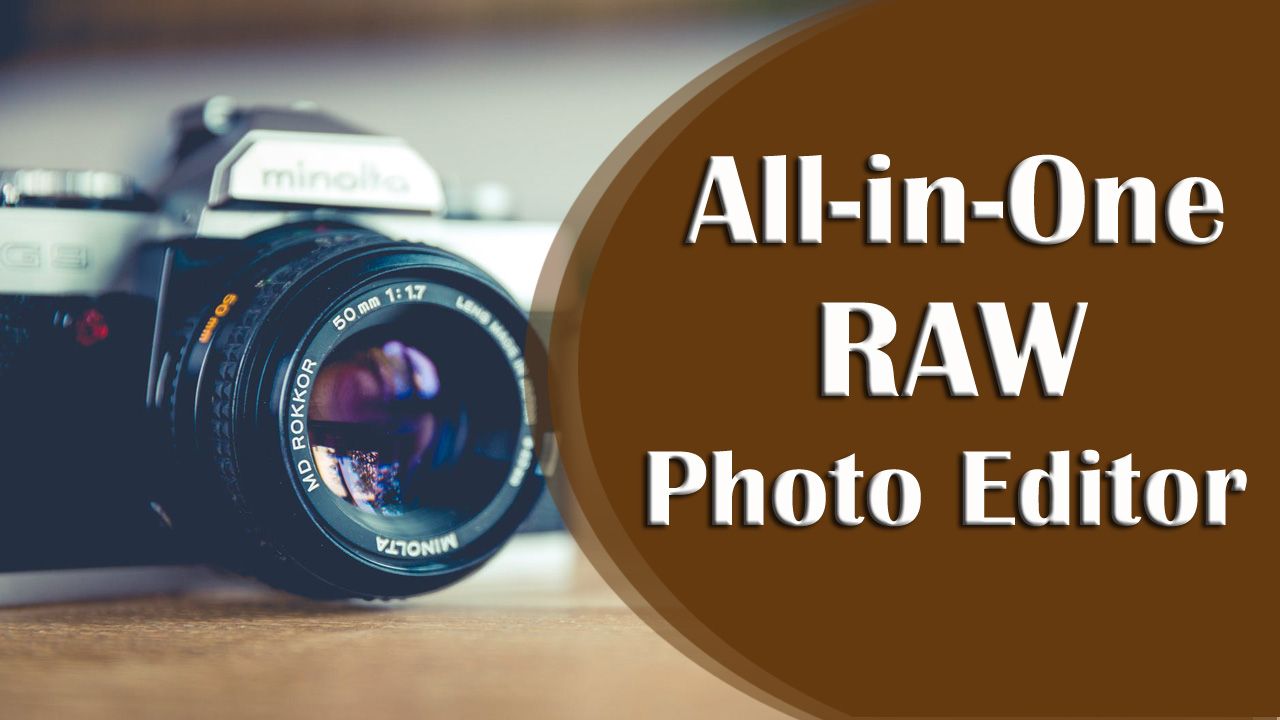 See - there is no need to turn to overly complex and expensive softwares to edit your RAW files. You can simply do that in the much more user-friendly and affordable PhotoWorks.
Now that you've seen with your own eyes that you can edit your RAW images to achieve the top-notch quality with minimum effort, stop scratching your head over the question what software to get. No Photoshop required if you have PhotoWorks. Download it right now and enjoy turning your treasured pictures to photography masterpieces!
If you wish to try other ways to process your RAW files, there are a couple of methods we can suggest. For instance, you can go with Photoshop's younger brother Lightroom. This Adobe product will help your images look a lot more realistic through a series of manipulations. If you want to dive deeper into RAW processing, then go with the pro-level Camera Raw. This plugin is another Adobe contribution to the world of post processing that might take a while to master but will grant you stellar results.
So there you have it - you have learned how to edit your unprocessed images in a variety of ways. So take your RAW shots and get down to business to bring out as much beauty out of them as you can.