How to Straighten Photos Using Photo Tilt Correction in PhotoWorks
Have you ever looked at some photo and felt the need to tilt your head? Skewed horizons and badly aligned lines make the whole pic look rather unnatural and in most cases completely ruin its composition. In fact, slanted pictures are among the most common mistakes of beginner photographers who still have not got the hang of their camera. Fortunately, PhotoWorks can easily fix these photo oopsies and teach you how to straighten a photo in a few clicks.

Reasons Behind a Skew Picture
You cannot mount your camera on a tripod every time you are going to take a picture. Instead, you hold the camera in your hands where it is not perfectly leveled, and some of your photos come with a skewed horizon line or a crooked object. The same problem is common of pictures taken with a small compact camera. Pictures made in a rush can be not only blurry but also heavily tilted.
How Can You Keep the Horizon Straight in a Photograph?
Keep your camera perfectly in place with a tripod. You will be able to better compose your shots and adjust the horizon level
While taking a shot, line up the horizon line with the top and bottom of your viewfinder. That way the frame in your viewfinder will form the edges of the actual image
Use special viewfinder markers (usually a rectangle or a set of focussing spots) that come with professional and semi-professional cameras
Apply the 'Rule of Thirds' mode (available in some camera models). Overlay a grid in your viewfinder to better see where the level line should be
Buy a small spirit level (a little bubble inside shows you when something is straight) and attach it to your camera.
If you have messed things up in your photos and are struggling with getting their lines straight, keep on reading this article and you will learn how to straighten a tilted photo in three simple steps!
Step 1 - Download PhotoWorks Software
Download this photo straightening tool on the official website and launch the program. Behind the user-friendly interface, PhotoWorks has powerful image editing options for adjusting color balance, improving the ill-balanced composition, and many others. Click Open Photo or just drag the image you want to edit to this photo straightener.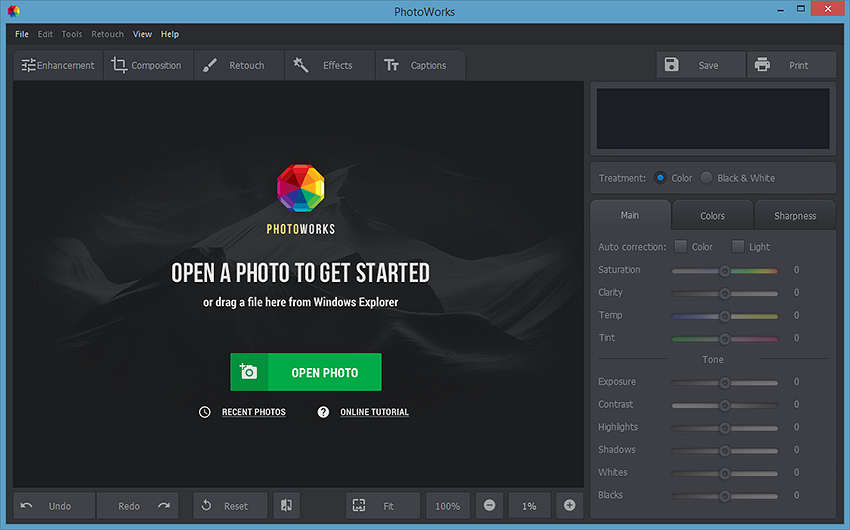 The main window of PhotoWorks software
Step 2 - Straighten the Picture Through Rotation & Cropping
Click Composition > Geometry and take a look at the right toolbar. Switch on Grid to better see crooked lines in the picture. Then move the Rotation slider to the right or to the left until the horizon line is straight. Tick the Constrain crop box to make up for the slanting of your photo from rotation. Hit the Apply button and compare the result with the initial image!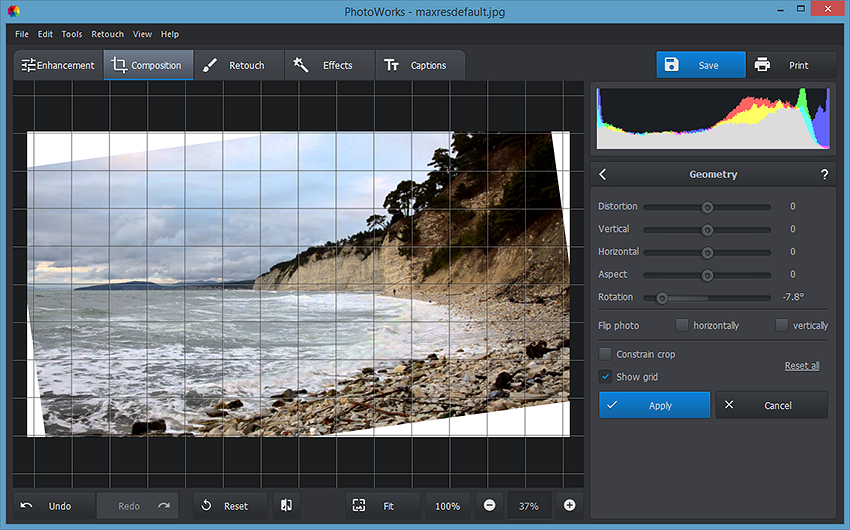 How to straighten an image with the Rotation slider
There's also an alternative way to straighten an image through cropping. While on the Tools tab, hit the Crop button. Drag the Rotate slider on the sidebar until the horizon in your picture is straight again. The program will automatically correct the tilted photo and cut away unnecessary parts. Using this method of straightening photos, you don't have to crop the picture and can do all the adjustments in one click.
Step 3 - Save or Print Your Edited Image
Now your crooked image is rescued and you can save it on your computer to later share online or send it to print. PhotoWorks saves your photos as JPG (JPEG), BMP, PNG and TIFF files so there will be no any quality loss. The smart print module of this photo editor enables you to set the paper size, its resolution and orientation, as well as choose the number of copies and add crop marks to cut out your image if needed.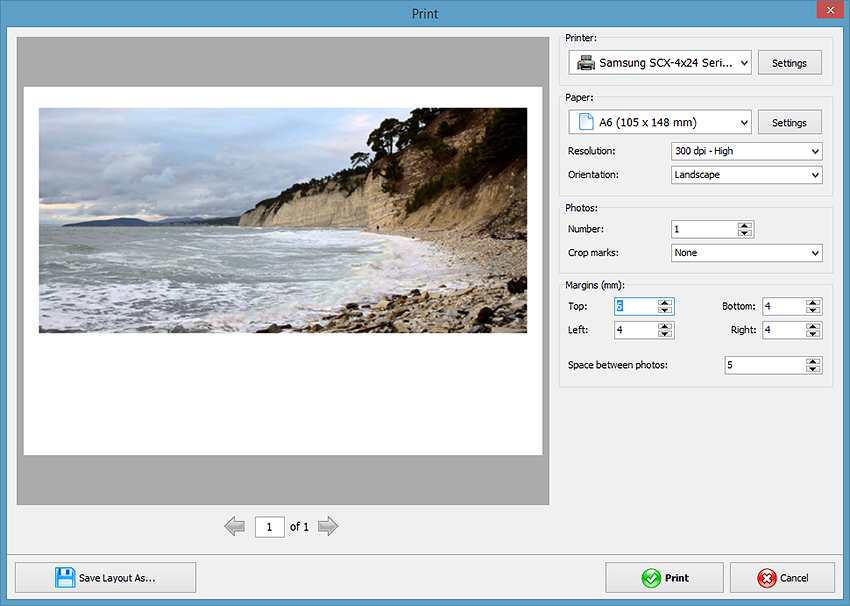 Easily print your image after photo tilt correction
For more detailed instructions on how to straighten crooked photos, watch the video lesson below:
More Editing Capabilities of PhotoWorks
Discover other editing tools that come with PhotoWorks. If there is something wrong with the composition of your pictures, move the Distortion slider to get rid of wonky and unnatural lines and remove possible lens defects. Adjust the color balance of your photos or boost dull colors in a couple of clicks on the Enhancement tab. Remove shadows from photos and bring back focus to the main subject using an array of magical brushes.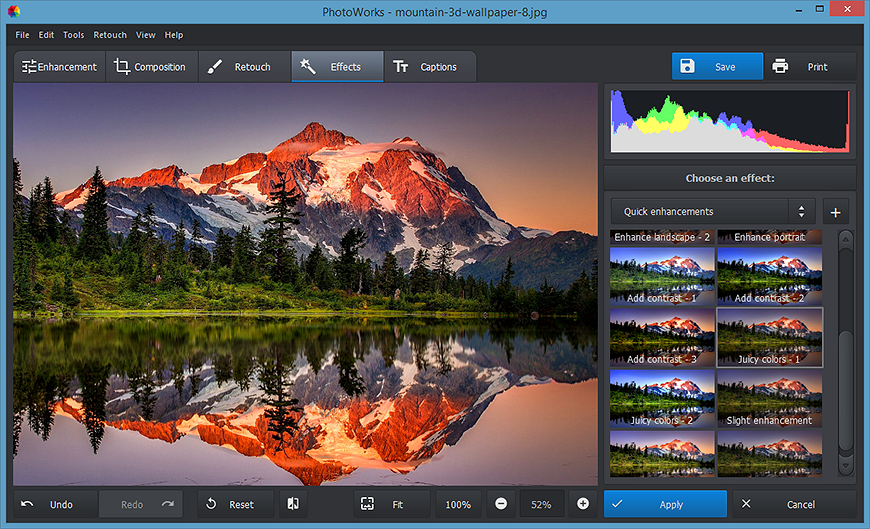 Discover other editing features of PhotoWorks
Want to get perfect portrait shots without Photoshop? Conceal freckles, pimples, shadows and other skin blemishes with magical brushes. Need to know how to remove glare from your photos? Manage the light in your pictures setting the Highlights level or using the Adjustment Brush. Need to erase watermarks and other markers from your shots? Remove dates from photos without a trace with the Clone Stamp. Launch PhotoWorks on your Windows 7 or Windows 10 and turn your pictures into masterpieces!