How to Change a Color in a Photo in a Snap
If you've taken a perfect photo but the color of your clothes is wrong and doesn't fit the color scheme of your blog, or maybe you find the color of buildings dull, you may feel disappointed. However, there is no need to waste your time on taking other more suitable pictures. With PhotoWorks you can easily change the color of the object in the photo and make your photos meet all your needs in a couple of simple steps.

Сhange a certain color in your image
In this guide, we'll tell you how to change the color of something in a picture step by step using PhotoWorks, a smart photo editor that allows you to recolor any object with ease. If you don't want to limit yourself to changing the color, the program has many other functions for enhancing your image, changing the background and retouching portraits.
We'll also tell you about alternative ways to change the color of the object in the photo so you will be able to edit your photos anywhere and anytime. Let's dig a little deeper and start practicing right away.
How to Change Colors on a Picture Step by Step
We are going to show you two possible ways to recolor your photos, so you can choose the most suitable one. You can find both of them in PhotoWorks, so the whole editing process will not take a lot of time.
Step 1. Download PhotoWorks
First, you need to download PhotoWorks. Install the program, start a free trial, and edit the picture colors.
Step 2. Upload a Picture
To start the process, open the photo you want to edit. Click Open Photo or simply drag it to the workspace from a folder.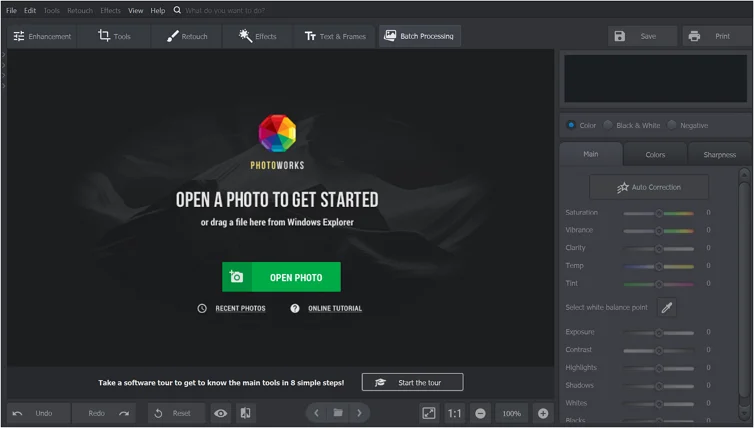 Add your photo to PhotoWorks
Step 3. Сhange a Certain Color in Your Image
Now we will proceed to the most interesting stage. There are two ways to change the color in a photo using PhotoWorks. You can choose any of them, it all depends on the ultimate goal and the desired result.
Let's start with the first option if you find manual photo editing challenging. On top of the screen you'll see the tabs with the main features - you need the Enhancement tab. While on the Enhancement tab, click on the Colors button. In case you want to recolor your T-shirt in, you should find its color in the list and drag the slider. You do not need to select the object manually, since the program will find the desired color in the photo by itself.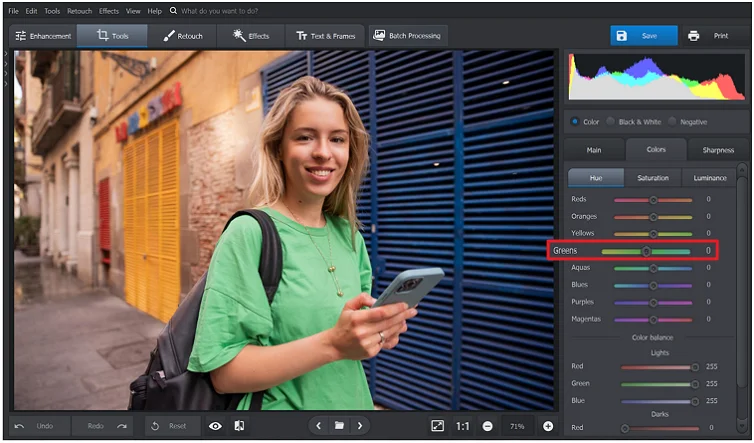 Drag the Greens slider to make this T-shirt blue
One of the advantages of PhotoWorks is that you can work with three important components while on the Colors tab: the color (hue), the intensity of the color (saturation), and the lightness and darkness of the color (luminance). Each of them helps you adjust the color settings and reach the desired result.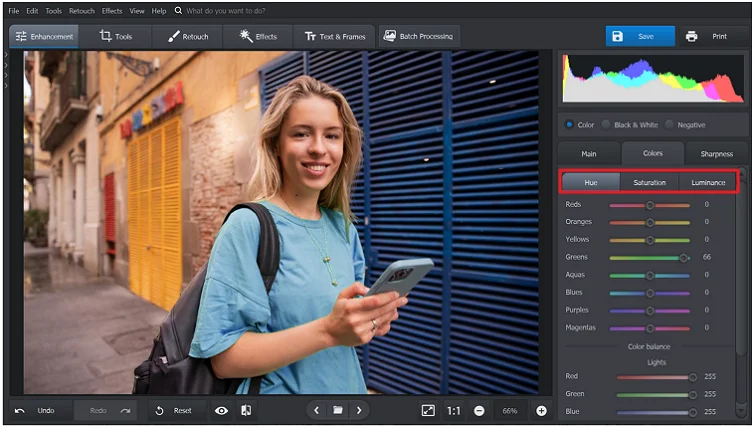 Choose one of the HSL controls
However, if you need to change the color of your beige trousers but there are buildings and other objects of the same color in the photo, then the first method is not quite right for you. You can deal with this problem using another method that allows you to recolor a particular object in your photo. Open the Retouch tab and click on the Adjustment Brush button. Adjust the brush size and paint over the element you want to change. The more accurately you paint the element over, the more natural it will look.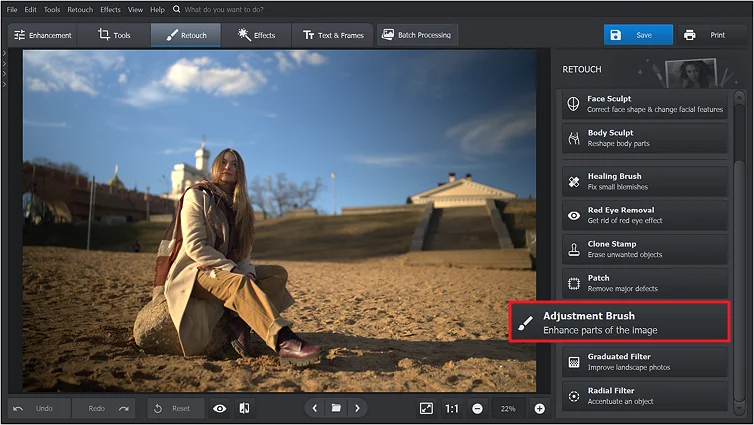 Paint over the trousers and change the color
When you're done, drag the Hue slider to change the color. If you want to adjust the color settings, you can work with its clarity, saturation, temp and tint.
Step 4. Save Your Picture
The last step is to save your image with all the changes. You need to click the Save button above the sidebar or use the File menu. You can also use the Ctrl+S key combination, this is the easiest way to save your photo. Your vibrant image is ready - now you can show it to friends or share on social networks.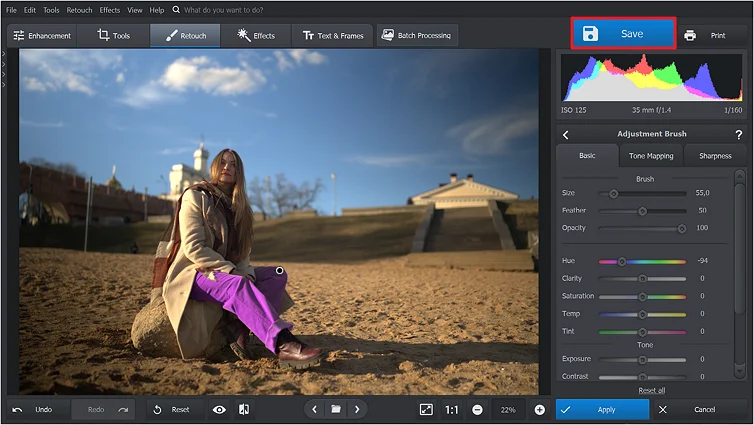 Save your picture in JPEG, PNG, BMP or TIFF
Now you know how to change the color of something in a picture using PhotoWorks. But maybe you don't want to stick to this feature only? Then learn how to edit photos like a professional using PhotoWorks and try out other tools. Let's get a closer look at how you can use it.
What Features Does PhotoWorks Offer?
Change the background
Remove unnecessary items
Apply various effects
Alternative Ways to Change a Color on a Picture
Do you need to edit photos using your phone or not sure if PhotoWorks meets all your needs? That's not a problem at all as there are various apps that can help you change the color in the image easily. We know a variety of alternative ways and we'll be glad to share them with you.
Let's start with a couple of apps to edit the color of the image. If you are a big fan of taking photos on your phone and want to be flexible, then Change Color for Android is what you need. If you're an Apple user, there is a similar app. In both of them you can easily change the color of the item in the picture right after taking a photo. This way you can edit any picture in a few clicks and share it with your friends. What is also important is that the whole process will not take you much time.
If you want to immerse yourself in the photo editing process and try some desktop editors, then we recommend that you pay attention to Photoshop. In case you need to know how to change a color in a photo with professional results, you should understand that the whole process is not going to be easy. You should start with creating a layer group and then create a mask. Only after these steps you'll be able to apply a new color. To adjust the brightness you'll have to create special layers but this will give you the opportunity to make the result look natural.
However, Photoshop is an expensive option and you will have to pay for a subscription every single month. If you need to use this program once, think about whether it's worth it. Don't want to spend your money on this photo editing software? Go with GIMP, which is completely free. The process of changing the color is similar to Photoshop, so you will have to create a new layer on your image and only then recolor it. Looks very complicated, doesn't it?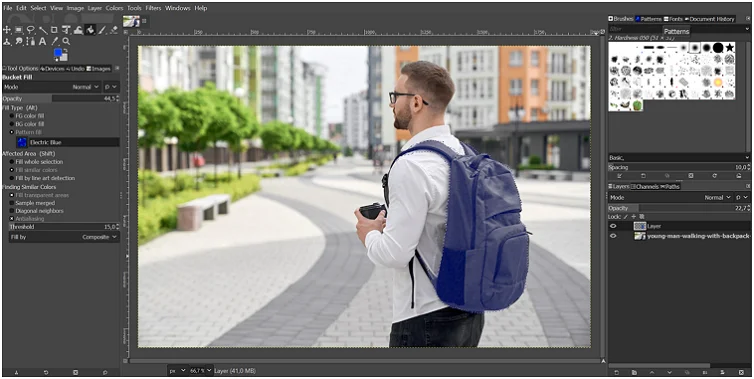 Change the color using GIMP
Don't want to waste time downloading new apps and figuring out how they work? We have one idea that will definitely solve your problem! If you've never used LunaPic, now it's high time to try it. It gives you the opportunity to change the color in the image fast, and you won't even have to use additional programs. You just need to upload your picture and open the "Adjust" dropdown list to find the "Replace color" option . There, you can choose any color and bring your ideas to life.
Conclusion
Now you know how to change a certain color in an image using different desktop photo editors and apps. Using any of the described ways you'll be able to realize all your ideas, making your photos brighter and more interesting. It's down to you to choose the method that will meet all your needs. If you're keen on using a professional photo editor without having to use complicated programs, then it's high time to try PhotoWorks as it offers a variety of features to make the editing process enjoyable and easy. Why not start now?