Aesthetic Photo Editing from Zero to Hero
Aesthetic photography is the art of creating visually engaging images that draw people in and grab their attention. Want to know how to edit photos aesthetically? To achieve that vibe, you can use various artistic techniques and design elements during post-production, from frame composition to color correction and aesthetic filters.
Below, we'll share a detailed step-by-step guide on how to add that kind of mood to photos using PhotoWorks. Since everyone finds different things aesthetically appealing, this aesthetic photo editor provides a wide range of features and tools for creating visually pleasing images quickly and easily. We'll also suggest some other programs you can use on your iPhone, Android smartphone, or online to bring an aesthetic twist to your regular photos. Without further ado, let's get started!
Here's how you can use PhotoWorks for aesthetic editing:
That's not all PhotoWorks is capable of. Check out the aesthetic picture edits below that have been made with this photo editor.
Before
After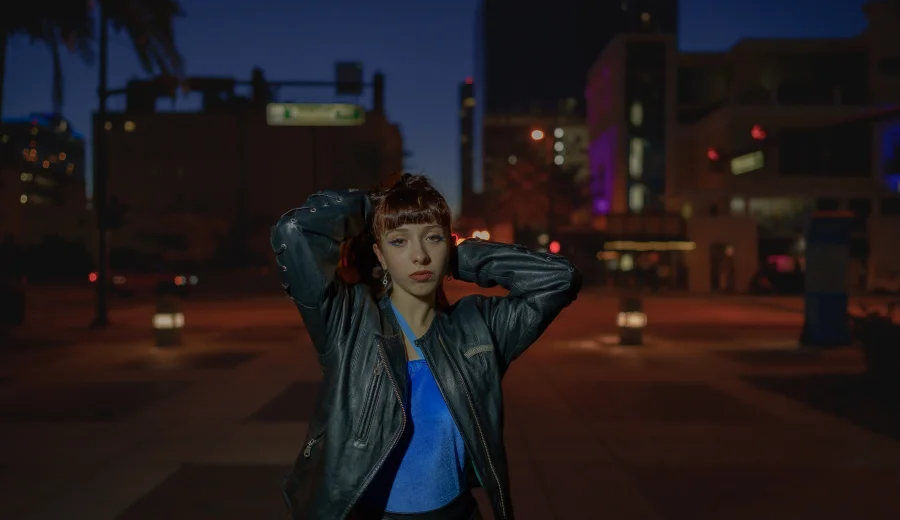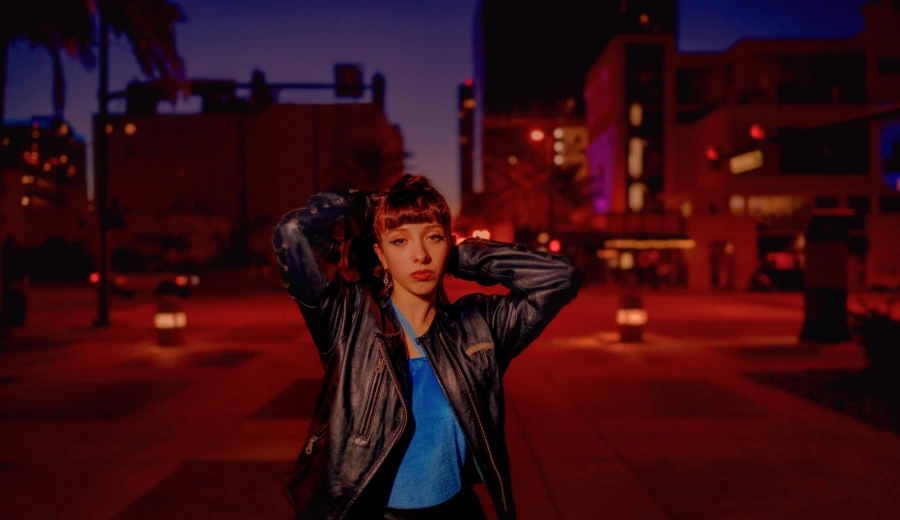 Add an aesthetic twist to your average image with PhotoWorks
Impressed with the result? Then, download this aesthetic photo editor for free and add a similar vibe to your photographs right now!
Now let's have a look at our step-by-step guide on how to create a photo with an aesthetic vibe with the software you've just installed on your computer.
How to Edit Your Pictures to Look Aesthetic
Unfortunately, you rarely end up in a place that is aesthetically pleasing in every sense. Sometimes the lighting isn't great, or a bystander stumbles into your shot - many things can prevent a great photo from being born. Luckily, we now have photo editors that can help create a piece of art without hassle. So, let's dive into the process of aesthetic photo editing and see how PhotoWorks can help you add some drama to your shots.
1. Enhance Your Image Automatically
The first thing you should try is to automatically improve the appearance of your photo. Thanks to AI technology, PhotoWorks selects the best solution for each of your images, which you can customize afterwards. With just one click, you can adjust exposure, contrast and vibrance, do color correction, and even retouch your portrait and improve the sky. Let's see how it works.
Open your photo in PhotoWorks.
Click the Auto Correction button in the sidebar.
Check the settings you want to improve and adjust their intensity with the slider.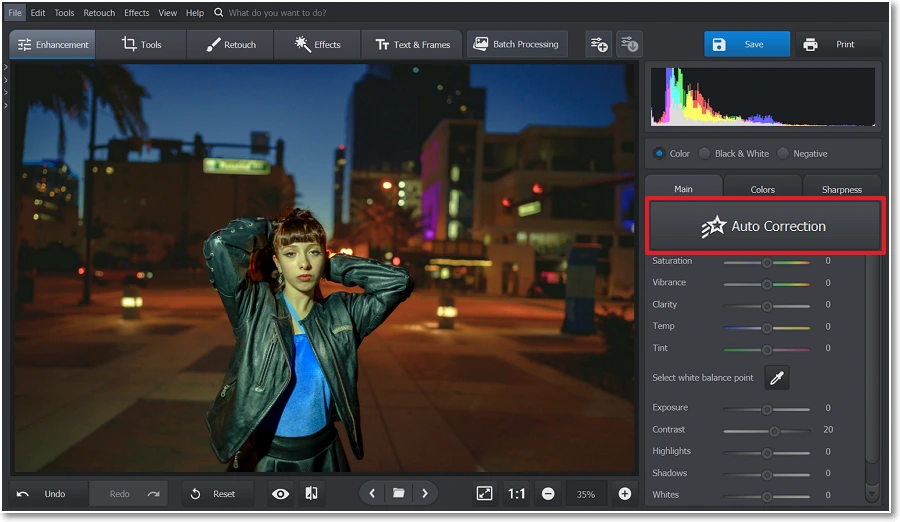 Start aesthetic photo editing with an overall enhancement
2. Fix the Geometry of Your Picture
The composition can either better your shot or ruin it. A skewed horizon or distorted buildings are quite common mistakes for novice photographers. Fortunately, you can fix these flaws easily during post-production. Let's find out how below.
Switch to the Tools tab and select the Geometry tool.
Check the Show Grid box to improve the visibility of crooked lines.
Play with different settings depending on the geometry issues your picture has.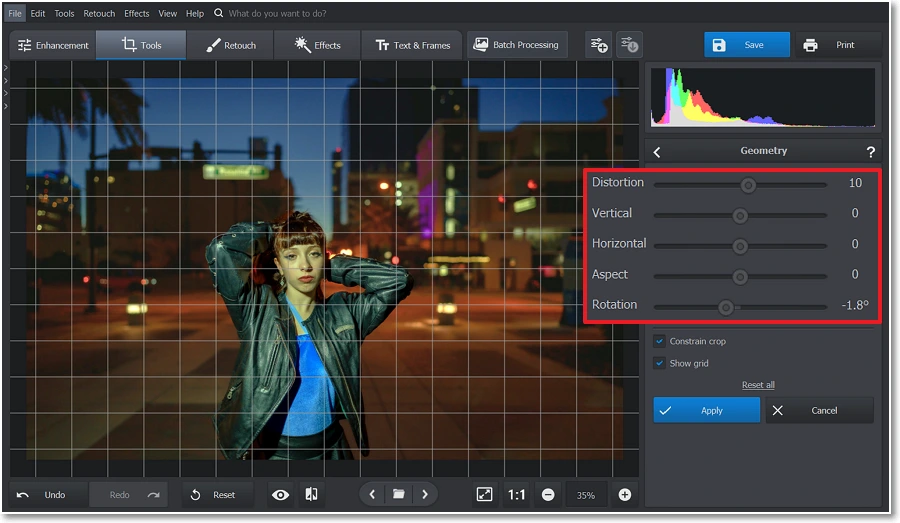 Fix tilted horizon and restore natural perspective with the Rotation and Distortion sliders
Want to avoid post-processing next time? Check out some useful tips on the best angles to take a picture that can help you play with the composition during your next photoshoot.
3. Improve Your Photo Colors
There is no guarantee that the vibrant hues you see with your eyes during a photoshoot will show up the same in your photograph. Luckily, you can spice up dull colors and replace unappealing shades with an aesthetic editor during post-production. Here's what you need to do.
Go back to the Enhancement tab and adjust the temperature and tint with the sliders to give your skin a nice hue.
Then, go to the Colors tab in the sidebar and play with the sliders to balance the tones of your picture and bring out the desired shades.
For more complex color correction, use the Curves panel, located on the Tools tab.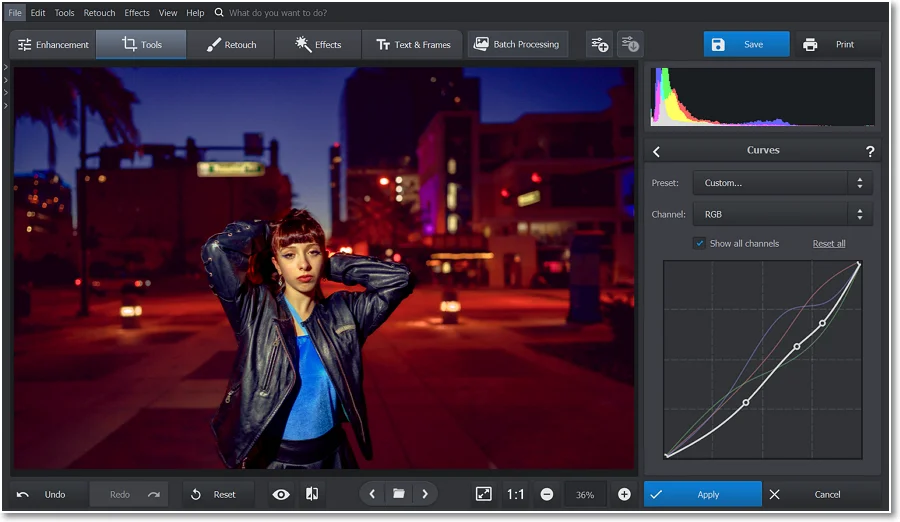 Make the colors more vibrant and better match each other
4. Remove Everything Unnecessary
Have you ever taken a picture in a crowded place or at home and then noticed a cluttered background? There's no need to sweep away such a photograph immediately. Use PhotoWorks' intelligent retouching tools to easily remove odd objects or bystanders. This is how you can make such aesthetic photo edits:
Go to the Retouch tab and choose the Clone Stamp tool.
Adjust the stroke size and draw over the unwanted object.
Drag the stamp to the spot you want to use as a repair source.
If your photo has large defects, use the Patch tool. Just outline the flaw and drag the selection to the area that will be used as a cover.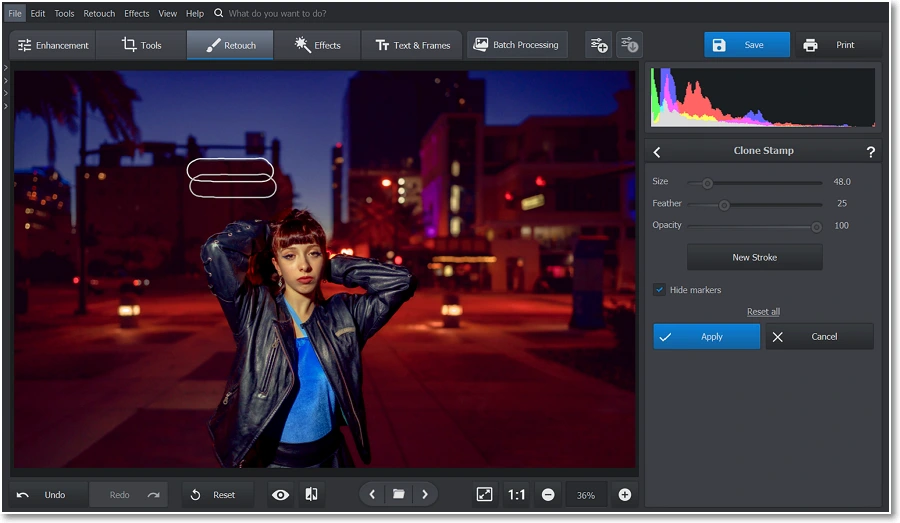 Erase the road sign that does not match the color scheme
5. Add Aesthetics with a Bit of Blur
Want to add a soft haze effect to your photo or highlight the main object in the image? That's easy to achieve with the blur effect and by adding sharpness to some parts of your picture. Check out the steps on how to achieve that effect.
While still on the Retouch tab, pick the Radial Filter tool.
Circle the object you want to accentuate and adjust the size and position of the selected area.
Make sure that the processing will take place outside the selection. Find the Sharpness tab in the sidebar and use the slider to increase the blur.
If you want to emphasize the object even more, select it with the Adjustment Brush tool and sharpen it.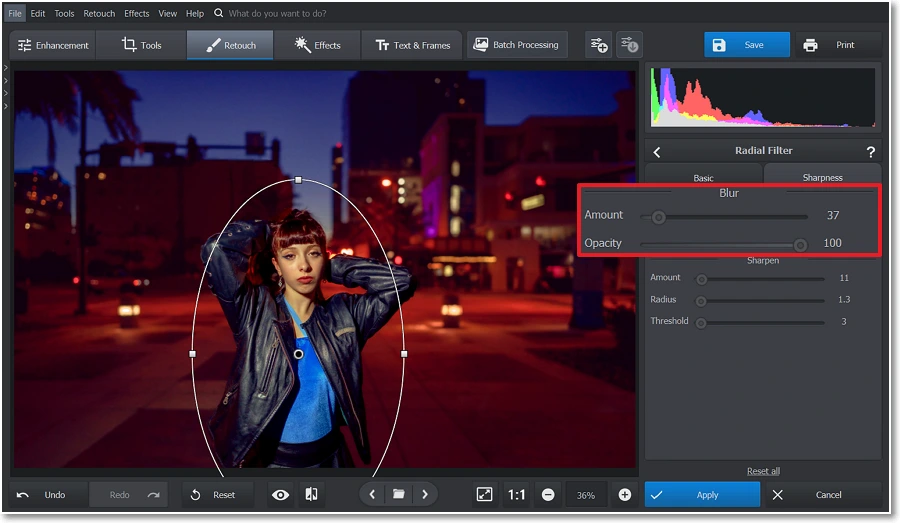 Blur the backdrop in a jiff with this aesthetic photo maker
6. Apply Aesthetically Pleasing Captions
Does your image lack an aesthetic caption? Want to add an old-school timestamp or your brand logo? Either way, you can effortlessly embellish your photographs with text, or even apply stickers and add a frame to your picture. Here's how to overlay text on your photo.
Go to the Text & Frames tab and choose the Text feature to add a timestamp, like on an old film photo.
Type the date the photo was taken and pick a text style from a collection of 90+ design presets.
Customize the size and location of the caption. That's it!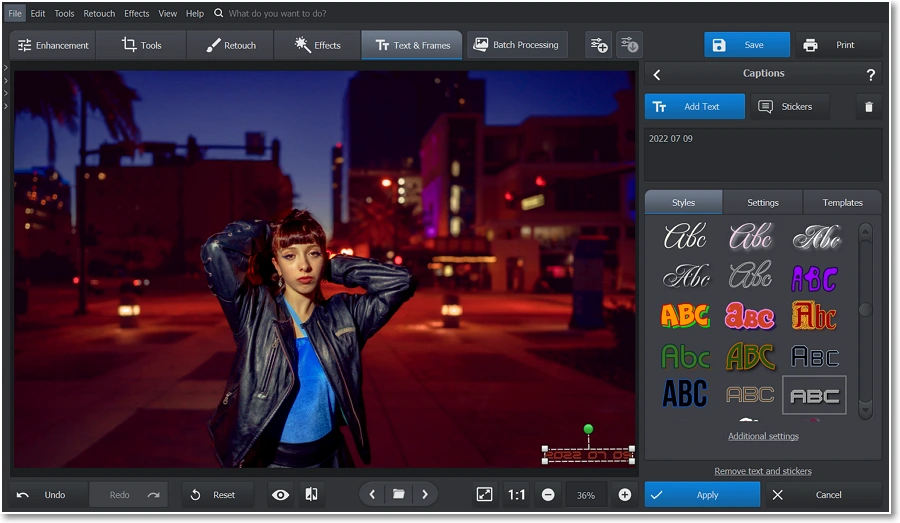 Decorate your picture to give it an aesthetic touch
7. Overlay Aesthetic Filters
Want to change the mood of your image in a sec? Follow your creativity with 200+ artistic filters and 3D LUTs. Recreate the atmosphere of your favorite film with a Movie effects collection, use Modern filters to add neon vibes and light effects, and much more. Read on to learn how to apply aesthetic effects.
Move to the Effects tab and click on Photo Effects.
Browse through the preview thumbnails and see how each will look on your photo.
Pick one of the filters you like and adjust its intensity with the slider underneath your image.
Apply a grainy photo filter if needed to add some texture using the Grain feature on the Tools tab.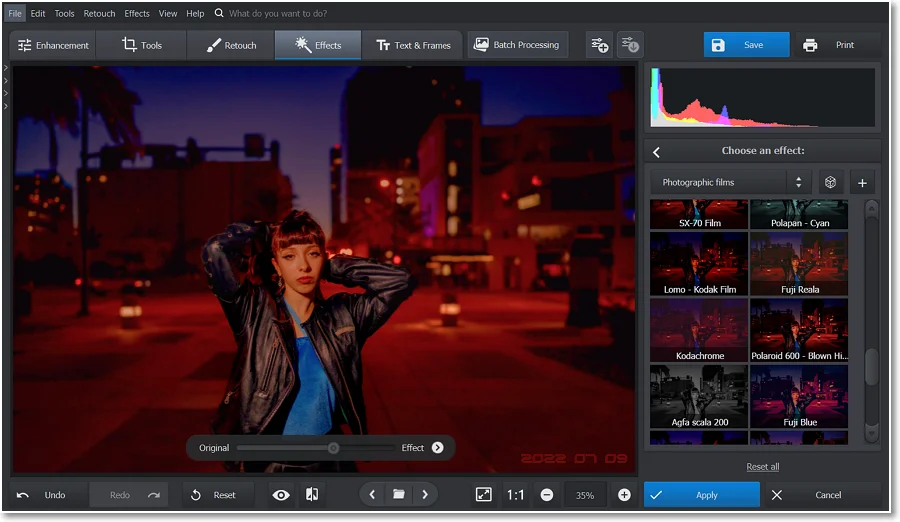 Add a film camera vibe with filters from the Photographic Films section
And there we have it. From a not-so-engaging image, we created a stunning aesthetic photograph. Want to try PhotoWorks with your own shots? Download this aesthetic picture maker for free and bring all your creative ideas to life.
Next, let's explore some other programs that can help you add an aesthetic look to your photos.
How to Edit Photos Aesthetically - Alternative Ways
Since PhotoWorks is desktop software, you can only use it on your computer. If you want to make aesthetic images on your smartphone or online, check out 3 alternative editors below.
Have the urge to edit your latest shot on the go? Android users can use the Prequel app. Enhance and color-correct your photos using adjustment tools and a vast collection of aesthetic filters and effects. What's more, you can get flawless skin with a retouching feature and add design captions and stickers.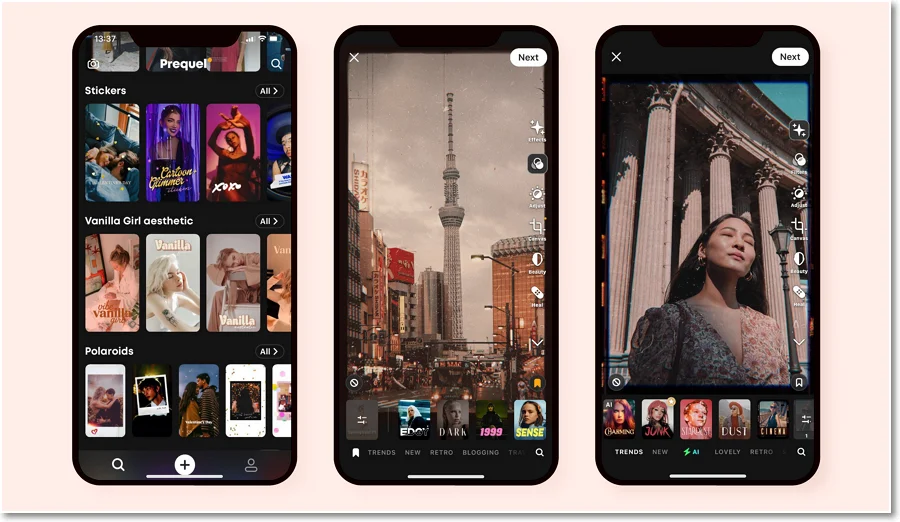 Change the appearance of your photos with Prequel
iPhone owners also have an aesthetic image maker, and it's Tezza. It has lots of film camera effects and presets for adding vintage and moody vibes to your images. Plus, you can save some time applying aesthetic photo filters and texture overlays with the batch editing option.
If you don't want to install any new programs on your device, try out an online aesthetic picture editor named PicMonkey. It has everything you need for simple editing - from cropping and resizing your pictures to adding text and graphics. It comes with 50+ one-click filters and smart tools for retouching your portraits.
Now you know how to make aesthetic photo edits with various programs. It's up to you to decide what software to choose based on your financial situation, the device you prefer using, and the level of skills you have. Still in doubt? We recommend giving PhotoWorks a try. You can do this completely free. No matter what editor you choose, we hope you'll create stunning aesthetic photographs without any hassle.