Which Photo Editing Software Is Best for Beginners?
Before we dissect the programs one by one, we feel it's absolutely necessary to define what the best photography editing software for beginners should be like. Here are the main aspects we believe a proper editor should feature in order to be your friend and not a foe:
Inexpensive/free - This aspect speaks for itself. A beginner doesn't need much functionality, so there is virtually no need in buying pricey software only to use a handful of its tools.
Non-destructive editing - A newbie is prone to mistakes, fails, and slip-ups. So you have to be sure that you can always restore your original image with a click of a button.
Essential photo editing tools - This one is also self-explanatory. A good photo editor should have color, tone, and dynamic range correction tools, as well as cropping, blurring, and sharpening features.
User-friendly interface - The cleaner your workspace the better. Clear and convenient user interface contributes to a smooth workflow more than you'd expect.
AI-powered features - A content-aware AI is not a novelty, but a great asset. It will take care of all complex editing, leaving you enough time to pursue your creative aspirations.
Built-in effects & filters - You never know how important built-in filter effect collections are until you go net surfing for them. The search is time-consuming and the collections are pricey.
Reasonable system requirements - Your modest PC or Mac configuration might affect your photo editing routine. Or it may not - it all depends on the photo editor you choose.
Free technical support - A criminally overlooked perk. Even the best of softwares have flaws, and only competent tech support can help you. Free technical support is a sign that the developer cares about their users.
Lifetime license - The two most popular license types are a lifetime license and a limited time license (aka subscription model). While subscription costs less, it is a lot dearer in the long run.
RAW support - Did you know that the best editing results come from RAW files and not JPEGs? That's why it's important for your editor of choice to support these types of files.
Tutorials available online - Never underestimate the importance of video tutorials. With them, you can master a certain tool or learn a new trick in a span of minutes, rather than spend hours discovering it yourself.
Pop-up tips on tools - Everyone needs a prompt or two when they first start using something. So pop-up hints make the use of new and unfamiliar tools a lot easier and, dare we say it, even enjoyable.
1. PhotoWorks
PhotoWorks is a photo editor developed for users of all skill levels. On the surface, it looks like modest software, but in reality it packs some serious tools that even more advanced and expensive photo editors might get jealous of. Its content-aware AI performs the most complex and time-consuming editing routine, saving your time. There are also various color grading instruments like Curves, Tone Mapping, 3D LUT presets. If you are in for photo montages, you'll appreciate a variety of features PhotoWorks has to offer, including, but not limited to easy background change and image overlay.
If your primary interest is in portrait photography, then PhotoWorks will become your biggest asset. Its portrait beautifying module makes photo retouching a one-click thing. In just a click, you can smooth out the skin, erase signs of aging, get rid of blemishes and face shine, and whiten the teeth. If you want to go beyond regular portrait editing, you are sure to enjoy face and body sculpting features. And that's not all post-processing tricks you can perform with PhotoWorks. It also allows you to erase odd objects, fix perspective flaws, and boost colors with built-in presets and filters.
Pros:
Content-aware automatic correction
AI-powered portrait retouching
180+ one-click effects and filters
Smart color grading instruments
Easy photo background change
Cons:
No automatic makeup option
PhotoWorks is compatible with Windows 11, 10, 8, 7, Vista, and XP, as well as macOS 12 and higher. The price for this intelligent photo editor for beginners starts at $19.25.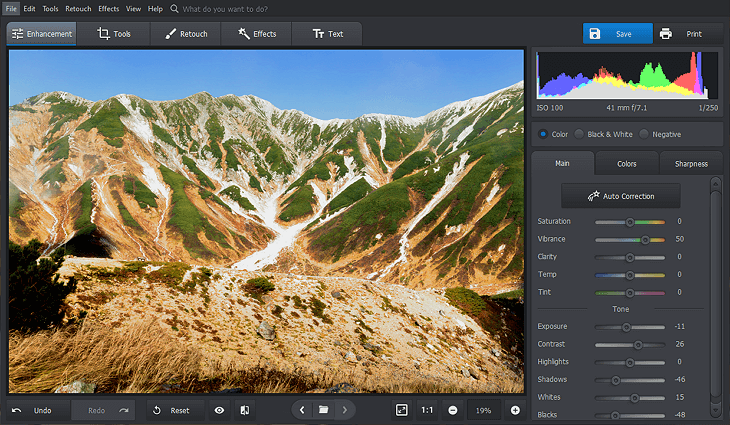 PhotoWorks boasts a smart AI and tons of pro-level features
If you want to catch a glimpse of PhotoWorks' workflow and main features, then here's a video: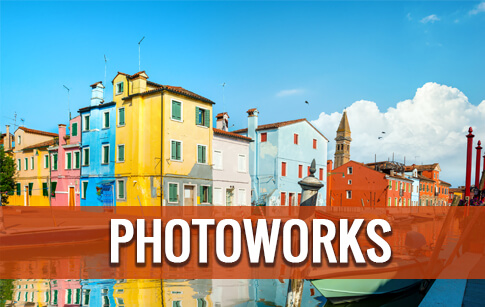 2. GIMP
GIMP is a massively popular photo editor. Boasting functionality similar to Photoshop, this software is absolutely free to download and use. GIMP has all the basic editing tools a newbie could need, but also harbours more advanced tools, including complex color correction and layers editing. Besides, this photo editor offers its users a wide collection of brushes to create original artwork.
GIMP is open-source software and can be expanded through plugins. It allows batch processing, runs on all major operational systems, and supports almost all graphic formats. However, there is still one major drawback to all this near-perfection, as GIMP has a very cluttered interface some newcomers might easily get lost in.
Pros:
Free with no hidden costs
One-click enhancement
Layer editing features
Batch processing
A set of painting tools
Cons:
Confusing interface
Tends to be buggy
GIMP is absolutely free and runs on Windows 10, 8, 7, XP, and Vista, Mac OS X, Linux, Sun OpenSolaris, and FreeBSD.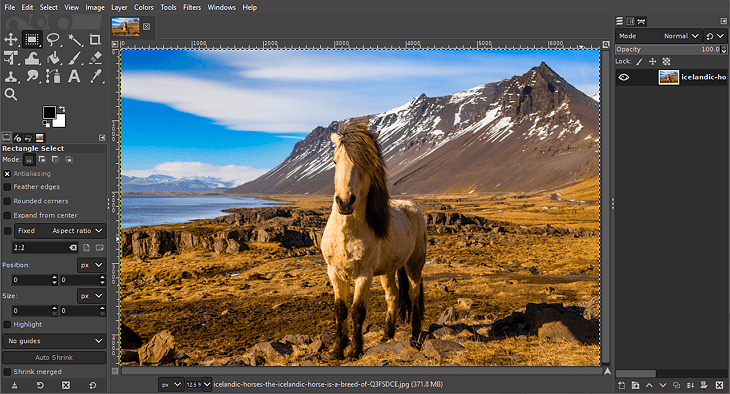 GIMP is almost as powerful as Photoshop, but it's free
Want to see this highly-praised photo editor in action? Then feast your eyes on this video of GIMP: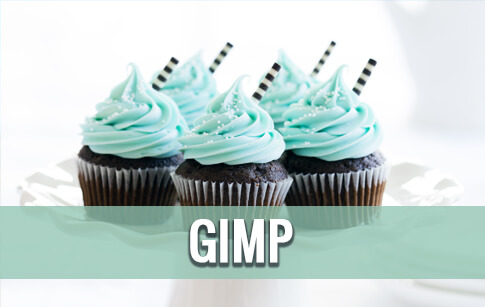 3. Pixelmator
Pixelmator is versatile photography software developed for OS X. This is almost a Photoshop clone appearance-wise, and it shares a lot of features as well. However, Pixelmator only harbors most widely-used Photoshop tools, leaving out pro features.
Pixelmator has all the essential editing tools, but also provides users with layer editing features and basic graphic design instruments. Although quite cheap and reasonably feature-rich, Pixelmator has a cluttered interface which may be a deal-breaker for some users.
Pros:
Bugless performance
Support of RAW and PSD
Layer editing tools
Support of multiple displays view
Cons:
Pixelmator costs $39.99 and runs on Mac OS X.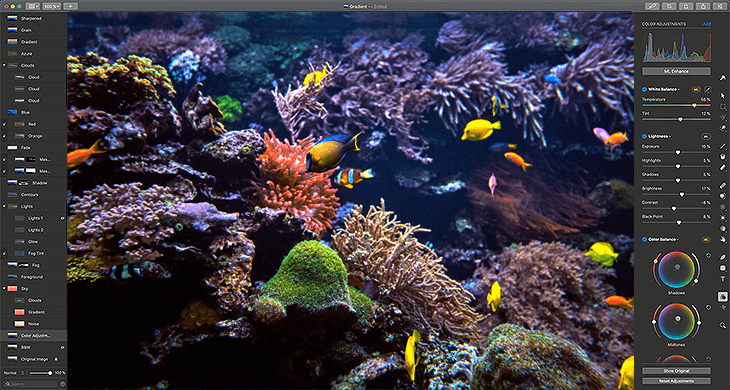 Pixelmator is the only software developed solely for Mac users
4. PhotoDiva
PhotoDiva is a free photo editor with an emphasis on portrait editing. Equipped with a content-aware AI, this software is filled with portrait beautifying tools, as well as basic image enhancing instruments. With the software's retouching tools, you can easily smooth the skin, change the skin tone, remove any blemishes, and whiten the teeth. There are also instruments for face sculpting, a virtual makeup tool, and a library of artistic filters. Besides, PhotoDiva allows you to fix lighting and color issues, as well as sharpen or blur your picture.
PhotoDiva has a sleek minimalistic interface. Most edits are performed with slider drags or just mouse clicks, requiring no selection or mask drawing. Although powerful software in its own right, PhotoDiva significantly lacks some basic editing tools like cropping or noise reduction.
Pros:
Exceptionally easy to use
Powerful artificial intelligence
Convenient face retouching tools
Advanced face sculpting feature
Built-in library of filters
Cons:
Only portrait retouching tools
No batch processing
PhotoDiva is free and runs on Windows 11, 10, 8, 8.1, 7, Vista, XP.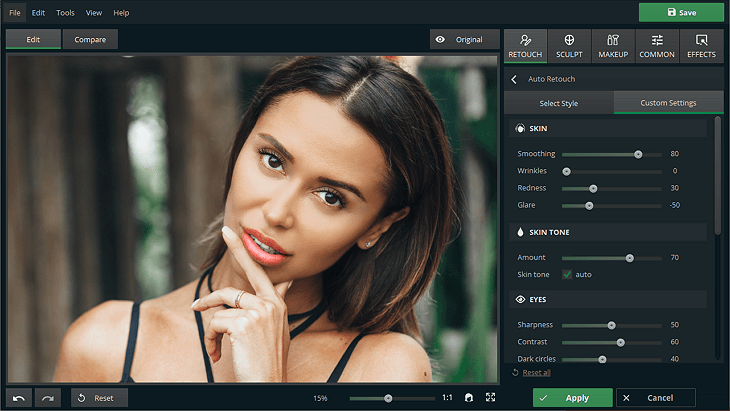 PhotoDiva is perfect for portrait photographers
PhotoDiva is a perfect choice if portrait photography is your primary occupation or field of interest. Have a look at how PhotoDiva operates: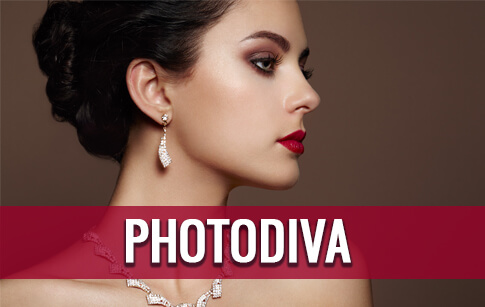 5. Photolemur
Photolemur is an AI-driven photo editor that mostly relies on automatic enhancement. The workflow is refreshingly simple. All you have to do is to open your picture with Photolemur and wait a bit while the software analyses the photo and searches for the optimal changes depending on the photo's genre. The software enhances every aspect of the picture: color, tone, dynamic range, clarity, etc. It also fixes any optical distortions and retouches portraits.
You can control the effect intensity with a slider, but it's basically all the manual control you have over your images, since Photolemur only sticks to automatic enhancements. While certainly a time saviour thanks to its one-click approach and a batch processing mode, this software might significantly limit your artistic aspirations.
Pros:
Advanced auto enhancement
User-friendly interface
Simplistic workflow
Batch processing
RAW formats support
Cons:
Subpar portrait retouching
Overpriced for limited functionality
The software requires Windows 8 or later or Mac OS 10. The price for Photolemur 3 is $39.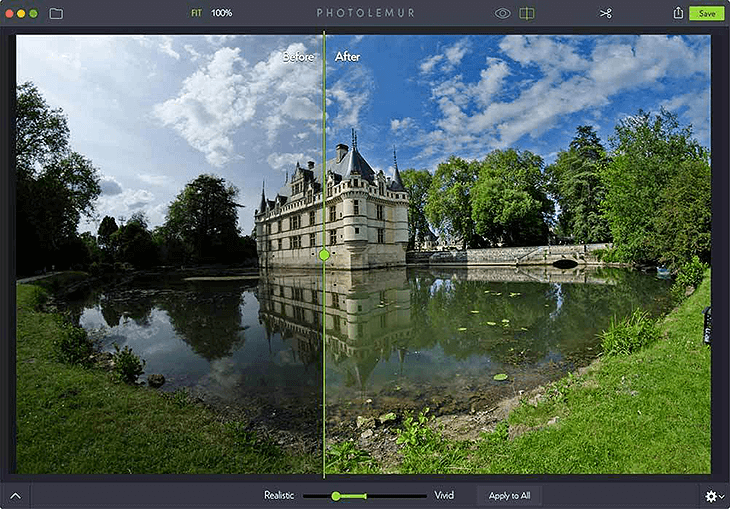 It only takes a single click to enhance your pics with Photolemur
6. Fotor
Fotor is a family of programs that include a cloud-based service, desktop software, and a mobile app. This photo editor is perfect for newbies as it mostly resorts to one-click effects, thus does not require much time or expertise to master. Fotor certainly lacks advanced features, but still offers all the basic photo enhancing features like brightness and contrast correction, color grading, as well as blurring, sharpening, and cropping tools.
Fotor supports a plethora of RAW formats and offers batch processing as well. It even comes with tools for basic graphic design and collage creation. Sadly, even though Fotor is by no means next-gen software, its desktop version is quite demanding in terms of hardware.
Pros:
Very easy to use
Tons of one-click effects
Tools for graphic design
A collection of collage templates
Batch processing
Cons:
Desktop version tends to crash
Web version requires stable Internet
Fotor runs on Windows 10, 8, 7, Vista, XP, as well as Mac OS X and later. The desktop and online versions are both free, but you'll have to pay $8.99 a month to get access to a PRO version.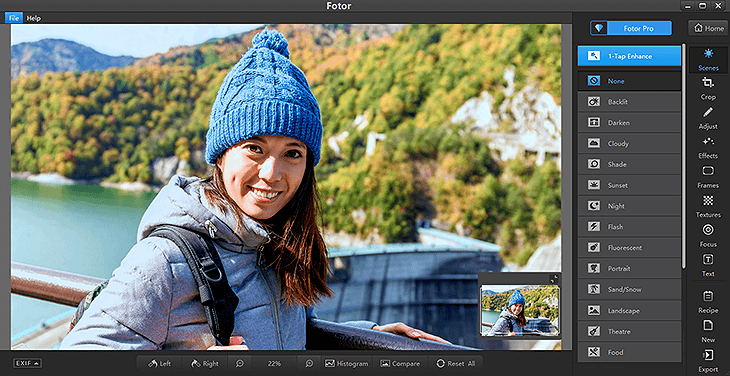 Fotor is both a convenient web application and standalone desktop software
7. inPixio Photo Editor
inPixio Photo Editor is robust and easy-to-master photo software. This free image editor provides all the necessary instruments a beginner might need. With it, you can correct tone and color, crop your pics, and retouch portraits.
Some of the more advanced features include layer editing tools, automatic background change, odd objects removal, and a collection of filters. All in all, inPixio Photo Editor has all a beginner might need, but some users might find its interface to be a bit confusing.
Pros:
Easy to operate
Good auto enhancement
Support of RAW files
Layer editing instruments
Cons:
Layer editing instruments
No batch processing
inPixio Photo Editor needs Windows 10, 8, and 7 to operate and is free.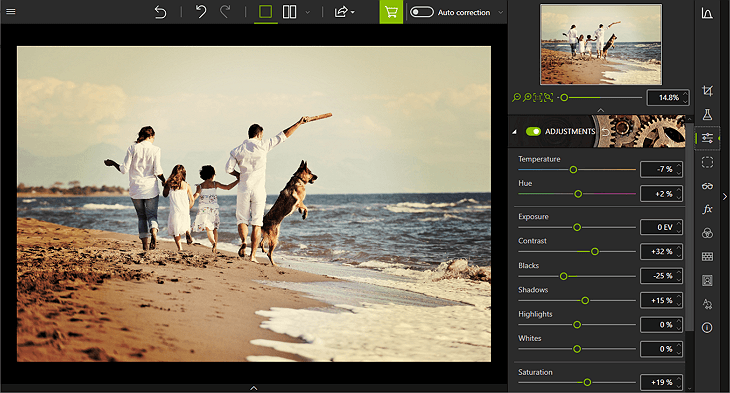 inPixio Photo Editor is a free editor from a vast inPixio software family
8. Paint.NET
Paint.NET is a photo editing program that would be perfect for people with no prior experience at all. This easy-to-use software has all the tools a beginner-level editor might need to enhance their pics. With Paint.NET, you can crop, blur, sharpen, color and tone correct your photos. There are also basic layer editing tools, as well as a few painting instruments.
Paint.NET has very low system requirements and can be expanded through downloadable content. Still, Paint.NET's simplicity and user-friendliness come at a certain price, as this software has no tools for more advanced photo editing.
Pros:
Very easy to master
Low system requirements
Easy to navigate interface
Tools for layer editing
Free plugins available online
Cons:
Only beginner-level tools
No text captions feature
Paint.NET works on Windows 10, 8, and 7. The software is $6.99.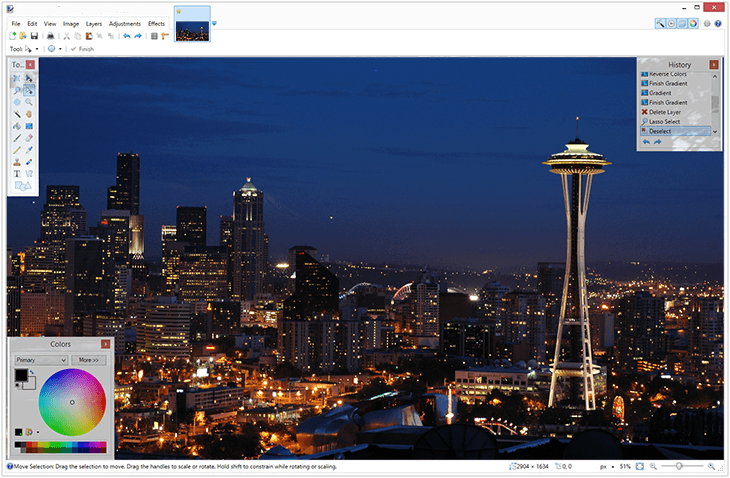 Paint.NET has all the tools a beginner might need
Which Photo Editor for Beginners Should You Choose
Now you know 8 nifty softwares that are perfect for amateur photographers and similarly inexperienced retouchers. But which one should you choose? Well, if your main concern is "what is the easiest photo editing software for beginners", then Photolemur will definitely be of use for you. This software is as simple as a photo editor can get.
If you need a more advanced asset and are prepared for a steep learning curve, then GIMP is certainly your weapon of choice.
But if you are looking for a balance of user-friendliness and rich functionality, then PhotoWorks is the perfect photo editor for all your needs. Created for both newbies and pros, this intelligent photo editor automates all the tedious editing processes, leaving you the freedom to experiment with colors, composition, and montage tools to your heart's desire.
If you need some more time to decide - or want to hear another opinion on the matter - you are welcome to check out this Envira Gallery list of the best photo editing softwares for dummies. But whatever program you choose, we hope it will be your reliable guide to the fascinating world of image post-processing.