How to Add Someone to a Picture like a Pro
Have you ever taken a cool picture only to notice that one of your friends wasn't in the shot? Or perhaps you lost a loved one just before a big event, but still want them to be in your photos? Whichever it is, you probably went googling "how to add a person into a photo" only to learn that it is a painstaking process.
But don't give up just yet! There is a way to photoshop someone into a picture without much effort. Do it with PhotoWorks, an AI-powered photo editor! Just a couple of brush strokes and mouse clicks and - boom! - that person you need is in the picture! Scroll down to either read a step-by-step guide or watch a video tutorial on adding a person to a picture with PhotoWorks. In this article, you'll also find alternative ways that you can compare and eventually pick the program that works best for you.
Before
After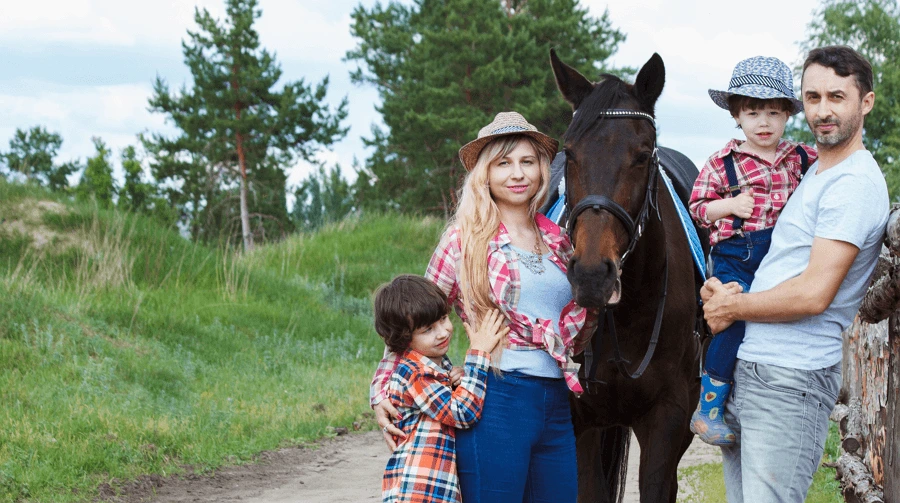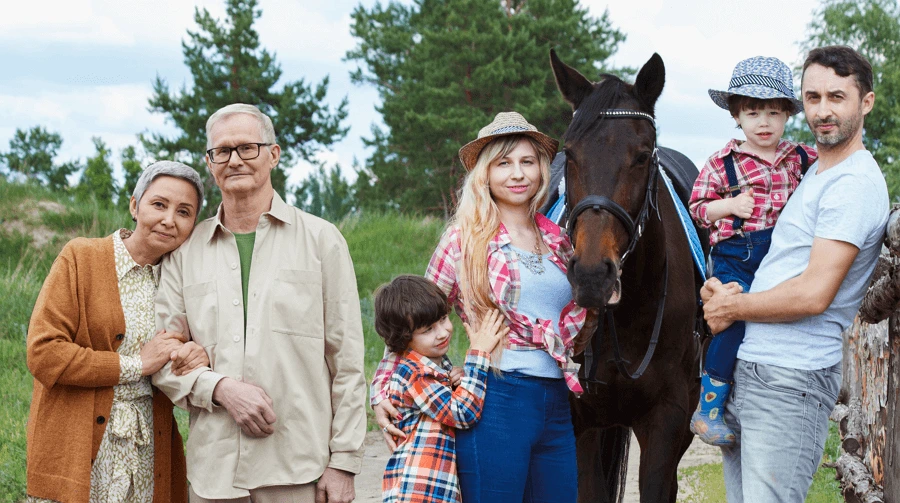 Add your relative or friend to a special photo
How to Edit Someone into a Picture Step by Step
It's time to get down to work. The photo editing process will take you mere minutes. Now get ready with your images and follow these simple steps.
Step 1. Install and Run PhotoWorks
Download the free trial of this smart photo editor and follow the wizard instructions to install it to your PC or Mac.
Step 2. Pick the Change Background Tool
Open the picture of the person you want to cut out. Switch to the Tools tab and choose the Change Background tool. Use the green brush to mark the person and the red brush to paint over the background. The app will automatically remove the backdrop.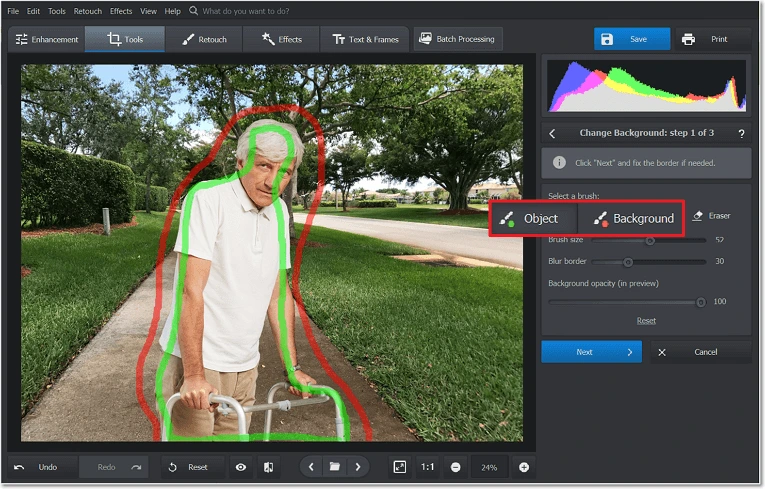 Remove the background of the picture to cut out the person
Step 3. Fine-Tune Your Selection
Use the red brush to erase any chunks of the background left or the green brush to restore parts of the person that are missing. Adjust the background opacity to see any missteps better.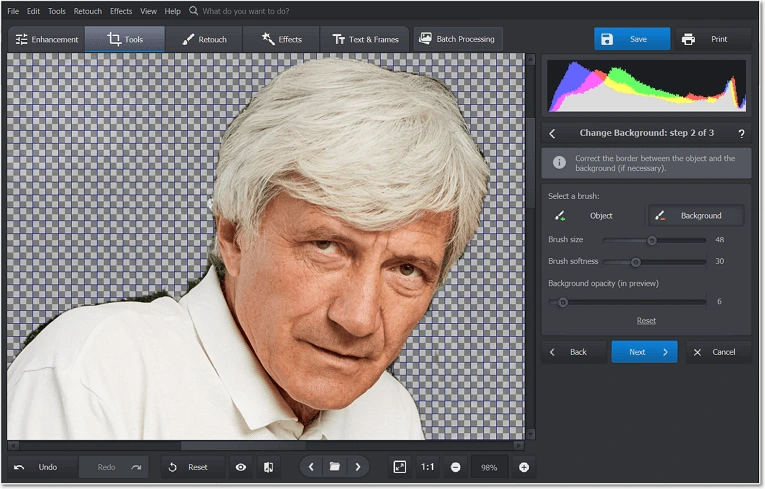 Correct the border between the person and the background
Step 4. Add the Person to Your Photo
Click Select New Background Image and choose the picture you want to add the person to. Resize the layer and move it around to find the perfect spot. Adapt the layer colors to the rest of the picture for a better blend.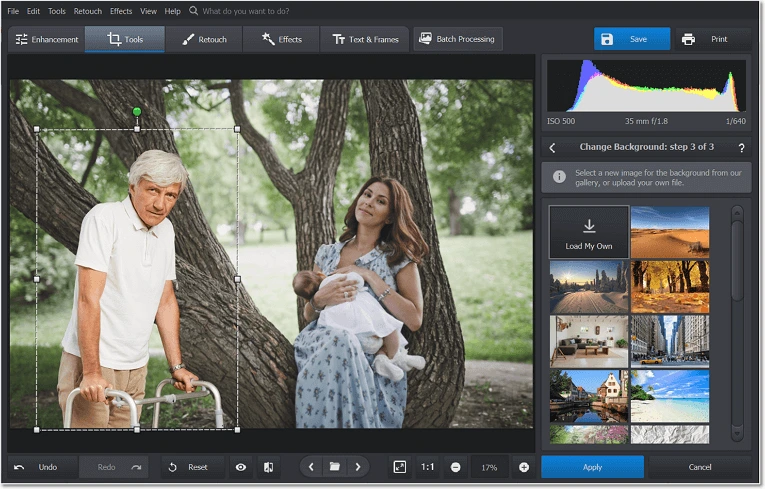 Put the person onto the picture and adjust the size and the color palette of the layer
Step 5. Save Your Finished Picture
Save the layer you added as an image with a transparent background in case you want to use it later. Then save your improved picture with the deceased loved one in a suitable graphic format.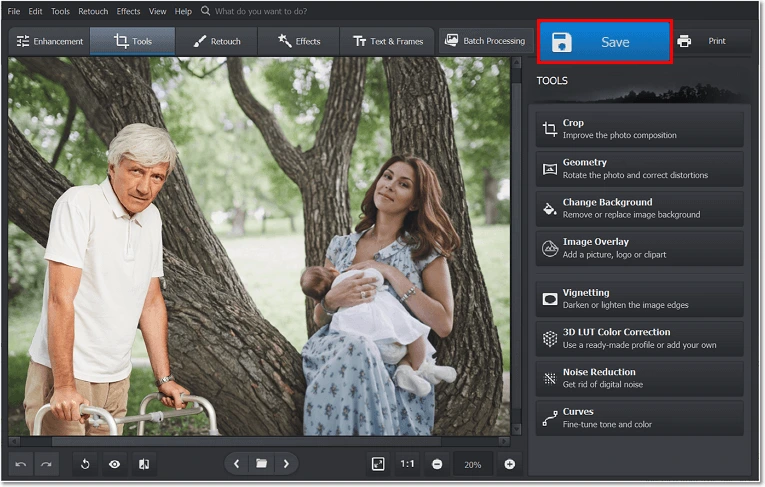 Save your improved picture as JPEG, PNG, or TIFF
You see, it only took 5 steps to add someone into a picture. No tedious manual selection or fiddling with complicated tools were required. PhotoWorks did everything automatically thanks to its content-aware AI.
Check out our detailed video tutorial on incorporating your loved one into photos: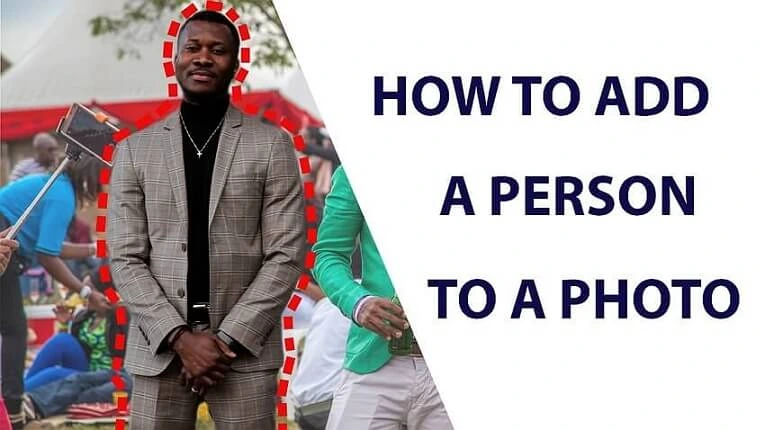 All done? Don't finish off with photo adjustments here! Perfect the shots in a couple of clicks using other features of the program. Here are a few ideas for you.
What Else You Can Do with PhotoWorks:
How to Add a Person to a Photo - Other Ways
There are myriads of photo editing programs, but we assembled the best ones here. Apart from PhotoWorks, there are a couple of other software, mobile apps, and online photo editors to check out. Now let's see which alternative might suit you. For example, it's possible to add deceased loved ones to photos using GIMP. Click Open to select a picture, pick Paths, click around the person, and choose Selection from Path to copy the selected area. After that, open the other photo and paste the copied part by hitting Paste in the Edit menu.
Need pro-level accuracy? Then don't hesitate to use Photoshop for incorporating a lost loved one in pictures. lt's a well-known photo editor, but some users consider it too hard to use. To add a picture to another picture, open a file, choose the Lasso Tool, and select the object. Now go to Edit, pick Copy, open the destination photo, and paste the selection.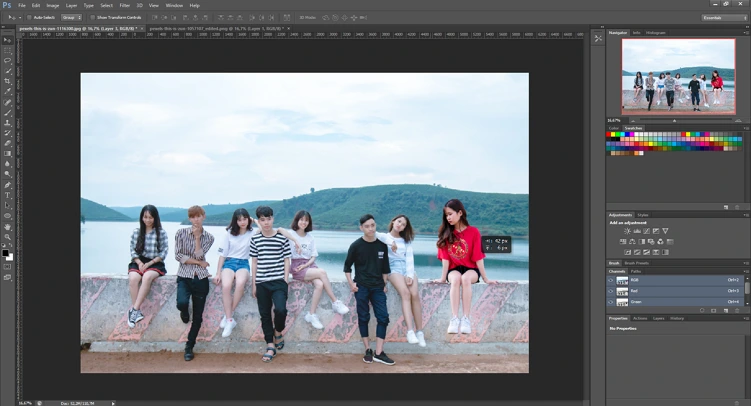 Try adding a person to a picture with Adobe Photoshop
To edit your pictures on the go, download a mobile app from Google Play. Once it's installed, you can easily cut out a part of a picture and insert it to another. There's an option for iOS-based devices as well - try Snapseed. It's packed with tools for various purposes - simple adjustments, cropping, expanding, adding frames, etc. To add someone to a photo, choose a picture from your gallery, tap Double Exposure, add the photo with a person, move it, adjust opacity, and export the file.
Don't worry if your storage is full - just edit images online. This is how to crop someone into a photo in a program called PhotoScissors. First, upload an image, extract the needed part of the photo, and add the other picture in the Background tab. Then open the Foreground tab to move and resize the image.
As you can see, editing photos can be fun. All you need to do is choose the right program according to your computer or phone capabilities, experience, and needs. We showed you how to add someone into a picture with computer software, mobile applications, and online photo editor. But we highly recommend that you begin with PhotoWorks - it's easy to master and doesn't take up too much space. Now it's time to experiment and decide on the program to finally edit your photos. Get it done today!