How to Add a Person to a Photo Without Photoshop
Have you ever taken a cool picture only to notice that one of your friends wasn't in the shot? Or perhaps you lost a loved one just before a big event, but still want them to be in your photos? Whichever it is, you probably went googling "how to add someone to a picture" only to learn that it is a painstaking process.
But don't give up just yet! There is a way to photoshop someone into a picture without much effort. Do it with PhotoWorks, an AI-powered photo editor! Just a couple of brush strokes and mouse clicks and - boom! - that person you need is in the picture!
Before
After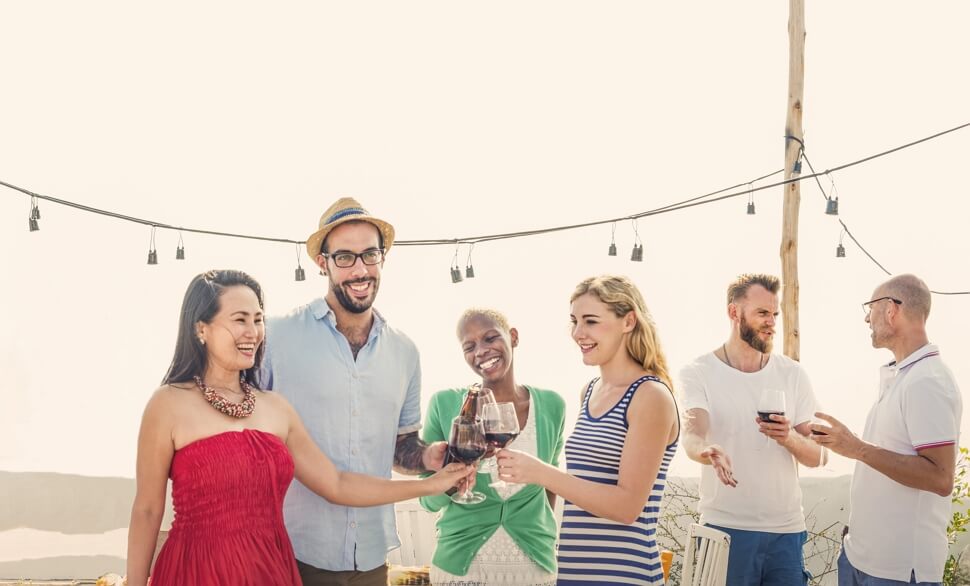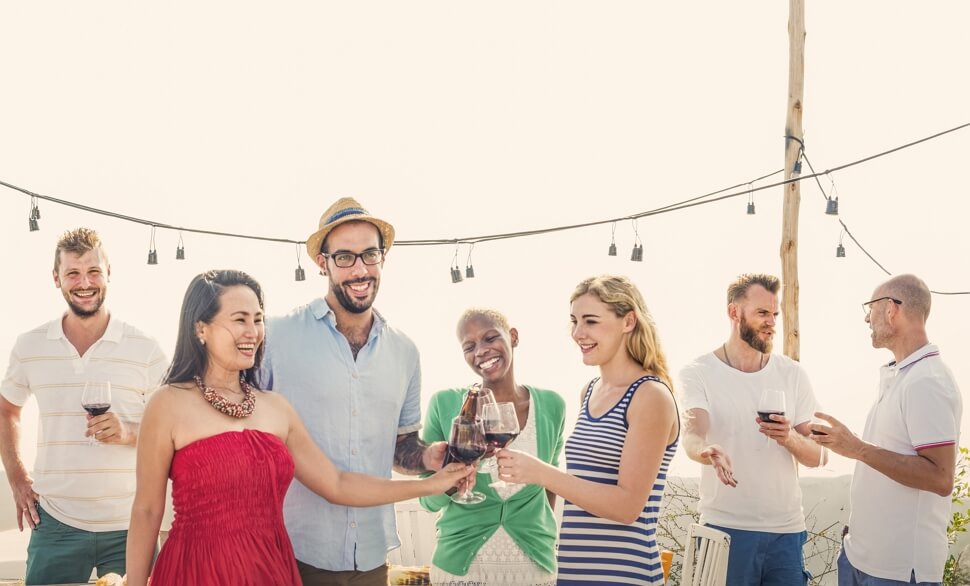 Add your relative or friend to a special photo
Looks impressive, doesn't it? With PhotoWorks, you'll be able to achieve a similar result in mere minutes. Edit yourself into a celebrity crowd, photomontage your friend into a ridiculous scene to troll them - anything goes. But it doesn't have to be all about the fun either. You can even add a deceased person to a picture if someone you loved passed away before an important moment in your life. So let's learn how to add a person to a photo in a few simple steps.
Step 1. Install and Run PhotoWorks
Download the free trial of this smart photo editor and follow the wizard instructions to install it to your PC.
Step 2. Pick the Change Background Tool
Open the picture of the person you want to cut out. Switch to the Tools tab and choose the Change Background tool. Use the green brush to mark the person and the red brush to paint over the background. The app will automatically remove the backdrop.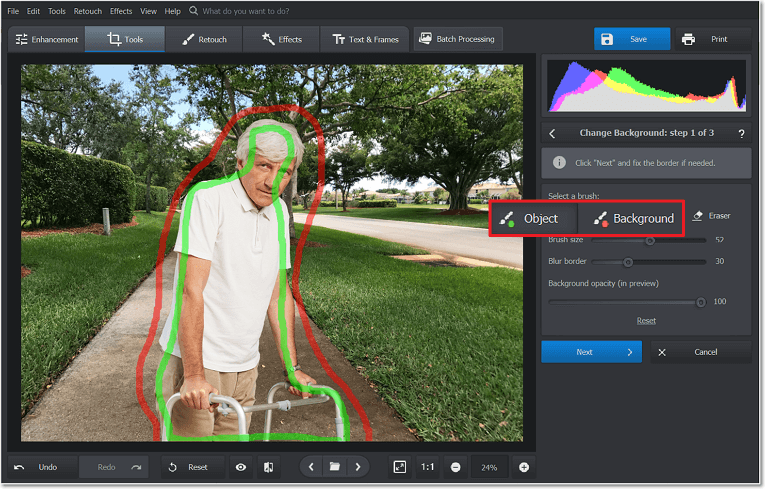 Remove the background of the picture to cut out the person
Step 3. Fine-Tune Your Selection
Use the red brush to erase any chunks of the background left or the green brush to restore parts of the person that are missing. Adjust the background opacity to see any missteps better.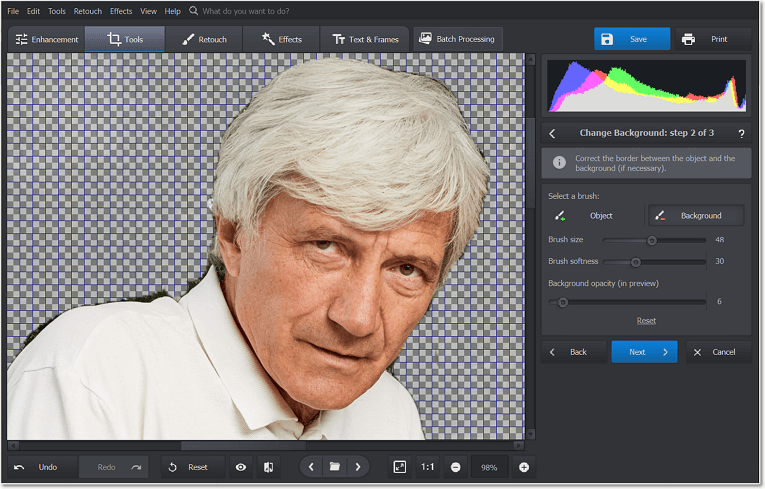 Correct the border between the person and the background
Step 4. Add the Person to Your Photo
Click Select New Background Image and choose the picture you want to add the person to. Resize the layer and move it around to find the perfect spot. Adapt the layer colors to the rest of the picture for a better blend.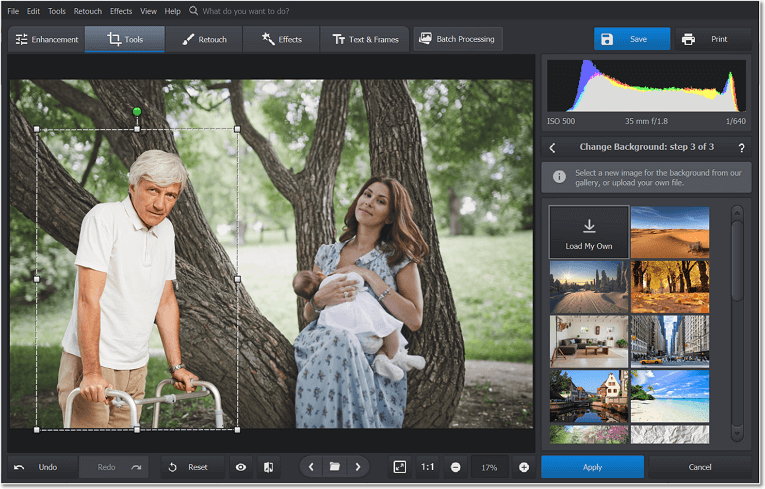 Put the person onto the picture and adjust the size and the color palette of the layer
Step 5. Save Your Finished Picture
Save the layer you added as an image with a transparent background in case you want to use it later. Then save your improved picture in a suitable graphic format.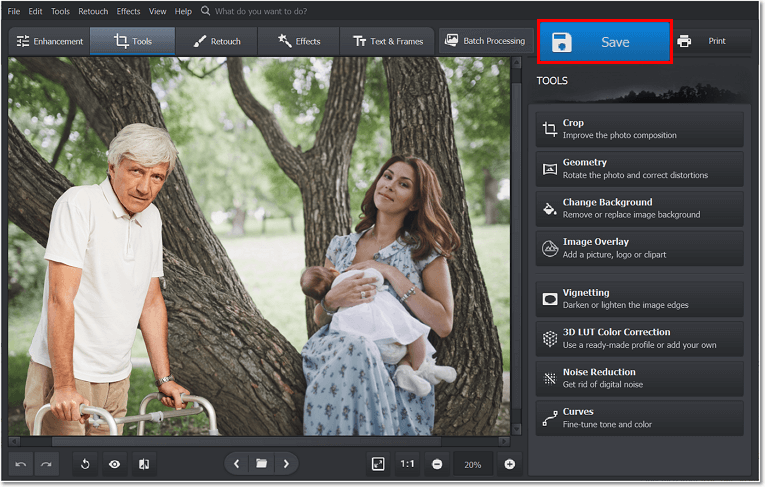 Save your improved picture as JPEG, PNG, or TIFF
You see, it only took 5 steps to add someone into a picture. No tedious manual selection or fiddling with complicated tools were required. PhotoWorks did everything automatically thanks to its content-aware AI.
Check out our detailed video tutorial on incorporating your loved one into photos: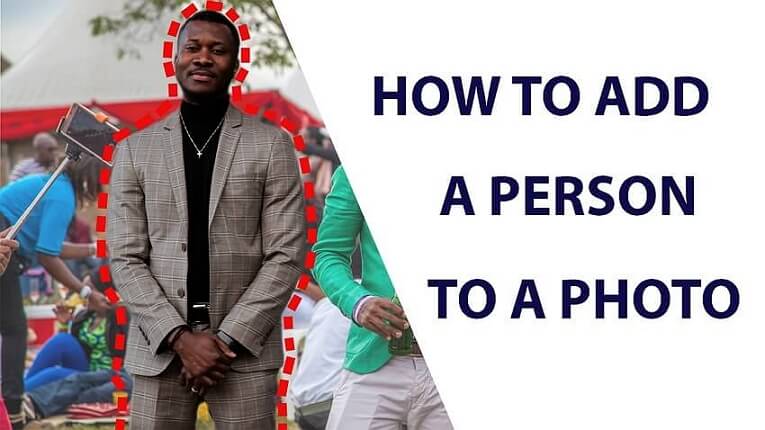 Excited about reuniting your family in pictures with PhotoWorks? Try the editor for free today!
Now you know how to edit someone into a picture with PhotoWorks. Want to know more ways? Then learn how to put a person into a photo with Photoshop and GIMP.
Discover More Tools to Improve Your Pictures
Sometimes even professionals struggle to take perfect pictures. There are many factors that are out of our control, so oftentimes minor flaws make their way into our shots, almost ruining them. But as long as you have a powerful photo editor like PhotoWorks at hand, every less-than-perfect picture can be saved.
Fix Tilted Horizon in a Flash
We don't have a level tool installed into our bodies, so sometimes we end up with a picture with a slanted horizon, unless we use a tripod. PhotoWorks has a solution. Straighten a photo with the Geometry tool. Just drag a slider and watch as the skewed horizon is getting fixed. You can also use this nifty tool to correct any perspective flaws and barrel or pincushion distortions.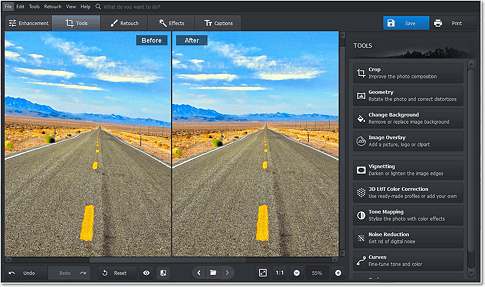 Restore the Sharpness of Your Pic
You shot looks hazy? With PhotoWorks, you can fix a blurry picture in no time. Just go to the Sharpness tab and sharpen your picture by dragging a few sliders. If you want to achieve a more subtle effect, adjust the clarity of your picture. You can even sharpen certain elements of your picture by using the Adjustment Brush. Just mark the objects you want to highlight, then add some sharpness to them.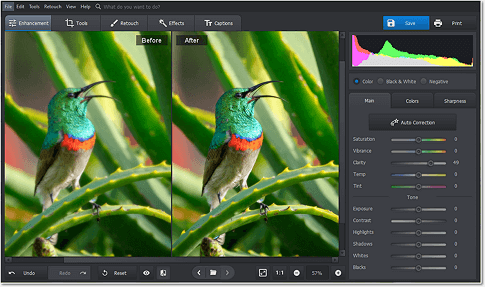 Whether it is for fun or for sentiment sake, photoshopping someone into a picture is not as hard as it seems. With PhotoWorks, you'll be able to seamlessly stitch two pictures together with no effort at all. And that's not the only way you can spice up your picture with this smart photo editor. Use PhotoWorks to add stickers to photos, get rid of odd objects in the background, or make your picture look vintage. PhotoWorks can also be used as efficient picture restoration software. So recent or old, your pictures could use a little PhotoWorks' magic!