How to Add a Date and Time Stamp to a Photo Without Photoshop
Want to achieve a retro photo effect by time stamping your photos? Or do you simply want to remember when your image was taken but forgot to turn on the camera date settings? Today we'll show you how to add a date and time stamp to a photo already taken without Photoshop. We'll be using the handy PhotoWorks. It is a smart editor that will help you date a dozen of pictures in just a couple of minutes. The software is full-featured and comes with a free trial, but most importantly - it is very intuitive.
To prove it, we'll give you a step-by-step tutorial for date stamping your picture in PhotoWorks. But we will go over some other easy ways as well. So whatever preferences and devices you have, you will find a way that will work well for you. Let's get started!

Give your image an aged effect with a date stamp
How to Add Date & Time Stamp to Photos: Detailed Walkthrough
You don't need any overly complex programs or previous experience in typography to put a date stamp on pictures. Just follow the steps below, and you will be able to mark a whole series of photos at once:
Step 1. Download PhotoWorks
Hit the button below to download the free trial of PhotoWorks. Install the software on your PC or Mac and run it.
Once on the startup screen, switch to the Batch Processing mode. Import the whole series of pictures you want to put a date on.
Step 2. Add the Date and Time Stamp
Switch to the Text & Frames tab and pick the Text tool. Type in the date your photos were taken in the empty field. Choose a predesigned text style for your caption in Styles.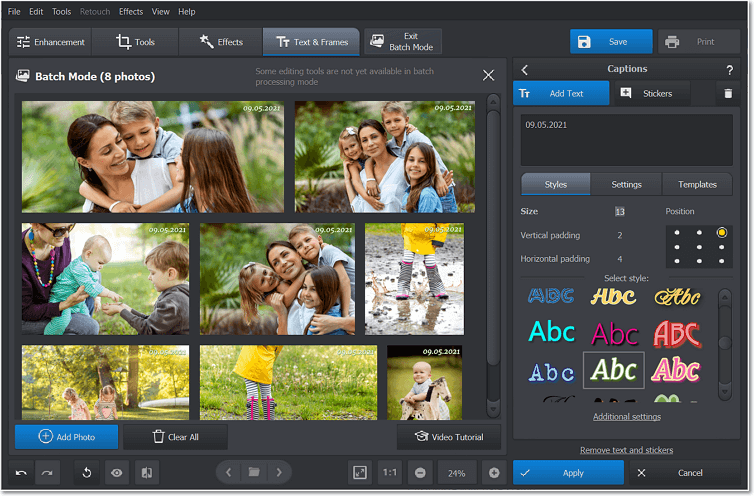 Customize your date stamp
Step 3. Pick the Layout & Style
If you want to customize your caption, go to Settings. Here you can change its font and color, adjust its opacity and angle, add an outline or a shadow to it, and position it.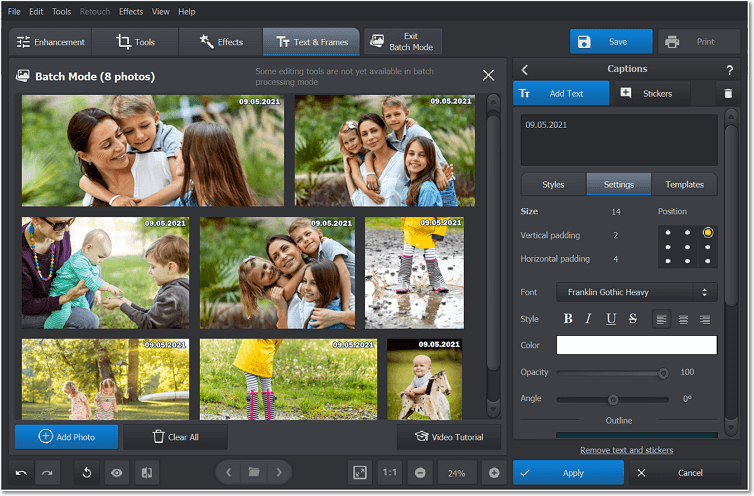 Make your date stamp look the way you want
Step 4. Save Your Pictures
If you are fully satisfied with the result, hit the Save button to export your edited pictures for printing or posting online.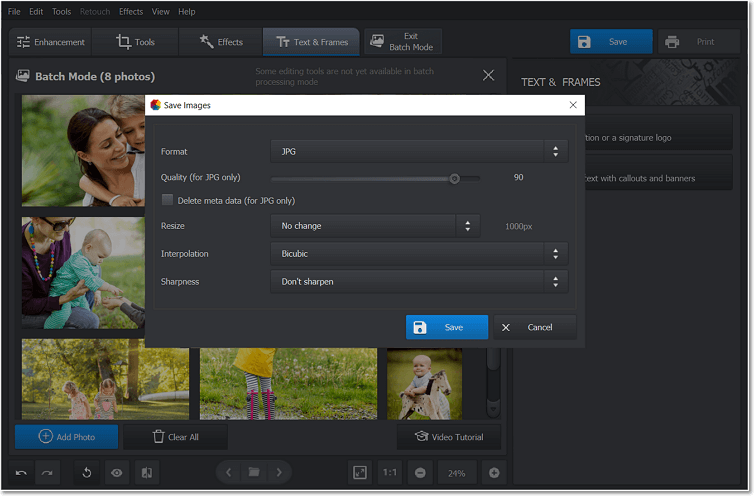 Export your edited photos
Found the Batch Processing feature helpful? Well, you can use it for much more than to add a date and time stamp. Learn all its capabilities and get some helpful tips in our video guide: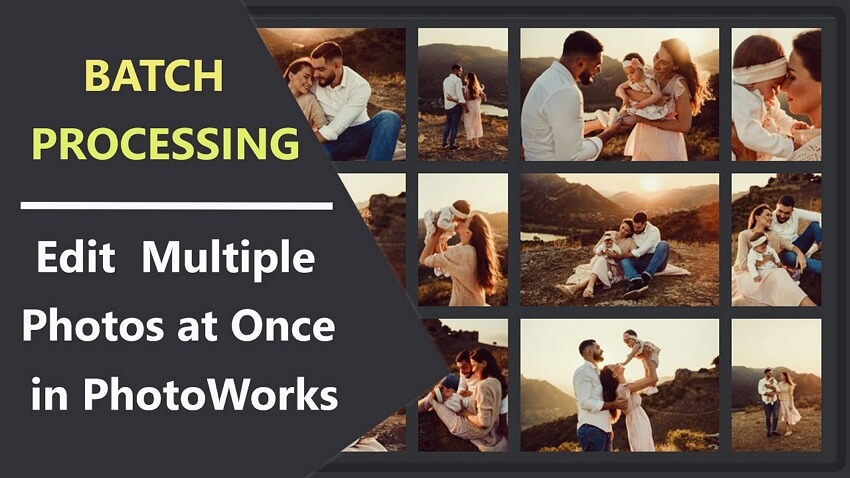 The Batch Mode will help you save a lot of time on editing a group of pictures. But apart from this feature, PhotoWorks has a lot of options for enhancing a single image.
What Else Can You Do in PhotoWorks?
Enhance portraits & full-length shots
Remove people & objects in pics
Denoise images with high ISO
Alternative Ways to Add a Date & Time Stamp to JPEG Photos
Think that PhotoWorks isn't your best option for some reason? Not a problem, considering that we have some more alternatives of nice photo editors for you to try.
Want to add a date stamp to photos on a computer for free? Do that with the multifunctional FastStone Image Viewer. The software is compatible with operating systems from Windows 98 to Windows 10. However, you can't get it on your Mac. If that is a problem for you, we suggest getting the LR/Mogrify 2 plugin for Lightroom. You can use it on any computer that has Lightroom installed. Apart from putting the date stamp on your pic, LR/Mogrify 2 will help you enhance your picture, add inner and outer borders, and watermark your image.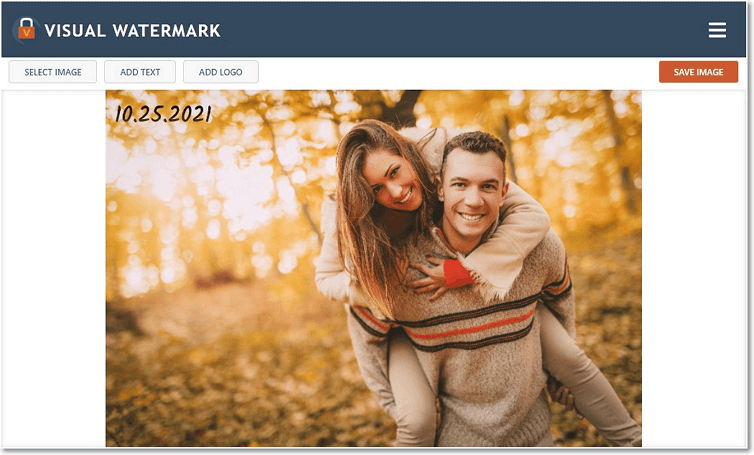 Use Visual Watermark to put a date stamp on your photo
Wonder how to timestamp photos on the go? You can employ your smartphone for that if it's powerful enough and has a large screen. Just get the DateStamper app for editing on your iPhone or iPad, or go with an app for Android if you don't have an iOS device. Finally, if you don't want to download extra programs and apps, employ Visual Watermark. It's an online photo processor that will help you add a timestamp to your pic in an instant.
Now you know 6 different ways of how to put a date and time on pictures. Choose the one that suits you best, follow the link to the editor's website, and get started. In case you like PhotoWorks but still have your doubts, start a free trial and discover this software's capabilities for yourself. Either way, we hope this guide was helpful for you!