How to Remove a Date Stamp from a Photo Without Photoshop
Went out to take some photos and forgot to disable the timestamp feature on your camera? Have a few old digital photos to share but they're spoiled with the date caption? If that sounds familiar to you, then let's see how to remove a date stamp from a photo. Yes, in some cases, the timestamp works great, like for photo management, but right until you want to print or share the marked pictures.
If you start googling, you'll find many stamp removers offering complex and cumbersome actions. Like Photoshop - a very popular but hard-to-grasp image editor by Adobe. Well, don't get upset yet. Check out PhotoWorks - a user-friendly image editor and you will forget about other complicated programs for editing your pictures. PhotoWorks will not only remove dates from your images but help you do many other cool things like remove people from photos or, on the contrary, add a missing person to a photo.
In this guide, we will show you a quick way for deleting a stamp using Healing Brush in PhotoWorks.
Here's an example of removing a date from a photo with PhotoWorks: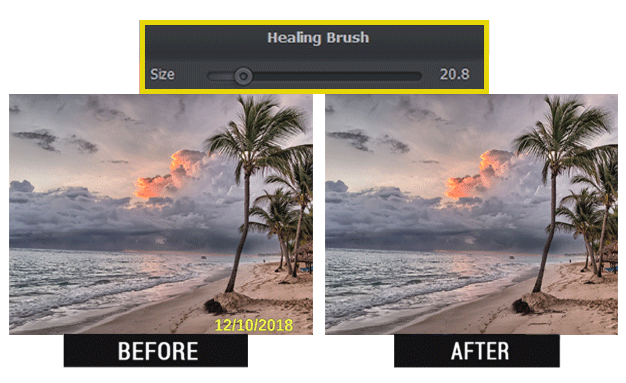 Remove timestamp from your photo: Before-After
How to pull that off? Here is how to remove a date stamp from a photo on Mac or Windows:
Step 1. Start PhotoWorks
Run the photo enhancer and open the image with the timestamp.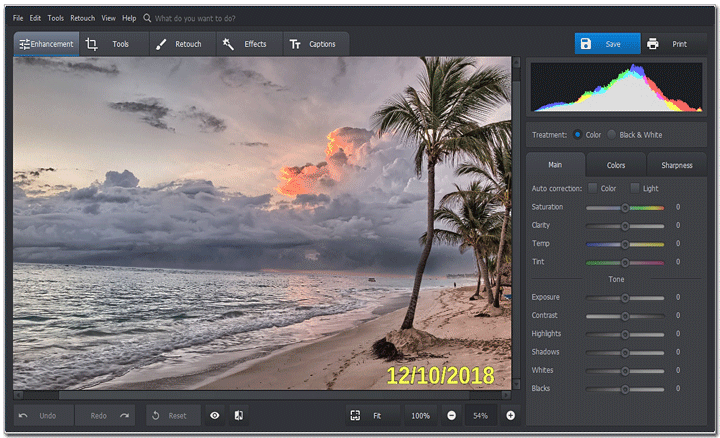 Start with opening a photo with the naughty timestamp
Step 2. Go to the Retouch tab
Switch to Retouch and pick Healing Brush from the list.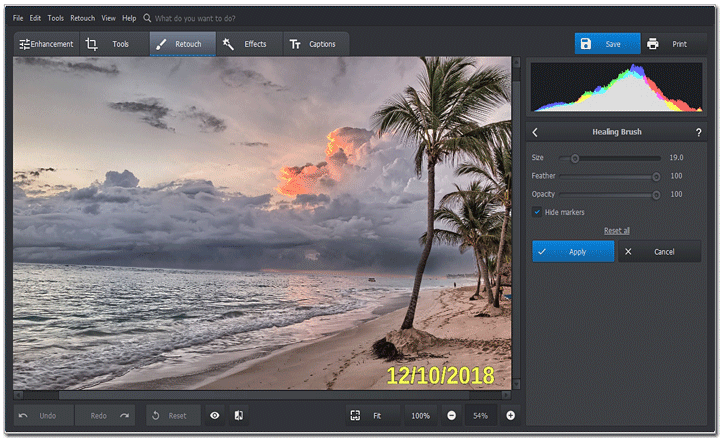 You will need Healing Brush for removing the date
Step 3. Use Healing Brush to Remove Dates From Your Photos
Set the brush size and paint over the photo to get rid of the timestamp. PhotoWorks will remove the unwanted object automatically using its secret intelligent algorithms.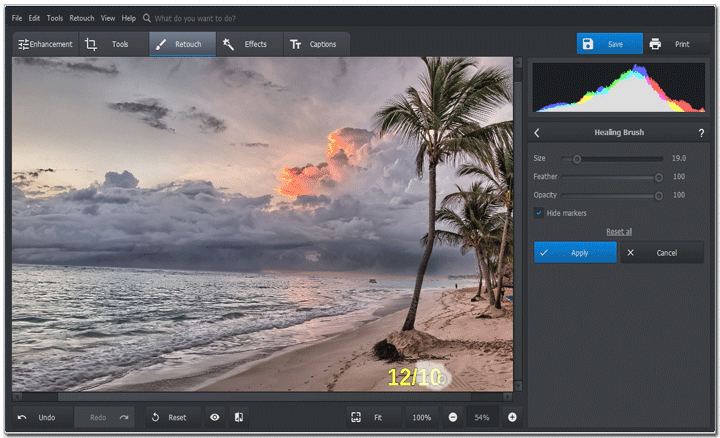 Paint over the timestamp with Healing Brush to erase it completely
Step 4. Save the Clean Photo
Click the Save icon to keep the result.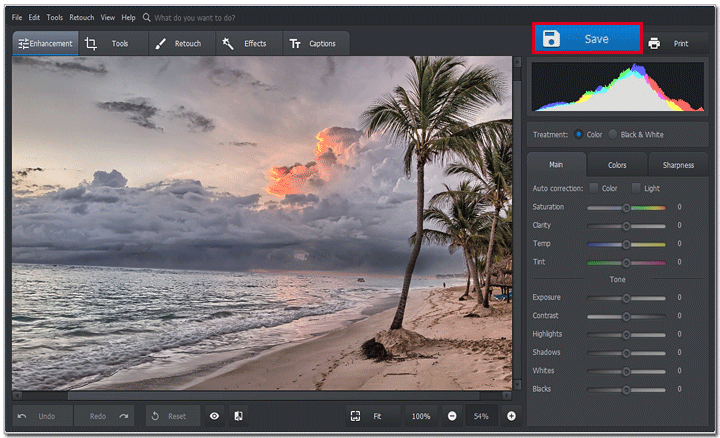 Hit Save to keep the clean image
Looks pretty easy, doesn't it? No tricky selections, layers or complex edits. With Healing Brush, you will also be able to erase other objects from your photos. For example, check out our guide on how to remove watermarks from photos, where you will find various ideas and suggestions for Windows, Mac and online applications.
Want to remove date stamps from your own photos that easily? Just get PhotoWorks and start right away:
If you take a closer look at our image, you'll see that it definitely looks better now. However, it seems that the horizon on the photo is a bit tilted. Better to fix that too if we want the image to be perfect. Let's do that right now.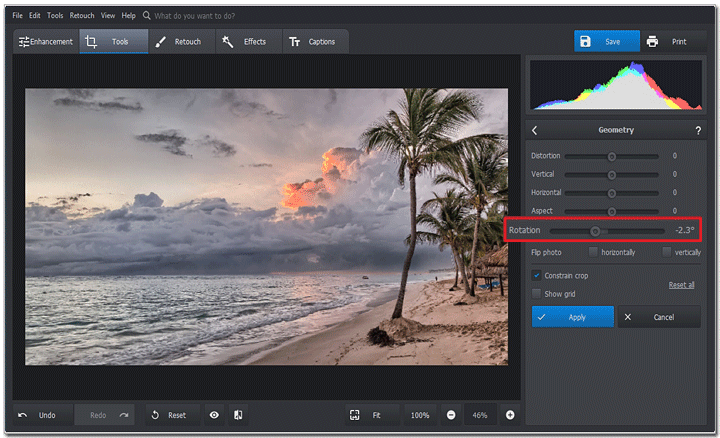 We move the Rotation slider to fix the tilted horizon
Here is the result. Looks way better, doesn't it? Want to know how to do that? Check out the guide on how to straighten a picture and you will correct the composition in no time. In short, nothing complex: just enable the grid to see the distortion and drag the sliders to fix the tilted horizon. In our case, we used the Rotation slider to straighten the picture and then cropped it to remove the unnecessary parts.
Don't want to install additional software to your PC or Mac? You can use a convenient mobile app to retouch photos right on your smartphone and post them online. Alternatively, try an online image editor to edit pictures in your web browser.
Together with removing date stamp from digital photos, PhotoWorks has many other cool features. Looking for a simple way to perform light and color correction? Wondering how to make a picture unblurry without wasting too much time? With PhotoWorks, all these tasks are just a breeze! New users will definitely fall in love with the automatic tools, dozens of presets for one-click effects and quick retouching with Portrait Magic. Skilled photographers will enjoy working with tone mapping, curves and powerful tools like Adjustment Brush.
As you can see, removing a date from pictures already taken is pretty easy. So don't wait any longer and try it out with your own photos!