How to Perform Multiple Photo Editing in No Time
Even slight enhancements of a photo might take a while. And what if you have thousands of images waiting to be edited? Do you have time to go over all the photos individually? Hardly. This is where batch processing comes in handy. With this useful feature, you can improve many pictures at once. But don't rush ordering Photoshop and the likes of it for the batch processing feature. We have to warn you - some of the most popular programs' mass editing workflow is not particularly user-friendly.
Luckily, there is no need to turn to overly complex softwares to edit multiple photos at once. There is an easier way and it's offered by PhotoWorks. This intelligent photo editor is not only equipped with the batch processing feature. It also boasts a content-aware AI, which makes post-production both quick and efficient. With this software, you can enhance your images both automatically and manually. If you go with the automatic approach, the software will analyze all the pictures in the batch and fix them according to their flaws. If you opt for manual editing, you'll gain access to an advanced image enhancement toolkit. Let's have a closer look at how you can apply edits to multiple photos at once with PhotoWorks.
PhotoWorks' Mass Photo Editing Capabilities:
Automatically enhance images
Fix color balance, adjust HSL
Fine-tune colors and tone with Curves
Correct your pics' dynamic range
Sharpen or blur your images
Render your pictures black and white
Apply 200+ filters, 3D LUTs, HDR effects
Add a dark or light vignette
Design and apply a watermark
Add unified captions and date stamps
What's great about PhotoWorks' batch processing feature, is that it allows you to preview all the edits live. This way you'll see all the changes instantly and have full control over editing. Want to learn how to employ this nifty feature to fix your flawed images? Then let's dive into the process of editing multiple photos at once.
Step 1. Download PhotoWorks
For starters, you need to download PhotoWorks. Follow the wizard and install the software on your PC or Mac.
Step 2. Import Multiple Photos
Once you open PhotoWorks, hit the Batch Processing button. Then, add the photos you want to enhance.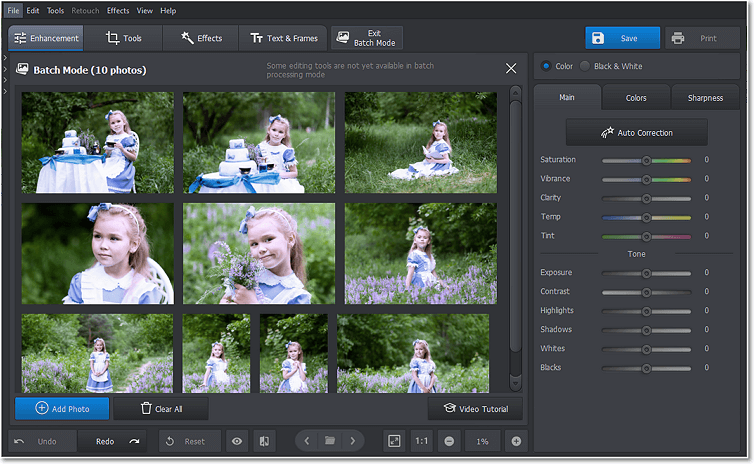 You can delete individual pictures from the batch if needed
Step 3. Auto Correct Your Images
To fix the most obvious flaws of your images, click the Auto Correction button. The software's AI will come up with the best solution for each picture individually.
Change the effect intensity by dragging the slider
Step 4. Fix Color Balance
Switch to the Colors tab and drag HSL sliders to make your images more vibrant. If you know your way around fine-tuning color, then move to the Tools tab and pick Curves. Experiment with various channels to improve your photos' look.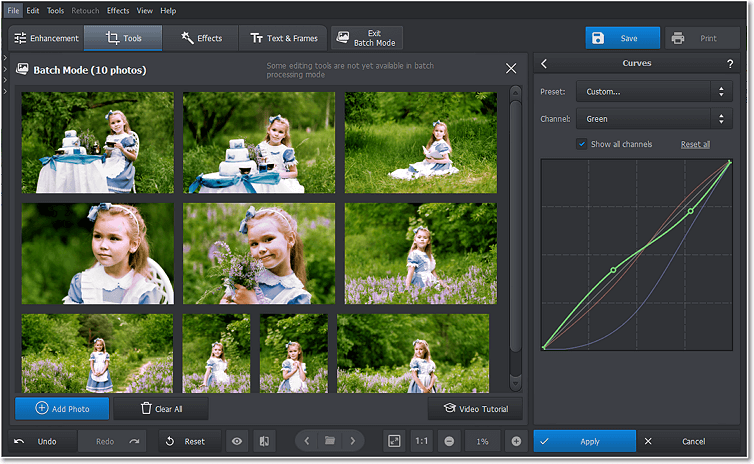 Apply new color settings to multiple photos
Step 5. Save Your Improved Images
Once you're done with editing, hit the Save button. Decide on the format and size of your photos, then save them all at once with one click.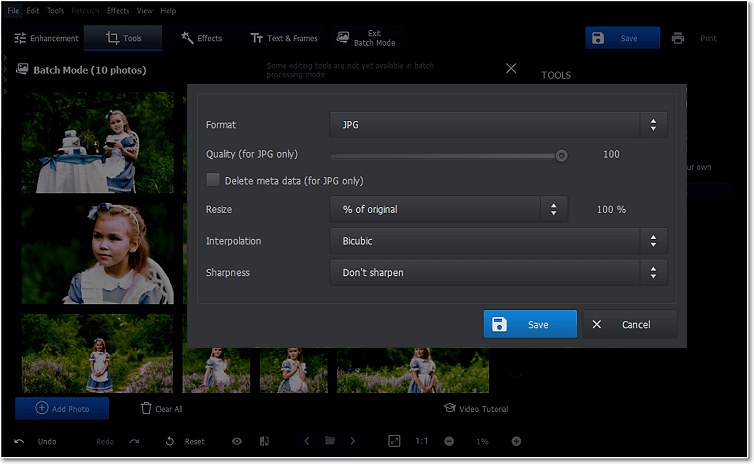 Now you know an easy way of editing mass amounts of photos
So you see, it only took you a few minutes in PhotoWorks to make your images look more polished. Thanks to this automatic photo editor, you now have a lot more free time on your hands to improve your skills as a photographer or book more gigs.
More Multiple Photo Editing Techniques
Did you know that you could go much further in batch processing than just color and dynamic range correction? Well, PhotoWorks gives you a variety of other options to change your images for the better. Let's have a look at how else this smart software can up your game as a photographer or photo retoucher.
Use Filters to Change the Mood
Enjoy tons of built-in effects. Change the feel of all the photos in the batch by applying an artistic filter. Go with a vintage look, add some magic with lighting effects, create eye-catching Color Splash images, or imitate an old photographic film. Want to alter the colors of your images? Go with cool 3D LUT presets that can give your pics an autumn vibe or turn them into a still shot from a movie. Make your images crisp and pronounced with HRD effects.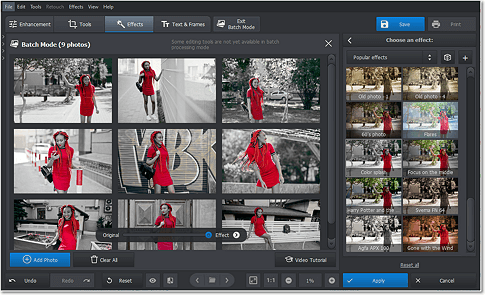 Protect Your Copyright
Don't let anyone use your pictures without your permission - make a watermark for photos. Brand a batch of images in a single click. Create a logo design using PhotoWorks' library or stickers and text styles, save it as a template, then just apply it to all your images. Create as many watermark templates as you like, then save them. Your watermark templates will retain their style and position on the photo.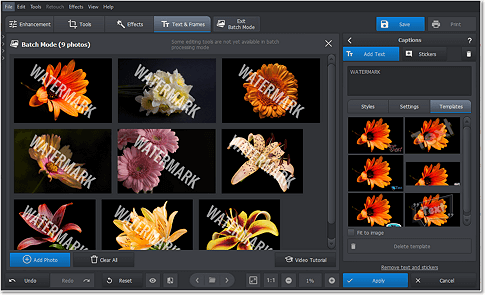 Add Text and Date Stamps
Want to add captions to images? Easy-peasy! Just type in the text, choose a design for it - either from premade styles or come up with your own - then apply it to all the images in the batch. Love old-school date stamps? Add them, too. Create a stylish design, assign a spot on the picture, then click once to make your date stamp appear on all your pics.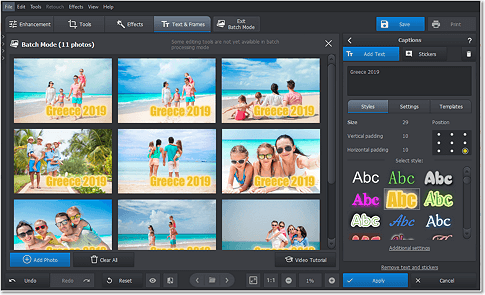 Resize Your Images at Once
Are your image files so big that your hard drive is about to burst? Then deal with this problem in a click. When saving your improved images, set a new size for them. Go with a percentage of an original size or resize your photos by width or height. Alternatively, go with the longest of the shortest side. You can also set a new format for the images - for instance, turn all the PNG files into JPEGs.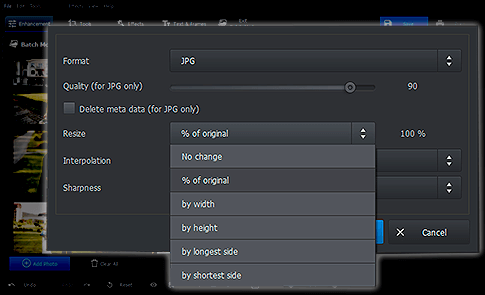 Now there is no need to toil for hours improving your pics. With PhotoWorks, you can edit multiple images at once automatically and manually - fix their color and dynamic range, apply filters and 3D LUTs, and brand them. What's more, you'll be able to watch every change applied live. If you want to try other ways to mass edit your photos, then make sure to check out tutorials on how to batch process photos in Photoshop, Lightroom, and LunaPic. Whichever you choose, you will definitely save yourself a lot of time on editing - time that you'll be able to spend a lot more productively.