How to Put One Picture on Top of Another Picture with Ease
Want to make your socials feed popular and get more likes on your posts? Try one of the hottest trends - stacking multiple photos to create a single picture. In this article, we will show you how to put one picture on top of another in 3 different softwares. Want to master this cool technique and add a fresh touch to your photo collection? Then let's get going.

Change the perception of an image by combining it with another one
Way 1. How to Put an Image on Top of Another with PhotoWorks
Are you a photography enthusiast who is open to discovering new editing programs? Try PhotoWorks - an intuitive program suitable for all skill levels. When it comes to placing a picture on top of another one, the software's handy Image Overlay tool allows you to add as many pictures on top of the background as you like in just a couple of clicks. There is also a collection of cliparts in case you want to make a greetings card. PhotoWorks has a free trial, so you can check the program out in advance.
Well, let's move on to the tutorial so that you could see things for yourself:
Step 1. Download & Run PhotoWorks
Download a free trial of the program. Follow the instructions of the wizard to install and open the software on your Windows PC or Mac.
Step 2. Open Your Background Picture
Once you open the software, drag & drop the pic you want to be your background right into the first window or click Open Photo and select it. Then, go to the Tools tab.
Load your background picture to the main screen
Step 3. Put One Picture on Top of Another
Select the Image Overlay tool and choose Add Image from File. Then, choose the picture you want to put over the background and play around with its settings: opacity, shadows, size, position, and angle. You can also use cliparts from the program's collection.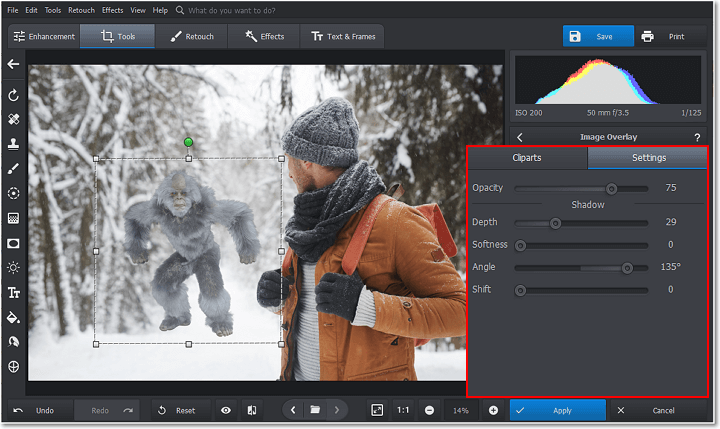 Arrange the smaller image on top of the background
Step 4. Save Your Project
Once you place all your pictures and cliparts and like the whole design, click Apply. Then hit the Save button in the top right and choose the format you want your image to be.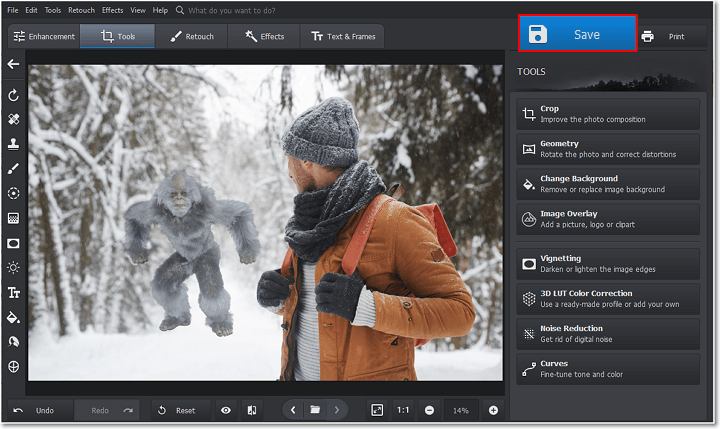 Share your image with friends
Now you can see for yourself that PhotoWorks is a user-friendly tool that doesn't require any previous experience. Besides, you can use this program for many other purposes. Apart from stacking images on top of each other, you can retouch your portraits, perform color and tone correction, apply artistic filters, and many other things. Want to make your photo look even better? Learn how to enhance an image with PhotoWorks.
Way 2. How to Put One Picture on Top of Another with MS Word
Are you a Windows user? Well, turns out you can place two images on top of each other in Microsoft Word. The functionality of this software is pretty limited, but it will be just enough for a simple greeting card or a collage.
Here is the step-by-step tutorial on how to put one image on top of another for those with moderate aspirations:
Insert your images into the program. Go to the File tab and click Open to upload your photos.
Format your pictures. Right-click the background picture and go to Wrap Text > Square, then do the same thing to the smaller images. Then, place your pictures the way you want.
Make smaller images transparent. Left-click your top picture, go to Format > Color > Set Transparent Color, and then click the picture background you want to be removed.
Save your project. Go to Files > Save and choose the format you want your image to be in.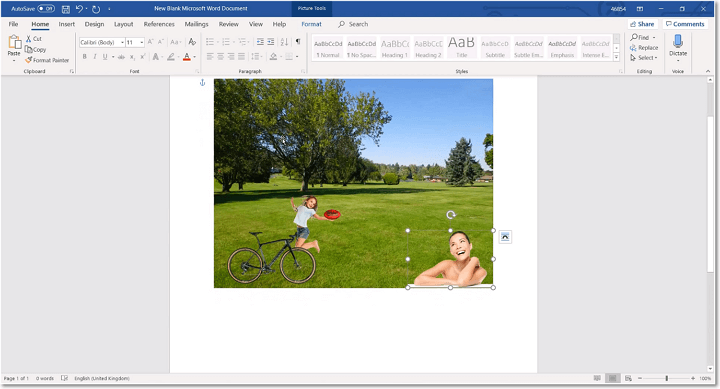 Create cool pictures in MS Word
As you see, there is nothing complicated about putting one picture on top of another in Word. Besides, the process takes just a couple of clicks and drags which guarantees you a quick result. In case you need more explanation on this way of combining pictures, visit the detailed MS Word tutorial with illustrations.
Way 3. How to Put One Photo on Top of Another Using Photoshop
Photoshop is the most popular editing tool among professionals and photography enthusiasts. And you have probably heard that this program is rather difficult to master. But here is the good news - it is pretty easy to put pictures on top of pictures in the mighty Adobe Photoshop. The layers method that the software is based on makes this process smooth. So the following tutorial will surely be enough for you to do the job:
Open your images in Photoshop. Choose the picture that will be the background layer. Then, add the other images as separate layers.
Arrange your pics. Try different sizes and angles for your photos to get an aesthetically pleasing project.
Blend the picture into a single piece. Use various blending modes: adjust opacity, darken your images, etc.
Save your work. Click Save or Export and save your picture as a PNG, JPEG, or any other format.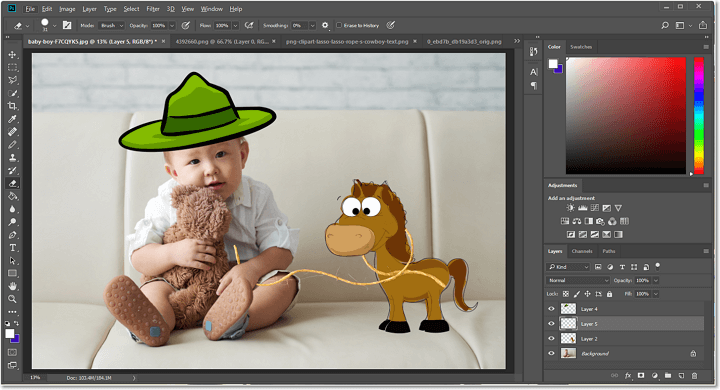 Create an adorable image with Photoshop
There is nothing overly complex in combining pictures in this advanced program. However, Photoshop comes with a pricey monthly subscription which not all users can afford. In case you already have the program or were planning to subscribe anyway, this is the perfect solution for you! Still have questions about this method? Visit the official Adobe Photoshop website and see if they will be answered.
Now that you have learned 3 ways of how to put a picture on top of another picture on Mac and Windows, you see that none of them is complicated. Thus, even a newbie can use them to do the task. But in case you are searching for a program with a good value for money, we recommend you go with PhotoWorks. This software is much cheaper than Photoshop and more advanced than Word. It is packed with features but is quick and easy-to-use at the same time which makes it perfect for both amateur and professional users.