Best Photo Editors for MacBook Air - Top 5 Picks
Need powerful software for professional or casual photo editing? And you use a MacBook Air? If the answer to both is yes, we can help you find the best program among the plethora of options available.
Here you'll find out a list of criteria to consider when selecting a photo editor for your MacBook Air. Then, we'll give you a detailed overview of the top 5 programs that vary in complexity, price, and overall functionality. Also, this isn't a ranking list - all programs are good in their own way. Chances are, you'll find something that suits your skill level, budget, and needs. So, let's explore the best photo editing software for MacBook Air!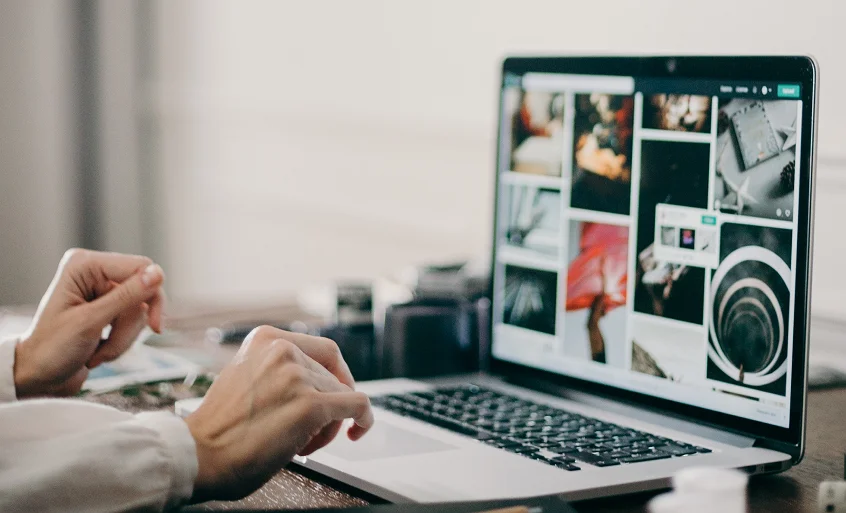 Enhance photographs on your MacBook Air
Choosing the Best Photo Editor on Macbook Air: Key Points
Before we dive into the program reviews, let's figure out what you should look for when picking software for your MacBook Air. Here are the main aspects to keep in mind:
Reasonable system requirements. MacBook Air is better than the Pro version in terms of portability. People tend to take it with them when they travel or work in coffee shops and co-working spaces. However, it's less powerful, so the programs you plan to get should operate smoothly even on weaker hardware.
Ease of use. Some photo editors can have a steep learning curve. If you're a novice in this field or don't want to spend much time mastering a new program, opt for software with a user-friendly interface and AI-powered features.
Batch processing. Editing photos takes time. If you don't want to be stuck in front of your computer for hours, choose a program that has a batch editing feature. This way, you can edit multiple images in one go and invest the time you save in learning new techniques and tools.
Tutorials or pop-up tips. Even if the photo editor you choose is easy to use, you may still need some help getting the most out of it, especially when you're just starting out. Pick a program with pop-up hints or online tutorials, so you can master a particular tool or learn a new trick in minutes instead of spending hours figuring it out on your own.
Price and affordability. A good photo editor doesn't have to cost a fortune. Plus, you don't need expensive software, if you're new to image editing. So go for a program that has a reasonable price. To spend your money wisely, choose an editor that offers a free trial or money-back guarantee. That way, you can try it out and be sure of your investment.
Now, let's move on to the best photo editing apps for MacBook Air, which we'll review according to these criteria:
Don't want to install anything on your computer due to limited storage space or other reasons? Check out Apple Photos. If you have a MacBook, chances are you also have an iPhone, meaning that thousands of your images and videos can be automatically synced to the Photos app on your devices. Besides being a gallery for your footage, this pre-installed app is also a free photo editor for the MacBook Air.
In addition to basic adjustments like contrast, saturation, exposure, and more, you can reduce noise, enhance colors, and adjust lighting automatically or with sliders. The app also lets you remove blemishes, get rid of red-eye, crop images, and fix distortions. As for color correction, you can apply filters or use professional Curves and Levels tools.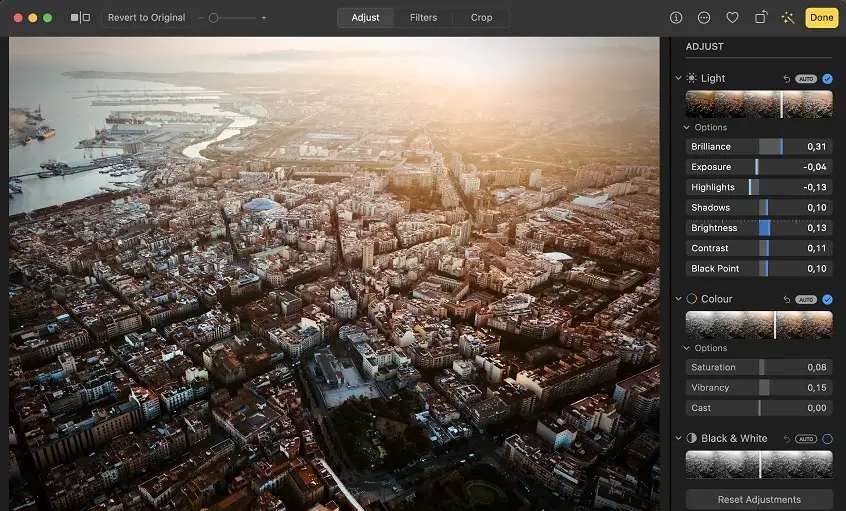 Improve images with the default Apple Photos app
Pros:
Powerful auto corrections
Easy-to-navigate interface
Ability to edit videos
Free of charge
Cons:
No batch processing
Limited editing and sharing options
Price:
Free. Comes by default with no hidden costs.
Conclusion:
Apple Photos is great as a basic photo editor for photography newbies and quick tweaks on the go, thanks to its seamless integration with the iCloud photo library and user-oriented tools. If you need some room for your creativity and more complex edits, look for some other programs.
If you need an easy-to-use photo editor with an extensive set of pro-level tools, opt for PhotoWorks. Its learning and evolving AI knows how to correct colors, get rid of unwanted objects, or fix skin imperfections in a click. It's also possible to control your edits manually. And built-in prompts make these fine-tuning tools just as easy.
With this photo editing software for MacBook Air, you can also enhance your images with over 200 artistic filters and 3D LUTs, add captions and watermarks, retouch portraits, and sculpt body features. The program allows you to instantly fix the most common photo issues in batch mode as well. What's more, PhotoWorks works well even on low-end computers and supports RAW files from 450+ camera models.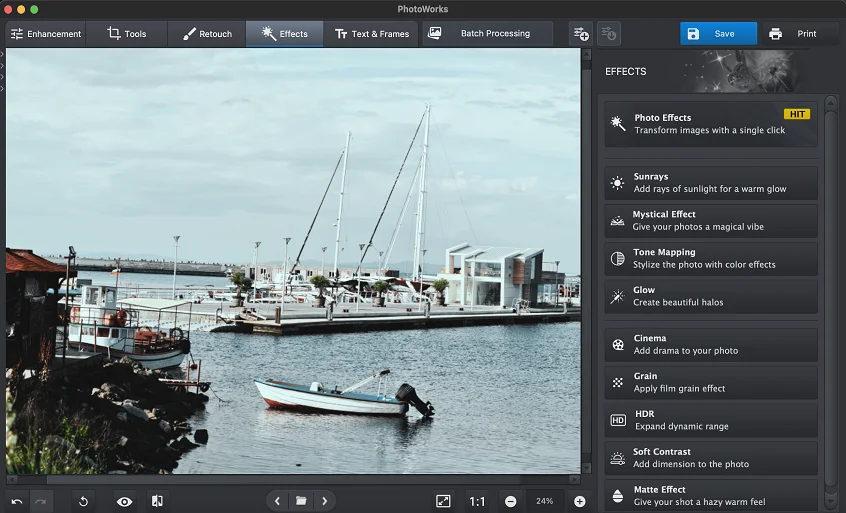 Edit photos both automatically and manually with PhotoWorks
Pros:
Content-aware autocorrection
200+ one-click filters & 3D LUTs
One-click portrait retouching
Low hardware requirements
Batch picture processing
Cons:
Some tools aren't available in the free trial
Price:
You can either get an annual subscription for $19.25 or purchase a lifetime license for $79.80.
Conclusion:
Whether you're a beginner or a pro, PhotoWorks has everything you need for easy and efficient editing. Plus, it's undemanding in terms of hardware and lets you improve your pics in a jiff.
Need photo editing apps for your MacBook Air to fix damaged images from family archives? Follow the link to discover old photo restoration software with powerful repair and automatic coloring tools.
Searching for a fully AI-powered photo editing program? Here's Luminar Neo. This MacBook Air photo editing program lets you effortlessly improve the overall appearance, remove noise or motion blur, enhance colors, get rid of unwanted background elements, and apply filters.
If you already have some knowledge of photo editing as well as Photoshop or Lightroom in your arsenal, you can use Luminar as a plug-in to expand your toolkit. At the same time, even with all these automatic functions, this program offers a too basic portrait editing toolset that is not suitable for fine-tuning flaws.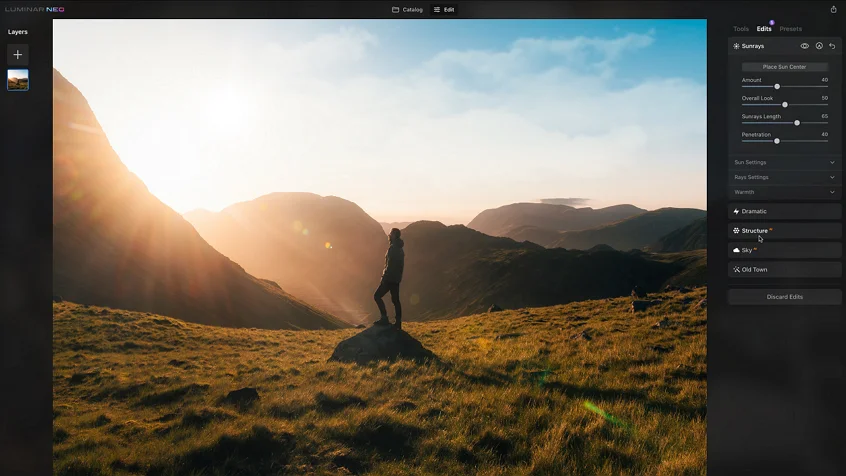 Enhance the sky automatically with Luminar
Pros:
Various AI-driven features
Support of batch editing
Can be used as a plugin
User-friendly workflow
Cons:
Quite demanding in terms of hardware
The most expensive among all listed programs
Price:
You can get a lifetime license for $179 or a subscription for either $14.95 per month or $119 per year.
Conclusion:
Luminar Neo is a good option if you want to make your photos look better in no time. However, you should consider the cost of the software, which is the highest among the programs presented, especially if you plan to edit photos infrequently. What's more, if your MacBook Air isn't new and powerful anymore, the app may not run properly.
Photomator is a MacBook Air photo editor that focuses on quickly and easily improving the overall look of your photos. With a few clicks, you can enhance your photos, remove skin flaws, clean up the image background, and denoise pictures. This program also lets you increase image resolution thanks to artificial intelligence.
If you need more precise control, there's the Color Adjustment tool, which features a rather daunting list of controllers for settings such as brightness, contrast, and exposure. You can also easily copy and paste edits between multiple pictures to create presets or edit them in bulk. Unfortunately, you can only try out this app if your MacBook Air is 2018 or newer and runs macOS Ventura.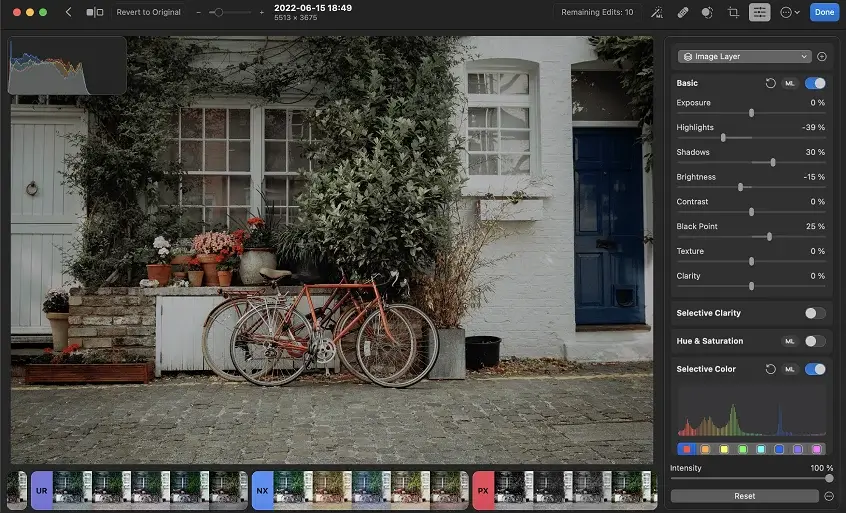 Fine-tune photos to perfection with Photomator
Pros:
Intuitive workflow
Automatic AI tools
Super Resolution feature
Cons:
Limited demo mode to 10 edits
Runs only on macOS Ventura
Price:
You can subscribe monthly for $4.99, yearly for $29.99, or purchase a lifetime license for $99.99.
Conclusion:
Choose Photomator if you're searching for feature-rich software with powerful AI tools. Except that only owners of the latest Apple laptops can try it out.
Looking for a program to create visually pleasing images? Check out an aesthetic photo editor and transform your ordinary shots into eye-catching photos.
Need a versatile tool for photo editing on your MacBook Air? Check out PhotoScape X. Besides being a photo editor, you can also use it as a GIF maker, a screen capture tool, a collage creator, an image viewer, and other things in one program.
Despite the unusual interface, the software comes with lots of user-friendly tools and a video tutorial library for convenient processing. You can crop and resize your photos, work with colors, apply filters, add frames and stickers, and more, even in bulk. There's one big drawback though: your creations will most likely suffer a loss of quality after export.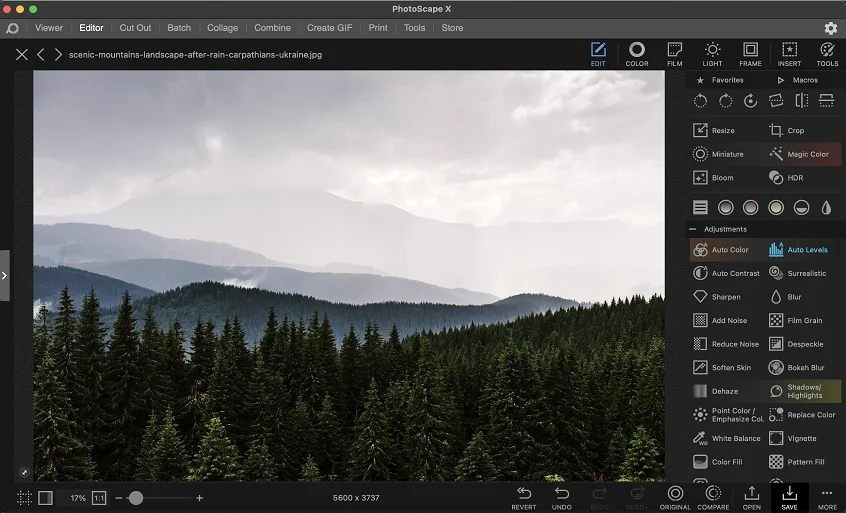 Have some fun with your photos by using PhotoScape X
Pros:
Built-in video tutorial collection
Beginner-friendly tools & features
Powerful batch processing
Cons:
Quite confusing workflow
Output quality loss
Price:
PhotoScape X is free of charge. For PhotoScape X Pro, you have to make a one-time purchase of $39.99.
Conclusion:
PhotoScape X is a great program for photography enthusiasts who already have some experience in editing. It will certainly come in handy due to its variety of tools and features. At the same time, a rather odd interface and the loss of image quality after export may be a big no for you.
Best Photo Editor for Macbook Air: Wrapping Up
What's a good photo editor to run on a MacBook Air? Now you know even the 5 best options. If you are still undecided about what software to pick, let's quickly review what we've found out. Don't want to spend a penny? Opt for pre-installed Apple Photos or download PhotoScape X for quick image enhancement. If you're on a looser budget and have the latest MacBook Air, check out Luminar Neo or Photomator for hassle-free AI edits. And if you're looking for software that strikes the perfect balance between price, editing capabilities, hardware specs, and user skill level, consider PhotoWorks.