PhotoWorks is a Photo Editor Like PicMonkey, but Even Better!
Like editing your pictures on-the-go? Then you've probably tried PicMonkey. It used to be a convenient web-based image editor you didn't need to pay for, but now it's only available upon subscription. If you're an unhappy user who can no longer access the favorite platform for free, you might be interested in finding a powerful alternative to the one-time popular service.
PhotoWorks software is worth paying attention to as it offers the same amount of editing functions and creative features, and doesn't make you pay for using it on a monthly basis. To show you that PhotoWorks is a decent replacement of PicMonkey, let's compare these two image editors side by side. Read till the end and learn which of them is the best!
Interface & Tech Support
Both apps have user-friendly interfaces and offer you convenient drag&drop options to add your photos. PicMonkey's working area will remind you of site designers and other online platforms like Canva. PhotoWorks is a bit different. The interface you see in this one-click photo enhancer keeps to a more traditional style and will be easy to navigate for Lightroom users as its logic has a lot in common with Adobe's creation.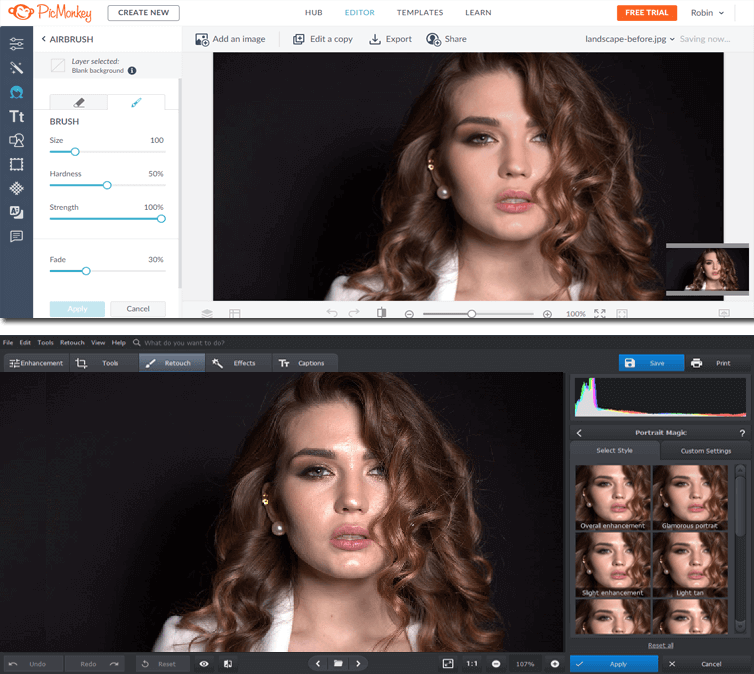 The interfaces of both programs are easy to navigate and give you instant access to all the key features
When it comes to communicating with users and teaching them effective editing techniques, PicMonkey has a Resource Center and provides you with step-by-step tutorials, as well as detailed video guides. On the official website of PhotoWorks, you can easily contact tech support and discover tons of useful video and written instructions. So far these two softwares seem to be on the same page here and guarantee their users only the best interaction.
Photo Editing Features
The core component of all programs and online services similar to PicMonkey is their photo editing functions. And we're here for a big fight as both candidates are full-packed with powerful features and creative tools. Let's compare their "weaponry" and decide which of them will make the most of your photo with less efforts on your side.
| | | |
| --- | --- | --- |
| Instant auto enhancement | | |
| Change background | | |
| Crop presets | | |
| Noise reduction | | |
| The healing brush | | |
| The clone stamp | | |
| Geometry tools | | |
| Tone mapping | | |
| Red eye remover | | |
| Digital make-up | | |
| Face sculpting | | |
| Change eye & hair color | | |
| Whiten teeth | | |
| One-click effects & filters | | |
| Text caption presets | | |
| Dodge/burn tools | | |
| Curves adjustment | | |
| Levels adjustment | | |
| Built-in graphics | MANY | FEW |
As you can see, PhotoWorks can edit pictures like PicMonkey but it is driven by smart AI technologies and can do basic adjustments without you having to manually control the changes. The program "brain" analyzes your photo, detects its problems and solves them in a single click. On the contrary, PicMonkey is a much more powerful tool for graphic design and offers hundreds of ready-made templates, textures and embellishments.
Trial Version & Pricing
If you've come here, then you hardly need to read yet another PicMonkey review. You're looking for its alternative to save yourself some money and make the process of photo editing easier and more fun. Currently, PicMonkey offers two plans - Basic ($7.99 if billed monthly and $5.99 per month if billed annually) and Pro ($8.99 per month if billed annually). The main difference between the plans is the number of images which can be stored in an account.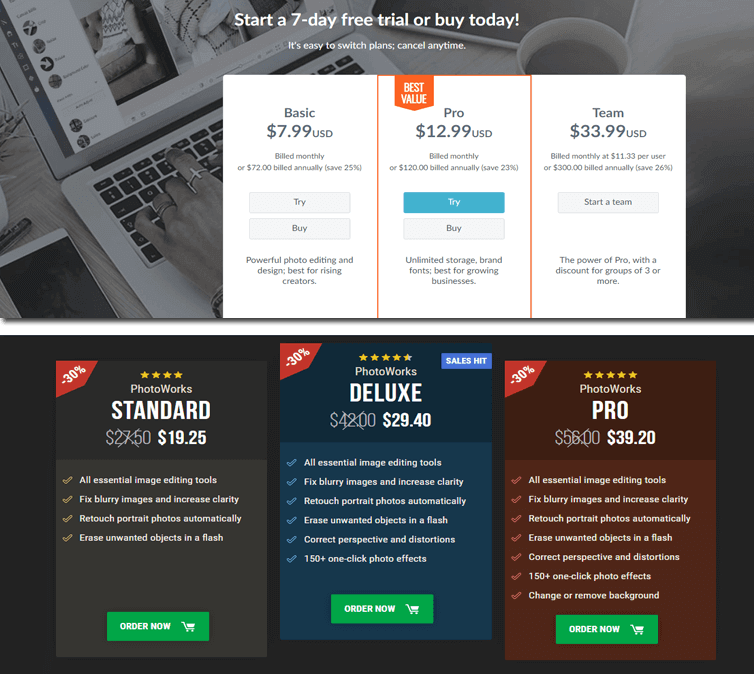 PicMonkey offers lower prices but the subscription fee is charged monthly, while PhotoWorks license is life-long
As for PhotoWorks, you can download and try it for free without any functional limitations. The trial period lasts for 5 days and that's enough for you to get the hang of the software. If you decide to buy it, there're three versions available ranging from $19.25 to $39.20. It's not so expensive as Adobe Lightroom and, what's even better, the program comes under a life-long license - you pay only once and use it as long as you want.
Available Platforms
PicMonkey can be called a real pocket-sized editor. It is available for online use as a website and comes as a mobile app for Android and iOS systems. That way you can access it whenever you want. PhotoWorks is a full-fledged photo editor that can run on Windows and Mac. It's compatible even with Windows XP, Vista, 7, 8, 10, 11 and macOS 12 or later so you can edit your pics in PhotoWorks on old computers as well.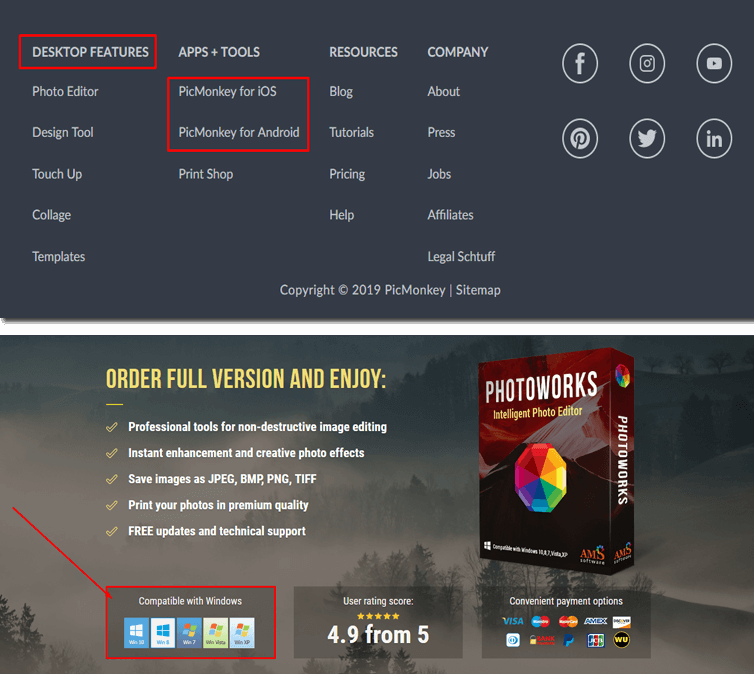 PhotoWorks is compatible with macOS 12 and later and all Windows versions; PicMonkey can be used even online
Summary
So, do we think that PhotoWorks is better than PicMonkey? It's a hard question to answer. Both programs have their undeniable pros and cons. For example, PicMonkey doesn't bind you to a computer and can be used on-the-go, while PhotoWorks can be launched only on a PC and Mac. At the same time, PhotoWorks as an alternative to PicMonkey doesn't need the Internet connection to work and won't upload your private data to hub storages where it can be stolen. Unlike other programs like PicMonkey, PhotoWorks is an AI-based program which automates many routine processes. What's more, PhotoWorks supports 400+ RAW formats and offers presets for their instant editing.
It's up to you to choose the best replacement for PicMonkey you used to work in. Want to try several programs before making up your mind? Check out more PicMonkey alternatives. Ready to switch to PC or Mac software? Get started with PhotoWorks. It's a powerful image editor with lots of useful and even unique features, like adding a different background to a photo, applying Portrait Magic or Gradient Filter, and is definitely worth trying!