How to Put a Black Background on a Picture in No Time
Want to add a black background to give your photo a dramatic effect? Or need to conceal unwanted objects in a resume or business page photo? No problem! Regardless of the reasons, changing the background isn't a big deal - you don't need any previous experience to do that. We're here to show you how to add a black background to a photo in the easiest ways possible.
For starters, we'll share a couple of tips on how to make a black background while taking photographs. Then you'll learn how to add a black background in a photo editing program to recreate the effect in the pictures you already have. For this job, we're going to use PhotoWorks, powerful software for beginners and pros. Once you launch it, you'll see a user-friendly interface offering all kinds of tools for manual and automatic adjustments - cropping, portrait retouching, sky replacement, and even batch processing.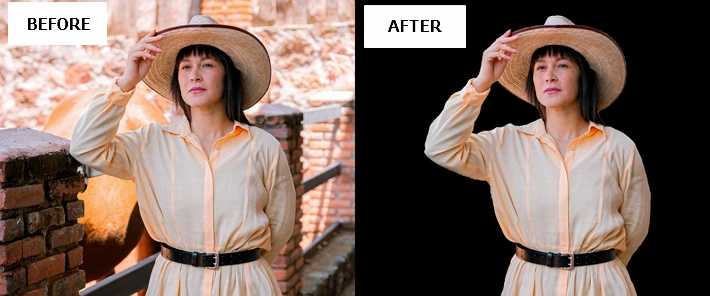 Turn the background black in a few clicks
We'll also introduce you to alternative photo editors for other operating systems. So once you're through the guide, you will have a bulletproof way to give your pictures a black background.
Believe us, you've got nothing to worry about - you will master these techniques in no time. But before we talk about how to make the background black in post-production, let's reveal a couple of neat tricks to do that while shooting your pictures.
How to Black Out the Background on a Photo While Shooting
To boost your photography efficiency, think about post-production before and while taking your photos. Imagine what pictures you want and what you can do to achieve the desired effect. There are lots of tricks that will help you save time you'd have to spend sitting in front of your computer. You don't have to go through the process of trial and error. Just read the tips we gathered here on how to take shots with a black background and put them into practice the next time you shoot.
Use black backdrops. This way is one of the simplest and cheapest - you can either order backdrops online or use a plain black or off-black fabric from home, e.g., a bedsheet. Black backgrounds are perfect for studio photoshoots, but you can also use them outdoors. However, keep in mind that natural light is hard to regulate, and if your backdrop is crumpled, this will be clearly visible in the photo.
Find shadowy areas. To imitate a black picture background, find a shadowy location. It might be under an awning or behind a building. However, ensure there is enough contrast between the model and the background. You can add contrast by putting the object under the light source and using artificial lighting. For this purpose, we recommend using a camera flash.
Adjust the aperture. For achieving a black background, photo editing can become easier if you adjust your camera settings properly. The aperture is the first parameter to change. Decrease its value to make it narrower and minimize the amount of light perceived by the lens. We recommend you experiment - set the aperture value as f/5.6 and take a few shots to see the result. If it's not dark enough, reduce the aperture till you achieve the wanted effect.
Set the right shutter speed. Depending on the shutter speed value, the time the shutter is open, you'll take either a blurry or still photo. But this camera setting also affects the amount of light - the longer the shutter is open, the more light hits the sensor. In your case, you'll need to increase the shutter speed so that the sensor receives less light.
Change the ISO value. Another key camera setting you should take care of is the ISO, i.e. camera's sensitivity to light. With the correct ISO value, you can easily black out the background. Just set it with as little quality loss as possible, e.g. 100, 50, or lower.
Now you know some tips that will help you imitate a dark backdrop or at least make your image less bright and ease your further post-production a slight. So let's see how you can put a black background on a photo already taken.
How to Add a Black Background to a Photo in Post-Production
Inserting a black background into a picture is not a big deal if you have an AI-driven photo editor at your disposal. One of the best programs of this type is PhotoWorks, a user-friendly and expansive image editor. It lets you quickly cut out unwanted people and objects, overlay images, and a lot more. Background replacement is especially easy, thanks to the program's content-aware engine and customizable brushes. Sounds fascinating? Then follow these simple steps to add a black background to photos with this software.
Step 1. Install and Launch the Program
Let's equip you with the handy photo editor first. Hit the button below to download the installation file for free. Start the installation process and then open PhotoWorks on your PC or Mac.
Step 2. Import Your Photo
To add your image, click Open Photo and choose the desired picture or simply drag and drop your file into the startup screen. If you've added the wrong picture, or want to move on to editing another photo, go to File and click Open Photo to select it. You can also browse the contents of the source folder of your initial image using the Folder icon in the bottom bar.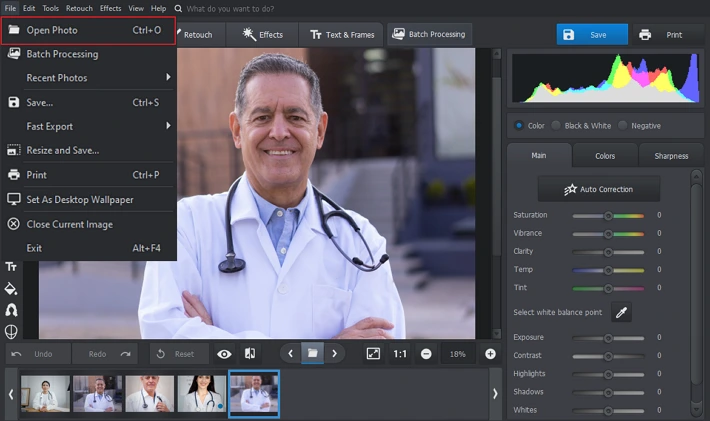 Upload the photo you're going to edit
Step 3. Remove the Original Background
Now open the Tools tab and select Change Background. In the tool's panel, adjust the selection brushes - change the brush size and blur its border. Paint over the area you want to keep with the green Object Brush. Switch to the red Background Brush and stroke over the sections you want to turn black. There's no need to be precise - the program automatically detects the edges. Click Next to see the result and fix any missteps.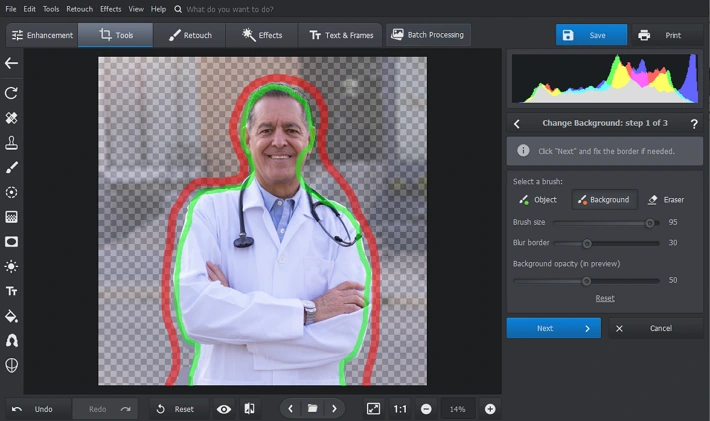 Separate the object from the background
Step 4. Put a Black Background on a Picture
Now your object has a transparent backdrop. How to make the background black now? Click Next and select the black color from the editor's color palette. To make the replacement look more natural, play with the Adapt Colors to the Background, Blur Edge, and Extend Edge sliders. Apply the changes. Feel free to use other capabilities of PhotoWorks - color correct your picture, retouch the model's skin, and apply one of the countless effects.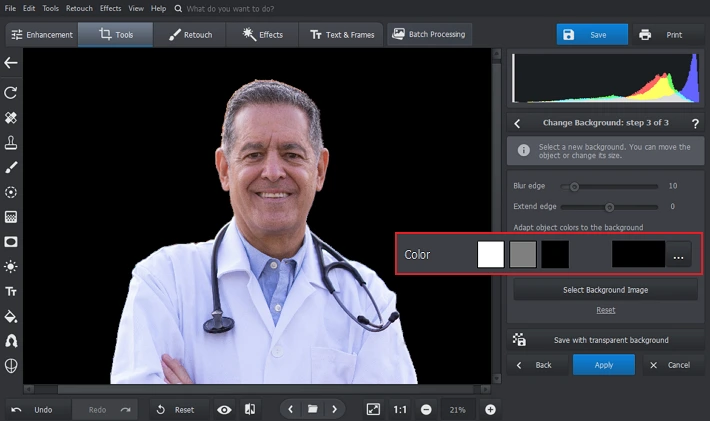 Apply a black background to your pic with the built-in color palette
Step 5. Export the Edited Photograph
Once you're done, save your edited photo - just click the Save button, choose the destination folder, select the file format, e.g., PNG, JPEG, TIFF or BMP, and set the desired quality.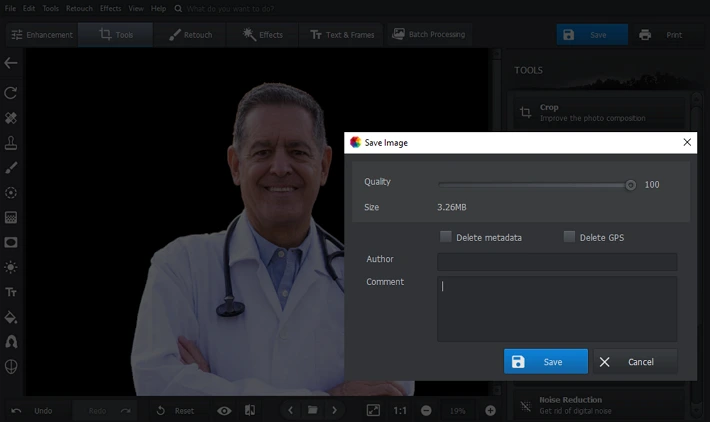 Save the new picture on your computer
To make your photos flawless, try other features of this black background photo editor. For example, PhotoWorks will help you effortlessly blur a part of an image to conceal unwanted objects or create a dreamy effect in your pictures. In case a photo lost sharpness because of the changes in aperture and shutter speed, use the program to make a picture less blurry. Finally, PhotoWorks will come in handy for protecting your copyrights - make a watermark for your photos in the software and save it on your computer to use on future projects.
Put a Black Background on Your Photos: Other Methods
In case you want to try more options, here are a few black background photo editors worth checking out. Let's begin with an alternative for Windows and Mac users - Photoshop. It's classic software for advanced photo editing that allows you to resize photos, color correct images, superimpose pictures, add a black background, and more. However, a regular user might find it too complicated and rather costly. Besides, Photoshop is frequently updated and requires a powerful computer to function well. But if you're a professional photographer or you're ready to invest time and money, it will suit you well.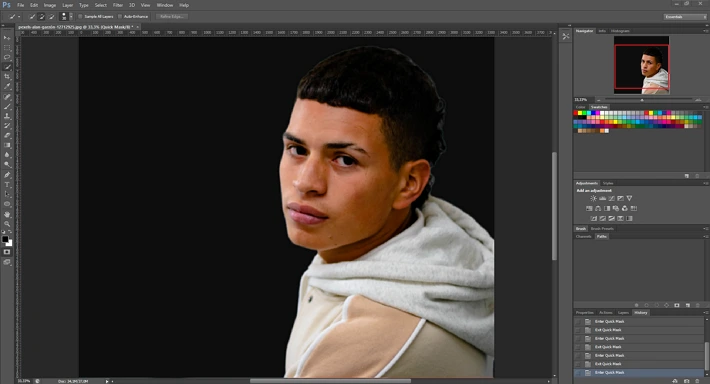 Make the background black on your Mac with Adobe Photoshop
Don't mind Photoshop's packed interface and technical requirements, but want to avoid spending extra money? Try GIMP, a free photo editor available for Linux, Mac, and Windows. The program offers similar functionality as its Adobe analog and supports many plug-ins and add-ons. But even though GIMP is pretty lightweight, users often complain about lags. If you like the software, read a detailed GIMP tutorial to find out how to put a black background on photos in this program.
Prefer editing photos on the go? There are tons of mobile image enhancers on the market. Our favorite iOS app to blackout the background of a picture is Background Editor. It has a wide range of tools for changing the backdrop - remove, blur, and replace it with a black-colored one. For the Android squad, we recommend using Simple Background Changer. This app allows you to erase the original backdrop and replace it with another. But in the free version, you can export your images only with a watermark.
Conclusion
We've shown you how to add a black background to a picture using several computer and mobile programs. You've discovered options for any taste and budget. Now you're ready to start your photo editing journey in this niche. But if you haven't decided what program to use yet, consider the reliable PhotoWorks. It is affordable, guarantees a smooth workflow thanks to its content-aware approach, and is helpful for users of any skill level. Either way, the software offers a free trial. So why not give it a shot?
PhotoWorks
Need to Add a Black Background to Your Photo?
Get the task done in mere minutes with PhotoWorks
TOP