How to Superimpose Pictures Without Photoshop
Blending two images together is a fun way to showcase your creativity or sense of humor. But some people rarely try their hand at it, thinking that superimposing images is hard and requires an expert level of Photoshop knowledge. Turns out there's no need to use the Adobe giant to create artwork out of several pictures. Well, what a relief.
Today, we'll show you how to superimpose images on Mac and Windows using PhotoWorks, a convenient photo editor. While it is somewhat similar to Photoshop in terms of editing tools arsenal, this AI-driven software is a lot easier to navigate and to master. And in order to bring you the fullest information, we'll also have a look at how to overlap images using other methods. So let's get down to business.
Superimpose two images to create a lovely artwork
How to Superimpose Photos Step by Step
Now let's have a closer look at how to use PhotoWorks for blending images together. You'll learn how to create surreal posters, wholesome montages, or hilarious photo pranks.
Step 1. Download PhotoWorks
First off, start a free trial of this superimposing software and install it to your PC or Mac.
Step 2. Open the Base Picture
Open the pic that will serve as the background for your montage. You can either click Open Photo or drag the pic from a folder.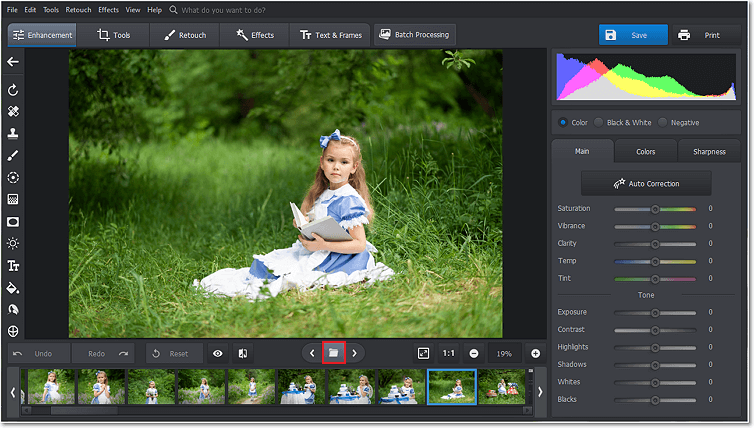 Click the folder icon at the bottom to navigate inside your current folder
Step 3. Pick the Image Overlay Tool
Switch to the Tools tab and choose Image Overlay. You'll have the option to add a clipart from the software library or use any image of your choosing.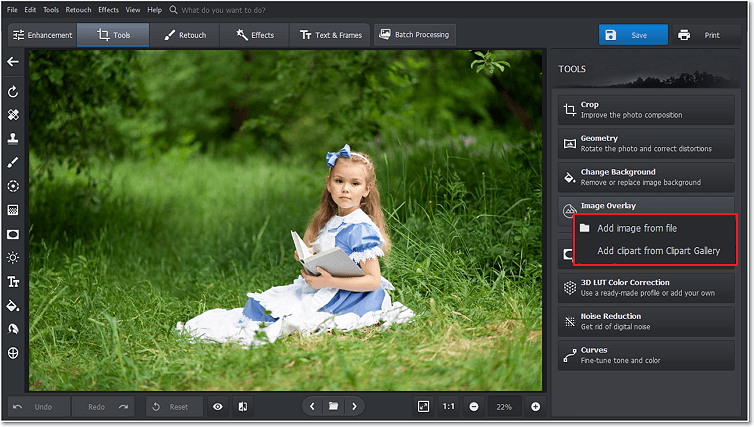 Let's superimpose a couple of companions for the little lady
Step 4. Superimpose Two Images
Now, add the top picture to your background. Move the layer around, rotate and resize it to realize your concept.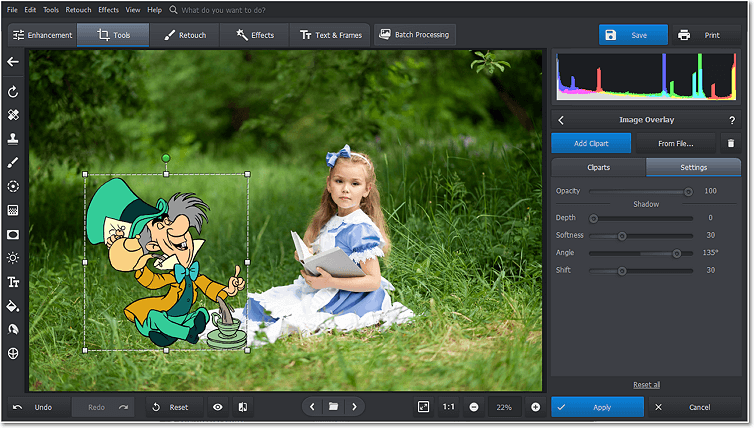 Now let's get this tea party started
Step 5. Save Your Creation
The final step is to save your artwork. Just hit the big blue button at the top and export the file. And you're done!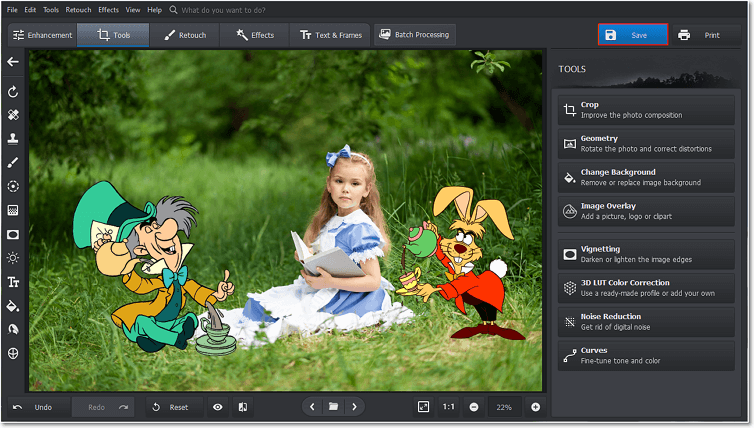 Save your pic as PNG, JPEG, or BMP
Prefer a video tutorial to a written guide? Then watch this short video on how to superimpose a picture onto another using PhotoWorks. Hopefully, you'll not only get the gist of the technique, but will also get a pinch of inspiration.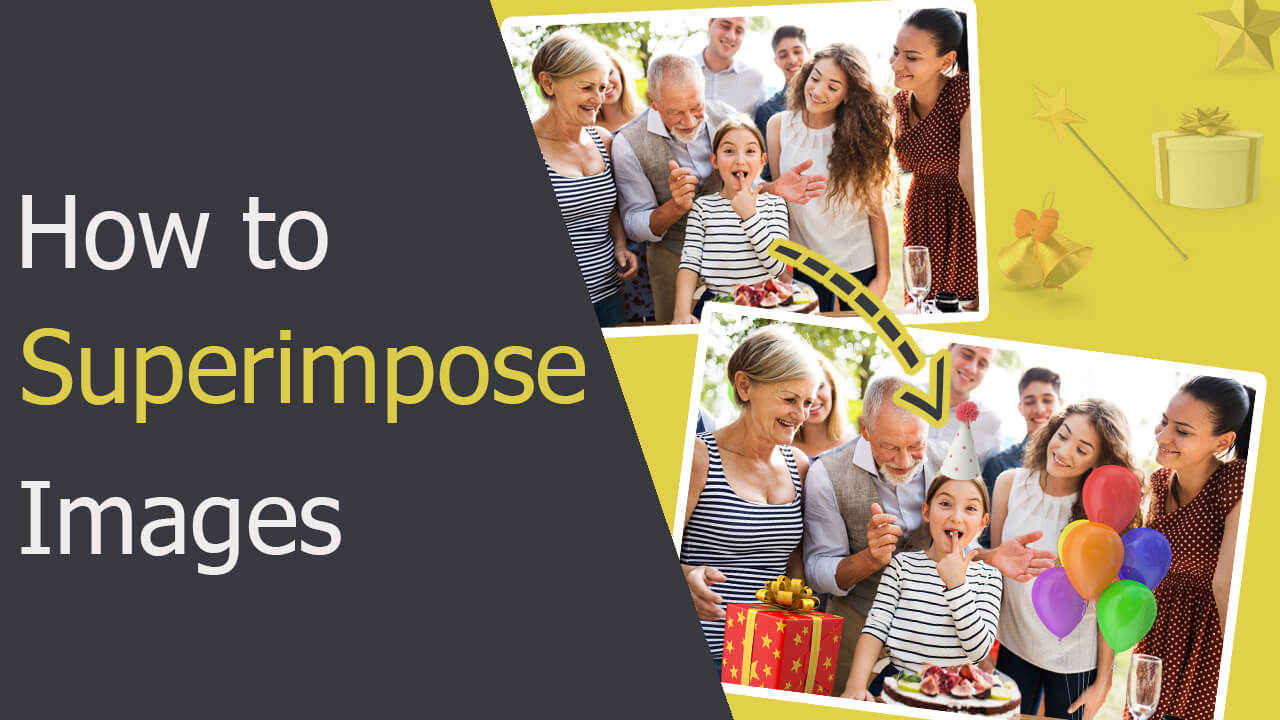 You see - superimposing one image over another with this smart photo editor is a piece of cake. Want to know how else you can use PhotoWorks to add an artistic touch to your pics? Let's have a closer look then.
What Else You Can Do with PhotoWorks:
Other Ways to Superimpose Pictures Without Photoshop
Don't feel like PhotoWorks would suit you as a tool? It's fine considering that we know a few more ways of superimposing photographs. Now, we'll share them with you.
Let's start with free ways. Whether you are a Mac or PC user, go with GIMP. This superimpose photo editor has features similar to Photoshop with one significant distinction - GIMP is completely free. The image overlapping process is relatively simple. You need to open the base image, then open the top pic, copy it and finally paste it over the background. If needed, you can fiddle with the top layer in terms of size, position, and opacity. MS Word offers a similar way to superimpose one image on another - just paste both images onto the page, erase the background of the top layer, then overlap the two pics.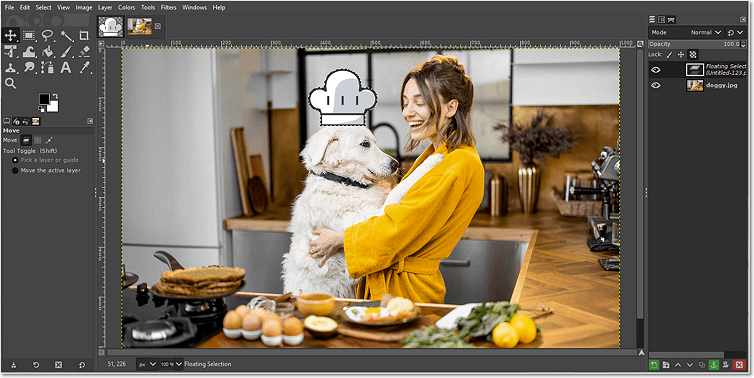 Using GIMP to create an artwork
If you prefer to do everything with your smartphone, there are ways to superimpose images for you as well. In case you are an Apple user, consider going with the Superimpose+ application. With it, you can easily add one photo to another - all of this in a few strokes and taps. If you have an Android-based phone, then go with Superimpose Pictures. This little app allows you to blend two images into a surreal-looking artwork in just a couple taps.
And this is it - now you know how to superimpose a picture onto another in a few simple ways. No matter what method you choose, make sure that you have enough ideas ready. Because once you start creating such photo montages, there is no way of knowing how to stop. Just trust us.