How to Remove Shadows from Pictures - 4 Best Ways in 2023
Shooting with natural light, beginner photographers can find themselves in a tight situation as they need to take into account the sun position and its impact on the photo subject. Of course, a game of shadows is the desired effect in artistic photography but in most cases it is an annoying mistake that ruins an otherwise great shot. The shadow of you holding a camera, dark shades on the face of the person you shot or undesired dark areas on the background can still be erased in post production.
So how to get rid of shadows in pictures if you couldn't avoid them? The best way is to brighten dark images taken at night and remove shadows from the person's face and other objects using special software. But what program to pick? Continue reading our article and discover 4 different yet easy-to-follow ways for removing shadows on Windows, Mac, mobile, and online.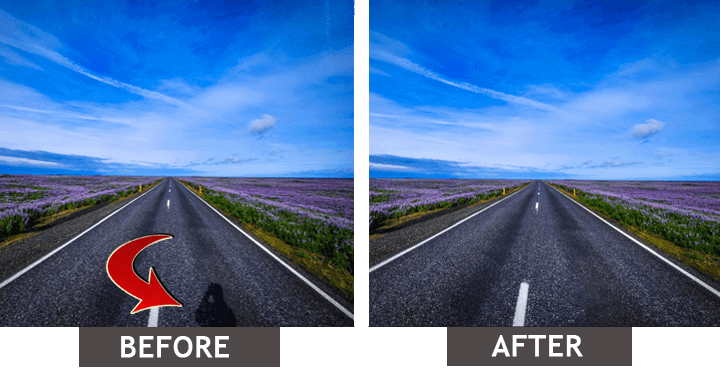 Removing shadow from image: Before-After
Way 1: Remove shadows in a brush stroke with PhotoWorks
Looking for an easy way to remove the nasty shadows? If you are just a beginner in photo editing, then check out PhotoWorks. This software is extremely user-friendly, with a vast toolkit suitable for almost any task. You don't have to work with layers or selections - just pick a convenient brush and make a stroke. PhotoWorks will do all the magic by itself. Let's jump straight to the steps:
Step 1. Get Your Copy of PhotoWorks
Download PhotoWorks installation package. Launch the .exe file and follow all the instructions to install this photo editor to your computer. Click the icon on the desktop and open the program.
Step 2. Choose the Healing Brush Tool
Add the photo you want to touch up to the app and switch to the Retouch tab. Pick the Healing Brush to save your picture. Its smart image processing technology will easily blend all kinds of imperfections into the rest of your picture.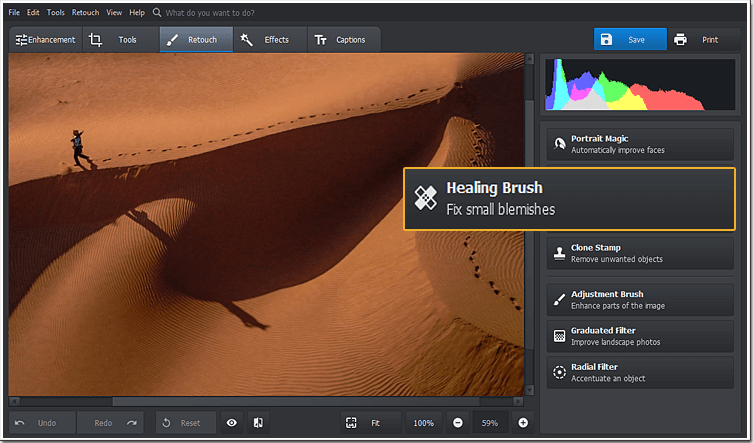 The Healing Brush is a universal remover of unwanted objects
Step 3. Remove a Shadow from Your Photo
Adjust the brush size to edit only the chosen areas - the smaller the brush is, the more exact changes you can make. Paint over the shadow to remove it. Feather and Opacity help you soften the edges of the effect applied. To maintain the sand texture here, use less feathering and decrease the Opacity setting.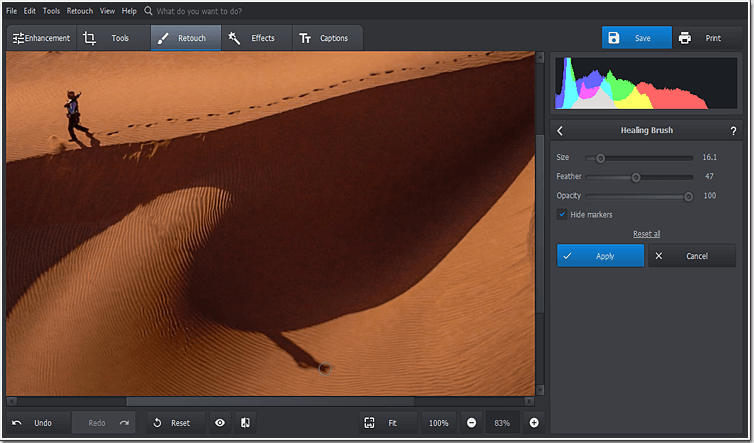 Carefully paint over the shadow you need to delete
Step 4. Make Sure the Shadow is Gone
Once the shadow is successfully removed, click the Show Original or Before / After button to compare the original image with the one edited in the program. If you're satisfied with the result, click Save and to keep this renewed image as a JPEG or PNG file.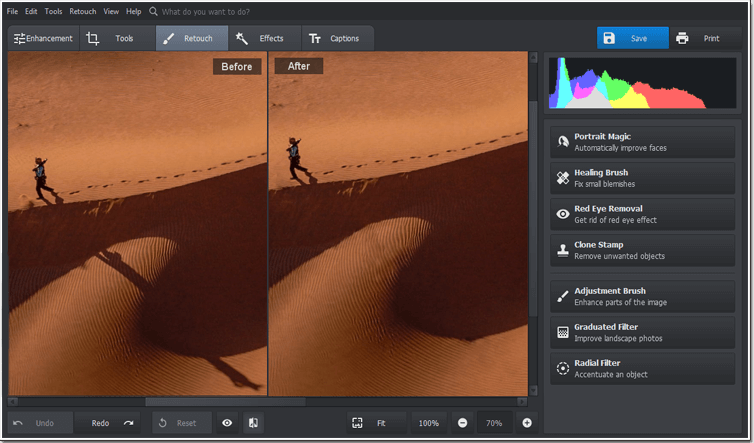 See the difference between the original pic and the edited one
Prefer watching a video guide? Check out this video on how to get rid of shadows in pictures:
Looking for an easy-to-use shadow remover? Try PhotoWorks for free and get rid of shadows on your photos in mere minutes:
With PhotoWorks, removing shadows from photos on Mac and Windows is as simple as ABC but this powerful software is capable of editing your images in a number of different ways - fix too bright pictures, make a photo background transparent, straighten wonky lines, conceal skin blemishes on your portraits, remove unwanted objects and add captions to photos as a finishing touch.
Way 2: Get rid of shadows with ease in Photoshop
If you are skilled in image editing, you can try to remove a shadow from photo in Photoshop. It has a steep learning curve, however, once you master it to a certain level, you will be able to do pretty much everything with your photos. Let's see how you can deal with dark shadows using Photoshop.
Enable Camera Raw Filter. If you use Photoshop CC, you can select it from Filters.
Select the shadow area. Pick the Adjustment brush. Then switch on the Auto Mask. Now paint over the shasow you want to remove. Don't forget to check the Mask box too, so you can see the selection.
Balance the colors in the shadow area. First, uncheck the Mask box - you will be able to see the changes then. Now tweak the color balance and try matching the shadow area with the rest of the picture. Pay the closest attention to Brigthness and Temperature.
Conceal the selection edges. After fixing the colors, there can be some lines and traces near the edges. Equip the Healing Brush and paint over them to quickly get rid of the spots. Once you're satisfied with the result, save your picture.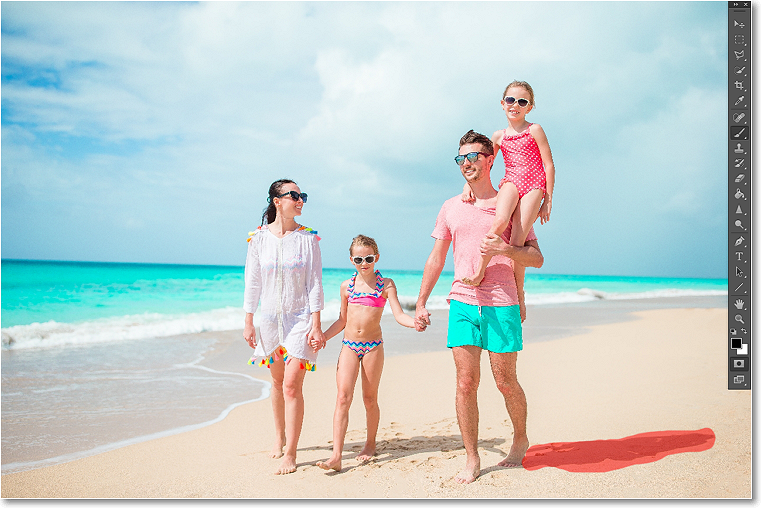 Use the mask to get rid of shadows in Photoshop
Way 3: Edit dark shadows out of your pics online
Don't want to install additional software to your computer? Then use an online image editor to remove a shadow from your picture. For example, LunaPic. This is a simple web-based picture editor that you can access from your browser whenever you need. Though it looks simple at the first glance, one can do lots of things using this service, including shadow removal. Let's see how you can do that with LunaPic.
Upload your photo. Click upload and select the photo you want to edit. You can also upload an image directly using URL.
Pick the Cut Out tool. Click the scissors icon in the left-hand toolbar.
Select the shadow for removal. Select the shadow you want to remove. You don't have to be super precise.
Remove the shadow automatically. Once you select the area, click Remove and Inpaint. The program will conceal the shadow area for you. Now just save your photo.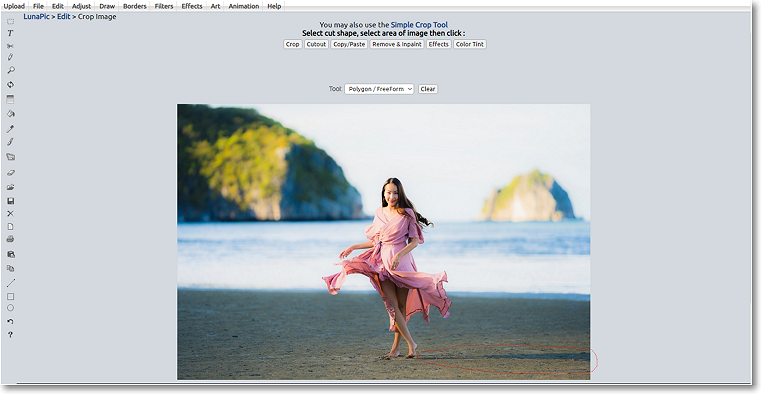 Select and remove a shadow with the Cut Out tool
Way 4: Fix shadows on the go with a mobile app
Enjoy taking photos on your mobile phone? If you are using iPhone, then you can take shadows out of pictures with Shadow Remover Photo Editor. This app is made specially for editing picture background and adjusting brightness with contrast. The complete beginners in image enhancement can use automatic mode, where the app sets all the settings on its own. Decided to try this app? Here are the steps for Shadow Remover Photo Editor:
Enable Background Shadow Remover. Select this tool by tapping on its icon in the bottom left corner.
Select the shadow falling direction. Pick the direction in which the shadow falls and eqiup a special brush.
Paint over the shadow. Use the brush to paint over the shadow area. You can zoom in and out the picture, as well as change the brush size to achieve the best result. Don't forget to save or share your photo online once you're done with the shadows.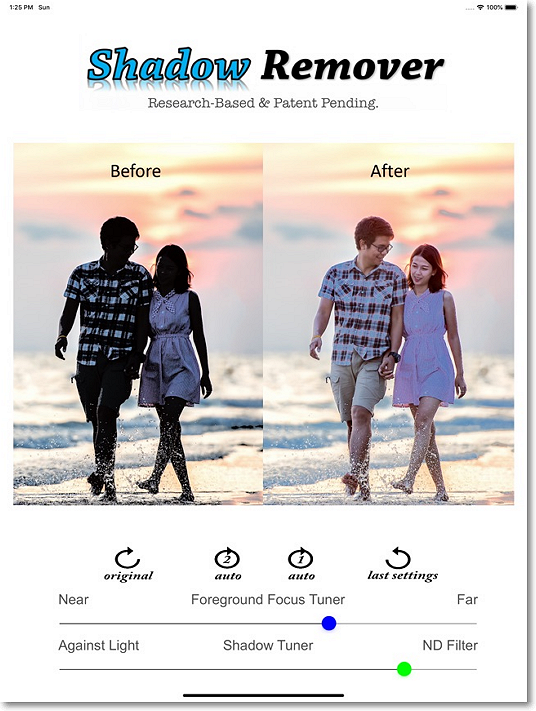 If you just want to make the shadows lighter, drag the sliders to right
Frequently Asked Questions
Can you erase background shadow from a photo?



Yes, you can. Use a special brush to get rid of extra shadows in the background.

Is it possible to remove a shadow from a face?



Yes, it is. Use photo retouching software to remove shadows from faces.

Get a user-friendly photo retouching software

Can you get rid of harsh shadows in a photo?



It's possible. There are several ways to get rid of pitch black shadows. Check the link below to learn the quick one.

How do you lighten shadows in photos?



There are different ways depending on your time and skill.
Now you just need to choose which way suits you the most. Think about your goal, estimate your image enhacement skill and decide what device you want to use. Overall, if you edit your photos on Windows or Mac, it's better to opt for PhotoWorks. It has all the necessary tools, yet this program is very easy to use: you won't spend much time on editing your images. If you prefer taking pictures with your phone, then look for a special app that will be convenient and rather powerful at the same time. No matter what way you'll pick, we hope this guide will help you achieve the best results!