How to Put Speech Bubbles on Pictures Quickly and Easily
Want to give your photo a comic book feel or show the thoughts of a person or pet in a funny way? Add speech bubbles to your pictures to design hilarious content! You might enjoy the editing process just as much as the final result, so you should definitely try it yourself. But how do you add a text bubble to a photo?
There's a simple way to insert remarks into a picture - using PhotoWorks, a lightweight photo editor suitable for beginners and seasoned photographers. We'll show you how to add a speech bubble to a photo step by step using this intuitive software, so you can try the guidelines right away. We'll also talk about some other ways you might like, including user-friendly online services and mobile apps available for iOS and Android. So, let's get started!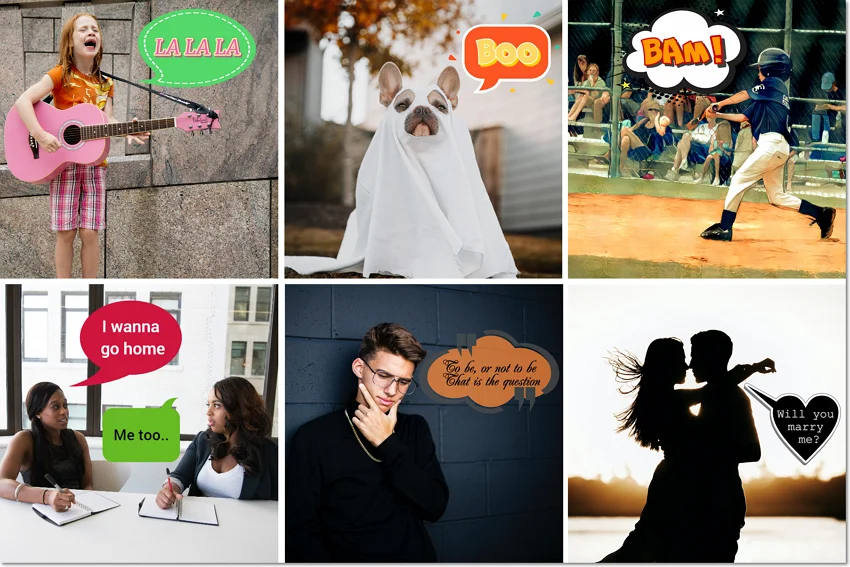 Express your thoughts or amuse your friends with funny pictures
How to Add a Speech Bubble to a Photo: Step-by-Step Guide
Now, let's take a look at how you can use PhotoWorks. It offers a huge library of speech balloon stickers and 100+ text styles to match any mood. To try them out, follow the simple steps below:
Step 1. Install PhotoWorks on a Computer
First, download the installation file of the photo editor to your computer. Follow the instructions of the setup wizard to install the speech bubble creator on your PC or Mac. Launch the program and start the free trial.
Step 2. Import Your Picture in the Photo Editor
Now, run the software and drag and drop the desired image to the startup screen. You can also add a picture by clicking Open Photo and navigating to the file.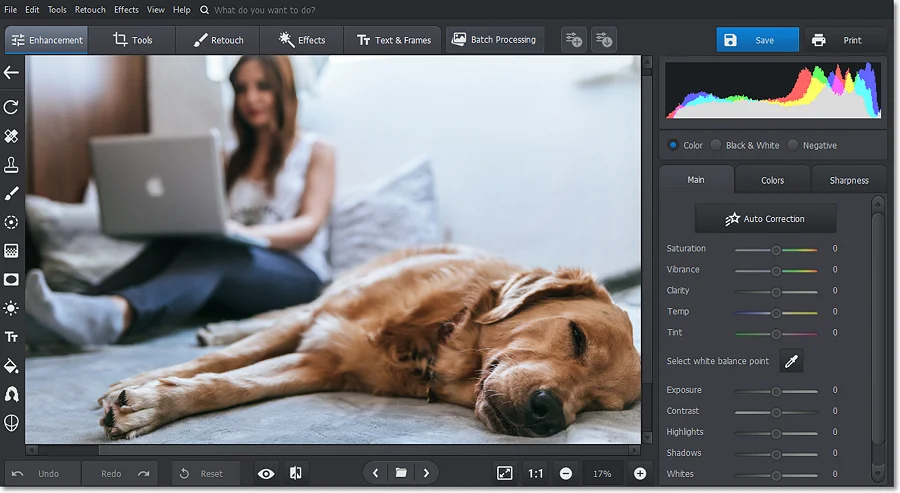 Add a photo for inserting a sticker of a speech bubble
Step 3. Add a Thought Bubble to Your Photo
Switch to the Text & Frames tab and select Stickers. Browse through the collection and pick the option that suits your picture better. Then adjust the opacity with a slider and change the size and position of the speech bubble.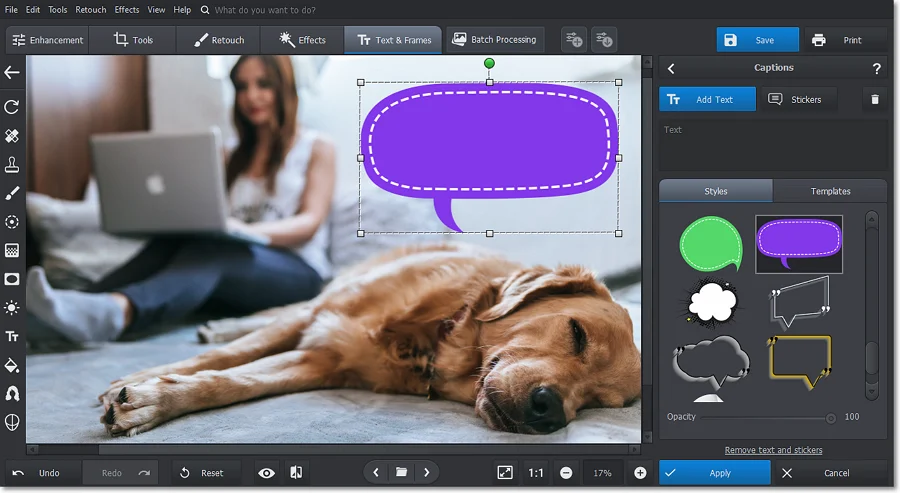 Select a speech bubble that matches your image
Step 4. Type Some Text in the Bubble
Click Add Text and choose one of 100+ customizable text styles from the caption bubble maker's collection. Type in your text and use the controls to make the caption perfectly fit the speech bubble.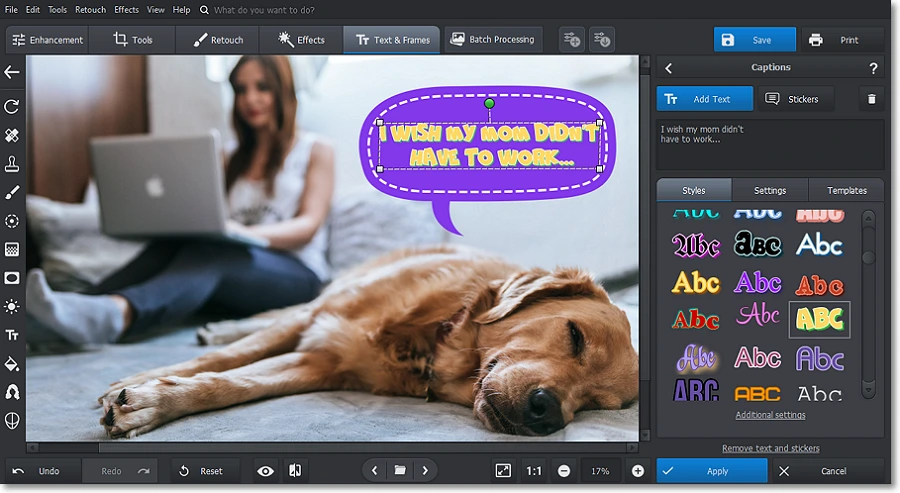 Write the text and customize it to your liking
Step 5. Save the Finished Picture
When you're done, hit the Save button. Then adjust the export settings and select the destination folder.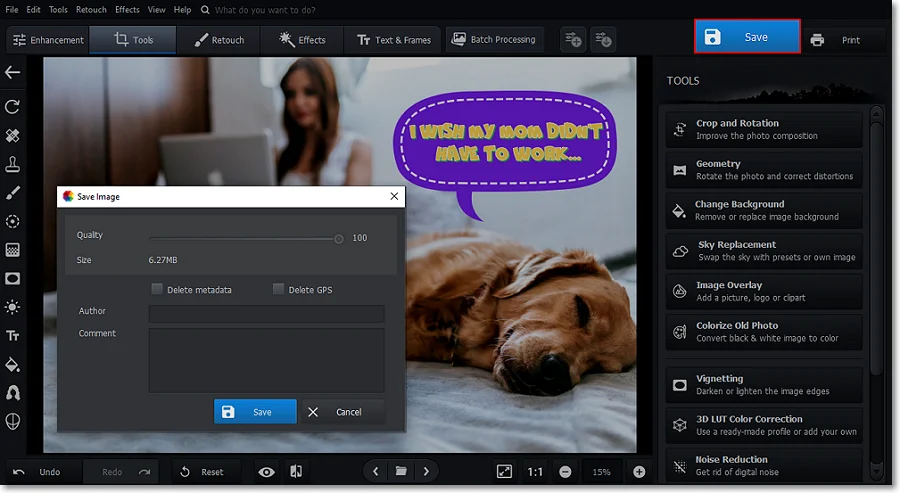 Save the final result in top quality
This is how you add speech bubbles to pictures with PhotoWorks! As you can see, you can insert thought bubbles in mere seconds even if you have zero experience in photo editing. But the functions of the software are not confined to creating funky text captions! Let's check out other tools of this photo editor to get the most out of your pictures.
What Else You Can Do with PhotoWorks:
Other Ways to Add a Chat Bubble to a Picture
If you'd like to use a speech bubble photo editor other than a desktop program, then you should take a look at the alternative options we'll share with you. For example, BeFunky is a web-based service that allows you to add thought bubbles to photos on any device with a stable Internet connection. On this platform, you can also cartoonize photos to give them the American comic book style and complete the idea with a matching bubble.
If you find this platform inconvenient, you can try another online tool - Kapwing. This program lets you put speech bubbles on both pictures and videos. But keep in mind that you need a subscription to remove watermarks from your content.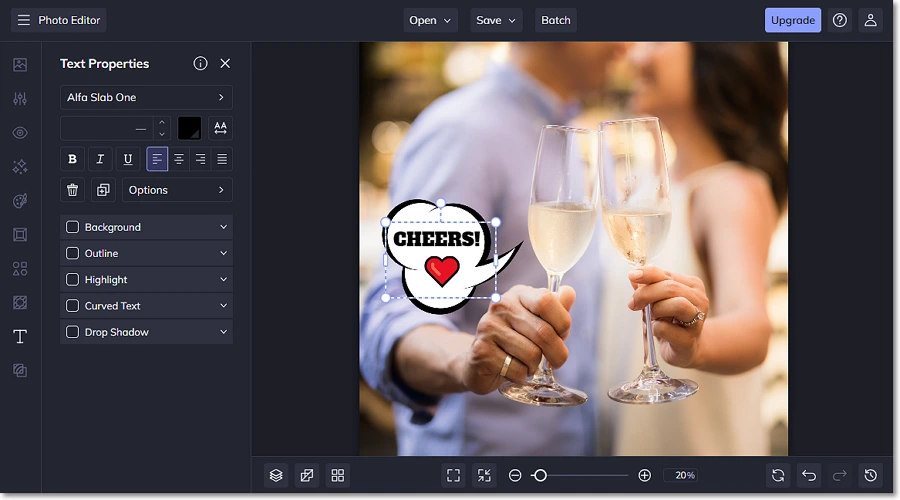 Generate speech bubbles for pictures within your browser
To add word bubbles to photos on the go, don't hesitate to try a handy mobile app, such as Bubble. This program is compatible with iOS devices, so you can download the lightweight photo editor from the App Store. Here, you'll find over 100 bubble styles and fonts for your text. However, some users have complained that the free version has lots of annoying ads that can only be removed with a paid subscription.
Another mobile app you can check out is Speech Bubbles for Photos. This is the right option if you're looking for a simple tool with various bubble designs, stickers, and fonts to choose from. Unfortunately, Speech Bubbles for Photos is only available in Google Play, so it's mainly suitable for Android users.
This is it! As you can see, inserting speech balloons into a picture is no big deal, and you can do it without a hassle. We've shown you how to add a thought bubble to a photo using PhotoWorks, a beginner-friendly program for quick image manipulations and advanced photo montage. Whether you want to create a comic-styled image or simply express your thoughts, you can do it with this software in seconds. We also introduced several apps for online and mobile editing. Now, grab the tool you prefer and enjoy the art of adding bubbles to photos.