How to Make a Photo Look Vintage on a PC, Mac and Smartphone
In the last dozen of years, retro style has been gaining huge popularity in photography. No wonder why people are getting so keen on old style photos: a lovely image, soft shining, warm colors, old-fashioned furniture, vintage cars and out-of-date clothes - all these will always evoke some heartfelt nostalgic feelings. Nowadays, you don't have to use a film camera or adjust your digital camera settings in order to get vintage images. It's possible to age pictures using photo editors and mobile apps. Read this guide to find out how to make an image look vintage on your PC, Mac, and mobile phone.
How to Achieve a Retro Look?
You can apply a genuine vintage look to your photos by adding photo filters to them: make a photo black & white or decrease its saturation, try the sepia or vignette effect, create archive or faded photo effects.
How to Make Photos Look Vintage on Your Computer
Want to learn how to make your pictures look awful in a good way? Those stylish scratches, vignettes and muted colors add some vintage warmth to your images. Of course, you could try Photoshop to achieve the effect but it would take you to a complicated photo manipulation. Imagine that you can do it in just a mouse click without the need to dive into technical details! Good news for you: making photos look vintage in no time has become possible with PhotoWorks software.
Hard to believe? But it's true - the program comes with a large set of instant photo filters that you can apply to your images and give them a vintage look. Now you are just 5 easy steps away from it. Follow the instruction below:
Step 1. Start PhotoWorks
Download PhotoWorks from its official website, run the program and import the photograph you want to age.
Step 2. Make Color & Light Correction
If the image is a bit dark, it can get even darker while you are editing it. To avoid it, use the auto correction option in the Enhancement tab. PhotoWorks will apply the best settings of light and color possible.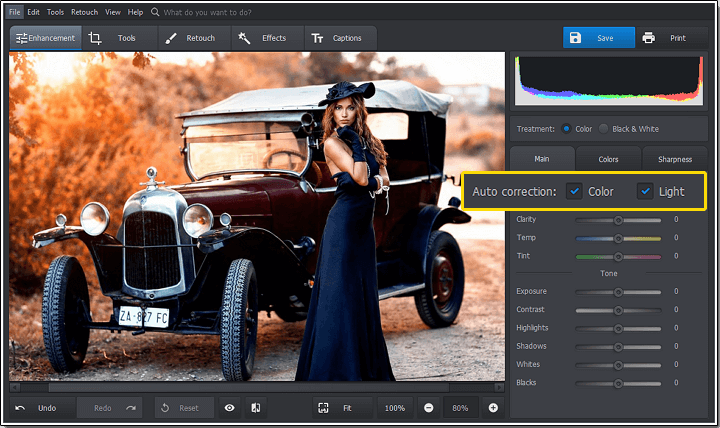 Use the auto correction option to improve the image quality
Step 3. Select a One-Click Effect
Switch to the Effects tab and pick Vintage photo effects from the drop-down list. You will see a selection of various vintage filters: a faded photo, an old photo, an archive photo and other popular retro filters.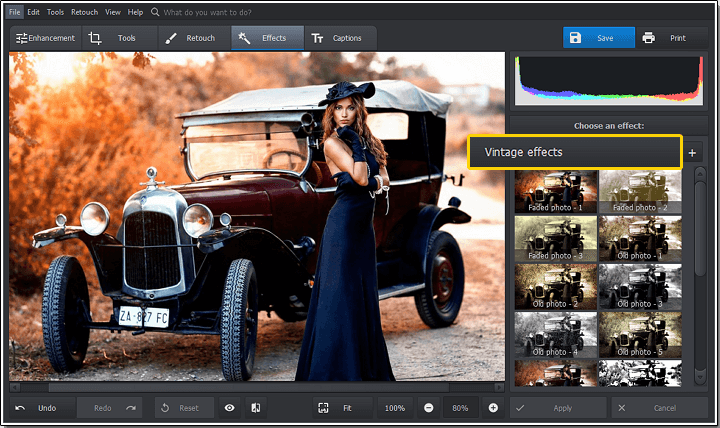 Select a vintage photo filter
Step 4. Set the Effect Amount
To preview the effect, just click on it - it will be applied to the image. You can adjust the effect amount by dragging the slider under your picture in and out.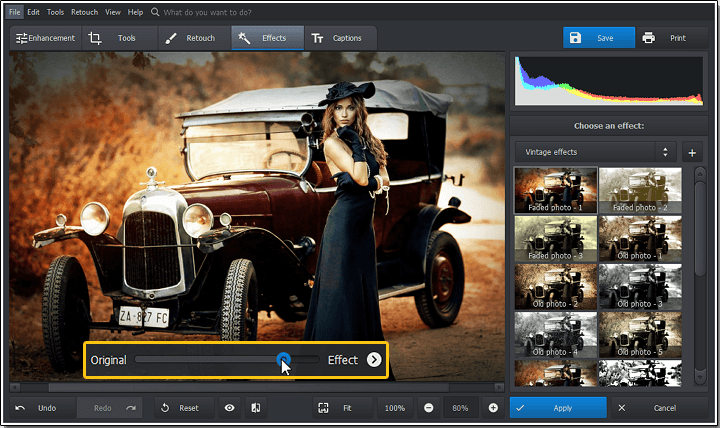 Choose the intensity grade of the selected filter
Step 5. Save the Image
When you've selected the effect that suits your fancy, click Apply and save the edited pic.
Before
After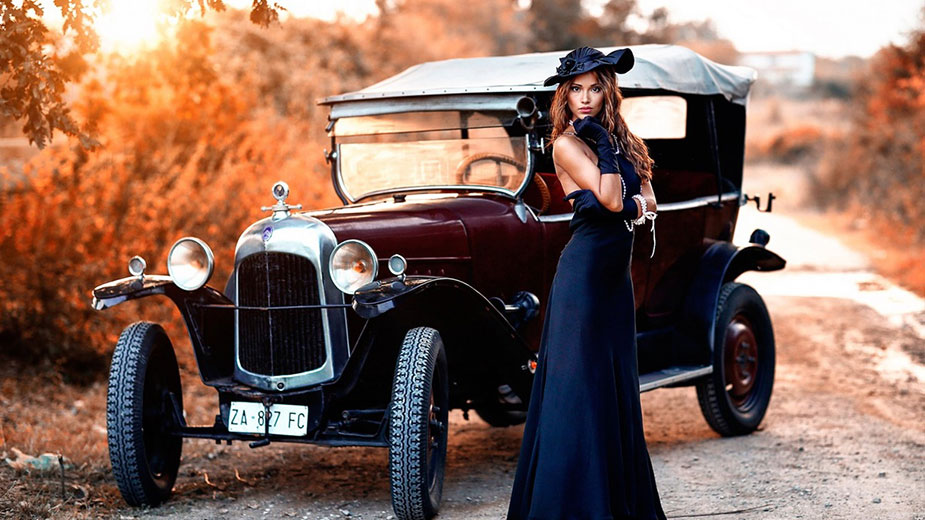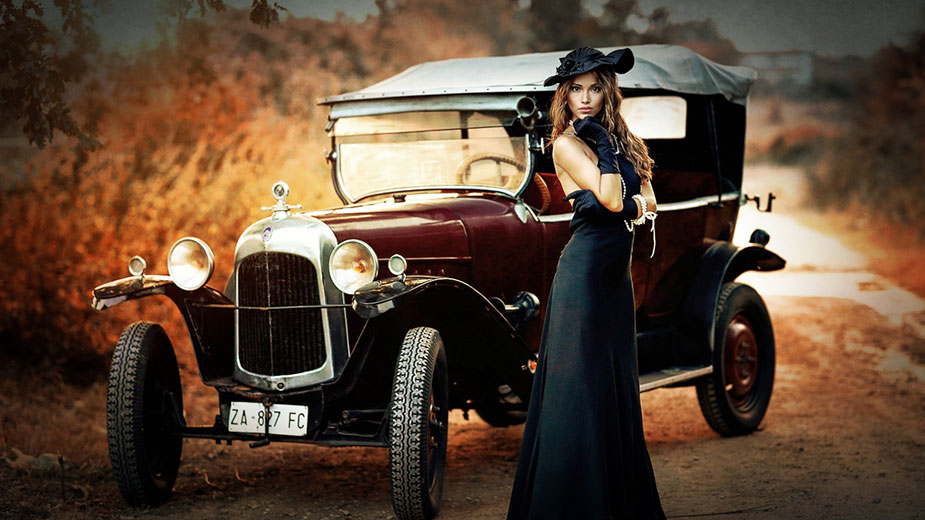 Compare the picture with the original, apply the changes and save the edited photo
Do you prefer to edit your photos manually? PhotoWorks offers you an easy to use editing toolkit to make a photo look old: desaturate your images, use the Vignetting tool to lighten or darken your photo corners, add film grain to your images for a deep textured look of the last century, and apply tone mapping effects for a vintage look.
How to Make a Picture Look Vintage with Mobile Phone Apps
If you mostly take photos with your phone camera, you might find it more handy to give your pictures a vintage feel on a mobile phone. There is a tremendous variety of apps in Google Play and App Store today, both free and paid. They mimic analog film photography and you can surely pick one or two apps that suit you perfectly. Here's just a few apps amongst the most popular ones:
So it all adds up to this: you are free to choose the most convenient way to make your photos look vintage. Mobile apps allow you to quickly edit your pics and instantly share them on social media. As for PhotoWorks, you can use it on your computer to edit photos in Windows 7 and later versions or Mac, even offline, and make your shots artistic without Photoshop any time you like.