How to Make a Photo Look Vintage Without Photoshop
In the last dozen of years, retro style has been gaining huge popularity in photography. It's no wonder why people are getting so keen on old style photos: a lovely image, soft shining, warm colors, old-fashioned furniture, vintage cars and out-of-date clothes - all these will always evoke some heartfelt nostalgic feelings. How can you add a retro charm to your pictures? Make use of PhotoWorks - one of the most convenient apps to make photos look vintage. To discover what editing methods to choose, what tools to use and how to edit photos to look vintage in no time, read the guide below.
How to Achieve a Retro Look?
You can apply a genuine vintage look to your photos by adding old photo filters to them: make a photo black & white or decrease its saturation, try the sepia or vignette effect, create archive or faded photo effects.
3 Ways to Turn New Photos into Old-Fashioned Images
Now, let's find out how to make photos look vintage with PhotoWorks. To get started, download an easy to use photo editor from the official website. Next, launch the software and open the photo to add a retro filter.
Apply Vintage Photo Filters
The easiest and fastest way to make your images look old-time is to add one-click vintage effects to them. To begin with, open the Effects tab. You'll find ready-made old photo filters both in Popular and Vintage effects. Let your picture look like it was taken in 40's or 70's, make it faded or high-contrasted, add a vignette or an aged photo effect and others - just click the filter and preview the result straight away.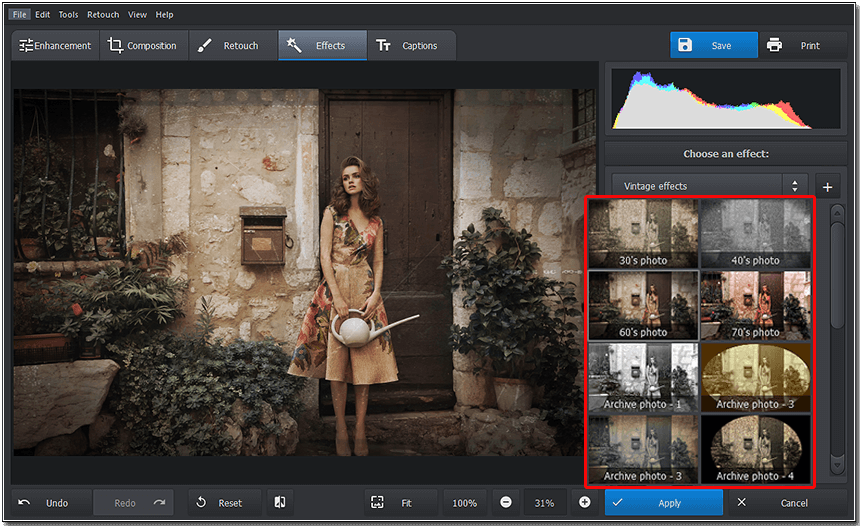 Add old photo filters to make your photos look vintage
Create a Black or White Vignette
Fancying to create a particular vignette effect that suits the atmosphere of your photo? Use the vignetting tool to make the vignette with your own hands. Switch to the Composition tab and select the Vignetting option. With PhotoWorks, you can either darken or lighten the corners of your pictures. To create a black vignette, move the Amount slider to the left or drag it to the right for a white vignette effect. Its settings are adjustable - you can make the filter larger or smaller, more or less round, sharper or more blurry. For a more authentic-looking effect, decrease the Saturation level of your image in the Enhancement tab.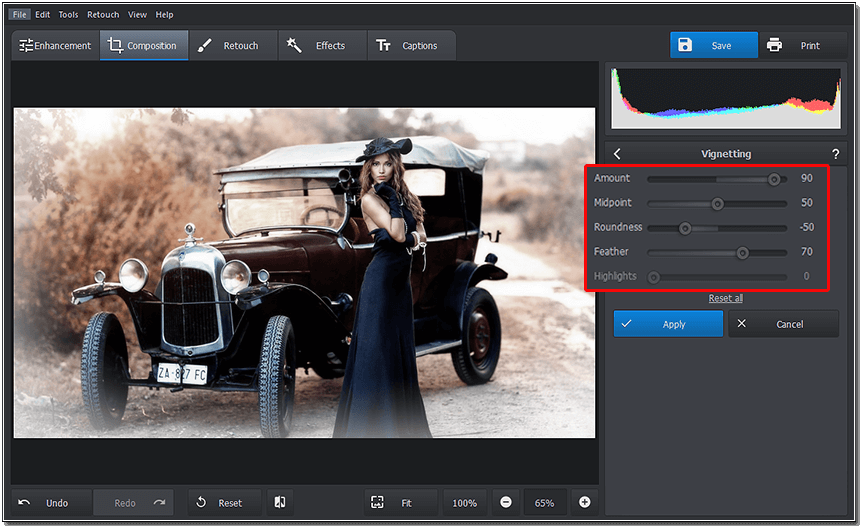 Darken or lighten the edges of your images to make them look old-time
Use Tone Mapping Textures
Want to turn photo into vintage illustration? PhotoWorks software offers you the Tone Mapping option - an amazing way to do that! In the Composition tab, click the Tone Mapping button. Next, pick the Texture type and select the Vintage category in the drop-down list. To see a texture in action, click on it. Adjust the chosen effect by setting its amount and select the blend type. A good choice for a retro look is Color burn, Overlay, Hard light and Soft light. To keep the edited photo, click the Save button.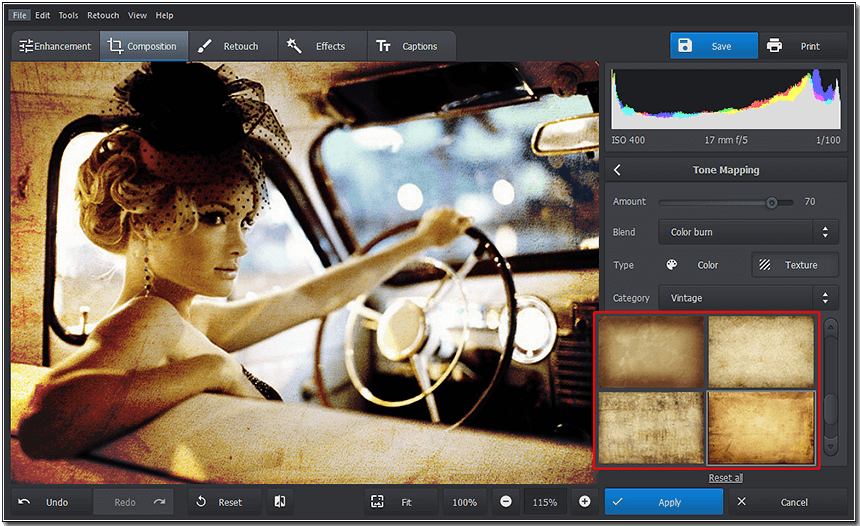 Apply the tone mapping textures for a retro look of your pictures
Making pictures look old is a creative editing option and you've seen for yourself how fast and easily you can make a photo vintage with the help of PhotoWorks. To bring your images to a professional, high quality level, try the whole editing toolkit that comes with the software: remove skin blemishes, get rid of undesired objects, enhance certain regions of your pictures, and correct compositional and geometrical issues.