How to Cut Out an Image from a Picture in a Few Clicks
Whether you want to create a funny collage or prepare an important presentation, you might not need the whole photo - only some specific parts of it. Have no idea of how to cut out part of a picture? No worries. You won't need to be a pro or use any complicated software for the job.
In this article, we'll show you how to separate a part of an image from the rest of it. We'll start with PhotoWorks. This powerful photo editor will help you get the cutout of your image in no time. Moreover, you can download a free trial of the software and check out all the features yourself. Keep reading and discover other ways to extract an image from any picture as well.

Make your cutout image a part of a new stunning artwork
Learn How to Cut Out a Picture with PhotoWorks
Separating an object or a person from the background sounds challenging? Actually, it's easier than cutting out from a newspaper or a printed photograph. Why? Because with PhotoWorks, you can get the image you need in only a few clicks. Let's see how!
Step 1. Run PhotoWorks
Download and install the program on Windows or Mac by following the wizard.
Step 2. Open the Photo to Cut Out from
Open your image within PhotoWorks. You can either click Open Photo or drag your picture from a folder.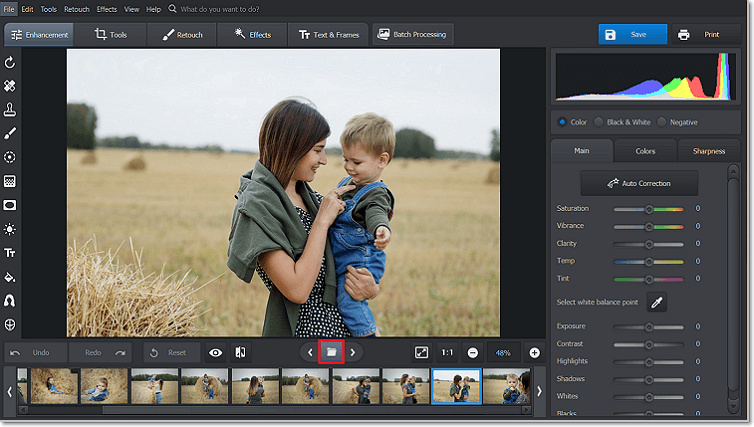 Click the folder icon below the pic to navigate inside the current folder
Step 3. Pick the Change Background Tool
Switch to the Tools tab and choose the Change Background tool. Draw a few lines inside the object with the green object brush. Then, take the red brush and paint over the background area you want to separate. Use the Eraser any moment to correct the contour. When finished, switch back to the brush you need.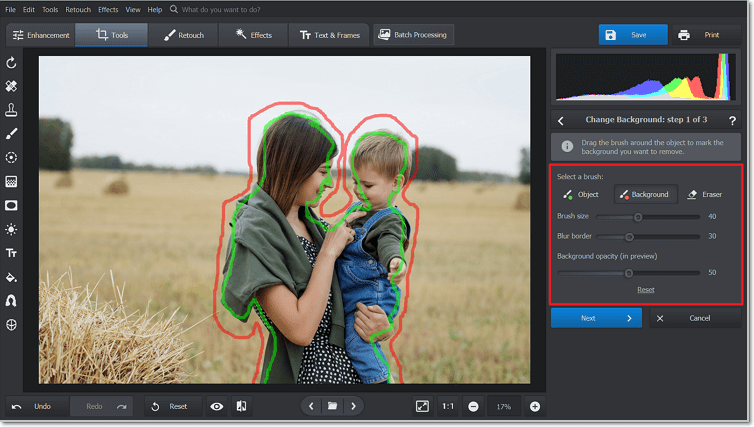 You don't have to be too precise - broad strokes will do the job
Step 4. Apply Manual Corrections If Necessary
Want to expand the cutout area? Then do it using the green brush. Made the selection too big? Then use the red brush to restore the background. Once finished, click Next to cut the image out of the photo. Your cutout is done!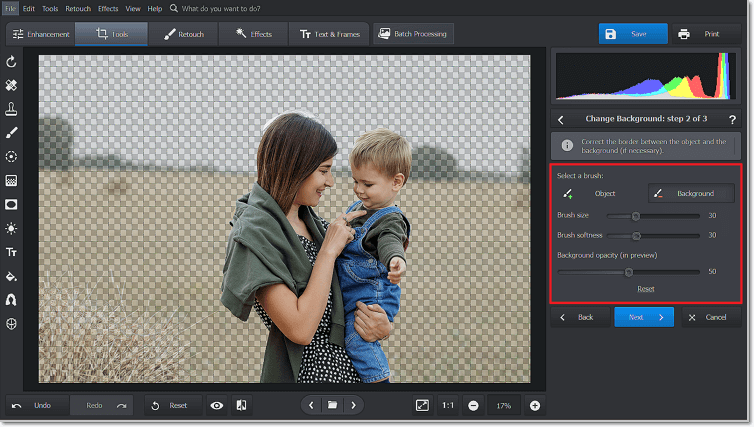 Now your image is ready to become a part of your new artwork
Step 5. Save Your Cutout Image
You can use your picture right now or save it to work on later. Save your picture as PNG to preserve transparency. Or opt for JPEG to keep your image the way it is right now.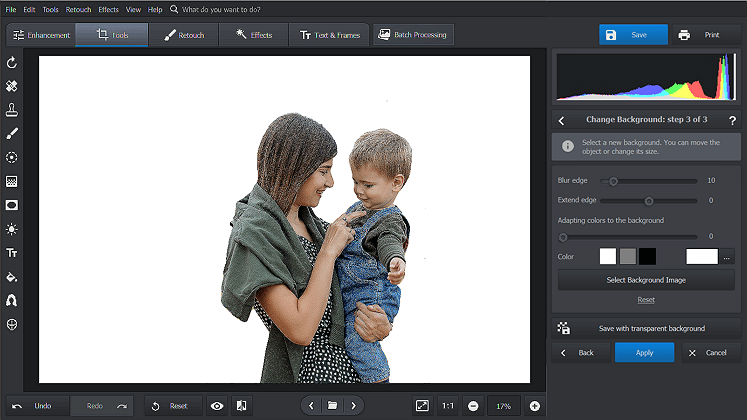 Save your pic as PNG, JPEG, BMP or TIFF
Prefer video tutorials? Then click on the Play button and watch a short how-to on how to cut out a photo.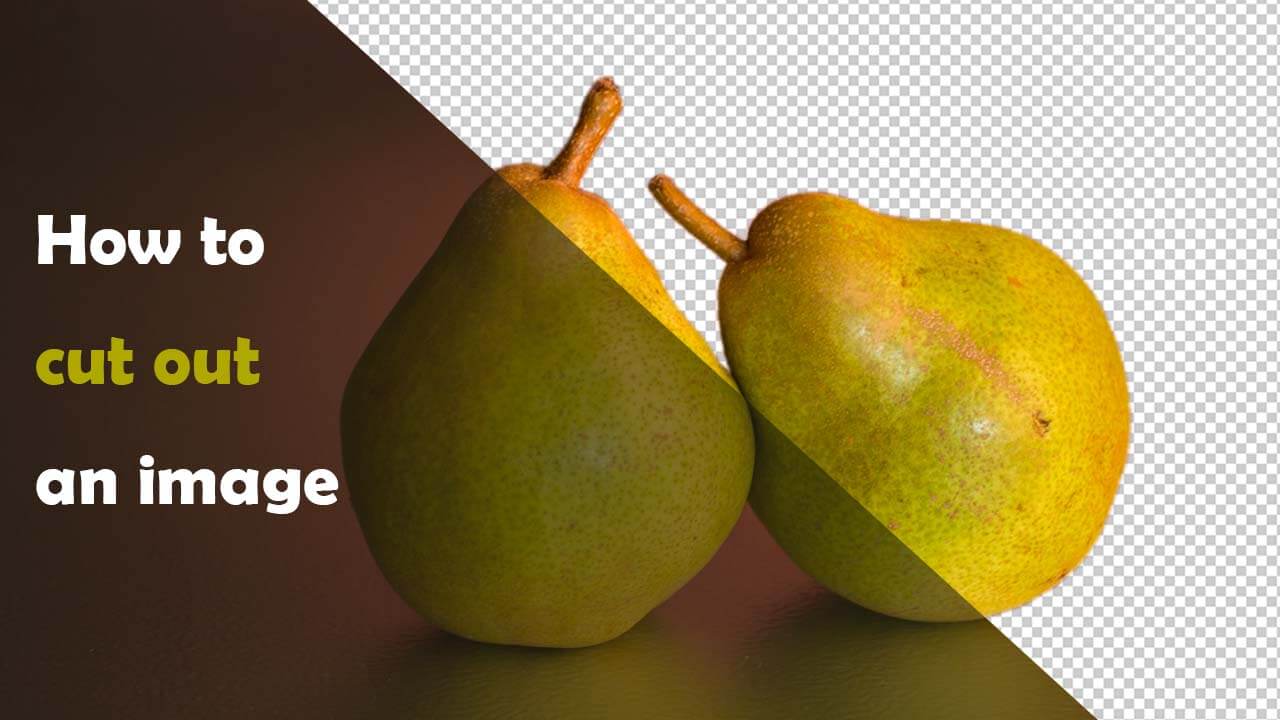 Now you can extract any image with ease. By the way, you won't need to install one more photo editor to enhance your image. With PhotoWorks, you can edit your picture the way you want it: adjust colors, sharpen it, apply tons of effects - and that's not all.
See What Else You Can Do with the Well-Equipped PhotoWorks:
Turn an image black and white
Enhance the image quality
How to Cut Out an Image with Other Tools
Still not sure if PhotoWorks suits you? So let's check out some other image editing tools and learn how to make a cut out of a picture you need in other ways. We'll start with one of the most famous photo editing software. Photoshop allows you to cut an image out of a photo on Mac and Windows using a few techniques. You can use the subject or color selection method or apply a layer mask. If you need to cut an image, then take the Rectangular or Elliptical Marquee tool. If you want to cut out part of your picture, pick the Lasso tool then. Sounds complicated? You are right, it isn't that simple.
One more computer-based editor is Adobe Illustrator. Packed with different tools, it can help you to cut and divide objects. The interface looks similar to Photoshop and many different icons on the toolbar can be frustrating at first. Now let's look at a free computer program. GIMP offers you the Intelligent Scissors Select tool to freehand your selection. This tool works well when the object is distinct enough. Also you can use the Free Select tool when the object you want to cut out has a simple shape.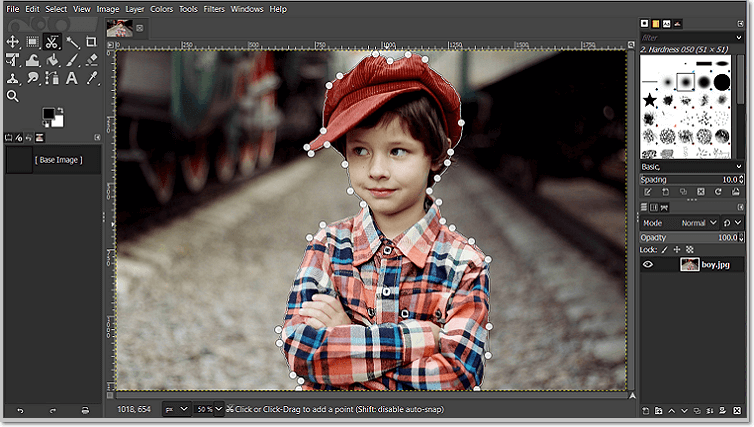 Using GIMP to cut out a photo
If you wonder how to cut out part of an image without installing new software, let's look at the Microsoft Office tools for Windows 10 and Mac. Both these versions let you make an outline and extract it in quite a simple way.
Prefer using your tablet or phone? Want to know how to cut around an image with it? Then install one of these apps and give it a try: Photo Cut Out Editor works on Apple devices and can be quite handy to cut out an image on the go. In case you're using an Android smartphone, choose Android app - it is packed with quite a few pro tools.
Now you've learnt how to cut out an image in various ways and are ready to perform it yourself. The process will take you just a few minutes. Pick the picture, cut out the objects you need and you'll be able to make a creative family collage, a funny greeting card for your friend's birthday, or prepare an important work presentation. It's all up to you!