How to Make a Picture Look Old - 5 Ways to Age Your Photos
Took a seemingly perfect photo but now it seems to be too boring? Don't worry, you can still funk it up by applying artistic filters. To give your pictures a really interesting look, try the aged photo effect to travel back in time to a whole different world of retro photographs. Get started with PhotoWorks and follow along this tutorial on how to make a photo look old and scratched.

Give your picture a gentle retro vibe
Already chosen a photograph that will look better after digital aging? Now you probably want to know what 'retro' options you have: simply turn its colors yellowish or make more complex changes to the texture, use ready-made filters or take everything into your own hands. Be patient and we'll answer all of your questions! Follow the steps below and apply all these changes to your own photo - a stunning effect is guaranteed. Let's get this show on the road!
Wondering if PhotoWorks is the right tool to make your photo look old? Why not make sure right now? Just click the green button below to start your free trial and get closer acquainted with this intelligent photo editor.
Once you have PhotoWorks installed, it's time to go down to buisness and make your image appear old. Shall we?
What Do We Mean by 'Old' Photos?
As a rule, when we hear "an old photo" we imagine a picture that is well-scratched or crumpled with washed out colors and torn-off corners. In digital photography, images are given a retro look with special filters and effects. Their bright colors are getting replaced with sepia hues, and corners look rounded due to the vignette effect.
How to Make a Picture Look Old for an Artistic Effect
Since PhotoWorks is a full-featured program, it offers several ways of giving your image a retro vibe. Let's have a look at all of them in turn.
Trick #1. Decrease Saturation for an Older Look
To turn the chosen photo into an old-time postcard, deprive it of bright colors. On the Enhancement tab, drag the Saturation slider to the left until the pic becomes duller. If you want to get a truly monochrome image, set saturation at -100 or tick the Black & White box in the Treatment settings to make a picture grayscale in a flash.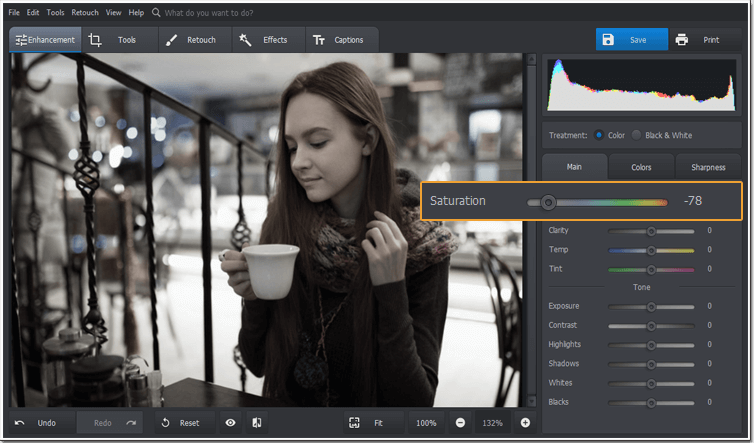 Make the colors of your photo look faded
Trick #2. Add Sepia Colors with Tone Mapping
How to achieve the sepia and washed-out look? You can get the desired effect through changing the photo tone. To do that, switch to the Tools tab. It's better to choose tinges of yellow and orange to lay over the picture. Once you've picked the right hue, set the blend type. Use 'Soft light', 'Hard light' or 'Overlay', and don't forget to adjust the amount of that effect for a natural look.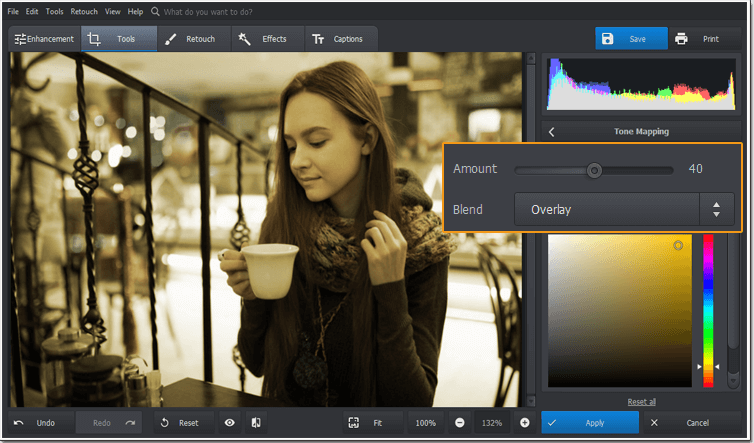 Use the Tone Mapping tool for creating an old picture effect
Trick #3. Go for a Retro Grainy Film Effect
While on the Tools tab, apply the film grain effect to the whole image - this way you'll give it the texture of a picture developed years ago. Control the effect amount and size to preserve the quality of your picture. To gracefully age your photo and leave the main subject untouched, increase the film grain effect in midtones.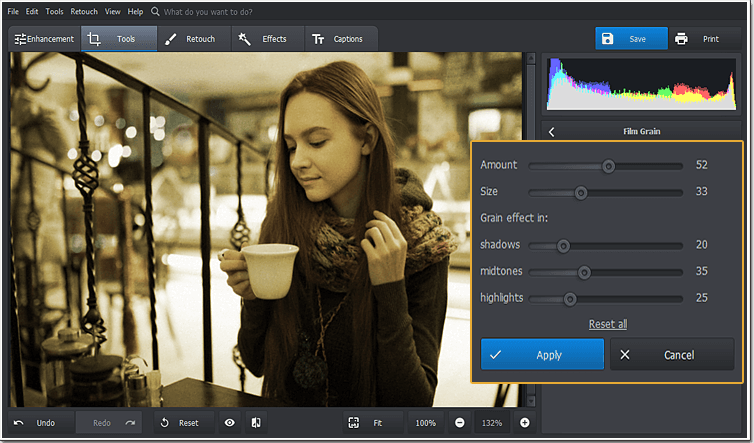 Recreate the film grain effect without Photoshop
Trick #4. Make an Old-Fashioned Photo with a Vignette
On the Tools tab you'll also find the Vignette effect. Drag the Amount slider to the left or to the right and the image corners will become darker or brighter. If needed, adjust the vignette shape and intensity with the Roundness and Feather sliders, correspondingly. The transition from the white corners to the photo center should be soft and subtle.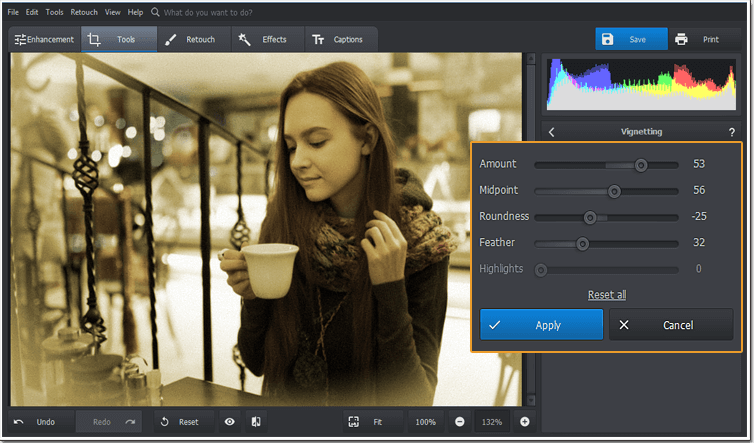 Apply the vignette effect in the photo editor
Trick #5. Apply Instant Filters to Make Photos Look Old
With PhotoWorks, you can try another way of making photos look old - use one-click filters. This automatic photo editor is equipped with dozens of artistic effects that can be applied to any picture in a single click. Move to the Effects tab. Click on Popular effects or Vintage effects and you will find many options to make your digital image look as it was shot years ago.
Try an Authentic Retro Effect
Like sepia-toned photographs from the past? The 'Retro' effect will help you age you picture in a flash.
This artistic filter automatically subdues all the colors in the photo and makes it look as if it faded over the years. At the same time it leaves the image texture nice and clean without any additional scratches.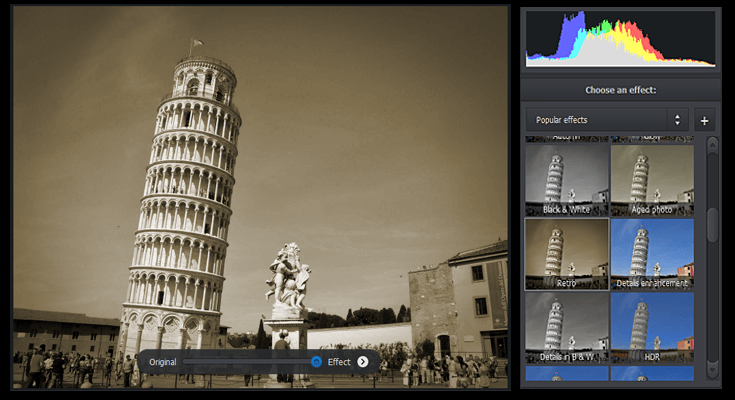 Stylize Your Image in a More Complex Way
One instant photo filter can combine several effects that cannot be manually recreated in a single click.
With this 'Old Photo' effect, you don't have to do multi-stage editing to get the desired result. Once you apply it to your photo, it will desaturate the image, add a vignette and nicely age its texture.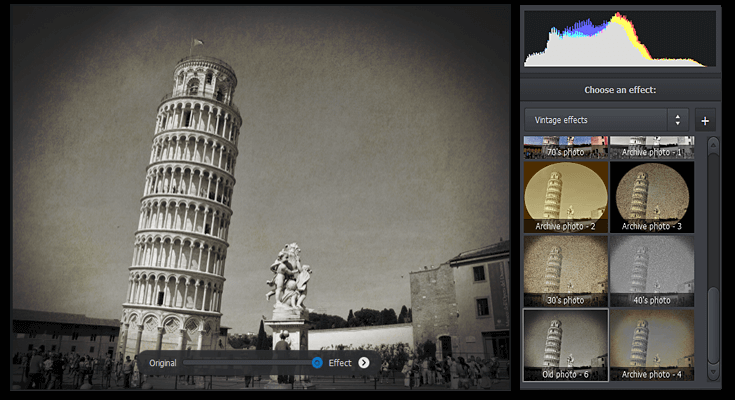 Go Retro with the 'Worn Photo' Effect
How to make a photo look old and worn? Cover its surface with a few digital cracked lines and scratches.
Now you can create a believably old photo out of any image by using a special aging overlay! This 'worn photo' effect makes the texture of the initial photo rather well-used and worn out, sending it back in time for several decades.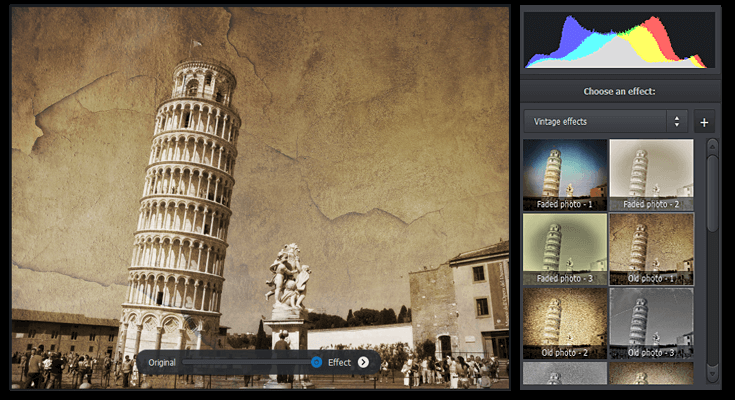 With PhotoWorks software, it's easy to make pictures look old and evoke the sense of nostalgia, sharpen a blurry photo, retouch a glaring face on the portrait shot, apply dozens of artistic filters in just one click, straighten crooked lines, and edit your images in more creative ways. Download the trial version of the program and edit your images with minimum efforts!
Love the idea of how you can turn a regular photo into a classy shot? Then start making photos look old right now. Hit the green button to try PhotoWorks for free.
Once you have the software installed, you'll be able to repeat all the tricks you've seen above, or only stick to a couple of them - all depending on what your image requires.
How to Make Photos Look Older: Alternative Ways
Want to know other ways to add a bit of retro flair to your images? You're in luck, because below we are going to tell you how to make a photograph look old using other methods. We'll begin with the popular Photoshop. Use this almighty program to desaturate the colors, give your image a certain tone, add noise, and apply a vignette. If you don't want to get something as expensive as Photoshop, consider the free but powerful GIMP. To make your photo look old, the only thing you need to do is to apply a certain filter, then add just a little bit of blur. The downside to this simple method is GIMP's cluttered interface.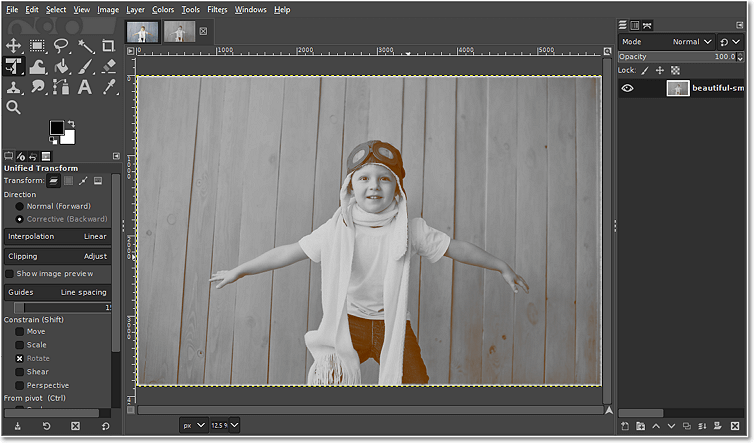 GIMP lets you add a lovely retro touch to your pic
In case you have no desire to install new softwares to your computer, then online services are your go-to choice. For instance, you can go with FotoJet. All you need to do is to upload your images to this web-based application, pick a retro effect, and apply it. If you don't want to give this site access to your photos, then use your phone to make your pictures look old. Consider 1967: Retro Filters & Effects, an application that is choke-full of various retro filters that can be applied in a tap.
Love all things retro? Now that you know how to make a photo look old and worn, it's time to add that sweet retro look to your favorite photos. Whether you'll be making manual adjustments or opt to using automatic effects, just make sure to put your heart into your work. This will guarantee that you'll end up with the loveliest image.