How to remove watermarks from photos - 8 best ways in 2023
Need to finish your project urgently but lost access to your own clean pictures? Your camera SD card crashed and all you've got left are watermarked copies? Sounds like a plot for a nightmare. If you have to work with protected images, then there is only one way to end that horror - get rid of that unwanted text. But how to get rid of watermarks on photos without wasting a whole lot of time? In this guide, we will show you it's possible.
Remember that removing a watermark from a stock photo is illegal because by doing so you're infringing the copyrights. That is why it is better to purchase the original image using different stocks. The price to pay will be definitely lower than the fine you get if you erase the text with a watermark remover.
There are cases when you have the right to delete the watermark: the picture belongs to you and its original got lost or, perhaps, you even purchased the image but now have no more access to the stock account.
What is the best solution then? Just keep reading our guide and remove the watermark with one of the 8 best methods we've suggested:
Now let us take a closer look at each method:
Way 1: Remove the Watermark from the Photo with PhotoWorks
The first thing to look for if you need to take off a watermark is a simple image editor. We suggest trying out PhotoWorks. All you need to do is just paint over the logo with a special tool and the software will remove it automatically. Thanks to the simple interface, it's very easy to work with, and even beginners will get on with this program in no time.
In comparison with other user-friendly editors, PhotoWorks is really powerful and can do much more than just removing a watermark. Fine-tune tones and colors, enhance photos, fix your portrait shots with one of the Portrait Magic presets, correct distortions, work on a certain image area without touching other areas - for example, while removing spots or wrinkles, apply dozens of effects from the built-in collection and even create your own.
Now how to remove watermarks from pictures on Windows and Mac using PhotoWorks? Here are the steps:
Step 1. Start PhotoWorks
Start the program and import your photo: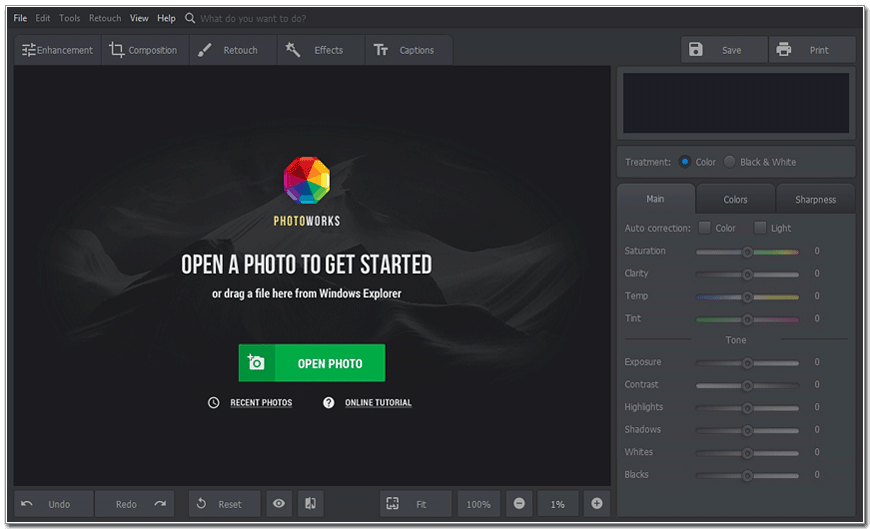 Open your photo
Step 2. Select Healing Brush
Go to the Retouch tab and choose Healing Brush: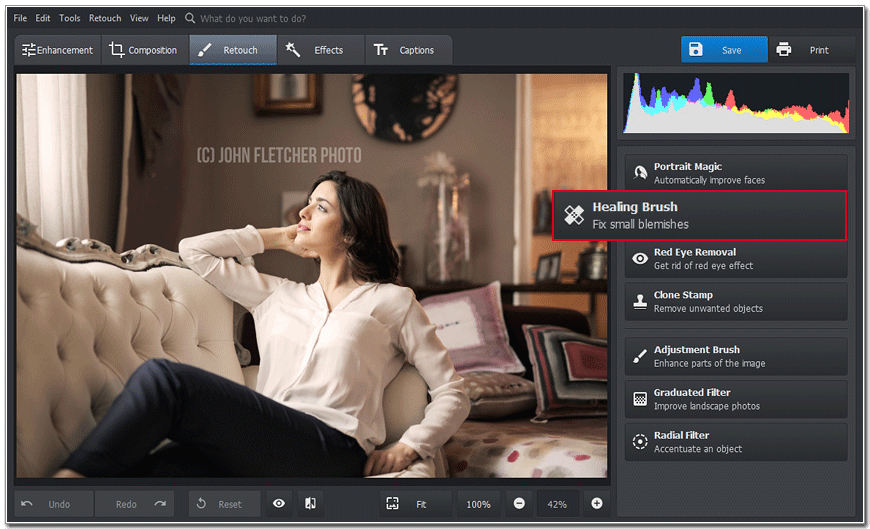 Select Healing Brush
Step 3. Remove the Watermark
Adjust the brush size and paint over the watermark to delete it completely: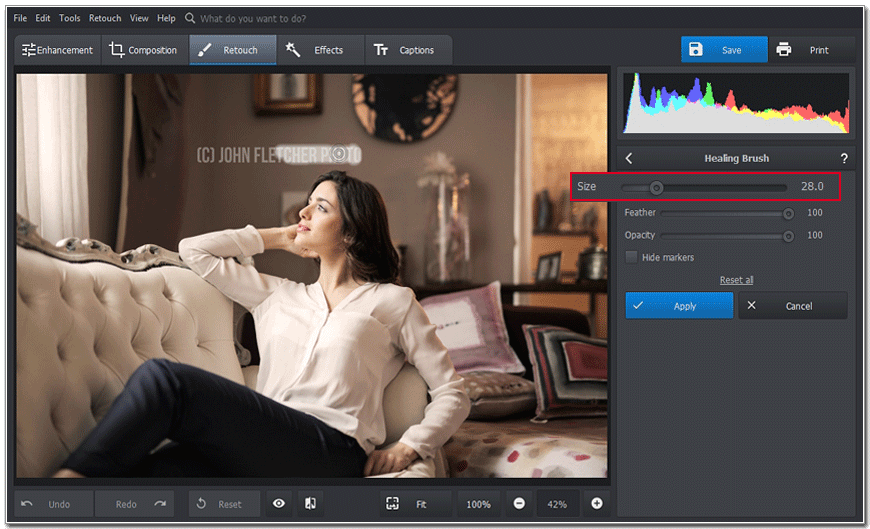 Paint over the logo to remove it
Step 4. Apply the Changes
Click Apply and it's done! Now hit Save to keep the image: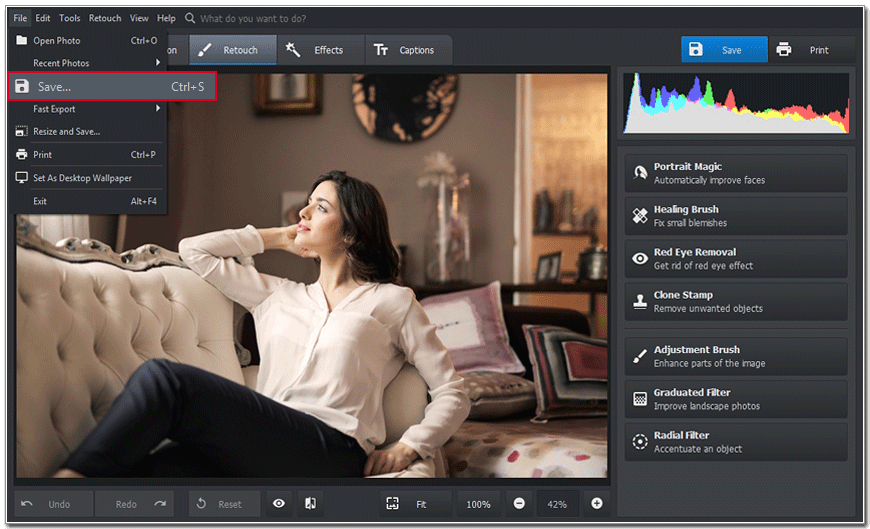 Save your image to apply the changes
Need a video guide? It's more convenient and easier to understand: you can pause the video, replay a step you can't grasp and then repeat the action with your picture. That's why we suggest watching this video - it shows how to remove a watermark from a photo on Mac and Windows using 3 different ways: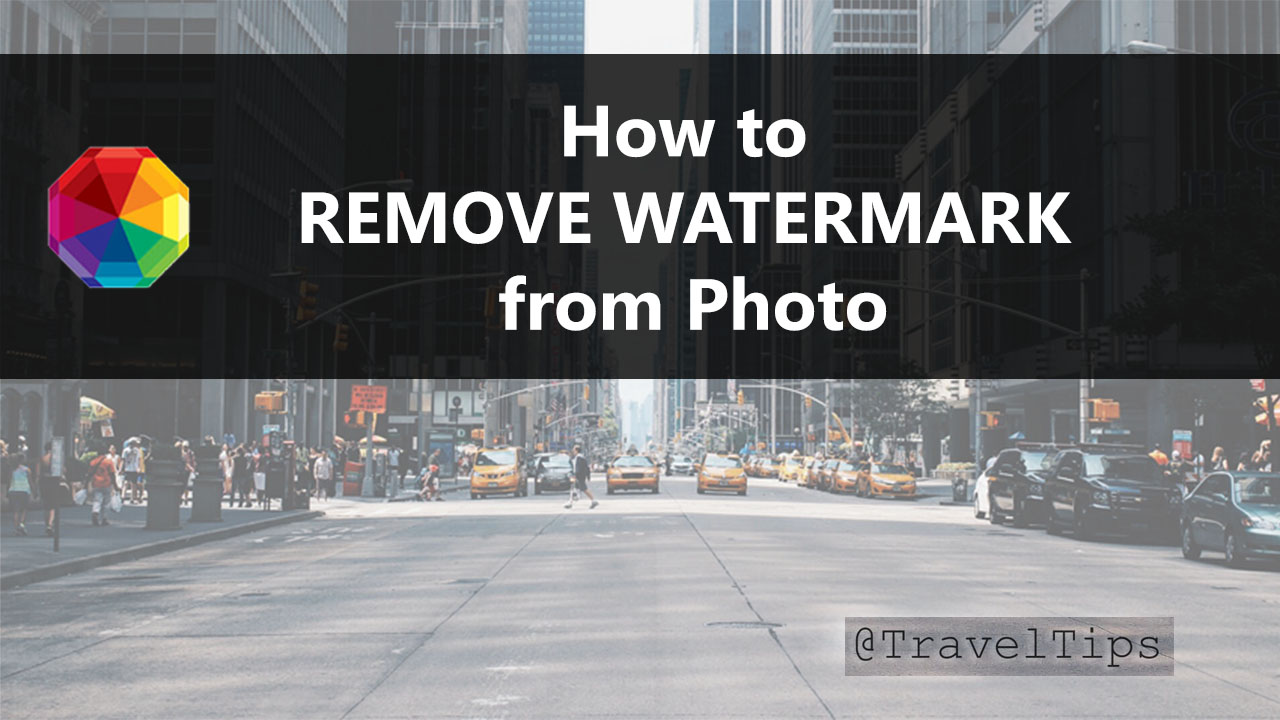 Looking for reliable software to get rid of the watermark on your photos? Try PhotoWorks for free! Download the program right now and clean up your pictures in mere minutes:
You will obviously get the best results while painting over a small text on a plain background, especially if you have just started working with digital editors.
If you are planning to use the watermarked photo in some creative project like photo montage, you may not even need to remove the watermark - just hide it under another image. Wondering how to make a picture montage? With PhotoWorks, you can combine various pictures together in a few brush strokes.
There are many other alternatives to consider, so if you didn't like PhotoWorks for some reason, you can try out Fotophire, Movavi Photo Editor or Softobis Photo Stamp Remover. For example, Fotophire Photo Eraser has a special brush that allows you to paint over the watermark and delete it from an image in auto-mode. Unfortunately, you cannot adjust Feather and Opacity of the brush.
Movavi Photo Editor is another easy-to-use program, that has a tool similar to Clone Stamp, so just select the unwanted object with a brush and click Erase. As for Softobis Photo Stamp Remover, it also deletes watermarks automatically, you only need to point out the necessary area and hit the button.
As you see, there are many options, and you will surely be able to find the program that's optimal for your needs.
Way 2: Get Rid of Watermarks Using Photoshop
Want something more reliable? Photoshop is considered to be one of the top-rated editors for JPEG images. It has a wide range of features suitable almost for any task. However, this software is rather complicated and has a very steep learning curve. It often happens that you have to watch several tutorials to navigate through the interface and make a simple action. Also, Photoshop requires you to pay for a subscription, and that's a real disadvantage if you just need a few tweaks here and there.
If you are a Photoshop user, then here are the steps to remove a logo from a photo:
Step 1. Start Photoshop
Launch the software and open your photo: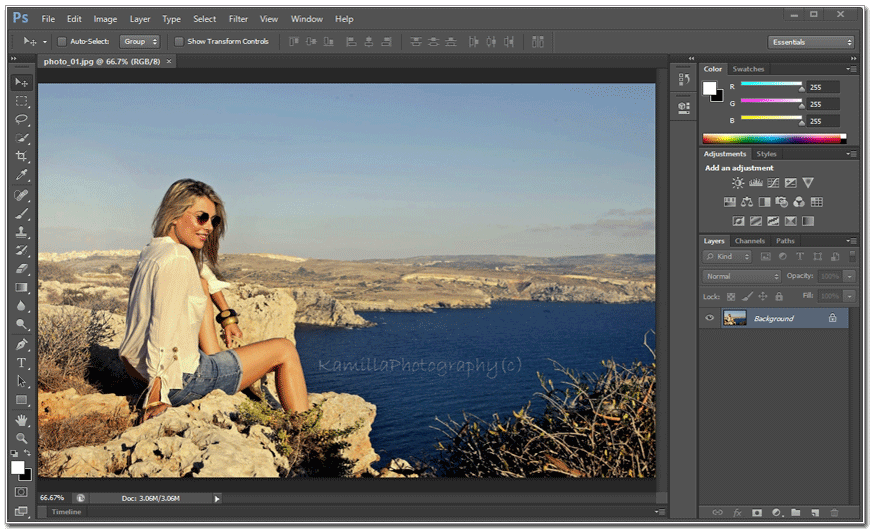 Open your photo with the watermark
Step 2. Select Clone Stamp
Select Clone Stamp from the tool panel. Adjust its size. Now press Alt on your keyboard and click on the area next to the text:
Choose Clone Stamp
Step 3. Erase the Watermark
Photoshop will pick a sample from that spot. Once you paint over the text, the software will keep taking pixels from that area and pasting them into the place you pointed out: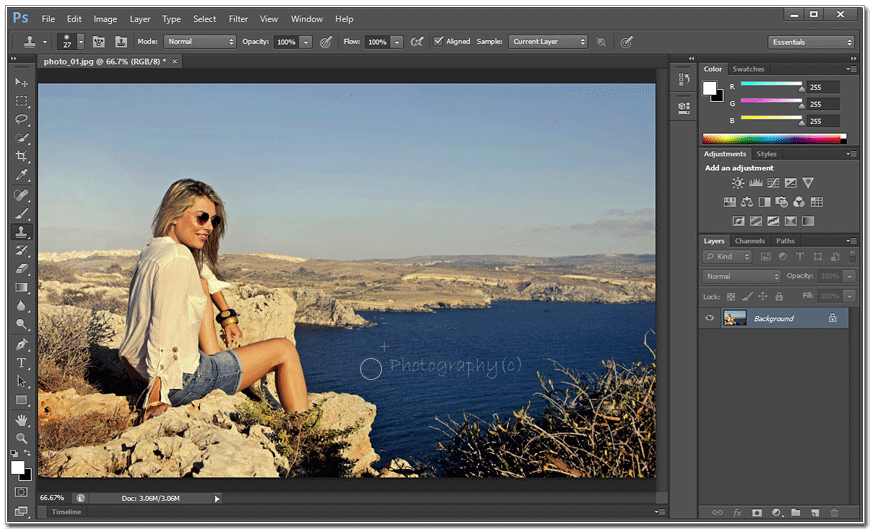 Paint over the watermark and it will be erased
Photoshop is a good choice if you used professional image editors before and know your way around all those tabs and tools. Want to learn more? Then check a detailed guide on removing watermarks in Photoshop.
Way 3: Remove Watermarks from Images on Your Mac
Prefer Mac over Windows? Then this solution is for you. There are many image editors optimized for this system, so you'll definitely find something that fits your taste and task. For example, Super Eraser. This is a very simple program that will help you get off a watermark in no time.
Open your photo. Start with picking the photo you want to fix.
Select the object. Paint over the object with a special tool. It will be marked with the red color.
Erase the object. Click the Eraser button and the software will remove everything automatically. If you're satisfied with the result, save your photo.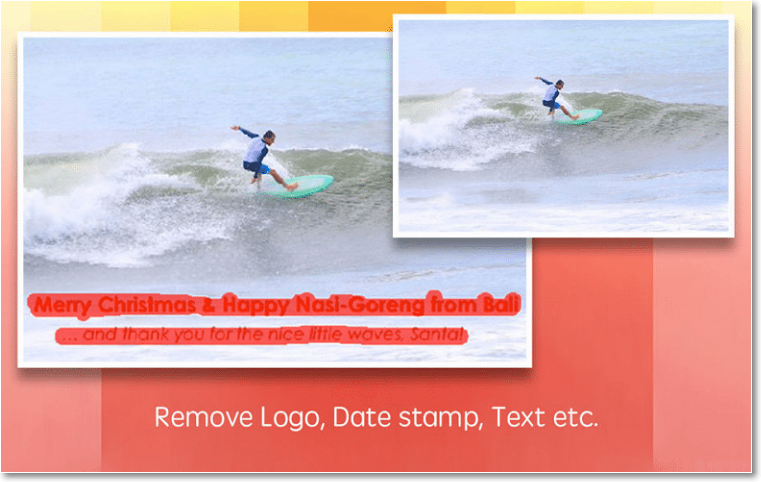 The brush is content-aware, so it won't damage your picture
Super Eraser is easy to grasp, however, it's not very suitable for deleting complex logos or texts. It's better to find other software for the cases when manual correction is needed.
Way 4: Use Online Tools to Get Rid of the Logo
If you are short on time and don't want to waste hours on installing and learning new apps in order to find a decent watermark removal tool, try using online image editors instead. They are often as efficient as desktop software and rather convenient since these services can be opened from any device, no matter what system that device is running.
If you're ready to try this method, then we suggest Webinpaint - it's a very simple web-based program that removes a watermark automatically. Let's see how you can use it:
Upload your photo. First, upload your photo into Webinpaint.
Paint over the object. Pick a brush and select the object you want to remove. You can also use a lasso to make a rough selection.
Conceal the object. Hit the Erase button and the service will remove the object for you. Now save the clean image.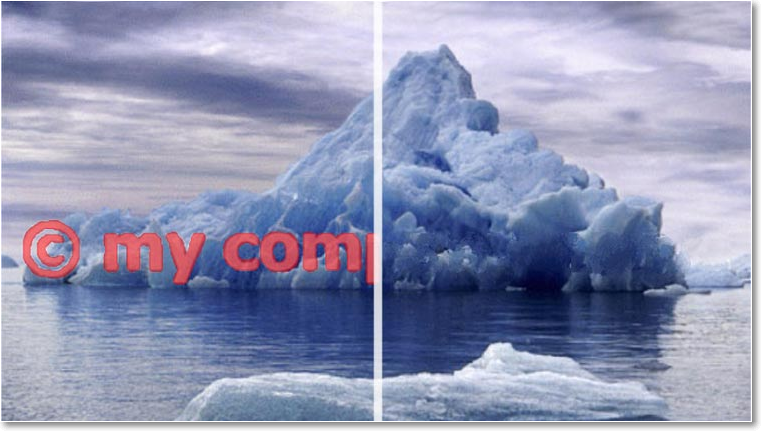 You can delete even huge watermarks
Webinpaint sounds pretty easy. However, you will need a stable Internet connection to reach these websites. You see, most online services do not allow auto-saving or keeping the in-between results until you get to the final step. So, if something goes wrong, you'll have to start all over again. And that's not a pleasant thing if you have a large logo to remove. What's more, you are probably concerned about your privacy, and definitely no online photo editor will keep your files safe.
Need to not only remove the watermark, but also improve the photo quality? It's pretty easy, and you don't have to start a different program. Check out the full guide on how to enhance photos in PhotoWorks.
Way 5: Erase Watermarks from Your Images on Mobile
Prefer to make photos with your smartphone? Don't want to waste time to transfer them to your PC for editing? Then use a mobile app to remove a logo from your photo.
There are many apps to choose from, but we picked Remove & Add Watermark for this guide. Here are the steps:
Select your picture. Start the app and upload your photo.
Make a selection around the logo. You can use a free-hand or rectangular selection to mark the object. Zoom in or out to make the selection more precise.
Save the photo. Once done, click Save and choose the image format. You can also share the result in social media.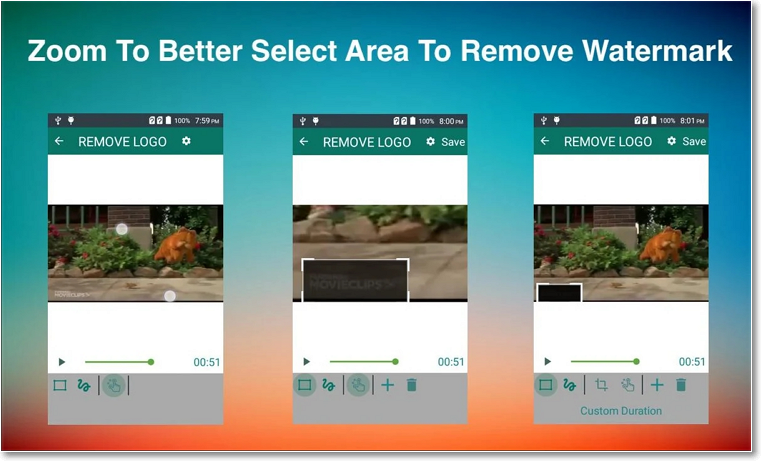 This app can work with videos too
If you need to clean up your photos or videos urgently without starting up a PC, then this app is a good choice. However, don't expect the result to look super natural.
Way 6: Cut the Logo from Your Picture
Sometimes the easiest way is the most simple one. If the watermark is placed near the edge of the photo, you can just cut it away. PhotoWorks is your best shot here. It offers several cropping frames and grid overlays. With their help, you'll be able to preserve the original composition and clean a picture by cutting it in just a few clicks.
Crop the photo to get rid of the watermark
What else to try when you decided to crop the watermark? Check out Pixlr. This editor has an extensive toolkit that allows you to work with layers and filters as well. This software has a free web version with the same amount of features. Paint.NET is also a good choice. It's meant to replace the old Paint from Microsoft, but grew bigger with time and now has a lot of features. If you are a fan of old school interfaces, it will be a perfect watermark eraser for you.
Way 7: Replace the Watermark with Your Own
Have a really small but naughty watermark? Then how about replacing it with your own? PhotoWorks lets you create a caption and control its opacity, in other words, turn it into a watermark just by touching a slider. Adjust the style and you'll get a text that overlays the initial logo and complements the picture.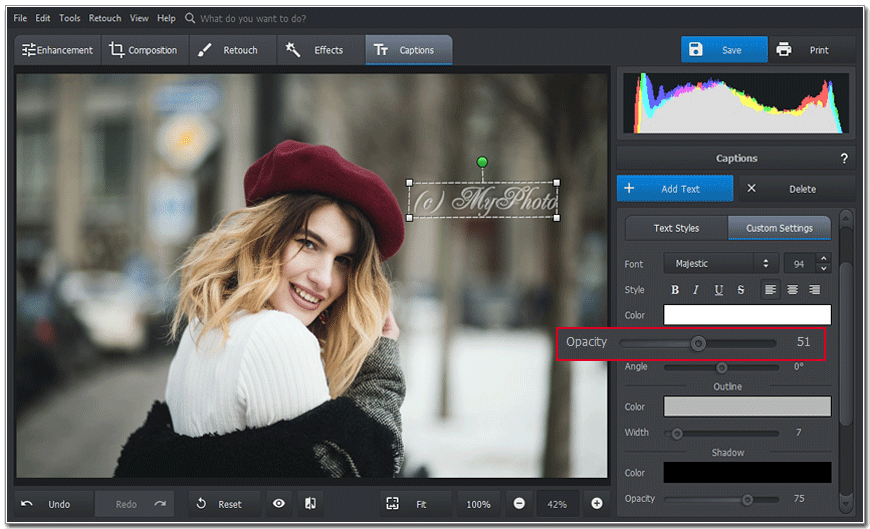 Replace the watermark with your own
One other thing you can try is GIMP. This freeware is a bit more complex than the others and, at the first glance, has an overcrowded interface. As a result, it can be hard to use for beginners. However, this program is considered to be a great alternative for Photoshop and rather powerful. So it's worth checking out provided you have enough time to learn it.
Way 8: Look for Free Stock Photos
Our last but not the least suggestion is to look for a similar image on picture stock websites. No surprise that this may take a lot of time and efforts, because most images on these services are poor quality. However, it's still worth trying: sometimes you can find a "clean" variant of the original watermarked picture from fee-based services like Shutterstock while browsing free stocks.
Where to look? Visit Pexels - here you will find hundreds of photos on various subjects. If you don't really like the photo you found, the website will suggest a few related pictures. Still no luck? Search through Pixabay then. This source offers a huge collection of images tagged with different topics. The choice here is bigger but the pictures have lower quality than those on Pexels.
Conclusion
As you can see, in the end, all these methods are very different: each requires a certain skill level. Some are suitable for beginners, some - only for advanced users who're experienced in digital editing. Now you know how to remove a watermark from a photo and it's all up to you to decide which route to take.
No matter which one you choose, remember to respect the copyrights. Do not take pictures with watermarks that were obviously created by other people - they have probably put a lot of effort and skill into taking that image. If you really liked that photo, show some respect - purchase it rather than cleaning out the author's watermark.