Best Photo Editing Software for Windows 11: Unbiased Roundup
The latest version of Windows - Windows 11 - was released on October 5th, 2021. It has already become the go-to operating system for many people and for a good reason. Windows 11 is swift, devoid of bugs, and beautifully designed. Since more and more users are switching to this version of the operating system, they're looking for software that would be compatible with it.
If you are into photography and have recently acquired Windows 11 - or only plan to - chances are you are in search of post-processing software. To make this tedious job a little bit easier for you, we have reviewed the best photo editors for Windows 11 that are currently on the market.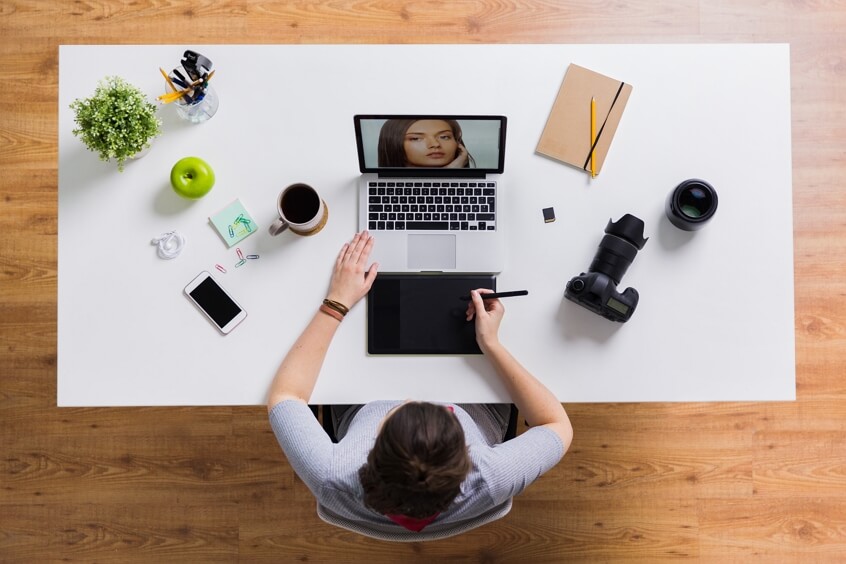 Before we actually begin, we will list the criteria that we believe mostly affect the choice of software. After that, we'll tackle 7 post-processing programs that will vary in price, complexity, and overall functionality, which means you'll definitely have something to choose from, depending on your needs and budget. This won't be a rating per se, but rather a fair roundup of the best possible photo editing software for Windows 11. Curious to see what we have in store for you? Then let's delve right in.
Picking the Best Photo Editor for Windows 11: Key Points
Affordability - A high price is one of the reasons users abandon Photoshop and other Adobe products. A good Windows 11 photo editor doesn't have to cost a fortune to be really good. After all, if you are a mere beginner, chances are you don't have that much spare cash to buy uber-expensive software. So go with a photo editor that has a reasonable price. And use the money you saved on photography classes or new equipment for your camera.
Ease of use - If the interface and the workflow of an editor confuses you, there is no way you'll be able to enhance any pictures with it. Stick with user-friendly programs that have clear and welcoming interfaces - you'll feel instantly at home and won't spend much time looking for tools. If you like a particular photo editor that can't boast of having a streamlined interface or easy workflow, make it your objective to study it thoroughly through available tutorials.
RAW support - even if you are only a beginner, you know the importance of shooting in RAW. That is why the best photo editing software should support these files (the more formats the better). This way you will ensure that you can get everything you need out of the original image.
Available tutorials - Even if the program you chose is fairly simple to use, you still need a little guidance to make sure to get the maximum out of every edit. This is when tutorials on the software come in handy. Not only can you learn new tricks by watching them, but also gain some inspiration by spying on other pros at work.
Batch processing - Editing images is frankly tedious, and if your editor of choice doesn't have a batch editing feature, you are in for a long night. Find a program that has the nifty feature that would allow you to edit dozens of images at once. This way you'll save a lot of time that you can invest into learning new photography techniques.
We have only scratched the surface in terms of what the best photo editing software for Windows 11 should be like, so let's dive a little deeper and get acquainted with some of the brightest examples.
1. GIMP: Best for Pros on a Budget
If there was any photo editor that would jump onto the Windows 11 train early on, that is GIMP. After all, this popular software is available for virtually any operating system out there. GIMP is an open-source program that is basically a free version of Photoshop. It has all the essential tools for photo manipulation along with more advanced and complex features. These include instruments for color correction, cropping, noise reduction, image overlay, and whatnot. What's more, GIMP offers batch processing, layer editing, and has enough tools for graphic design.
Despite having strong upsides - being free and insanely feature-rich - GIMP still has its downsides. First off, all the users consider its interface to be nightmarishly cluttered. It will take you quite some time to get used to it. Another problem is closely linked with the advantage. Since this photo program for Windows 11 is free and open-source, it means that everyone has access to its source code to make adjustments and improvements. And more often than not, these manipulations result in the software being somewhat buggy.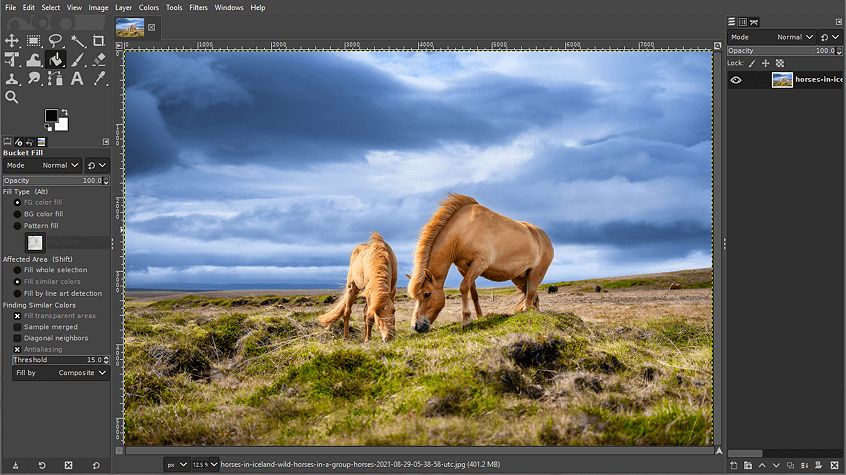 GIMP, free and feature-rich Windows 11 software
Pros:
Completely free
Can be expanded through plugins
Layer editing
Batch processing
Support of almost any format
Cons:
Cluttered interface
Has a steep learning curve
Price:
Free with no hidden costs.
Conclusion:
All in all, GIMP is the perfect photo editor if you are willing to look past its questionable interface design. It has all the tools you need for photo manipulation and graphic design creation. And last but not least, it certainly doesn't hurt that the program is completely free and available on many platforms.
2. InPixio Photo Studio: Best for Newbies in Search of Easy Fix
InPixio Photo Studio is a great tool for people who have little to no experience in photo editing, but want to fix their photos from a vacation or a family gathering. The Windows 11 image editor is exceedingly user-friendly and has a welcoming interface. Toolswise, InPixio comes with all the instruments for basic image enhancement. With it, you can easily correct the colors, crop your pics and retouch portraits. The photo editor is also equipped with an automatic enhancement tool that can do it all for you.
There are, of course, more advanced features that are still easy to use. For instance, InPixio Photo Studio lets you delete or swap the photo background in a few quick steps. There are also instruments for odd object removal and a host of 3D LUTs for swift color grading. The software also comes with a decent library of photo filters. Sadly, it does not feature batch processing.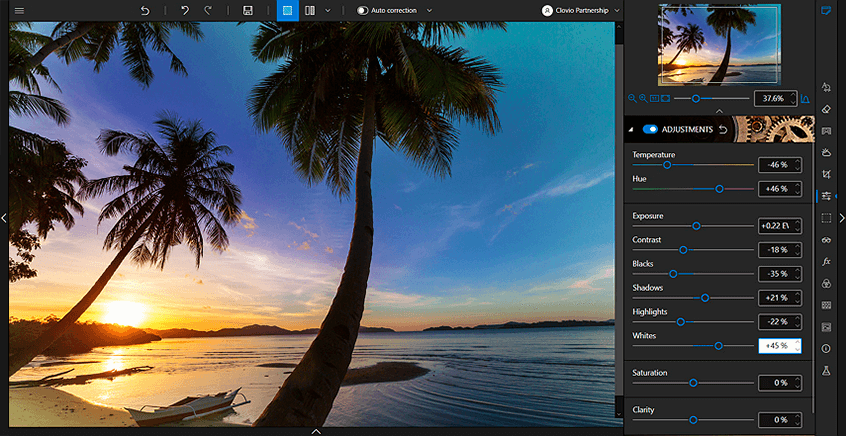 InPixio Photo Studio was once known as InPixio Photo Clip
Pros:
Intuitive interface and workflow
Auto enhancement tools
RAW support
Library of 3D LUTs & filters
Cons:
Lacks more advanced features
Tends to be buggy
Price:
The current price for InPixio Photo Studio starts at $49.99 for a year.
Conclusion:
InPixio Photo Studio is a robust photo editor that won't scare newbies off. It is great for editing photos in Windows 11 on a more casual basis. It is capable of enhancing your images to make them look decent for social media and collage making.
3. PhotoWorks: Best for Users of All Skill Levels
If you need an easy-to-master photo editor with a toolkit that could rival pro programs, then PhotoWorks is the thing for you. This photo software for Windows 11 is perfect for both advanced users and beginners. It has all the essential tools like cropping, exposure and color balance correction, as well as an impressive library of effects and filters. PhotoWorks relies on its content-aware AI to perform automatic enhancement, odd objects removal, and photo background change and it excels at each.
The software also has powerful tools for portrait retouching, face and body editing. There are more advanced features like Tone Mapping, the Curves, and a host of 3D LUTs. All these tools come with video tips, so even a first-timer will get the hang of them. There is a batch editing feature that lets you improve, stylize and watermark multiple images at once, while previewing the changes live. PhotoWorks runs well even on older PCs and supports over 450 RAW files, including the latest formats.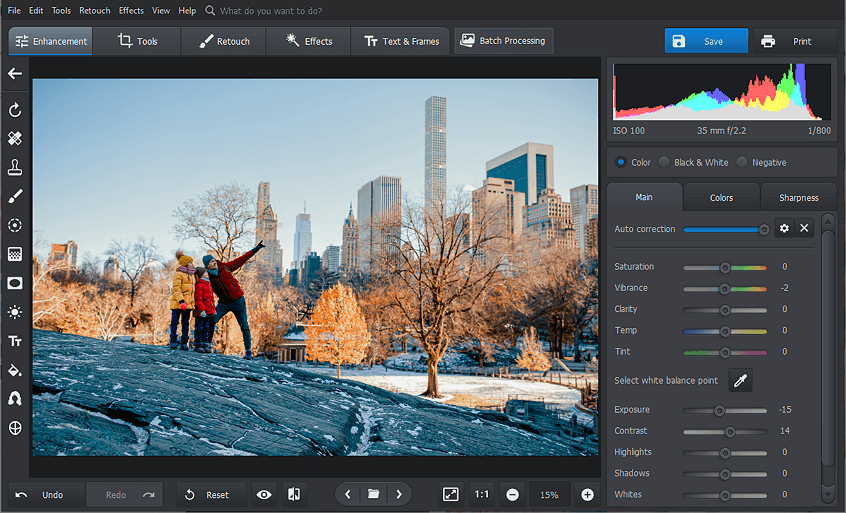 PhotoWorks is accessible to people of all skill levels
Pros:
Clear interface
Automatic enhancement
AI-powered retouching tools
200+ effects, filters, and 3D LUTs
Semi-automatic background change
Cons:
Price:
You can get an annual subscription for $19.25 or a life-time license for $79.80.
Conclusion:
PhotoWorks is a great choice regardless if you need to fix your vacation pics or edit photos from a hi-end shoot. The software has all the tools any user needs and it is devoid of being complex or overly expensive.
4. Photoshop Elements: Best for Adobe Fans with Little Skill
Photoshop Elements is a stripped-down version of the world renowned Adobe product. It harbors Photoshop's most popular and used features: color and dynamic range correction, cropping, image overlay, and many more. Photoshop Elements can also serve as an efficient picture organizer.
It also comes with an array of artistic filters and even animation effects. Graphic designers will love a versatile brush library. Most of the edits offered by this photo editor for Windows 11 are automatic, meaning that users have very little wiggle room when it comes to controlling the change.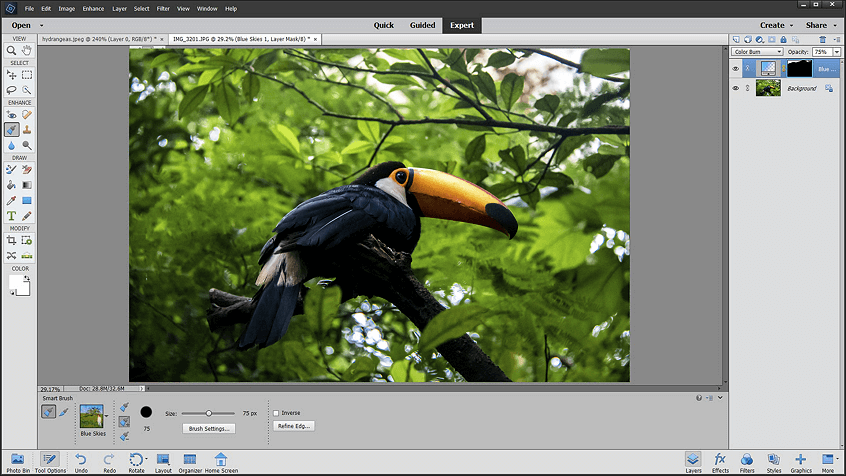 Photoshop Elements, Adobe giant's little brother
Pros:
Tons of auto presets
Easy layer editing
Convenient pic organizer
Built-in collage templates
Cons:
Clunky interface
Some filters are outdated
Price:
The price for Photoshop Elements currently sits at $69.99 for a life-time license.
Conclusion:
Photoshop Elements will work for you if you always wanted to edit in Photoshop, but got scared off by its price tag. The software is relatively feature-rich, but still suffers from a hard-to-grasp interface.
5. PhotoScape: Best for Those Who Want More Than Photo Editing
PhotoScape is a genuine jack-of-all-trades rather than a regular photo editor. This software has tools for said photo editing, batch processing, GIF creation, screen capture, and images preview. When it comes to photo editing, PhotoScape offers easy color correction, semi-automatic cropping, and basic portrait editing.
This Windows 11 picture editor has a clear albeit outdated interface. It is fairly beginner-friendly and certainly wins when it comes to its multiple additional tools. Sadly, it has no layer-based editing.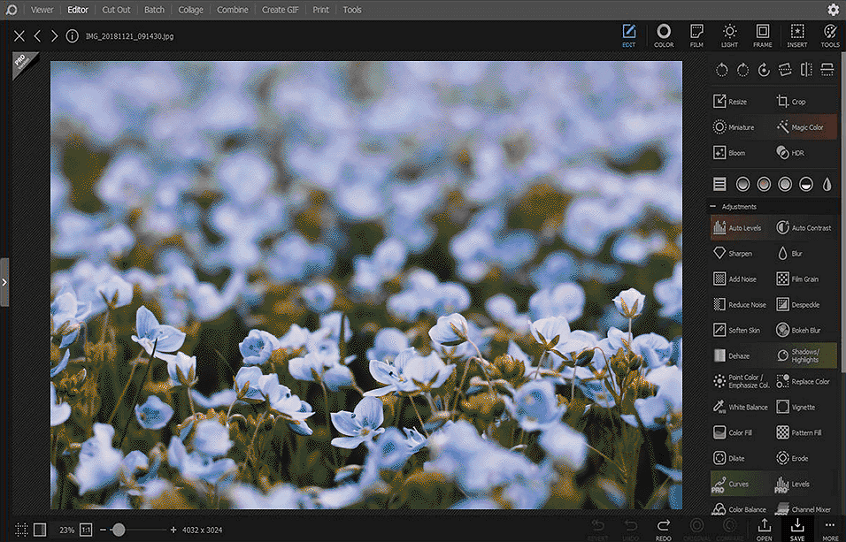 PhotoScape, a suite of versatile softwares
Pros:
Lightweight and swift
Batch editing
Built-in filters
Collage and GIF creation
Cons:
Price:
You can get PhotoScape for a one-time payment of $39.99.
Conclusion:
PhotoScape will suit you in case you just want to quickly fix the biggest flaws of your images, then have a little fun with them. But if you are looking for a photo editor for thorough post processing, you are better off using something else.
Just started making your first steps in post-processing? Then you need a reliable tool that would suit your needs and match your skill level. Make sure to learn about the best photo editing software for beginners to find the perfect program.
6. Pixlr: Best for Pro-Level Editing Online
Let's step away from desktop photo editing software for Windows 11 and have a look at web-based options. One of them is Pixlr. Basically, what you get is an online version of Photoshop, complete with all the popular tools and minus the enormous price. That's right, Pixlr doesn't cost anything.
With it, you can doctor your images in terms of colors, dynamic range, sharpness, and whatnot. There are brushes for basic graphic design, a handful of portrait retouching tools, and an impressive collection of built-in effects. The software is not without a downside, however. After all, since Pixlr is a web-based service, you need to upload your private images to the Internet which might subject them to a privacy breach.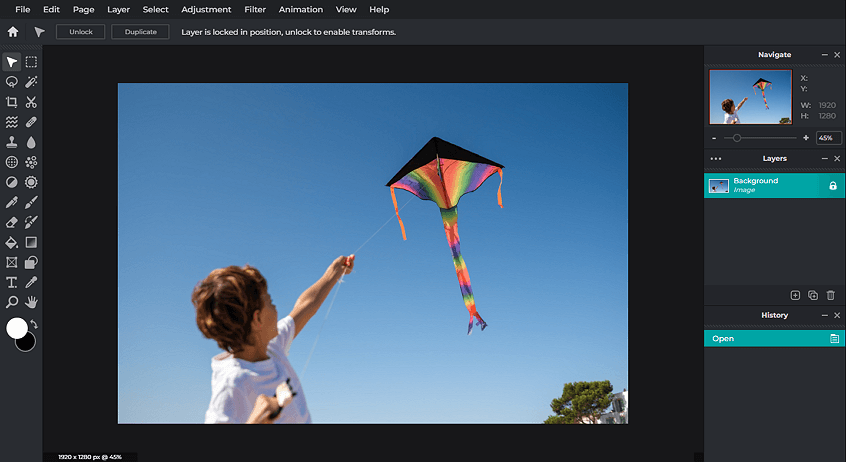 Pixlr is totally free to use, if you can stand the constant ads
Pros:
Customizable interface
Layer-based workflow
All essential tools present
Vast collection of filters
Cons:
Needs a stable connection
Full of distracting ads
Price:
Pixlr is totally free to use, if you can stand the constant ads.
Conclusion:
Pixlr is the perfect solution for people who want a full range of photo manipulation tools without the necessity to pay a fortune for it. This web-based editor is swift, responsive, and powerful. Just make sure you have a stable Internet connection to enjoy it.
7. Fotor: Best for Casual Photo Editing
Fotor is another Windows 11 photo editor that is available through your web browser (which also comes as a desktop program). But whereas Pixlr wasn't shy about making the workflow challenging, Fotor takes a different approach. This software heavily relies on one-click solutions. All the enhancements are performed with filters, whether it's correction of color balance and dynamic range or portrait retouching.
Despite the single-click approach, the edits are fairly decent. Along with post processing effects, Fotor also offers collage templates and instruments for simplistic graphic design. The software has a paid and free version. Its biggest downside is its slightly confusing interface.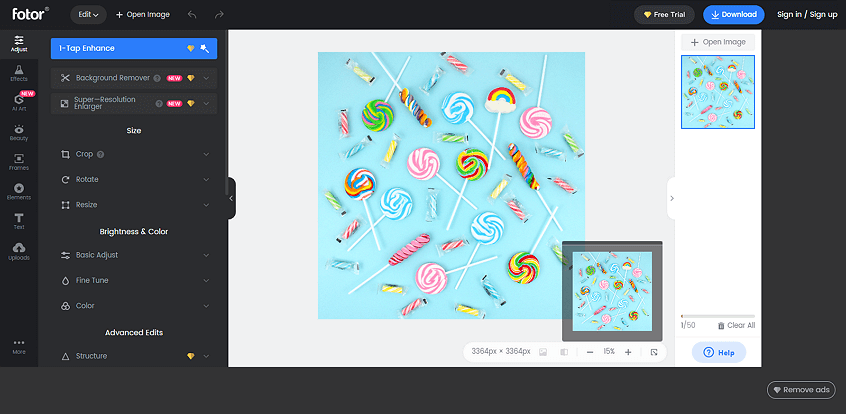 Fotor, an editor available as a desktop program and as a web service
Pros:
Tons of one-click solutions
Support of RAW files
Intuitive workflow
Collage templates
Cons:
Desktop version is RAM hungry
Web version tends to crash
Price:
Fotor Basic costs nothing, for Fotor Pro you have to pay $8.99 per month, and the price for Fotor Pro+ sits at $19.99/monthly.
Conclusion:
Fotor is a fine choice for people with little experience in photo editing and little desire to install new confusing software to their PCs. The editor is easy to master and is capable of providing decent results.
Best Photo Editors for Windows 11: Final Thoughts
You see - there is no need to search high and low for the perfect program now that you have gotten acquainted with some of the best photo editing software for Windows 11. If you still need a little help making the right choice, we have a few final words of advice for you. If you know your way around editing, then GIMP is the tool that you will be comfortable with. If you need a quick photo fix, then Fotor should be your go-to choice. If you need a feature-rich and powerful editor that wouldn't be a burden money-wise, then PhotoWorks is just the thing for you.