How to Change the Background Color of a Photo: Easy Guide
Particular colors in your picture might lend it a certain mood. The same applies to the shade of your image's backdrop. A white background, for example, is the safest option in most circumstances because it produces a sense of purity. Black and grayish backdrops might seem gloomy, yet they effectively accentuate the principal subject in the photo. But some backdrop colors, even the most pleasing to the eyes, can make the model or objects in your picture appear not in the best light.
Do you want to swap the shade of your photo's backdrop because your face looks dull, or does your blouse blend? In this step-by-step guide, we'll teach you how to change the background color of a picture on Mac and Windows quickly and effortlessly. For this purpose, we'll use comprehensive yet user-friendly software PhotoWorks. This program can help you modify the color of a photo background in just a few brush strokes and slider drags. Besides, it has lots of helpful features for color correction, retouching, and other post-production tasks that you can utilize.
Just in case you want to explore all the feasible options, we'll share with you the ways of changing the image background color on Mac, Android, iOS, and online. Let's get started!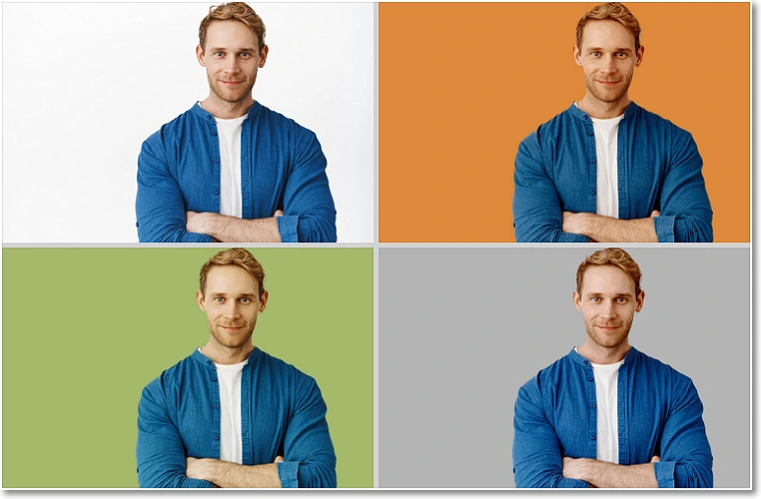 Choose a new backdrop color to make your photo look its best
How to Change the Background Color of a Picture Step by Step
Now we'll show you how exactly you can change the backdrop color of your picture to a more suitable one with minimum stress and effort. You won't need professional knowledge or expensive programs for the task. Just follow our lead. Without further ado, let's make your photos shine!
Step 1: Install PhotoWorks on Your Computer
For changing the photo background color, download the free trial of this photo editor simply by clicking the green button below. Follow the installation wizard's instructions and launch the software.
Step 2: Mark the Original Background
Hit Open Photo to import the picture with the background you want to recolor. Go to the Tools tab and pick the Change Background tool. Highlight the object in your image with the green brush and the background with the red one. The editor will mask the backdrop automatically. Click the Next button.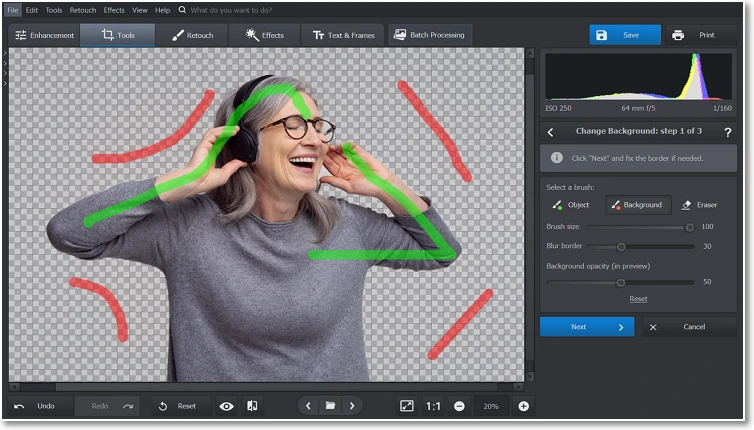 Stroke over the object and the background with the tool's brushes
Step 3: Blend in the Object's Edges
At this stage, you can fix any missteps of the selection process. Drag the Background Opacity slider to the left to see the result better. Hit Next once again. Slightly adjust the edges of your object with the Blur Edge and Extend Edge sliders. That'll help you avoid having the object look out of place on its recolored background.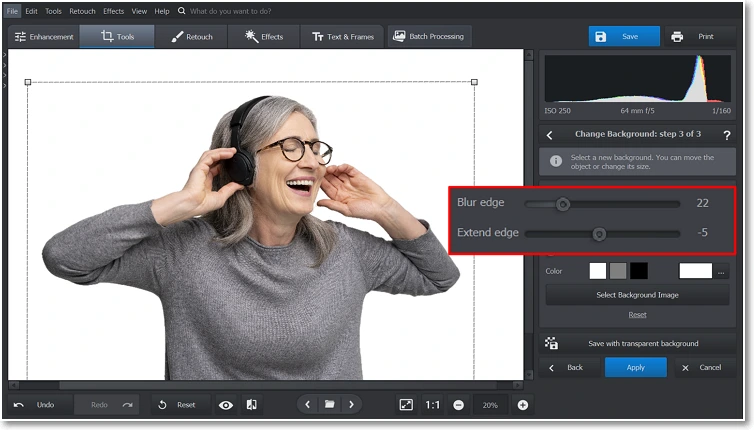 Smoothen the edges of the object for a better blend
Step 4: Change the Photo Background Color
Now you can select any appropriate color for your new background from the program's palette. To make the replacement look more natural and seamless, pull the Adapt Object Colors to the Background slider.
Drop a new color to the background and blend in your model
Step 5: Save Your Image with the New Background
When you are satisfied with the result, pick the preferable export format and click the Save button to download your photo with the brand-new backdrop color.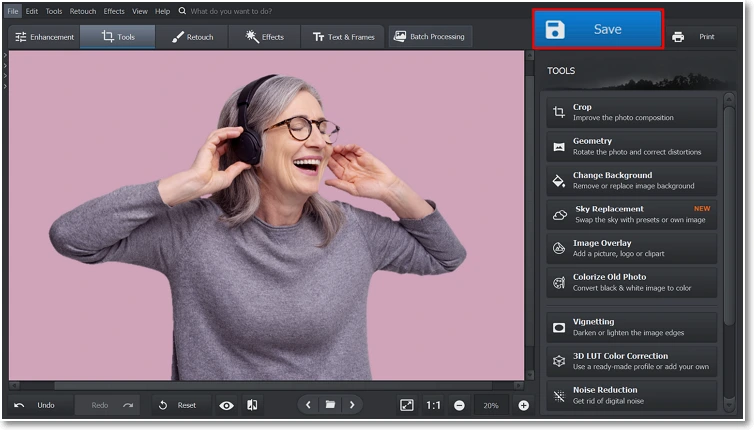 Save your renewed picture in the desired format
Now you know how to change the image background color with PhotoWorks in 5 simple steps. But that is only a fraction of what PhotoWorks can help you achieve in your photo post-production.
Other Handy PhotoWorks Features:
Alternative Options for Changing the Photo Background Color
Have a device other than a Windows PC and Mac or want to explore all reliable options to change the picture background color? As promised, below, we will introduce you to 5 alternative ways to cope with the task on any device you have for image editing.
Have a PC running on Windows 10 or 11 and don't want to master new programs? Use the widely recognized Paint 3D. It comes with the Windows package, so the chances are you already have it on your computer. Read an easy-to-follow MS Paint 3D guide to discover how to change the backdrop color of your picture in this program. However, be prepared that this software is pretty simplistic and not as precise as many of its competitors. Besides, it won't allow you to perform complete photo post-production since it's limited in image editing tools.
Looking for a program with more advanced tools? Try the famous Photoshop, respected by professionals in diverse creative fields. It allows you to go way beyond ordinary photo post-production. Still, it might confuse even experienced photographers and be too expensive for infrequent use. Learn more about switching the photo backdrop color inside this software in a detailed Photoshop tutorial.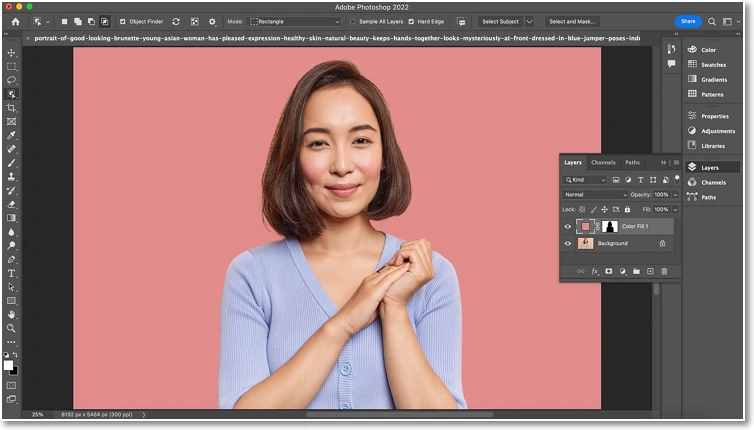 Recolor the backdrop in Photoshop
Need to edit photos on the go but don't have a laptop? Then, iPad and iPhone lovers, the Background Editor app is for you. It can help change your picture's background color, erase the background, and edit it in many other ways. With this app, you can also blur parts of your image, apply filters, create picture montages, retouch portraits, and play with the color of your eyes and hair. It's free to download. But if you want to expand the program's capabilities, you need to make numerous in-app purchases.
Are you an Android advocate? Equip yourself with Background Eraser. This image background color changer is pretty much similar to the previous one. With its help, you can delete the background on your photo, change its color, or turn your photo into a transparent PNG. The app comes for free, but its collection of backgrounds and tools is limited unless you pay an extra fee.
Wondering how to change the background color of a photo without downloading extra programs on your device? Try the remove.bg online editor. Upload your picture to the startup screen, and the photo editor will extract its background automatically. Then, all that's left is to choose a background image or color. However, with the free plan, you can export only one project in HD and 50 in preview resolution. Additionally, the editor's capabilities are quite limited and are not enough for a complete photo editing process, even if you buy a paid subscription.
Change the Background Color of an Image: Wrapping Up
Now you know how to change the background color of a picture on any device. We've provided you with options for both experienced photographers and absolute beginners in photo post-production. Now it's time for you to choose the program that satisfies your needs, budget, and expertise and is compatible with your device. If you're editing on a PC or Mac, we recommend you try PhotoWorks. You can do that completely free. But no matter what photo editor you choose, we hope that with this guide we've helped you find a few optimal ways to recolor the backdrop of your image.
PhotoWorks
WANT TO CHANGE THE BACKGROUND COLOR OF A PHOTO?
Do it in just a few steps with easy-to-use software now!
TOP