How to Convert CR2 to JPG Easily Without Losing Quality
CR2 is a type of RAW files generated by Canon cameras. If you are a Canon digital camera user, you probably know that there are certain challenges while working with those files: they are large, not supported by most devices, and not suitable for sharing via social networks. So, to make the most of such photographs, you have to convert them, for example, to the common JPG format.
How to convert a CR2 file to JPG then? In this guide, we'll show you a step-by-step guide. We'll be using PhotoWorks, a feature-packed software with a user-oriented interface. Whether you are an experienced photographer or a complete newbie, you can master this program in no time and use it for various editing tasks. And in case you want to get more different options for converting CR2 to JPG, we'll also share with you some free online services and desktop applications. Let's kick things off!
Why Choose PhotoWorks to Convert CR2 to JPG?
There are many programs on the market, so why PhotoWorks? Here are the key reasons:
The software lets you batch-convert CR2 to JPG to save time
It offers an opportunity to convert without losing quality
Conversion is fast, so you can start processing right away
It has many editing features, from color correction to retouching
The program is available both on Windows and Mac
Sounds impressive, right? How about testing the program on your own photos? Just download PhotoWorks for free below.
Now, let's find out how to do batch conversion from CR2 to JPG step by step using the app you've just set up on your computer.
How to Convert CR2 to JPG on Mac and Windows
Here we'll show you how exactly you can create JPG images from CR2 files with PhotoWorks. Just follow two simple steps below.
Step 1. Import Your Photos
Launch PhotoWorks and go to the Batch Processing mode. Then, click Add Photos to open your CR2 pictures.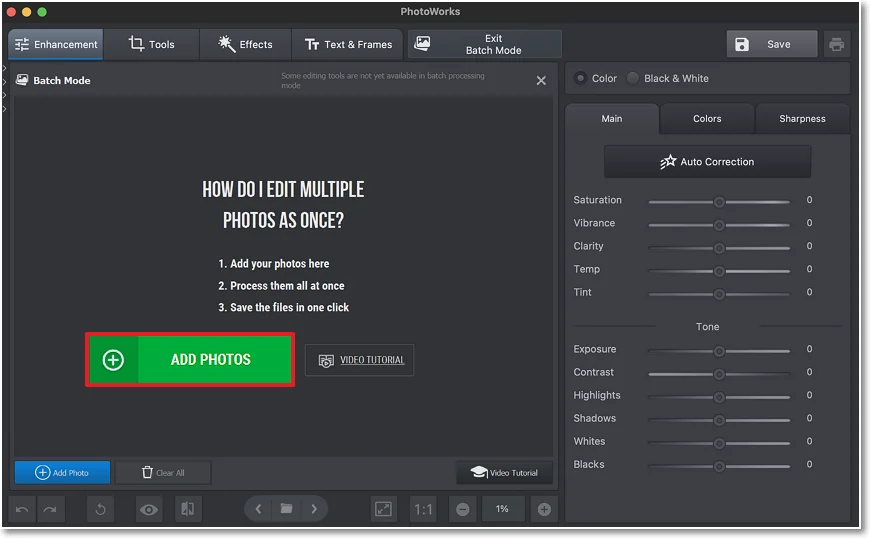 Open your CR2 photographs in PhotoWorks
Step 2. Change CR2 to JPG
In the upper right corner, hit the Save button to convert images in bulk from CR2 format to JPG. You're done!
Create JPG photos in a few clicks
Want to enhance your converted images? PhotoWorks comes with lots of handy tools and features, letting you fix old pictures, retouch portraits, and take watermarks off photos. You can also cut an image out of a photo, edit the background or replace it with a new one, perform photo tilt correction, sculpt your face & body, and much more.
How to Make a CR2 File Into a JPG Online
Don't want to install anything on your computer? Then let's take a look at 4 alternative ways to convert CR2 to JPG. Mac, Windows, or smartphone users can take advantage of one of these online services for free. If you want to convert a mass of images at once, then Raw.pics.io, ILoveIMG, and Convertio are great choices. CloudConvert lets you turn into JPG only one file at a time, although you can adjust the quality and size of the output picture with it.
Most online converters have a simple drag-and-drop interface, so it's pretty clear how to use them. But Raw.pics.io is designed a bit differently. Let's find out how to change CR2 to JPG step by step using this service:
Open the webpage and click the Go To App button.
Hit the Open Files From Computer button and add the CR2 pictures you want to convert.
In the left sidebar, click Save All for changing CR2 files to JPG in a batch.
Done. Browse through your Downloads folder to find the images you've just converted.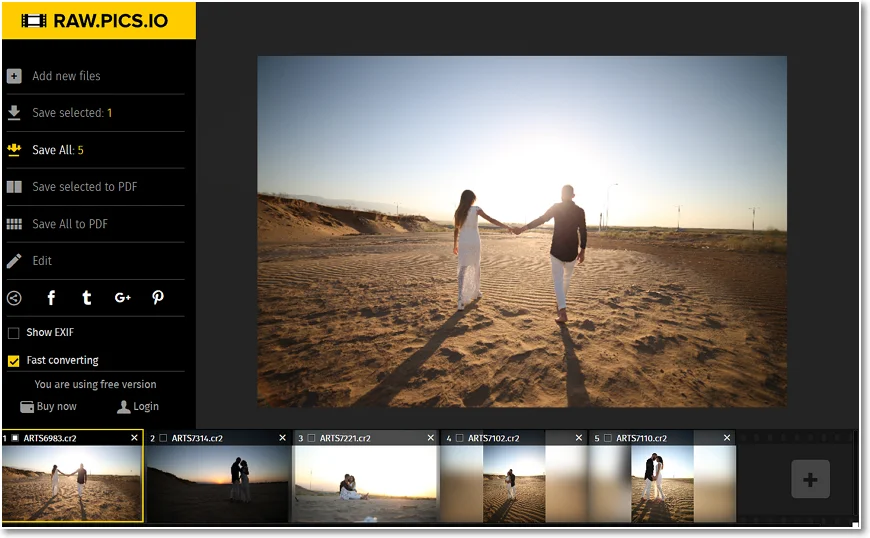 Preview and save your converted pics
Want to improve composition and lighting, increase sharpness, tweak color balance, or retouch your portrait? Find out how to enhance a photo in various ways.
How to Turn CR2 into JPG with Canon RAW Image Converter
Want a simple desktop converter? Try out Canon RAW Image Converter, free software for Windows PCs that lets you turn your CR2 photos into JPG, BMP, GIF, or TIFF formats in a jiff. The program has a straightforward interface and supports processing in bulk.
Here's how to convert a CR2 file to JPG format with CR2 Converter:
Download the software.
Run the converter after installing it on your computer.
Hit the Add button to import your images.
Select the output format and folder, and then click Convert.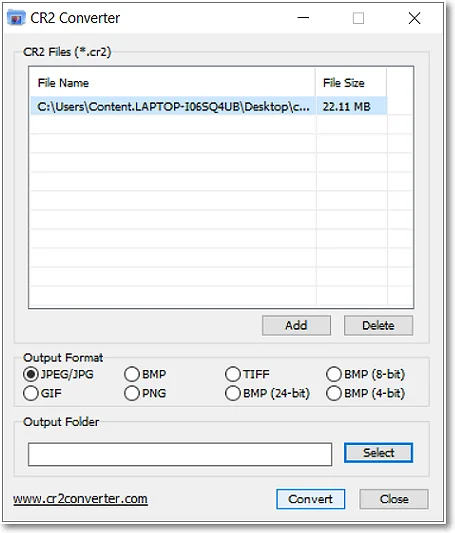 Change the file format with the desktop CR2 Converter
Converting CR2 Files to JPGs: Conclusion
Now you know how to change CR2 files to JPG format using 6 different converting tools. We hope you found this guide useful and discovered the ideal converter for your needs. If you are still in doubt about which option to choose, we recommend opting for PhotoWorks. Apart from converting your photographs instantly, this easy-to-use yet powerful software will let you effortlessly enhance your pictures as well. Plus, you don't need any editing experience or much effort to master the program.