How to Restore Old Photos Without Photoshop
Time takes its toll on all printed photographs even if they're properly stored. Staining, fading, warping, discoloration, rips, tears and cracks - all these unpleasant marks call for high-level digital restoration. Of course, you can take your damaged photos to a professional, pay them a lot of money and spend days waiting for the result you may actually dislike. How about trying to restore old photos with your own hands?
To get the work done, you'll need an effective image editor. Perhaps, Photoshop is the first program that comes to your mind. But despite how feature-rich this software is, it is also immeasurably difficult and expensive. So instead of employing this Adobe giant, consider going with PhotoWorks. This is a powerful photo editor that is nonetheless easy to grasp. In this article, we'll show you how to make old photos look new using PhotoWorks. But to make things more interesting, we'll be looking at alternative programs as well. Let's dive in.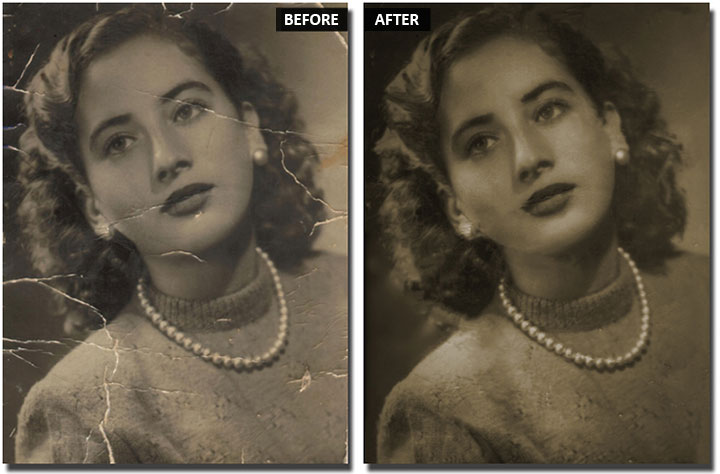 In just a few minutes you can give your old photo a new lease on life
Can't wait to restore your old photos? Watch the video lesson below and you'll see all the editing techniques photo gurus use to conceal nasty cracks and revive dull colors of faded pictures.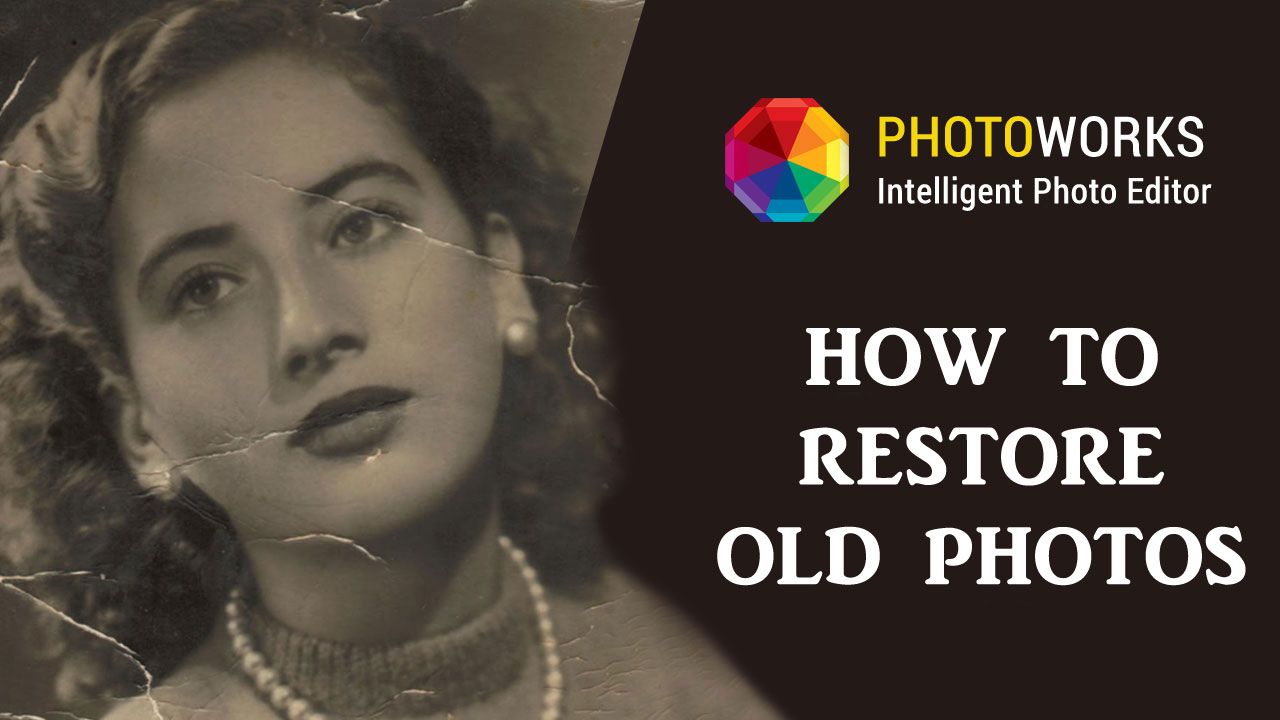 Impressed with what PhotoWorks can offer you? Want to dive into restoring old photos right away? Start your free trial right now!
If you prefer written tutorials, keep on reading this post till the end and you'll learn all the secrets of old photo restoration. Follow seven simple steps and the result will surely amaze you.
Step 1. Digitize Your Old Photo
Before you start a rescue mission on your damaged photograph, you need to get its digital copy. The easiest way is to put it through a flatbed scanner. In this case, you'll surely get a clear image without any flares. However, not everyone has an access to a scanner. Plan B is to reshoot your retro photograph with a camera or smartphone, and then upload it to your computer using a USB cable.
Step 2. Get Started with PhotoWorks
Now let's see how to enhance old photos with PhotoWorks. You'll need to download the free trial of the photo software and install it to your computer following all the instructions in the wizard. Once installation is complete, open your digitized picture in the program to retouch it.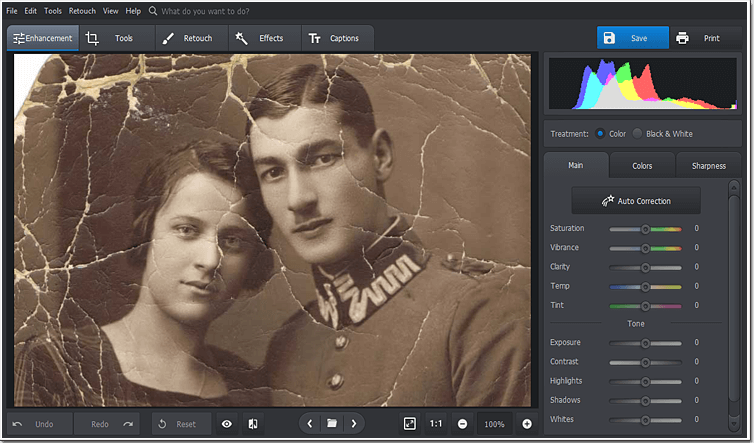 Open your scanned photograph in PhotoWorks
Step 3. Cut Away Worn-Out Corners
In most cases, old photos come with worn-out and even torn corners. Instead of spending much time to clean them up, it's better to completely crop out these corners. Switch to the Tools tab and pick the Crop tool. Choose a preferred preset and move the crop handles until the damaged area is outside the rectangle. Push the Apply button to crop your photo.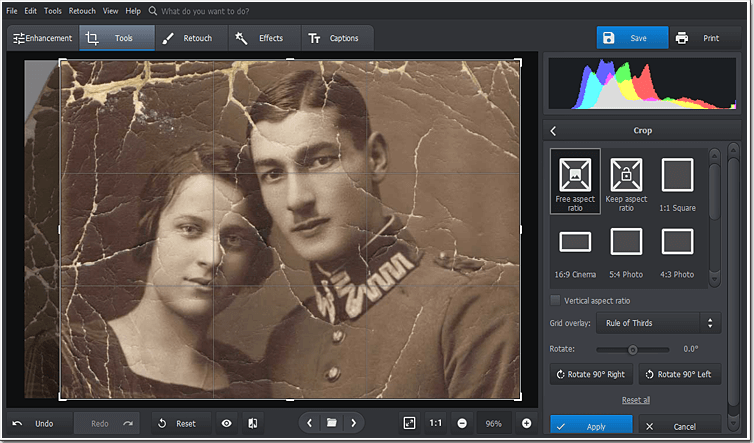 Don't be afraid to sacrifice some part of your old photo for a better result
Step 4. Repair Old Photos with Smart Brushes
To make old pictures look new, you need to remove all visible imprints of time. For that, move to the Retouch tab and choose the Healing Brush. This tool will help you get rid of small cracks and rips that cross the faces of the people in the photograph. Set a proper brush size. Adjust the Feather and Opacity settings to soften the transition between the retouched areas and the rest of the photo.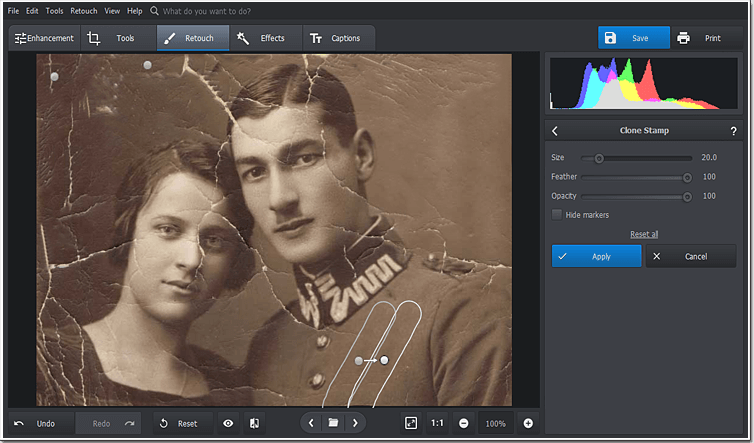 Use the Clone Stamp and Healing Brush to restore the damaged areas
To edit out larger tears, use the Clone Stamp as it replaces the damaged parts with pixels taken from the nearby unaffected areas. It's better to apply the tool to consistent backgrounds like the backdrop or the man's uniform.
If the background of your photo is too damaged and can't be repaired, think about replacing it. Learn how to add a new background to a photo with PhotoWorks in just a few brush strokes.
Even at that time, there were photobombers and accidental passers-by. Want to remove them from your image? Not a problem - check out this guide on how to erase someone from a photo.
Step 5. Make the Details More Distinct
In the past times photos were taken with classic cameras that couldn't provide sufficient sharpness. With PhotoWorks, you can fix this issue digitally. If your edited picture looks rather blurred, get back to the Enhancement tab and switch to the Sharpness tab. Zoom in some area to better see all the changes and drag the Amount slider to the right.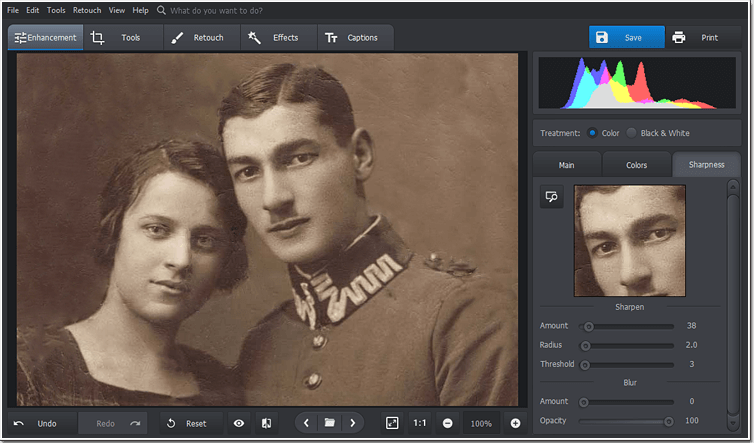 Increase the sharpness settings to refurbish your old photo
Step 6. Enliven the Colors of Your Old Photo
It's a common case when once bright colors fade away and photos begin to look lifeless. Even if they were shot in black and white, you can still make them as good as new. While on the Enhancement tab, increase the Saturation and Vibrance settings to enliven the colors. Don't forget to add some contrast for a more dramatic look.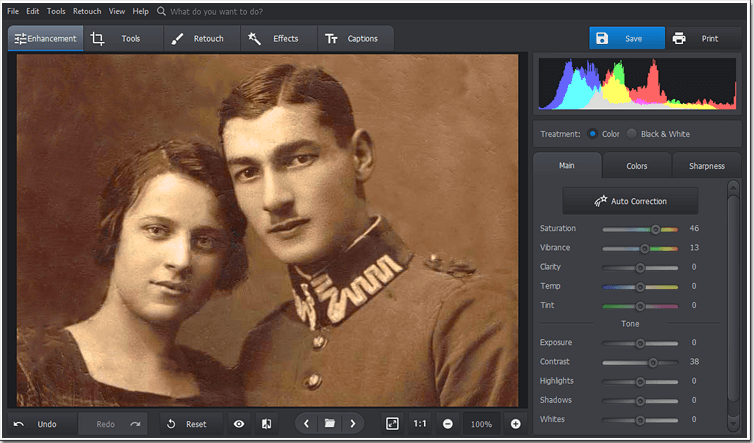 The smart color correction will bring back life to your old photo
Step 7. Recreate the Epoch with a Vintage Filter
PhotoWorks gives you a chance not only to touch up your old photographs, but also preserve their unique atmosphere. When you've finished editing the chosen image switch to the Effects tab and pick the Vintage group. A great variety of retro filters will help you make pictures look vintage without ruining their newly-restored view.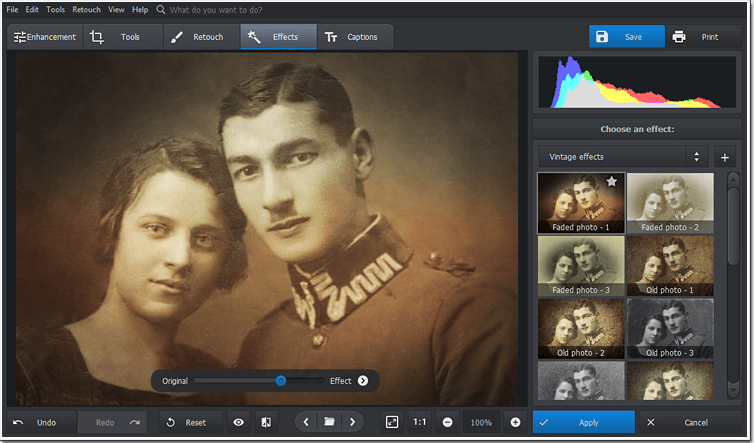 Apply some vintage filter as a finishing touch
Always thought it's impossible to turn the clock back for faded photographs? With PhotoWorks, you'll be able to save treasured pictures from your family archive and give them many more years of digital life. Get started with the program today and restore old photos on Mac or Windows like a professional.
Once you start working with PhotoWorks, you'll get access to myriads tools and features that will help you breathe new life into your faded and damaged pictures. But if you are for some reason not quite content with this smart software, we still have something to offer you. Find out below.
How to Restore Old Photos: Alternative Ways
Despite how tempting it is, we still won't be focusing on Photoshop as a means to retouch old photos. Luckily, there are other ways you can use instead, both digital and physical. Let's have a look at some of them.
Go with specialized software. One of the most efficient ways to fix your damaged pictures is using a program developed just for the cause. We suggest going with PhotoGlory, easy photo restoration software. This full-featured program allows you to heal cracks and rips, remove stains and blobs from your images in a snap. What's more, PhotoGlory comes equipped with an auto colorization feature. You just need to open your grayscale picture within the software, hit a single button and in a moment your photo will be bright and juicy.
Do it on your Android-based cell phone. If you want to try restoring your old photos on your phone, consider going with Colorize Memories. This easy app has just a few features, but these might be enough to fix your old images. First of all, Colorize Memories can rid your image of all flaws in a tap. Another tap will help you colorize your B&W image.



PhotoGlory: a perfect solution for your image restoration needs

Try fixing your old photo on your iPhone. If you are an iPhone user, try Damaged Photo Restore & Repair. This little app is similar to its Android counterpart, only with one notable exception - it does not colorize images. But on the whole this application is quite efficient when it comes to removing stains, dust, rips, and creases with just a few taps.
Restore old photos manually. If you don't think you have the chops to use digital solutions, try fixing your old pictures manually. Uncurl your pictures using an impromptu humidification chamber (made of a plastic bin with a lid and a wire rack). Remove dust and residue using a brush. Heal tears with an acrylic-based tape. Just go gently - after all, you'll be working on the only physical copies of your pictures.
Consider recruiting a professional. Sometimes it is a lot better to trust your old images into the hands of a person who knows what they are doing. First, you can have someone edit old photos digitally. For that you just need to order a gig from a professional retoucher. Alternatively, you can get a specialist who would work on the physical copies of your images with utmost care.
Well, now you know how to make old pictures look new in a handful of ways. If you have modest skills and aspirations, you can definitely rely on mobile apps to do the trick. If your budget allows this, recruit outside help. And in case you need a neat result with minimum effort, then PhotoWorks and PhotoGlory are the tools for you.