How to Make Photos Look Like polaroids at Home
Recently, the polaroid effect has become super popular among both professional photographers and amateurs who pay special attention to trends or want to maintain a vintage aesthetic in their Insta feed. However, shooting with an actual polaroid requires a lot of money - besides the camera, you need plenty of expensive film and accessories. Fortunately, today, you can make realistic polaroid pictures using your smartphone or camera and a well-rounded photo editor.
In this article, we will list all the features of an original polaroid shot and teach you how to recreate them in your regular photo. We will also show you how to make a picture look like a polaroid using PhotoWorks. This is a photo editor powered by an artificial intelligence engine. The software offers all the tools a photographer might need for thorough post-production - from automatic enhancement and retouching to proficient color correction with Curves and 3D LUTs. Yet all the tools are super easy to use, thanks to the well-considered interface.
Regarding ‌‌turning regular photos into polaroid shots, PhotoWorks will help you add all the distinctive features of such an image in no time. We will also give you 5 alternative ways to turn your pictures into polaroids - on Windows, Mac, Android, iOS, and online. Keep on reading to check them all out. But first, let's see what the key characteristics of a polaroid picture are.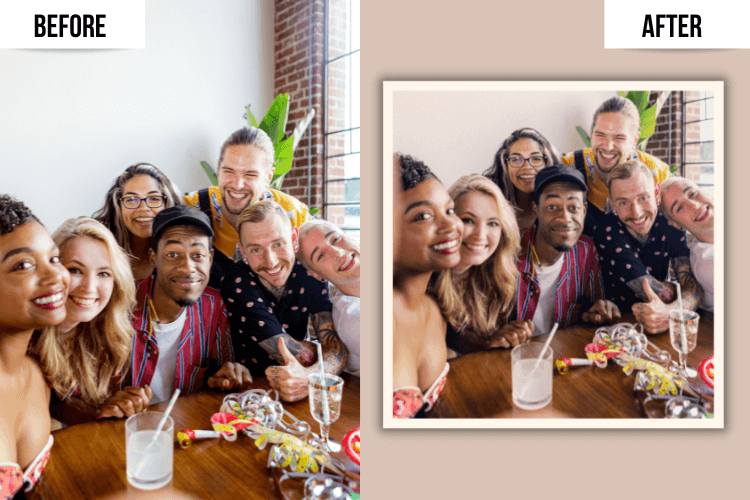 Turn a regular photo into a stylish polaroid picture
Turning Photos into Polaroids - All You Must Know
Want your picture to convey the charm of an actual polaroid photo? Read the list of all the peculiarities that make polaroid pictures special and attract admirers.
Miniature size. When we mention the size of a polaroid photo, we are talking about its intrinsic dimensions - the size of the image without the border. The inner size of a polaroid is 3.0625 x 3.125 inches, which is almost square.
Signature frame. You can recognize a polaroid photo by its white or off-white border. Such a frame gives your image the dimensions of 3.4 x 4.2 inches - the full polaroid picture. For a vintage polaroid frame effect, we recommend choosing beige and gray colors for your border.
Unique lighting and color correction. Polaroid images have a high black point - the darkest parts of the picture are not pure black and have a faded effect. Meanwhile, the brightest parts of the photo are dull. This so-called polaroid filter effect creates that charming aged aesthetics.
Delicate grain. Another special thing about polaroid photos is their high exposure, which gives a slightly noisy effect. Although not all Polaroids have grain, it certainly adds a nice old-fashioned vibe and authenticity to them.
If you recreate the features listed above in your original photo, no one will ‌tell your polaroid picture is fake. In a moment, we will show you exactly how to make polaroid pictures without a polaroid camera with an easy photo editor for Windows & Mac and a few alternative ways you can also rely on. Let's get started.
How to Turn Photos into Polaroids Step by Step
We will begin by showing you the easiest and fastest way to turn your regular photo into a polaroid shot - using the handy PhotoWorks. This self-explanatory program does all the heavy lifting for its user. You will feel comfortable using it whether or not you have a photography background or experience in photo post-production. Just follow the steps below, and you will get a perfect polaroid picture for your Instagram or a creative piece of home decor.
Step 1. Download PhotoWorks on Your PC or Mac
First, install the AI-powered polaroid photo maker on your computer. Follow the guidance of the installation wizard and get started with the program shortly after downloading it. Once you are on the startup screen, import your photo into the editor.
Step 2. Apply Polaroid Color Correction
Stay on the Enhancement tab and use the Tone sliders on the right toolbar to achieve the vintage polaroid photo effect - drag the Blacks slider to the right to soften the darkest colors and pull the Whites slider to the left to make the brightest colors duller. Alternatively, use Curves on the Tools tab or switch to the Effects tab to put filters on your photos: Polaroid Slightly Soft, Polaroid 600 - Brown Highlights, etc. Adjust the intensity of the chosen filter with the slider.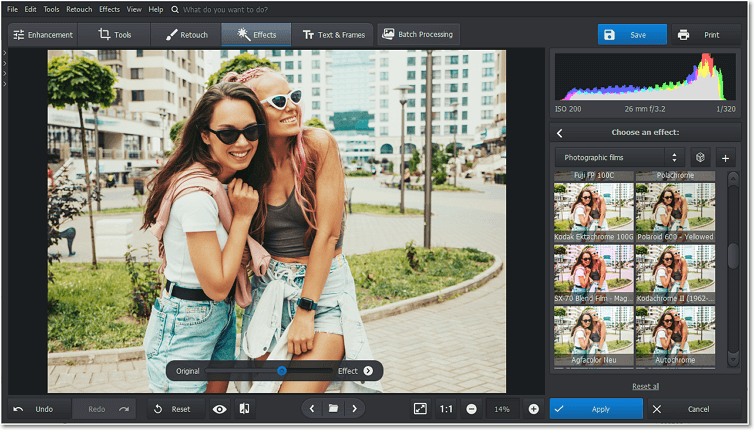 Turn pictures into polaroids with PhotoWorks one-click presets
Step 3. Recreate Film Grain
Now let's add grain to your photo. Choose the Grain tool on the Effects tab. Drag the Amount slider to the right. The editor will add a slightly noisy effect to your picture. Then you can either leave the remaining sliders at their default settings or adjust them according to your preferences.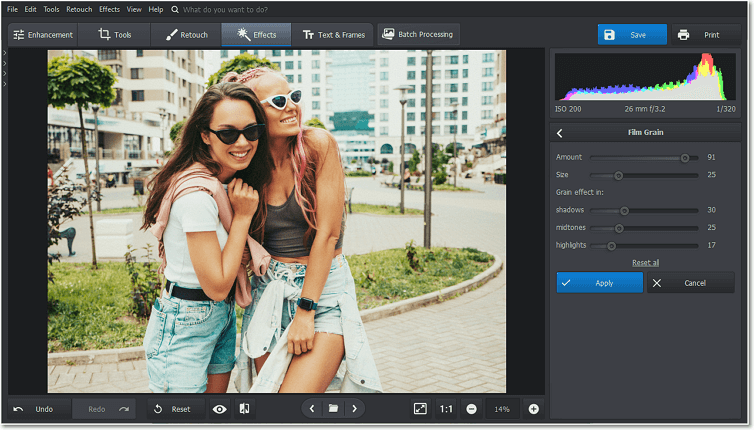 Recreate the typical polaroid graininess in your picture
Step 4. Resize Your Original Photo
Switch to the Tools tab and pick the Crop tool on the right toolbar. Scroll down to the Custom Proportions option and type in 30625 x 31250. Now drag the grid to the needed part of your photo and hit Apply.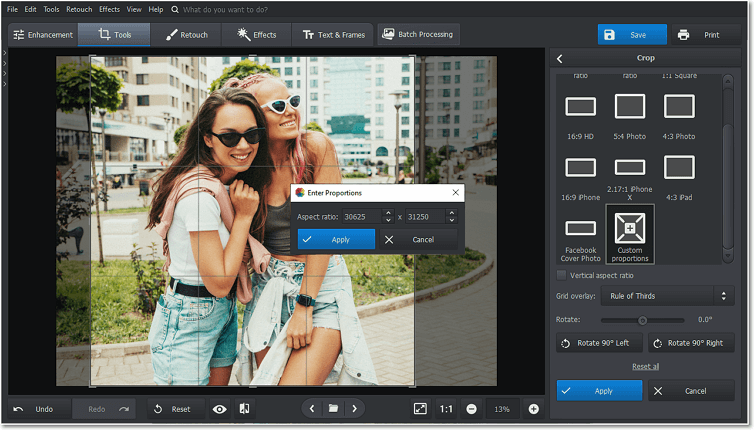 Give your picture the polaroid aspect ratio
Step 5. Add a Polaroid Frame
Now it's time to add a frame to your photo. Go to the Text & Frames tab and choose the Frames tool. Here, pick the regular square border in the top-left corner. Drag the Size slider to adjust the thickness of your frame. We recommend setting your border at 15 for a realistic polaroid effect.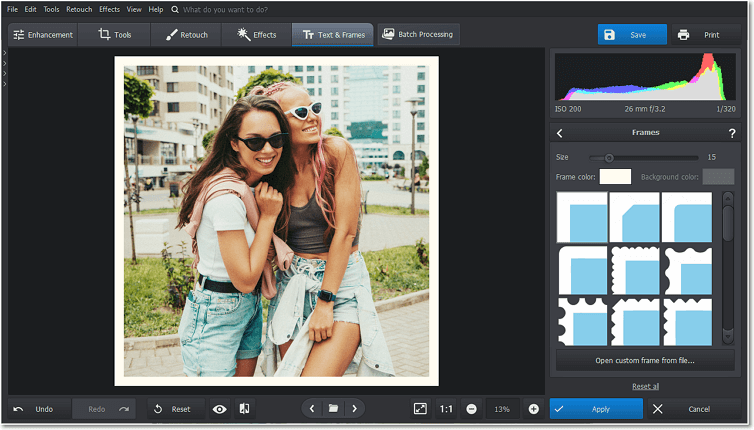 Add a polaroid frame to your photo in an instant
Want to add a pre-installed polaroid frame of other proportions and a different design to your shot? Make sure it's a transparent PNG file and check out an easy guide on how to overlay pictures in 6 different ways.
5 More Ways to Turn Your Photos into Polaroids
Want to explore all the available options? Have a look at the 5 alternative editors that will help you make photos look like polaroids. First up, is Adobe Photoshop, a professional photo editor that photographers and specialists in other creative fields highly respect for its effectiveness and endless capabilities. With its help, you will make your photos look like actual polaroids both on Windows and Mac. However, you will have to do all the editing manually, which requires you to read many manuals on how to make polaroids and have experience with the program since it's quite challenging to navigate. Besides, it's too expensive for occasional use.
Seeking an intuitive application you can use on the go? Check out how to get polaroid pictures in YouCam Perfect photo app for Android and iOS. It helps make spectacular polaroid collages, retouch portraits, sculpt the model's body and face, apply filters and embellishments, erase unwanted objects, etc. However, users have to pay a fee to access all the features of the app. Apple admirers will also appreciate the free iPhone app that specializes in making polaroid photos - single polaroids and collages. Besides that, the application allows you to enhance your images - fix their quality and exposure, remove noise, apply filters, etc. But there is not much else you can do with this editor.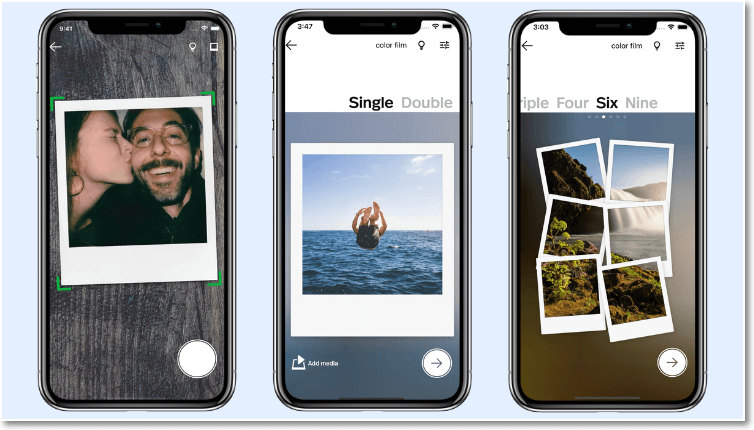 Make minimalistic polaroids using the Polaroid app for iOS
Don't want any extra apps and programs? Use an online photo editor to make your pictures look like polaroids. For instance, Kapwing will help you make a cool polaroid in mere minutes using a single template. However, it isn't completely free and most times requires a pricey subscription. Alternatively, try Fotor. This editor is significantly cheaper than the previous, yet offers quite an extensive set of features and creative elements you can apply‌. It even has a polaroid frames customization tool.
Final Thoughts on How to Turn Pics into Polaroids
Whether you are a PC owner or user of another operating system with a different editing routine, you now have 6 ways to edit your future polaroids. In case you are in the Windows or Mac squad, we highly recommend glancing at PhotoWorks. This comprehensive program has a free trial which will give you a wonderful insight into its capabilities. Besides, you can use our how to turn pictures into polaroids guide above to get a smooth start in the editor. Either way, our team wishes you good luck in your creative work!
PhotoWorks
Want to make a picture look like a polaroid?
Do it in a few simple steps with an AI photo editor!
TOP