How to Change Eye Color in Photos - 4 Best Ways in 2023
Born with a bland eye color? Want to try out a new trendy look without wearing contact lenses? Or just need to make the eyes shine on your photos? If you're shouting "Yes!" to any of these questions just like me, then continue reading.
It's said that eyes are windows to the soul. True: portrait shots with stunning brilliant eyes can captivate us even more than breathtaking landscapes. So how to change the eye color in pictures and get that immersive feeling in your images?
In this guide, I've prepared 4 simple ways to do that using different programs. Here you will find a method with a user-friendly image editor made especially for newbies, a way for more skilled users involving Photoshop and even a way for mobile applications, if you need to edit the pics on the go.
Before we start, let me dwell a bit on another hot topic. Often, when you take portraits, you get an extremely annoying thing called devil's eyes or simply - red eyes. You don't have to play with colors to fix it, just check out our fresh and extremely detailed guide on how to remove red eyes from photos. All you need to do is pick a tool, mark the pupils and - done!
Now, here're the ways to color eyes digitally:
Way 1. Edit the Eye Color with Ease in PhotoWorks
Not very fond of spending time on tutorials and climbing on a steep learning curve? Me neither. That's why when it comes to simple editing I prefer working with some user-friendly image editors instead of famous, top-rated but too complex software.
One of such easy-to-use programs is PhotoWorks. It may look like a one-trick tool, but don't be fooled: it's jam-packed with various features. PhotoWorks allows you to not only try out different colored eyes but also change your nose shape and adjust the size of your mouth, make a quick retouch to undesired spots or dark circles under your eyes, fix composition issues and beautify your pic with one-click effects.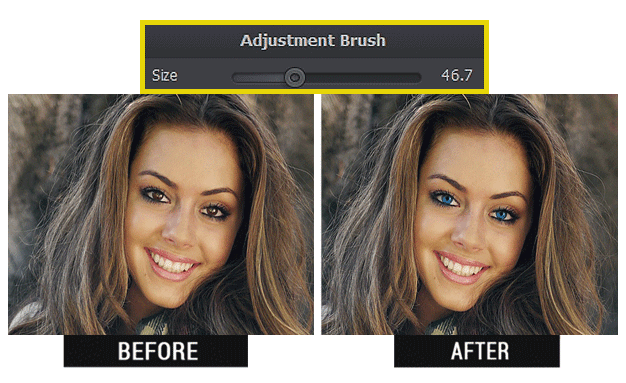 Change eye color in PhotoWorks: Before - After
Here are the steps for changing eye color in the photo retouching software:
Step 1. Choose Adjustment Brush
Go to Retouch and pick Adjustment Brush from the tool list.
Adjustment Brush lets you edit certain image areas without touching other parts
Step 2. Paint Over the Eyes to Select Them
Set the brush size so it's about the size of the iris and mark the areas you want to recolor. The software will place a selection over them.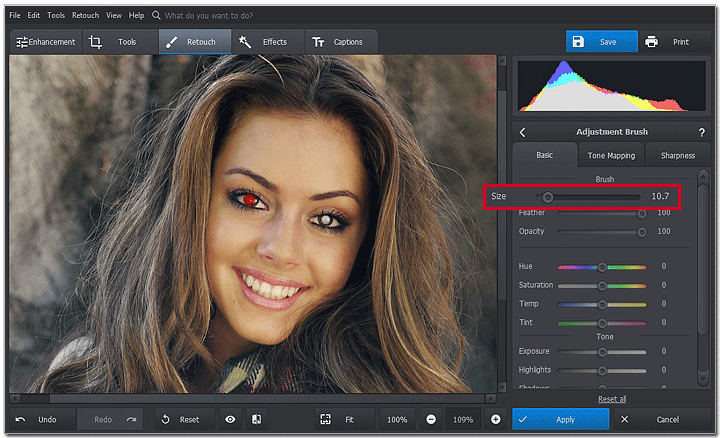 The selection marks are well visible and you can easily switch between them
Step 3. Move the Hue Slider to Change Eye Color in Photo
Now experiment with colors by dragging the Hue slider. If you want the color to pop out, increase Saturation as well. Repeat these actions for the other eye.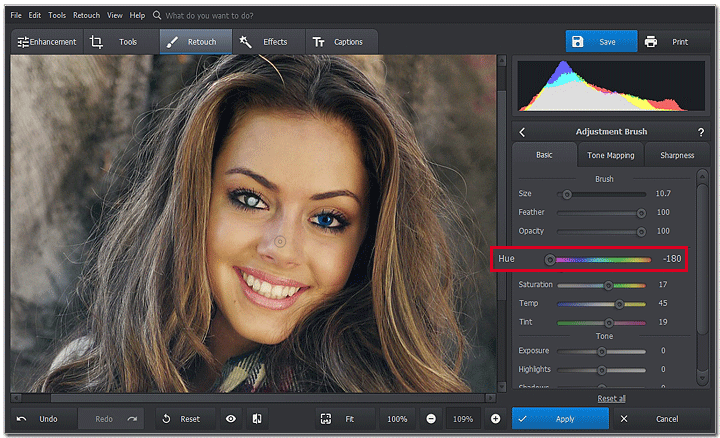 The selections have separate settings, so feel free to experiment!
Step 4. Move the Tone Sliders to Make the Color Lighter or Darker
To add a pinch of stardust, work with Tone. For instance, increase Exposure to brighten up the new color.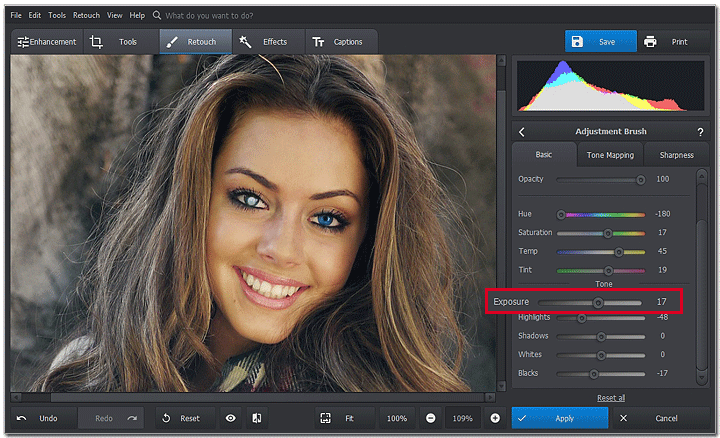 We want a bright blue color, so we're increasing Exposure
As you can see, it's pretty easy to get any eye color with PhotoWorks. How about trying it out with your own photos? Use the link below to get the latest version of the software:
The result we got looks like a professional shot. Take a closer look and you may notice that this image suffers from a very common problem - bad cropping. The stunning eyes may have the viewer drop dead in awe but it's no use if he won't notice them because of the composition mistakes. To eliminate that problem as well and learn all the cropping tricks, read our guide on how to crop portraits.
Here's what I've got using the tips from that guide: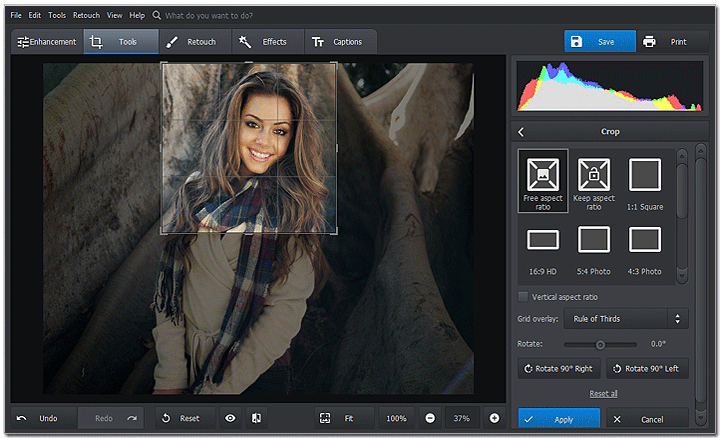 Crop the image to draw attention to the eyes before changing their color
Need a video guide to edit the eyes in your photos? Check out this one featuring the best way of changing colors: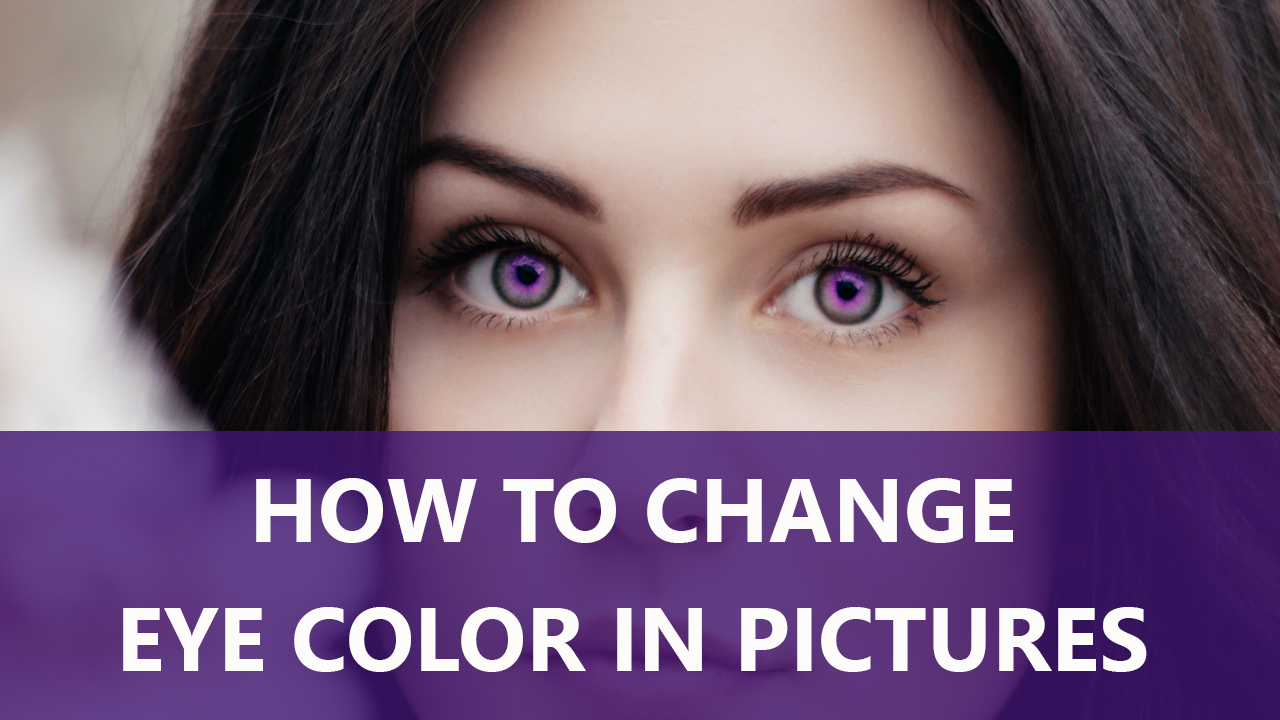 Way 2. Change Eye Color in Photoshop
I bet almost everyone who is at least a bit experienced in photo editing heard about the Adobe products and, particularly, Photoshop. It's one of the most powerful image editors and it lets you create almost any design. Large community, constant updates, tons of tutorials and presets - anything you need. A little downside here is a monthly subscription which can be costly depending on the package.
If you have a Photoshop subscription, then here are the steps:
Step 1. Pick the Marquee Tool
Choose the Elliptical Marquee Tool and select the first eye. Now hold the Shift key on your keyboard and select the other eye.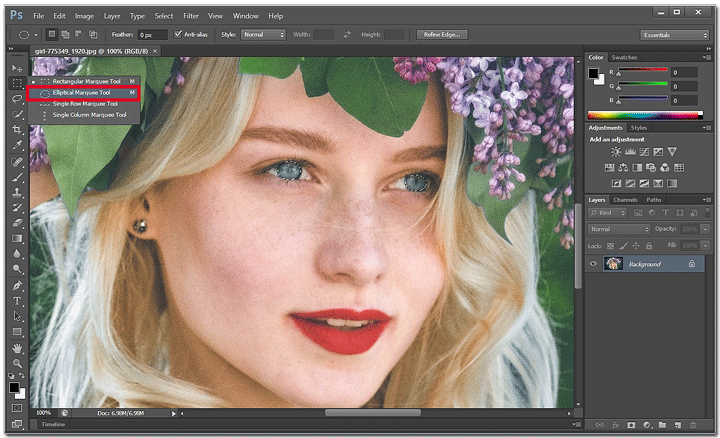 Select both eyes with Marquee Tool to prevent other areas from coloring
Step 2. Add New Layer for Coloring
Go to Layer > Add New Layer or simply press Ctrl+Shift+N to create a new layer. Set its mode to Color.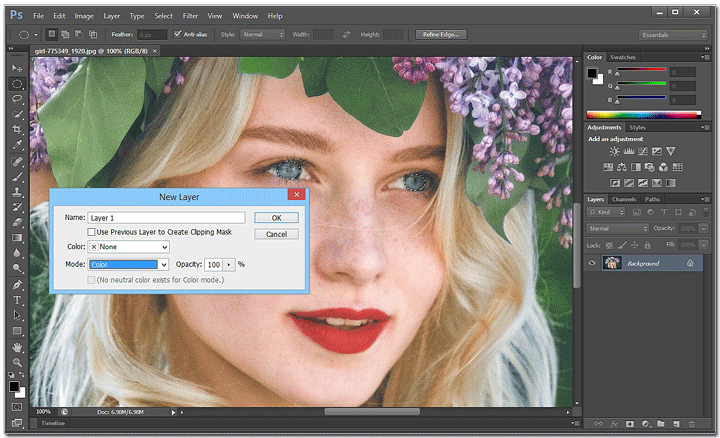 Add a new layer to save the original picture from damaging
Step 3. Paint Over the Selections to Color the Eyes
Pick a color and paint over the selection with a regular brush. To adjust the color saturation, increase or decrease the layer opacity.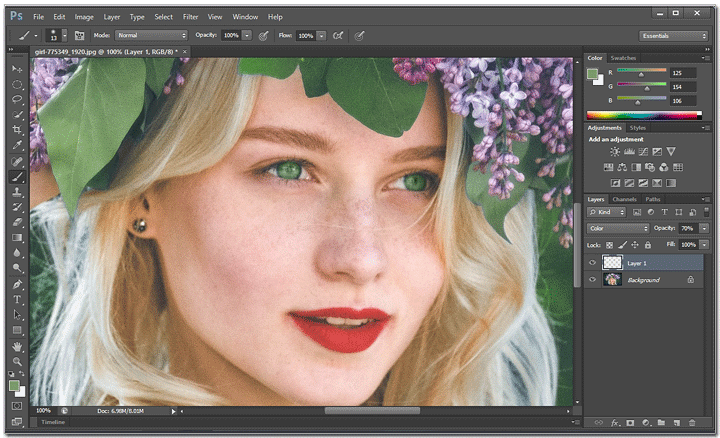 Try out other modes like Overlay for a magical glow
The result looks rather natural, but let's be honest: even a simple task will require some basic knowledge on layers, modes and tools. So if you are a beginner or not really keen on reading a series of tutorials, try a different way from our guide.
If Photoshop is too expensive for you, then try GIMP. It has a bit lower learning curve, and you can use it to edit the eyes color for free.
Way 3. Color Your Eyes Using Online Editors
If you don't want to waste time on downloading or installing any programs, better to turn to some online services. They will allow you to edit your photos on the go, and will work even on mobile phones running on both Android and iOS.
But there are some downsides. For instance, such programs are usually a one-trick: they can fix only one or two issues on your photos. Next, most of them are web based and require a stable Internet connection. Not good if you're hooked to a public Wi-Fi.
If you open your browser, you will see that there are many online enhancers like LunaPic, Picmonkey or Ribbet. All of them have their own advantages and all worth the try.
I will be working with LunaPic in this guide:
Step 1. Make a Round Selection
Upload your image and then click Crop Image. Select the Round Selection tool and mark the iris.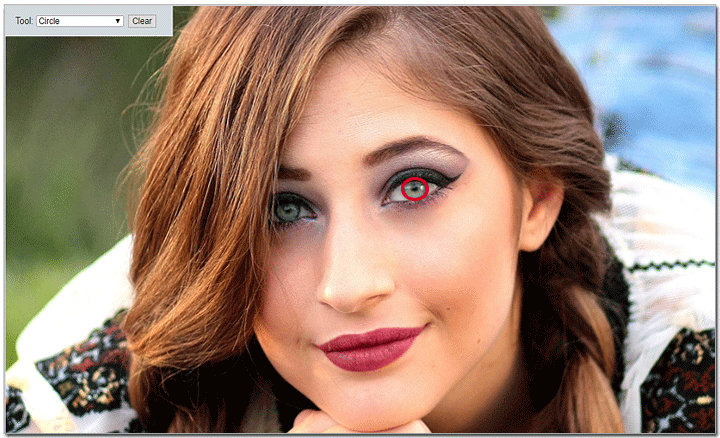 Select the eyes with the Round selection
Step 2. Choose the Color
Click Color Tint and type in the color you want to get. In my case, it's light blue.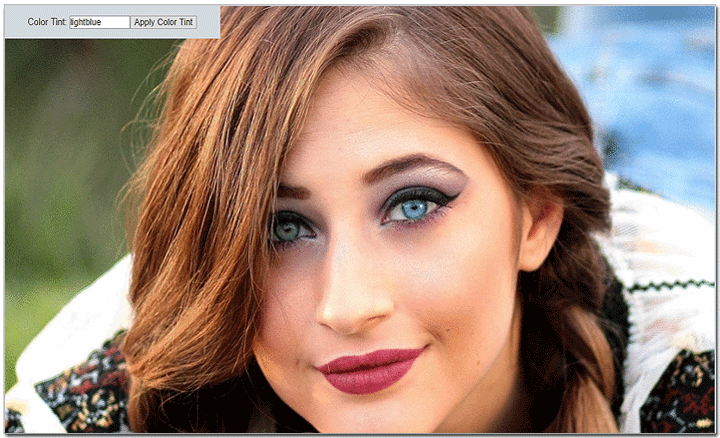 Unlike other editors, in LunaPic you need to type in the desired color
Step 3. Apply the New Color
Click Apply Color Tint and, if you're satisfied with the result, repeat the steps for the other eye.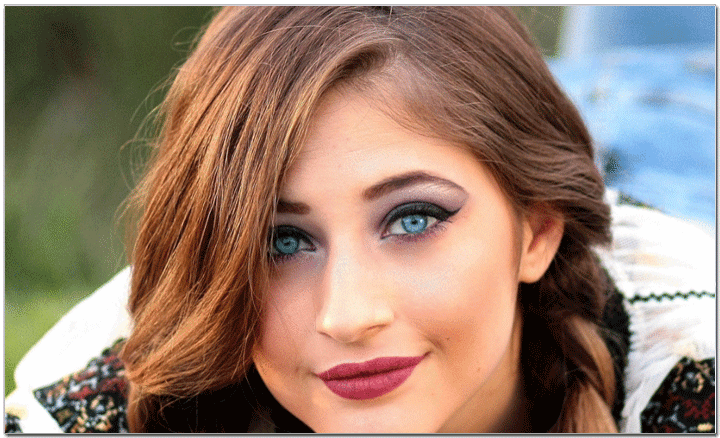 Apply the chosen color or take a step back if you don't like it
During and after applying the color, there is no possibility to tweak anything. So this way is suitable for the cases when you need to edit the eyes really fast or want to get a very basic color.
Add makeup to photos and the model's face will be even more expressive. You can apply digital makeup easily with PhotoWorks and its convenient Adjustment Brush.
Way 4. Use a Mobile App to Change the Eye Color
If you need to change the eye color but don't have a computer at hand, don't be quick to call the day wasted. Your mobile phone will do just fine for simple image editing. It's fast, somewhat convenient and easy to do.
However, just like online services, this way is not very reliable. For instance, your phone may run out of charge just in the middle of work and all the progress will be lost. What's more, many free apps have tons of ads you have to watch in between actions.
There are many apps for changing eye color like Eye Color Studio, Adobe Photoshop Fix, MakeUp by Modiface, Eye Colour Changer and others. I suggest opening the app market, looking through the features and comments to see which of those programs suits you the most.
As for me, I usually work with Eye Colour Changer on my phone. Here are the steps for this app:
Step 1. Start the App for Changing Eye Color in Pictures
Open the application on your phone and upload your photo. Select the irises.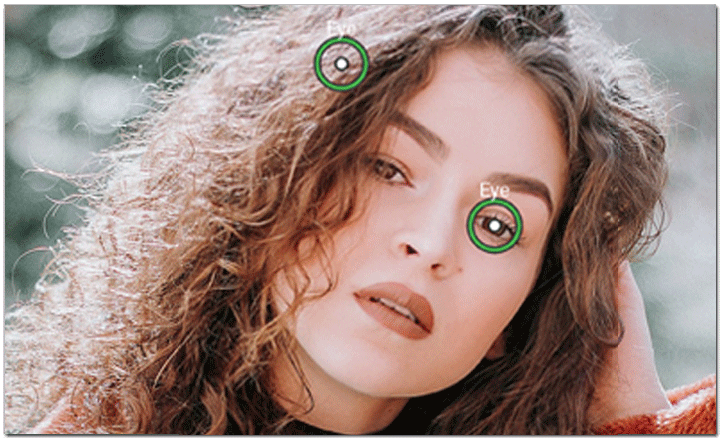 Upload the photo you want to edit and mark the irises
Step 2. Make Selections for the Eyes
Now define the eye shape by dragging the selections.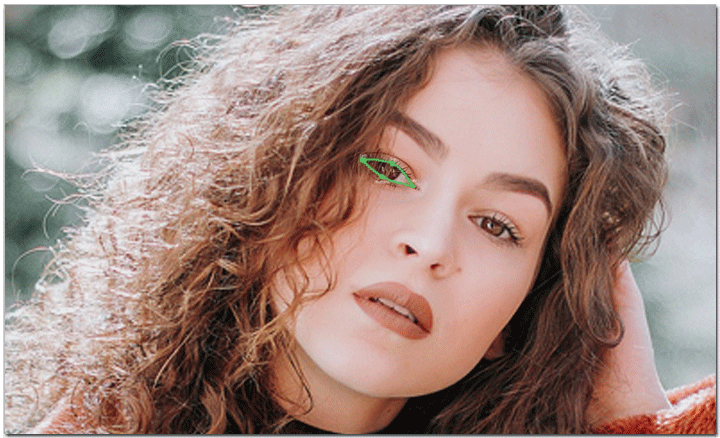 The app lets you select the eyes manually
Step 3. Choose the Color Template
Now pick the color and iris pattern you like. You can control its opacity and choose the blending mode. When you're done, hit Save.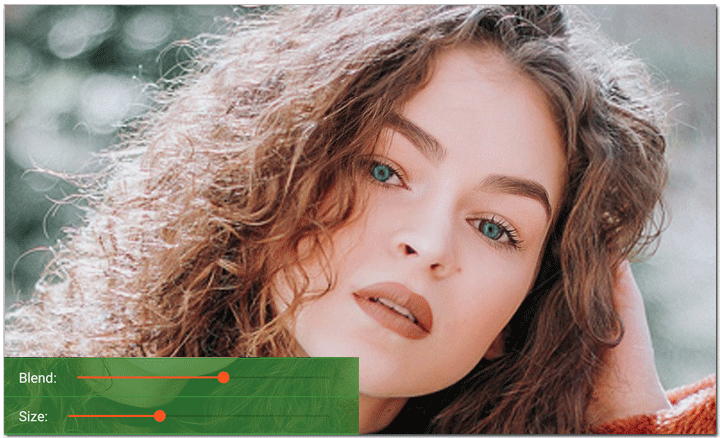 Although the color choice is limited, there are many templates to choose from
This method is very simple and allows you to change the eye color even while sitting in a cafe and taking photos with your friends. Still, if you looking for more advanced editing, the best way is to grab your computer and work with some desktop image editor.
Well, that's all! These 4 ways are all different and I bet anyone will find a method suitable for this or that case. Now go and bring some magic to your eyes!