How to Convert RAW Photos to JPEG Files Without Losing Quality
If you are into photography, you've probably heard about using RAW files for photoshoots instead of JPEGs. This format offers more opportunities for retouching and editing images. However, there is a small problem - you will need special software or a RAW-to-JPEG converter to open it. Not to mention editing or saving such images in other formats.
How to convert RAW to JPEG then? There are many ways to do that. In this article, we will show you the easiest one suitable for both photography novices and pros - using PhotoWorks. This is a feature-packed program with an intuitive interface that allows performing both basic and advanced editing tasks. It allows converting single photos as well as batches of pictures from your photoshoots. You will also discover a few handy alternatives for photographers of any skill level.
Before you learn how to change RAW to JPEG with PhotoWorks or encounter any of the other programs, let's see what's the difference between the 2 formats.
RAW vs. JPEG - Understanding The Difference
What's the best choice? Why use RAW when you can shoot in JPEG and not have to mess with the conversion at all? Yes, working with JPEG is easier: just take a shot, open it with any editor and voila - it's done.
Want to understand the true power of shooting RAW? Try taking photos at night or photographing fire. If you never tried that before, check out some tips for fire photography from a professional photographer.
However, the RAW format opens a whole new world of image editing for you. "Raw" means "unedited", so the settings of your camera like ISO, color balance, exposition and others will not be applied to this shot. You'll get exactly the same picture as you have in front of your eyes.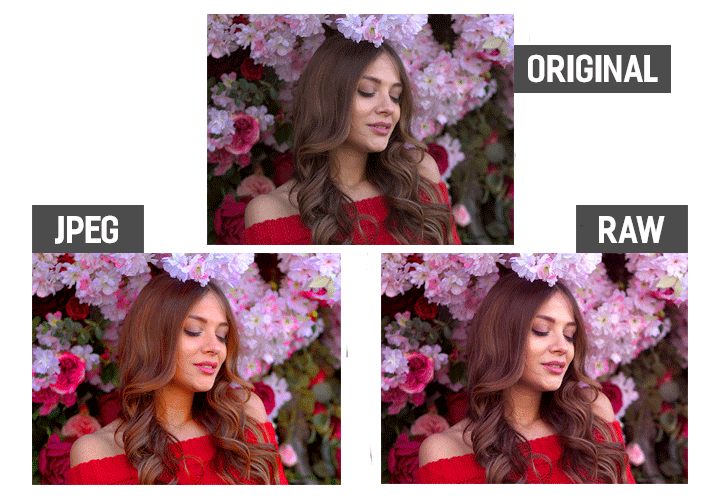 JPEG becomes oversaturated because of the camera settings
JPEG, on the contrary, takes the camera settings in. If your device has wrong settings for the current scene, your pictures may turn out too dark, too bright or too warm after editing. These flaws will be rather difficult to fix because of the camera settings packed into the JPEG format. That's why shooting in JPEG may be quicker, but you must be 100% sure that your device won't mess the pics up.
If you want to start working with RAW and changing it into JPEG, be sure to check out how to edit RAW images correctly as well. It will help you get the best results during the conversion and retouch.
Now, let's go back to converting RAW to JPEG. The easiest way is to get a powerful image editor, like PhotoWorks. This software for Windows 11, 10, 8, 7 and Mac opens different RAW formats. Apart from converting single pictures, which you will see below, the editor can change a whole batch of RAWs to JPEGs. Check out a tutorial on how to edit multiple photos at once to learn specific details.
How to Convert RAW Files to JPEG on Windows and Mac in a Blink
Here are the steps to follow in PhotoWorks:
Step 1. Start PhotoWorks
Start the software and open your RAW image.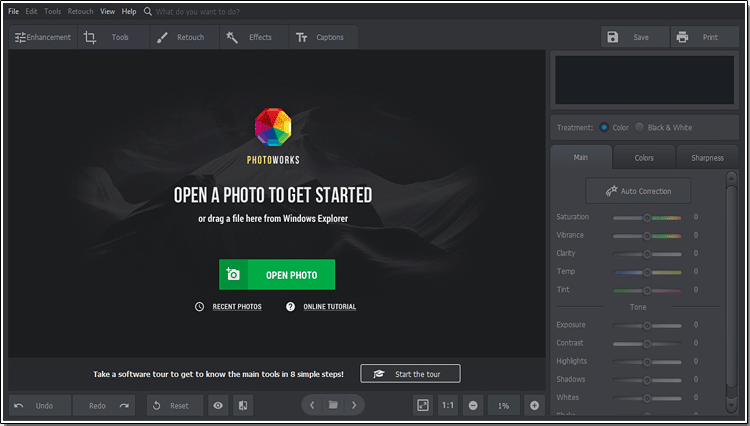 PhotoWorks can open different types of RAW files
Step 2. Change RAW to JPEG
Choose one of the editing modes that suits your needs: Standard, Portrait, Landscape, Automatic or some other. At this point, the RAW image is converted to JPEG and transformed into a stunning picture suitable for further retouching.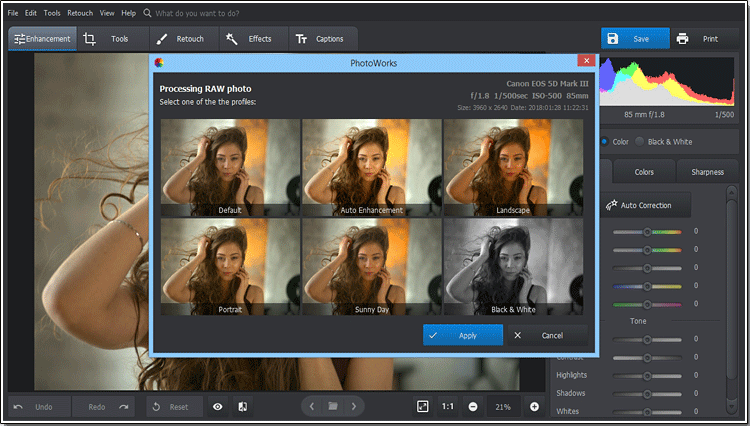 We picked the Default mode to edit the photo from scratch
Step 3. Enhance Your Photo Even More
Now you can start working magic on your photo. PhotoWorks is not just a simple picture editor but a powerful image enhancer that lets you make your pictures perfect in a click. For example, the smart auto correction will find all the flaws like overexposure, lack of contrast, incorrect ISO balance and fix them right away.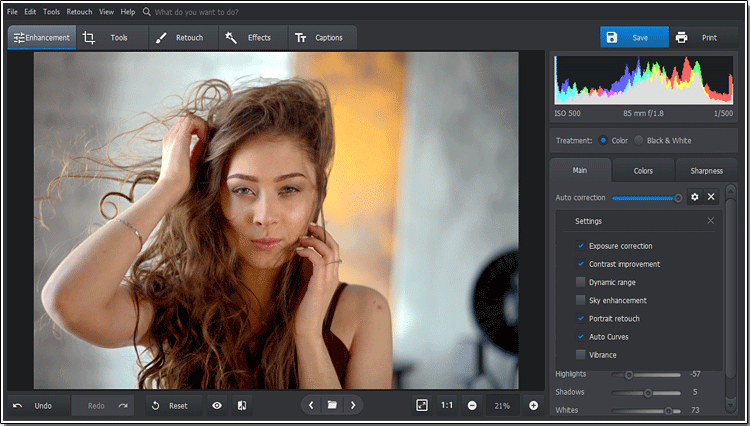 You can adjust auto correction to your taste
Done with enhancement? How about some experimenting then? Apply vignettes, play with one-click effects or change colors on your photo altogether. Want to experiment with the looks? Try out easy eye color changer, dye hair, apply make-up and change your style in a minute.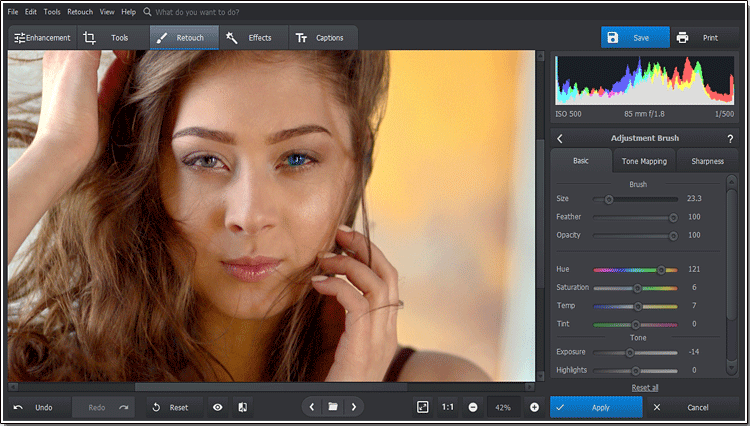 Use Adjustment Brush to change the eye color
When you're satisfied with the result, save your photo as JPEG. If you need, you can save it in other image formats as well.
Let's equip you with this handy photo editing program so that you can try it out yourself. Hit this button and follow the wizard.
Now you're ready to quickly convert RAW to JPEG on your Mac or Windows computer.
How to Change RAW to JPEG - Alternative Ways
If PhotoWorks isn't the best option for you somehow, below are a few alternatives worthy of your attention. You will find editors for professional photographers who work with photographs daily and for occasional users.
Need a simple converter? Try converting RAW files to JPEG in Rawker, software developed specifically for that. There is not much else you can do in the program, but it comes for free. Prefer using online applications for editing your pictures? Opt for Zamzar, an online file converter that can change your image to whatever format you like.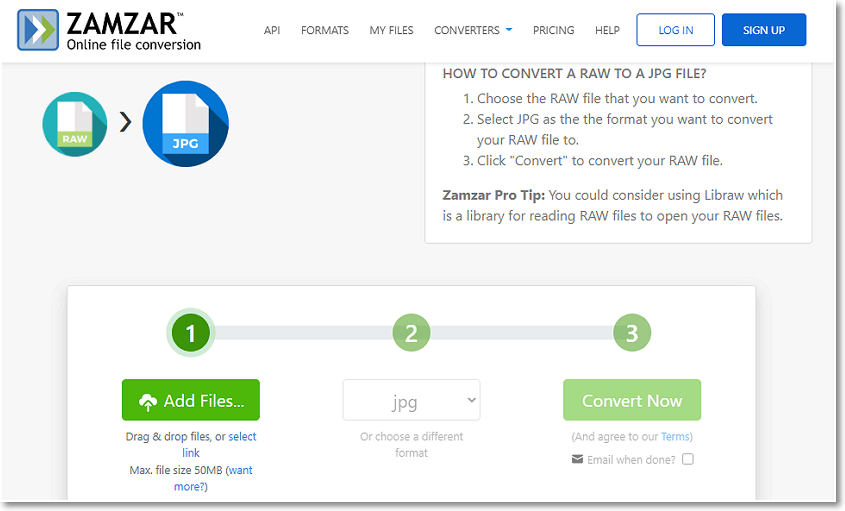 Convert your RAW files to JPEG with Zamzar
For photographers with at least some experience with professional editors, we recommend using the mighty Adobe post-producers - Photoshop and Lightroom. The latter makes converting images much easier, but both help achieve a top-notch result. Besides, you can use any of these editors to enhance your picture afterward and make it fully ready for sharing. Check out the programs' web pages to learn how to convert RAW into JPEG on Mac and Windows with their help.
Conclusion
These were the 5 best ways of RAW to JPEG conversion we have for you. We hope that this guide was helpful and you have found the perfect converter to use. In case you are still weighing your options, we advise you to entrust the task to PhotoWorks. This user-friendly program will convert your pic in an instant and help you bring out the best of it thanks to its powerful tools. Besides, you don't need an editing background or a lot of time to master it.