How to Edit Photos Without Photoshop: 12 Alternatives to Try
Although Photoshop is considered the gold standard of the industry and has even become synonymous with photo editing itself, this program still has its disadvantages: it takes forever to learn how to use it, the subscription is rather costly, and powerful hardware is required. These limitations might naturally make you wonder, how to photoshop without Photoshop?
We'll show you some of the best desktop photo editors that are easier to use and cheaper in comparison to Photoshop. We'll also introduce to you a handful of mobile apps and online platforms that can easily replace Photoshop for common editing tasks. What's more, we're going to guide you through the editing process in one of those programs. This article covers some popular techniques, but it's also possible to perform more sophisticated tasks. For example, you can:
— Do a face swap without Photoshop
— Add someone into a picture without Photoshop
— Cut out a part of an image without Photoshop
— Put a logo on a picture without Photoshop
— Cut someone out of a picture without Photoshop
Whether you're a seasoned photographer looking for a change or a beginner eager to take your photos to a new level, this list of Photoshop alternatives offers a variety of tools and features to help you bring your creative ideas to life. So, it's time to roll up your sleeves and discover some cool apps to check out.
How to Edit a Photo Without Photoshop: Desktop Programs
Photoshop is a legendary program, but, luckily, not the only tool in the game. There are many desktop photo editors offering similar functionality and artistic freedom. We've hand-picked several go-to programs that allow you to edit your pictures just like in Photoshop. Let's see which option works best for you.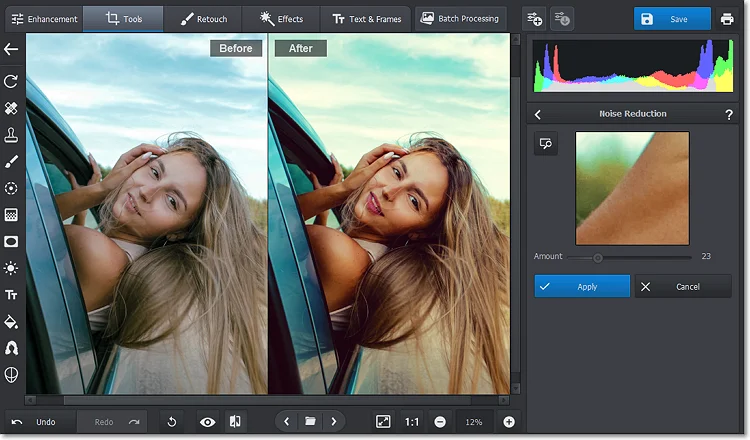 Give your shots a polished look with a desktop Photoshop substitute
How to Edit Pictures Without Photoshop: Mobile Apps
When it comes to editing photos on the go, having a handy mobile alternative to Photoshop can be a lifesaver. While the market is loaded with mobile apps, few of them can actually provide you with professional-grade results and run smoothly on your device. But we've got you covered. We'll show you 4 photo editors that won't let you down. Let's find out which app can help you edit images right from your smartphone.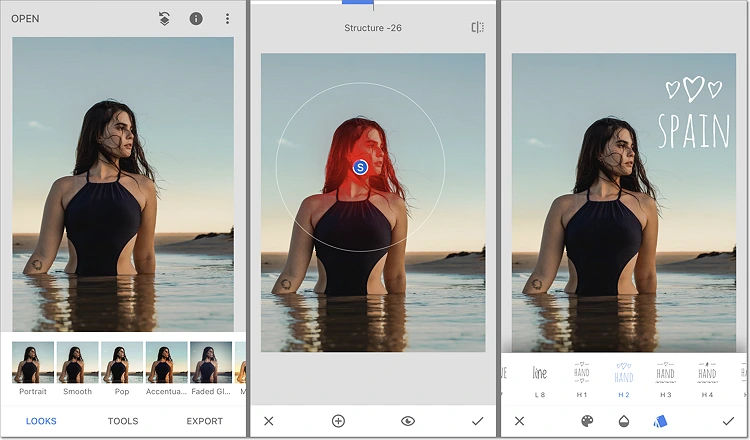 Edit pictures on your smartphone
How to Photoshop Without Photoshop: Online Services
If you want to level up your photos without having to download anything on your computer or phone, don't hesitate to try online photo editors. Browser-based services are accessible from any device with a stable Internet connection. They also make it easier for you to collaborate with others and share your images directly on social media platforms. So why not give them a shot? These are some of the online services you might like.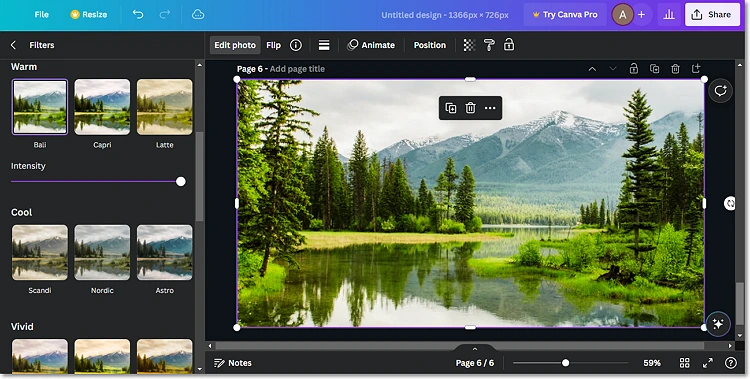 Use web-based tools to edit pics on any device
How to Edit Photos Without Photoshop: 5 Best Ways
There are a couple of useful hacks that can help you improve the look of any photo, be that a portrait, a landscape, or a casual group photo. We'll show you 5 common editing techniques using one of the programs we've mentioned above - PhotoWorks. Before we get into the details of image enhancement, it's better to arm yourself with the tool so that you can try out the tricks in practice right away. So, let's install the photo editor and get started.
Way 1. Fix the Composition
By fixing the composition, you can eliminate distractions, draw attention to specific elements of a photo, and create a sense of balance and harmony. You'll find some composition adjustment features in Photoshop, but its alternatives offer more convenient tools. Let's take a look at 2 effective ways to correct the composition in your images with PhotoWorks.
1. Crop the Picture
To remove unwanted parts of your picture, you need to use the Crop tool. You can either use a custom aspect ratio or select one of the ready-to-use options: 1:1 Square, 16:9 HD, 9:16 iPhone, etc. This will help you prepare the picture for sharing and avoid black bars when viewing it on a desired screen. PhotoWorks also offers a variety of grids that help you crop the picture according to common composition rules, including Golden ratio, Rule of Thirds, Triangle, and so on.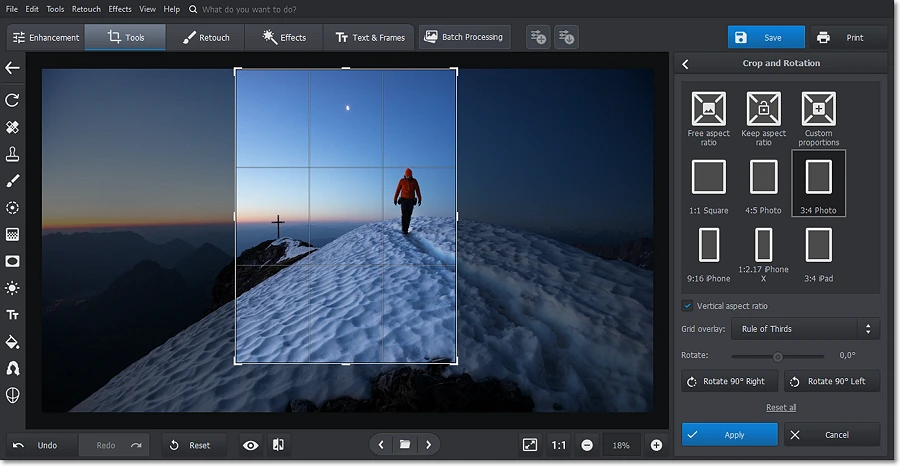 The right composition can do wonders to a picture
2. Straighten the Horizon
To fix a slanted photo, you should slightly rotate it. Just drag the slider to the left or right and move the selection and handles to keep the area you need.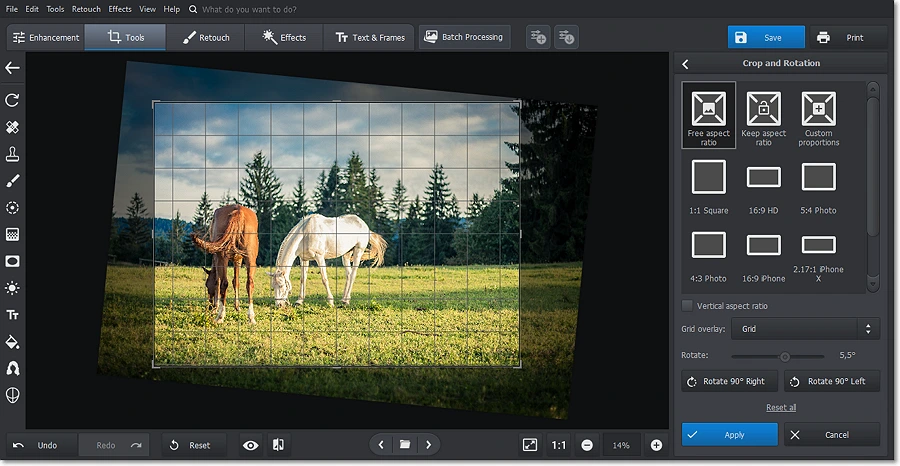 Correct the horizon in your photo
Want to try other ways to straighten the horizon in your pictures? Follow this link to find shooting tips for fixing the horizon and learn more about how to make a slanted picture straight in post-production.
Way 2. Adjust the Color Balance
When editing a picture, you should also adjust the colors in it. There are two ways to deal with them: color correction and color grading. Let's see how you can perform these tasks with Photoshop's precision using several editing tools in PhotoWorks.
1. Color Correction
Color correcting tools are used to fix colors and bring back the natural look of the image. For this job, you can use the HSL (Hue, Saturation, Luminance) sliders and RGB curves. PhotoWorks also offers an Auto Correction feature to fix colors in one click.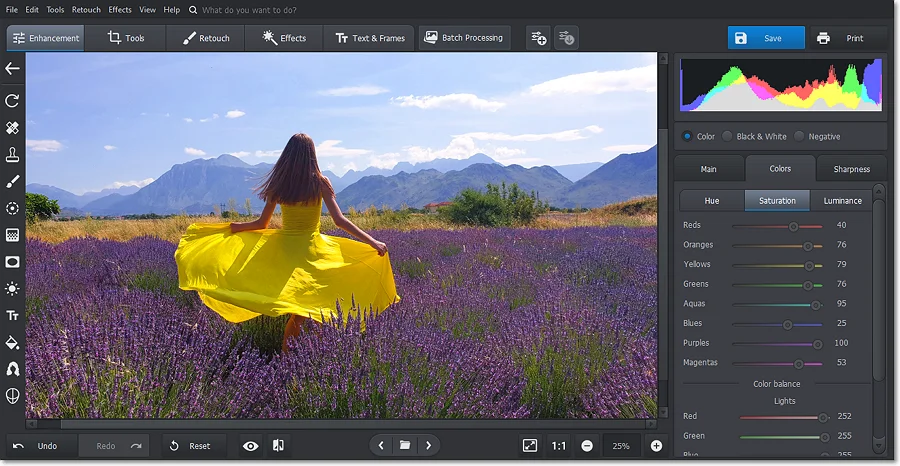 Adjust the colors to give your image a better look
2. Color Grading
While color correction helps you fix mistakes, color grading is more about stylizing your shots. PhotoWorks is rich in features that can be used for this. For example, you can apply over 200 filters, 3D LUTs, and Lab Colors to instantly stylize a picture. Another way to tweak the colors in a photo is by using the Tone Mapping tool.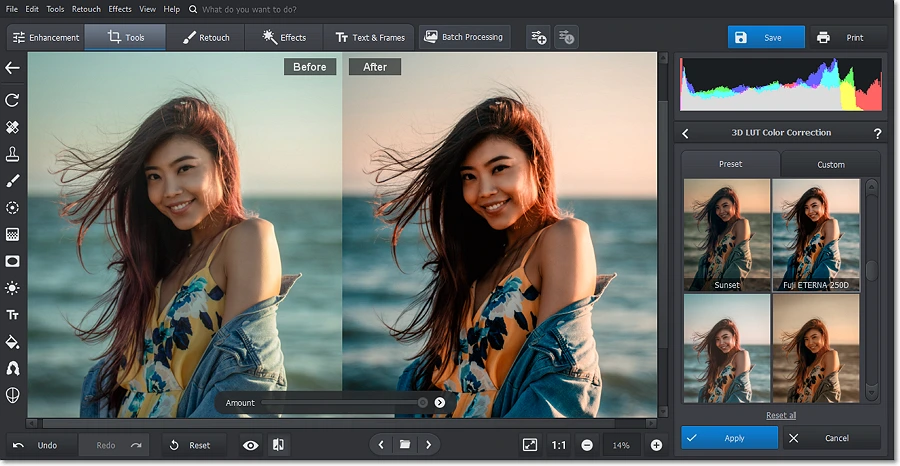 Stylize pictures with the best color grading tools
Way 3. Edit the Background
Photos can often get ruined by strangers or buildings in the background. Sometimes the background itself might look dull or distracting. But you can easily get rid of unnecessary parts of the photo or completely replace the background with another. Here's how you can do it without the complexity of Photoshop.
1. Erase Unwanted Objects
For removing objects or people from the background, selection tools will come in handy: Patch for major objects or Clone Stamp and Healing Brush for smaller parts of a photo. While Healing Brush seamlessly blends the selected segment in the picture, Patch and Clone Stamp let you replace it with another area.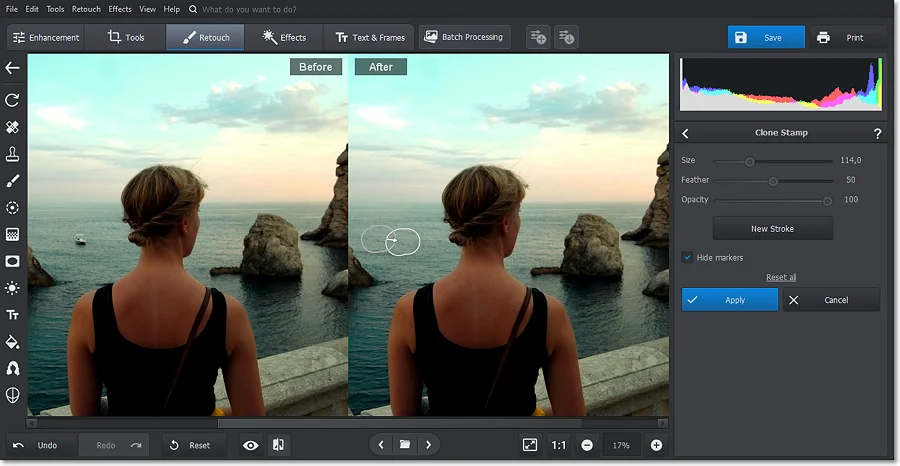 Remove any distractions from a photo
2. Add a New Background
To swap the backgrounds, you can use the AI-powered feature. You'll only need to select the backdrop and foreground areas using the Background and Object brushes, with no need to do it precisely. The program will automatically remove the background, and then you can add a new one from the collection of background images or upload your own file.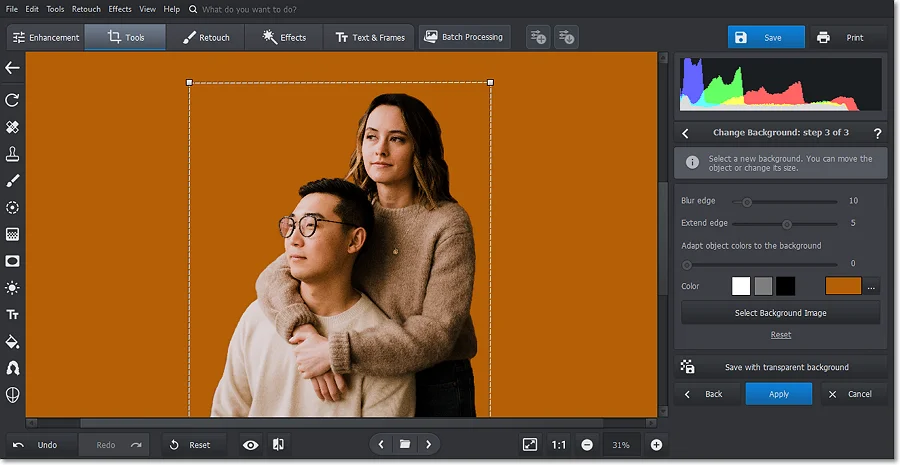 Replace a mediocre background with a studio backdrop
Way 4. Sharpen Your Photo
Pictures often turn out to be a little blurry. To make them look clear, you can use various sharpening tools. Some of them are aimed at adjusting specific areas of a photo, others help you edit the entire image. Let's see how you can sharpen your pictures with a Photoshop alternative.
1. Fix Blurry Parts of a Photo
To make local adjustments, you can use such tools as Adjustment Brush, Radial Filter, and Graduated Filter. After you make the selection of the blurry area, you need to switch to the Sharpness tab and tweak the Sharpen, Radius, and Threshold values by dragging the sliders. And it's done.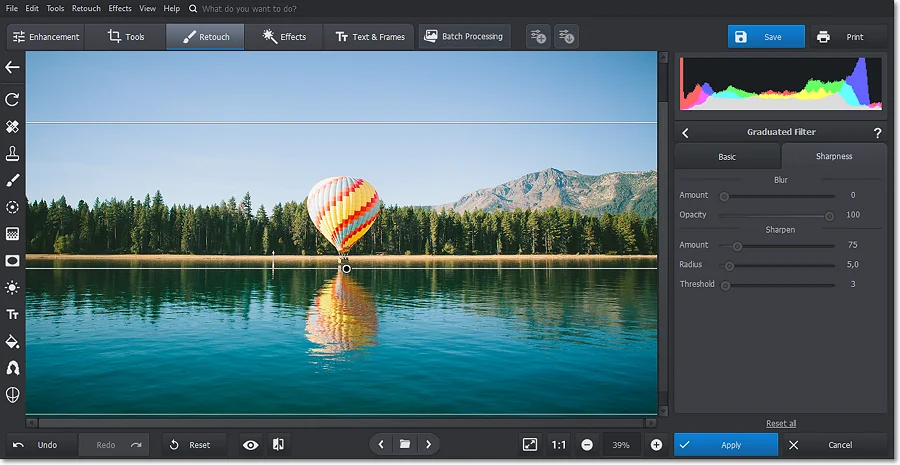 Get rid of blurry parts of a picture
2. Sharpen the Whole Image
If it's not just a part of a photo but the entire image that is blurry, correct it by adjusting the Clarity setting. We recommend you set it around 70. Alternatively, you can make your picture look clear using the Sharpness tool - change the Sharpen, Radius, and Threshold values. But don't overdo it and sharpen the image just slightly to keep a natural look.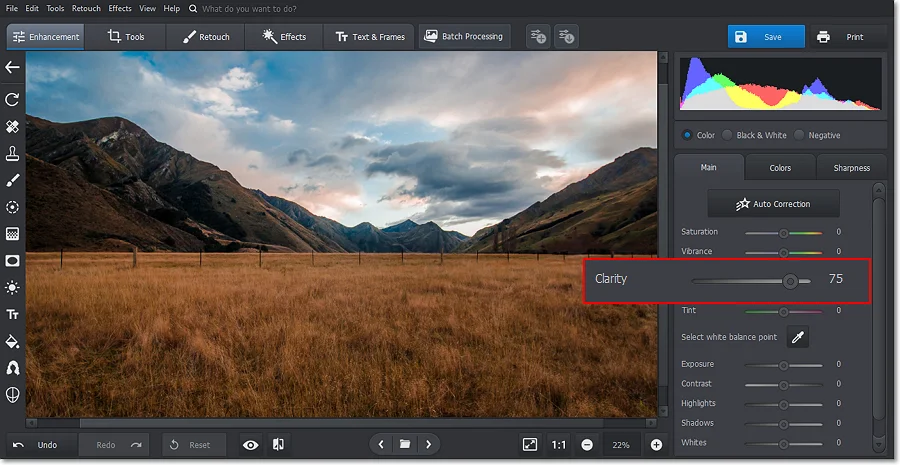 Enhance the clarity of your photos in a flash
Way 5. Touch Up Portraits
Photoshop is also commonly used for retouching portraits. However, its alternatives offer much easier ways to enhance such photos. Below, we'll share a few retouching ideas to help you create magazine-worthy portraits with an AI-driven portrait editor.
1. Perfect the Skin
To make the skin look flawless in a photo, you can use selection tools like Clone Stamp, Patch, and Healing Brush. But PhotoWorks also offers automatic tools and presets for quick skin enhancement. For example, the Skin Defects Removal feature lets you smooth the skin without having to select the imperfections - just drag the slider, and they're gone.
The Portrait Magic module also allows you to edit the face and neck skin either using the ready-made presets or moving sliders: eliminate acne, remove glare and redness, adjust the skin tone, etc.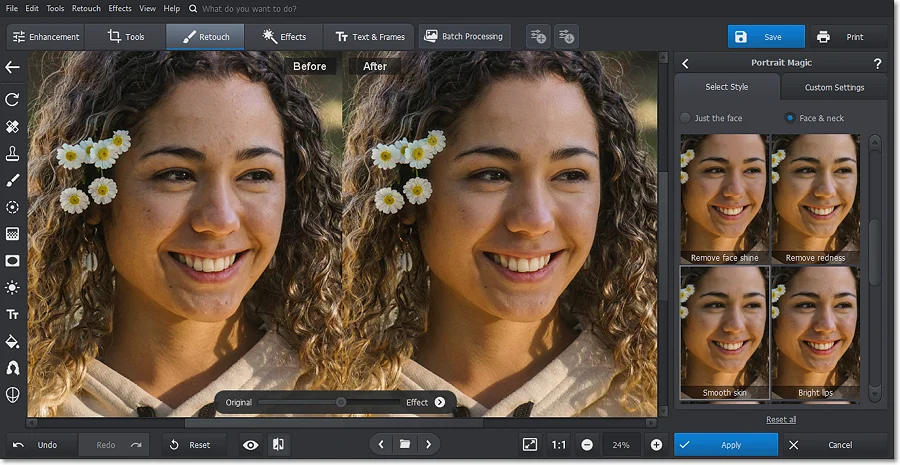 Remove skin blemishes w/o Photoshop
2. Edit Facial Features
Photoshopping faces sounds like a difficult thing to do, but with the power of AI technology, it's become accessible to everyone. For instance, the Face Sculpt feature in PhotoWorks detects facial features all by itself, so all you have to do is drag the sliders to change the eye size, plump the lips, reshape the eyebrows, or make the nose smaller.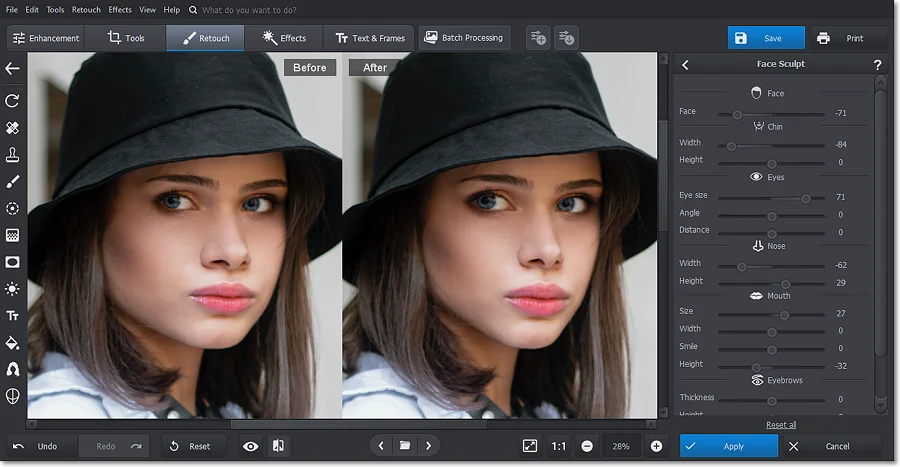 Edit selfies and portraits with ease
3. Transform the Body
Another popular task that you can effortlessly carry out with PhotoWorks is editing the body shape. The Body Sculpt module provides a handful of reshaping tools for slimming the waist, enlarging body parts, changing the legs, and more. There's also the Reshape feature that allows you to shrink, move, and enlarge the selected areas as well. The process is quite simple: you only need to place the handles over the desired part and move the slider.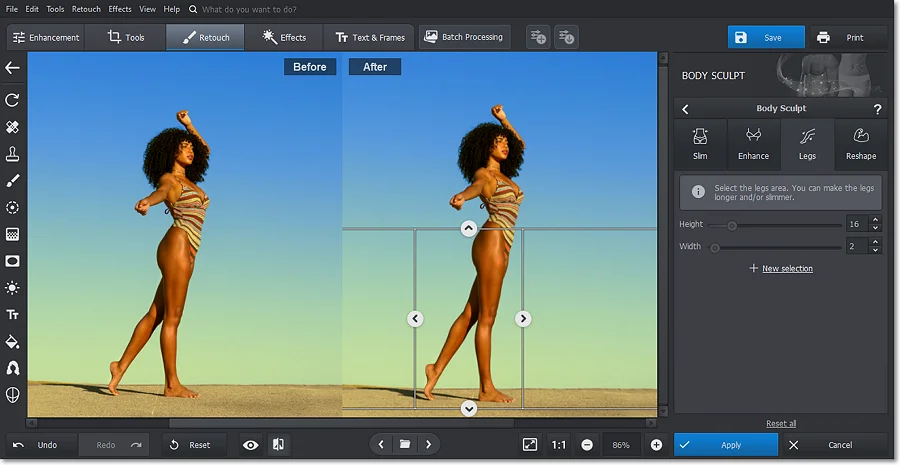 Try this easy-to-use body editing tool
Editing Photos Without Photoshop: Summary
Now you know 12 Photoshop alternatives that will help you save money, effort, and time. First, you've discovered desktop photo editors suitable for different levels of skill. Then you've explored several mobile apps available for iOS and Android. Finally, we introduced online platforms to enhance pictures on any device.
You've also found out how to photoshop a picture without Photoshop using 5 common techniques. We showed the process using one of the desktop programs - PhotoWorks, powerful software for all-round editing. So, with so many ideas for how to polish your photos and a bunch of programs to bring them to life, you can get started and see them in action right away.